Britney Spears is in Love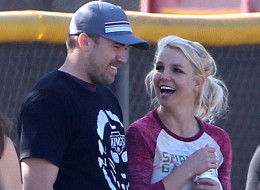 Britney Spears is in love and she isn't afraid to talk about it.
The superstar singer recently sat down with "Entertainment Tonight" and gushed about her boyfriend, David Lucado, whom she has been seeing for almost a year.
"I'm in love," Spears told "ET" during the candid interview. "I like the fact that [Lucado is] very stubborn and he's stuck in his ways. He's just a simple man. I adore him. He's really funny and he's really passionate. I love the fact that anything he's involved in he's passionate about and it's contagious."
"The #SamsungTwitterParty is back! Get ready to party the night away come 19th December at Zone 7 with fellow tweeps. Entrance is 15,000shs. Call 0775439894 for details. Great music and drinks."
TMZ first reported Spears was dating Lucado, a 27-year-old Virginia native who does field research for a law firm, back in February. He is supposedly "the exact opposite of a Hollywood guy," a contrast from her former flame, Jason Trawick.
The two originally met through friends, and Spears' father and conservator, Jamie, ran a background check on him.
"My dad's a little crazy like that," the 31-year-old told "ET."
While she said that she would like to have more kids in the future, she isn't sure she will ever wed again.
Earlier this month, Spears and Lucado were spotted at her sons' (Jayden and Sean Preston) soccer game in Tarzana, Calif., cheering from the sidelines. They were joined by Spears' ex-husband, Kevin Federline, Just Jared noted.
Source: HuffPost
"[katogoaward]"
Start making money online today with Bitcoin. Sign up here!
(Visited 1 time, 1 visit today)