Marc Anthony's Ex Drags Jennifer Lopez Into Court Battle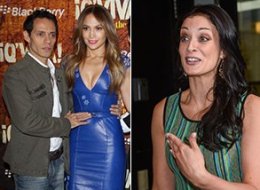 Marc Anthony's ex-wife is looking for way more child support from the Latin superstar, and she's allegedly citing the singer's treatment of his other ex-wife, Jennifer Lopez, in the court documents.
Former Miss Universe Dayanara Torres wants a nearly tenfold increase in child support from Anthony, bumping her $13,000 a month up to $112,000 a month, according to the New York Post's Page Six.
The exes, who have two children together, split in 2004 after four years of marriage. During his divorce proceedings with Torres, Anthony supposedly claimed he had money issues, according to court documents obtained by TMZ. The week after the split was finalized, Anthony married Lopez, giving the "Live It Up" songstress an 8.5-carat engagement ring worth between $4 million and $8 million.
Today, he allegedly makes at least $1.25 million a month and pays Lopez — who earned $52 million in 2012 alone — a ton in child support for twins Max and Emme. Meanwhile, Torres says she's living in a small apartment in the Valley and that Anthony never sees their kids. She alleges that one time he said he couldn't visit because of work, but then she saw him on television at a beach with Lopez.
"The #SamsungTwitterParty is back! Get ready to party the night away come 19th December at Zone 7 with fellow tweeps. Entrance is 15,000shs. Call 0775439894 for details. Great music and drinks." 
Anthony is expected to fight the former beauty queen in court, Page Six reported.
"Marc has paid every penny, well over $13,000 a month," the singer's lawyer, Daniel Jaffe, said, adding the father "has paid for all of the kids' schooling, band lessons, camps, and all medical and dental costs. Virtually everything."
The 45-year-old Grammy winner is currently dating 21-year-old Topshop heiress Chloe Green.
Source: HuffPost
"[katogoaward]"
Start making money online today with Bitcoin. Sign up here!
(Visited 1 time, 1 visit today)