Nokia takeover rumours intensify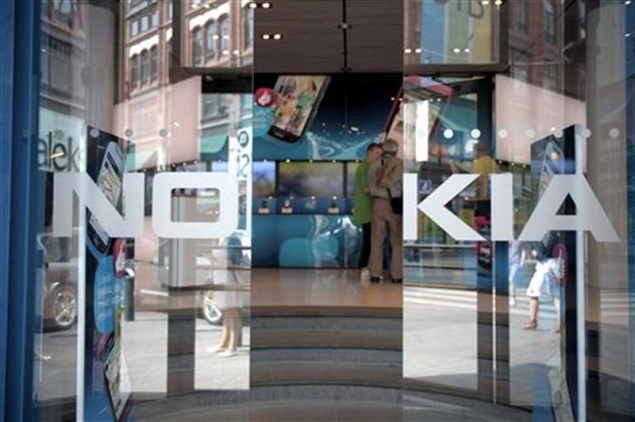 Rumours that struggling Finnish mobile phone maker Nokia may be up for sale have intensified this week, with analysts seeing three potential buyers who could be even more interested if the company undergoes a restructuring.
Independent telecoms analyst Ari Hakkarainen said he was "astonished" that Nokia had not already been snapped up.
Once the star performer on the Helsinki stock exchange, Nokia's market value has plunged 30 percent in the past two years, dropping below 11 billion euros ($14.5 billion) at the end of last week.
Speculation that the company could be for sale have given the share a small boost, sending its price rising 3.63 percent on Thursday and 1.81 percent on Tuesday.
On Wednesday, the Wall Street Journal reported that US technology titan Microsoft was involved in serious talks with Nokia about taking over its mobile phone business, but the negotiations faltered.
And on Tuesday, Richard Yu, head of consumer business at Chinese rival Huawei, said in an interview with the Financial Times that his company was "open" to talks with Nokia.
Analysts suggest Chinese PC maker Lenovo could also be interested.
Speculation about a takeover of Nokia has intensified since April, when a contract committing Nokia and Siemens to their joint venture, telecoms equipment maker Nokia Siemens Networks, came to an end.
NSN has been a crucial contributor to Nokia's finances at a time when the company has been in trouble: Nokia has reported a net loss in seven of the past eight quarters amid fierce competition from Apple's high-end iPhone and Samsung's Galaxy.
"There will probably be a restructuring of NSN Once it is separated from NSN, Nokia would be more attractive to a buyer," Inderes analyst Mikael Rautanen said, noting that the value of a leaner Finnish company would come down further.
Pohjola analyst Hannu Rauhala, said NSN was "a separate company", while all of Nokia's other activities were "linked to one another."
Once NSN is detached from the rest, the mobile phone unit and geo-localisation services could become attractive to a buyer.
Microsoft and Nokia already joined forces about two years ago in an alliance aimed at making inroads with handsets powered by Windows Phone software.
Nokia will soon move wholly to the Windows platform, since it has now made its last phone on the Symbian operating system, the 808 PureView.
"The most logical thing would be for Microsoft to buy Nokia's phone business," said Rautanen, adding that the US company will come under intense pressure to do so from Huawei and Lenovo.
A bid by either of the two Chinese companies "would threaten Windows Phone's future, and Microsoft would have to make a bid" for Nokia in turn, Rautanen said.
Hakkarainen said however he thought a Chinese buyer would be "more logical", since the "weak" Chinese brands "could, with Nokia, gain a brand that is recognised around the world."
Rauhala said Huawei and Lenovo were courting Nokia because they "need the channels into mature markets" and they "have previously tried to grow through acquisitions."
Nokia dominated the mobile phone market for 14 years, until it was overtaken by Samsung in 2012 as the top-selling brand.
Amid the increasing competition from Apple and Samsung, the Finnish company dramatically changed its strategy in February 2011 when chief executive Stephen Elop warned Nokia was "standing on a burning platform" and needed to immediately shift course.
The shake-up involved phasing out the Symbian platform in favour of the Microsoft partnership.
Nokia has bet its future on its new Lumia smartphones, which aim to rival the iPhone and Samsung's Galaxy.
The company in April said a 27-percent volume rise to 5.6 million units reflected "increasing momentum" for the flagship handset family, but the company still lags far behinds its rivals.
"To give you an idea, Apple sold 40 million phones during the same period," Natixis analyst Eric Beaudet said in April.
ndtv.com
(Visited 1 time, 1 visit today)
Swarm Summit and Tech Expo returns this year, slated for 22nd – 23rd November
By Reporter
Hive Colab has partnered with ICT Association of Uganda (ICTAU) and will this years hold another edition of the Swarm summit. This year's exhibition will be at UMA show ground between 22nd to 23rd Nov. 2019.
This year's exhibition will be themed "Celebrating Uganda's Digital Transformation". The Swarm summit and Tech Expo is aimed at recognizing the different levels of development of Uganda's digital landscape, showcasing the different entities working to create a harmonious tech ecosystem in the country.
"From its humble beginnings as the first tech hub almost 10 years ago, Hive Colab has supported the entrepreneurial spirit of Uganda's in technology. Three years ago we launched the annual Swarm Summit to provide a stage where Uganda's digital entrepreneurs could share their innovations and their stories," said TMS Ruge; Co-founder and Director, Hive Colab. "This year, we're thrilled to expand on that spirit with a partnership with ICTAU to launch this year's Swarm Summit and Expo. We're thrilled to provide a larger stage to showcase the technological innovations shaping Uganda's digital economy," he added.
The summit celebrates Uganda's top business and technology minds building enterprises powering Uganda's emerging digital economy.The Expo is open for the public to attend. To attend or exhibit register here www.swarm.ug
(Visited 1 time, 1 visit today)
Ugandan Digital Agency "Definite Creations" ranks 9th among top Web Design companies in the world
Ugandan website designing company Definite Creations has been ranked among the top global website designing companies by Yahoo Finance Magazine. The Ugandan website designing giant beat over 1,500 participating companies to a top slot.
Definite Creations is a premier digital agency in Uganda providing compelling digital solutions in professional website design and hosting services, search engine optimization and social media marketing, mobile Apps and software development to help businesses achieve more.
Participating in this ranking and emerging 9th out of the top 25, Definite Creations managed to beat over 1,500 participating companies from different countries based on price, portfolios, reviews, leadership and expertise.
Speaking to Definite Creations about this milestone, Lodi Daniel, the founder and CEO of Definite Creations admits that it's a very humbling experience having your company feature on prominent magazine like Yahoo Finance, "I would like to give the glory back to God and thank all the team at Definite Creations for the great work they are doing thus far. And this is our renewed commitment to continue providing quality and effective Digital marketing services to our clients and urge businesses to embrace Digital to spiral their business growth" He added.
"Definite Creations is currently serving clients in Uganda, South Sudan, South Africa and this ranking will provide opportunities for us to tap into the global clientele".
Source: https://finance.yahoo.com/news/top-25-design-companies-around-031500171.html
The survey was carried out by DesignRush, a B2B market place that features the top agencies around the world, including the best Digital Agencies, Logo Design, Branding, Digital Marketing, Website Design, ecommerce Web Design Companies, and more.
(Visited 1 time, 1 visit today)
Infinix to unveil a phone with the latest technology
By Staff Writer
Infinix Mobility's newest gadget brings science fiction to reality with the Augmented Reality.
The tech company is rumored to unveil its hottest new innovation on 8th July 2019 which includes Augmented Reality (AR)core, AR measure and Quick note. Infinix Mobility has proved extremely impressive setting a trend in the smartphone industry with its latest technology in the upcoming device, the NOTE6 aimed at providing users with reasonably priced device with a higher level of technology.
"We are moving from being just a smartphone company to bringing the high technology to everyone at affordable prices and the pretty cool NOTE6 is the beginning of greater innovation. The NOTE6 may not only be a phone with the AR core but is a device below One million shillings with such great features for everyone." Marketing Manager, Ms. Gladys Liu said.
The NOTE6 AI powered X-pen comes with a lot of interesting functions which automatically detects and connects phone numbers, reminders, alarm clocks from the content recorded.
In addition, the X-pen has Intelligent gesture which can quickly erase the modified content, export pictures / format easily to spreadsheets, word document and handwritten font is easily translated into text.
The NOTE6 is rumored to have triple rear cameras, with a 3 days battery life and a tremendous upgrade in the RAM and storage capacity providing a user with space enough to store over 15,000 pictures, videos and a smooth user experience without lagging.
The NOTE6 will be available in three colors.
(Visited 1 time, 1 visit today)