Noel Gallagher: 'Miley is embarrassing.'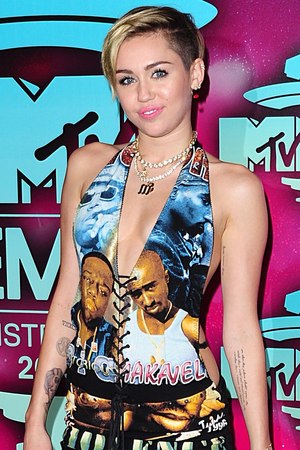 Noel Gallagher has claimed that Miley Cyrus has put "other female artists back about f**king five years".
The High Flying Birds frontman described the star's provocative behaviour as "embarrassing", adding that artists should focus on writing "a good song".
Asked if he is a fan of Cyrus, he told Rolling Stone: "I think there's a trend, unfortunately, in the game, at the minute, of girls desperately trying to be provocative or desperately trying to – in inverted commas – 'start the debate' about some old s**t or other.
"The #SamsungTwitterParty is back! Get ready to party the night away come 19th December at Zone 7 with fellow tweeps. Entrance is 15,000shs. Call 0775439894 for details. Great music and drinks."
"Because, really, they're not very good. Do you know what I mean? We have it in England regularly, and you have it in the States. I feel bad for 'em. It's like, 'Write a good song. Don't make a provocative video – write a good f**king song. That'll serve you better, I think'.
"She was on TV recently, Miley Ray Cyrus, and it was just like, 'What the f**k is all this about?' I don't know. It's a shame, because it puts all the other female artists back about f**king five years.
"Now, Adele and Emeli Sandé – that music, to me, is like music for f**king grannies, but at least it's got some kind of credibility."
He continued: "It's just embarrassing. Be good. Don't be outrageous. Anybody can be outrageous! I could go to the Rolling Stone office and f**king s**t on top of a boiled egg, right? And people would go, 'Wow, f**king hell, that's outrageous!'
"But is it any good? No, because, essentially, it's just a s**t on top of a boiled egg. That's all it is. If I was to go to your office and play you a song that I'd just written that was amazing, that would be better, wouldn't it?
Asked for his views on Lady Gaga, he replied: "Lady Gaga for me is all about that first album, because my daughter and my wife loved it. I've never heard of her since. What does that say? That speaks volumes, to me.
"She's another one. In fact, she's probably doing a s**t on top of a boiled egg right now. And somebody will f**king freeze it and call it art."
The 46-year-old added that he feels "bad" for other female artists, commenting: "The sisters are not doing it for themselves."
Source: Digitalspy
"[katogoaward]"
Start making money online today with Bitcoin. Sign up here!
(Visited 1 time, 1 visit today)