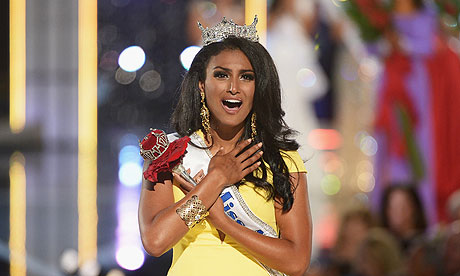 Winner Nina Davuluri said: 'I'm thankful there are children watching at home who can finally relate to a new Miss America.' Photograph: Michael Loccisano/Getty Images
The Miss America pageant has crowned its first winner from an Indian background – an aspiring doctor who plans to use the $50,000 (£31,000) prize money to fund her studies – sparking a flood of racist criticism on social media.
"I'm so happy this organisation has embraced diversity," 24-year-old Nina Davuluri said in her first press conference, moments after winning the crown in Atlantic City. "I'm thankful there are children watching at home who can finally relate to a new Miss America."
But within minutes of winning the title, Davuluri, whose talent routine was a Bollywood fusion dance, was the target of racist social media comments.
If you're #Miss America you should have to be American," said one on Twitter.
"WHEN WILL A WHITE WOMAN WIN #MISSAMERICA? Ever??!!" asked another.
Davuluri, however, brushed aside the negative comments.
"I have to rise above that," she said. "I always viewed myself as first and foremost American."
Her grandmother told the Associated Press that she cried when she saw the news on television.
"I am very, very, happy for the girl. It was her dream and it was fulfilled," 89-year-old V Koteshwaramma said by phone from her home in the city of Vijaywada, in southern India.
In the run-up to the pageant, much attention was given to Miss Kansas, Theresa Vail, an army sergeant believed to have been the first contestant ever to openly display tattoos. She has the Serenity Prayeron her rib cage, and a smaller military insignia on the back of one shoulder.
Vail won a nationwide "America's choice" vote to advance as a semi-finalist, but failed to make it into the top 10.
In a Twitter message on Sunday before the finals began, Vail wrote: "Win or not tonight, I have accomplished what I set out to do. I have empowered women. I have opened eyes."
The pageant pitted 53 contestants – one from each state, plus Washington DC, Puerto Rico and the US Virgin Islands – in swimming wear, evening gown, talent and interview competitions.
the guardian