Keddi Foundation led by their founder Hon. Steven Keddi has contributed $15,000 (Approximately UGX 56m) towards the preparation for the Royal Wedding of Busoga.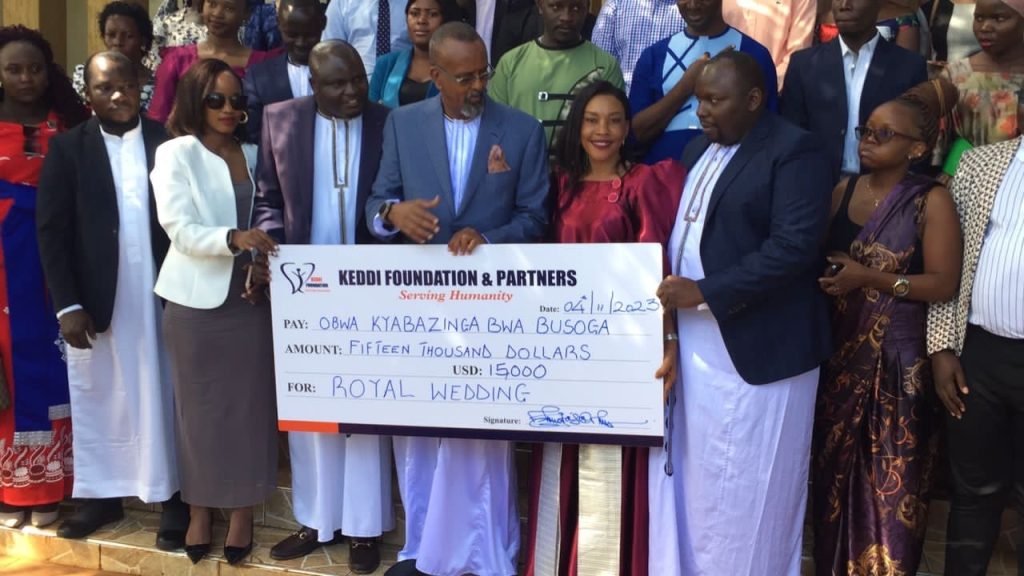 While handing over the contribution's dummy cheque at Busoga Kingdom offices in Bugembe yesterday, CEO Steven Keddi said when they heard of the wedding call, they did not hesitate to come and be part of the Busoga Royal Wedding to show brotherhood.
"As Keddi Foundation, we thought this was the best we can offer to our Busoga brothers as part of our humanity service. We wish the king and his queen all the best on the 18th November and we shall always be part the kingdom's development," Hon. Steven Keddi said.
On top of the Royal Wedding contribution, Keddi Foundation CEO Mr. Steven Keddi also announced that the foundation will offer 4 Primary and 4 Secondary scholarships to four students for four years of the Kingdom's choice plus one year free internet to the kingdom's offices as well as four laptops to the offices of their choice.
Al Hajj Ahmed Osman Noor, Second Deputy Prime Minister Busoga Kingdom said as the kingdom, "We are immensely grateful for the team's strong dedication to #EmbagaYaMwenemu and Busoga Kingdom. Their commitment to uplifting Abasoga through education, healthcare, and shared interests is deeply appreciated. Heartfelt thanks to Mr. Steven Keddi and Keddi Foundation".
His Majesty William Wilberforce Kadhumbula Nadiope IV is set to officially wed his Inhebantu (Queen) Miss Jovia Mutesi on 18th November at Christ's Cathedral Bugembe and later host reception at the Kingdom's headquarters in Bugembe.