Tebandeke, Acayo win Wheelchair road races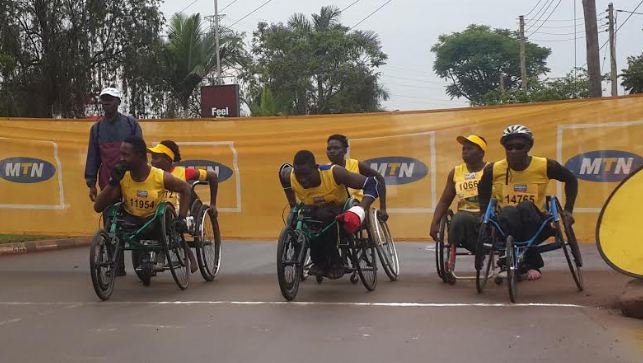 After a rain-delayed start to the MTN and UAF Wheelchair and Tricycle 10kms road races, the climax provided for some exciting scenes. The road races took place on Sunday, starting at the Shell Lugogo and ending at the MTN Lugogo Arena.
In the hotly contested 10kms Wheelchair road race, Joseph Tebandeke with less than a kilometer to go was able to overtake Ocira Richard to cross the finish line in 28:47:6 minutes.
His win also required some bit of luck as Ocira while making the final two bends before the finish line, lost control of the wheelchair and fell. That is how Tebandeke was able to capitalize and bring it home.
"We had been neck and neck for the entire race until he tried to maneuver a corner and I overtook him. I am happy to have finally won this year's road race. Last year I was third. So, this is an improvement," Tebandeke said after the race.
For Ocira, there was the disappointment despite him being able to get up and finish second despite nearly being overtaken by Kevin Mubiru. Ocira in part blamed the morning downpour that resulted in slippery roads, making it hard for him to maneuver some bends.
In the women category for the Wheelchair road race, Acayo Polline won it in 54:05:7 minutes ahead of Biira Rebecca and former champion Kyalimba Vasta. In the tricycle category for men, Muhammed Ngobi pipped it, whereas Mariam Kasibina won the women category.
"I am so excited about winning this race. I did not expect and I thank God who was able to see through this entire tough route," an excited Kasibina said. It was an opportunity for marathon participants in the wheelchair category to come out and participate. Supporting the athletics for the disabled reveals how much MTN looks to inclusive sport across the board.
The top 3 in each of the two races will win prize money, in total valued Ugx.11.2m. Women and men who finished first in both races will win Ugx.1.5m each.
The top three will be awarded their prize money next Sunday, 19 th November 2017 at the MTN Kampala Marathon.
(Visited 97 time, 1 visit today)
Uganda defeats Malawi in under-16 tie

By Our Reporte
Uganda posted a 2-1 win over Malawi in the boys COPA Coca-Cola Under-16 tie at the Nakuru High School in Nakuru, Kenya on Monday.
Peterson Nyamwara scored first for Malawi but Uganda replied through late goals from Thoma Kakaire and Zuraba Ronnie. Kakaire also captained Uganda and was impressive throughout this match.
"The game was good because my players played well against a solid opponent. We had a setback in the second period when we conceded but I am super happy with the response," said Uganda coach Simon Peter.
Lemani Estone and Chimwande Katume also stood out for Malawi in midfield and were unlucky to be on the losing side.
Completely against the run of play, Nyamwera skipped past two challenges and slotted in the opening goal before Kakaire responded with a penalty on the hour mark.
"I can say I'm satisfied with how my players played because the idea here is to identify and nurture talents," added Malawi coach Patrick Rwanda.
Ronnie, a defender, won it for Uganda in the 64th minute with a deflected strike.
(Visited 97 time, 1 visit today)
Sports Journalists Choice Awards 2018: Here's the list of winners

By Our Reporter
Now in their third edition, the Sports Journalists Choice Awards honoured the best performing sports journalists in the land with an awards ceremony held at Route 256, Lugogo on Tuesday evening.
At the ceremony, NBS and Daily Monitor journalist Darren Kyeyune was crowned Sports Journalist of the Year. Kyeyune also scooped the accolade for Social Media Sports Journalist of the Year.
The awards are organised every year in a bid to celebrate, and recognise the most outstanding sports journalists in print, photography, digital, Television, and radio throughout the country.
The Guinness-sponsored ceremony was graced by sports lovers, journalists, sports administrators and  corporates.
Speaking to guests, Leon Sennyange, the organiser of the awards congratulated all nominees for making the cut and thanked the different sponsors for getting on board. "We are still in our infant stage and are excited to go on this journey with sports journalists and our sponsors," he said.
Here is the winners' list;
Young Sports Journalist of the Year – Makhum Muziransa (Daily Monitor)
Sports Social Media Journalist of the Year – Allan Darren Kyeyune (Daily Monitor & NBS TV)
Sports News Report of the Year – Amon Ngabo (UBC)
Breakthrough Journalist of the Year – Rose Nakyeyune (Top TV)
Regional Sports Journalist of the Year – Javier S. Omagor(Step Radio – Mbale)
Sports Website of the year – Kawowo Sports
Sports Photograph of the Year Award – Fred Kiseka (New Vision)
Sport Feature of the year – Abdul N. Semugabi (Daily Monitor)
Female Sports Journalist of the Year – Grace Mbabazi (NBS TV)
Sports Journalist of the Year – Allan Darren Kyeyune (Daily Monitor & NBS TV)
(Visited 97 time, 1 visit today)
Bunyoro Amasaza Cup 2018 launched

CNOOC Uganda Limited, an oil and gas company, on Friday November 30th 2018 launched the 2018 Bunyoro Amasaza Cup. This marks seven years of the oil company's support towards the tournament which attracts various counties in Bunyoro Kitara Kingdom.
The month-long tournament which commenced on Friday will attract Seven districts in the Bunyoro Kitara Kingdom including Kiryandongo, Bulliisa, Hoima, Masindi and Kibaale, Hoima and Kikuube.
The opening match was graced by His Royal Majesty the King of Bunyoro Kitara Kingdom; Dr. Solomon Gafabusa Iguru in Bullisa district.
"On behalf of the people of Bunyoro Kitara Kingdom, I would like to thank the management of CNOOC Uganda for their continued contributions to this region. The Amasaza Cup tournament has continued to promote unity among the Banyoro and this has, in turn, further strengthened our kingdom cultures," commented His Royal Majesty the King of Bunyoro Kitara Kingdom; Dr. Solomon Gafabusa Iguru.
On his part, Mr. Cui Yujun, CNOOC Vice President in charge of engineering said, "When we began operations in Bunyoro, we made a conscious commitment to be part of all-round growth in our area of operation. And over the years, we have seen this commitment come to life through various local programs. Sponsoring the Bunyoro Amasaza Cup for the seventh year is a demonstration of CNOOC Uganda's dedication to the growth of sport in this region."
Hoima Municipality edged Kigorobya 1- 0 in the opening match that was held at Sir Tito Winyi.
(Visited 97 time, 1 visit today)