Simeon Massa joins technical staff as URA release nine players
Acheive your dreams with Stanbic Bank. Visit thier website todayMore here.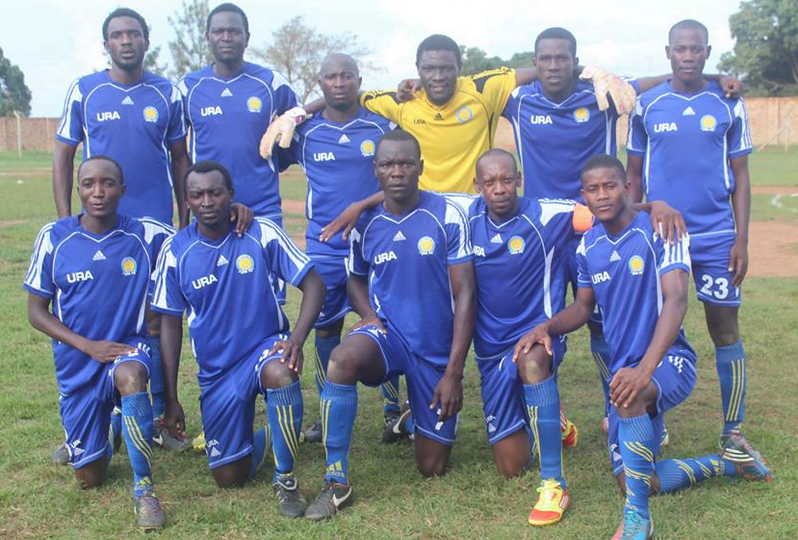 By Robert Kayindi James
After a highly disappointing season locally for Uganda Revenue Authority Football (URA FC), they have decided to release nine players from their squad.
According to a statement issued by the Tax Collectors, the recruitment committee of the club has decided to release some of the players whose contracts have expired and will not be renewed while those part of the list but still under contract with the club like striker Robert Ssentongo will be sold off.
"URA FC Executive Committee has decided to release nine players, three of whom will not have their contracts renewed while six others have been put on sale," reads a statement on the club's official website.
In a weekend end of season meeting chaired by Mr. Moses Kibumba, the head of the recruitment committee who also doubles as the Club's Vice Chairman, it was recommended that;
1. Players Saidi Kyeyune (midfielder), Brian Bwete and Sulait Luyima (both goal keepers), whose contracts expired at the end of the 2015/16 season will not be renewed.
2. Robert Sentongo (striker), Samuel Senkoomi (defender), Yayo Kato Lutimba (midfielder), Frank Kalanda (forward), Savio Kabugo (defender) and Derrick Tekkwo (Midfielder) will be put on sale since they are still contracted with URA FC.
On the other hand though, Feni Ali (midfielder), Jimmy Kulaba (defender) and Oscar Agaba (midfielder) are being considered by the club for contract renewals.
Meanwhile, long term servicing team Captain Simeon Massa whose contract had also expired was elevated to the technical team (coaching staff) of the Lugazi based club.
URA are still under the charges of Under-20 national football team coach, Kefa Kisala who replaced his superior Moses Basena after being fired.
Kisala guided the club to victory in the Mapinduzi Cup in January 2016 in Zanzibar.
(Visited 1 time, 1 visit today)
Reliable bet Uganda online with 1xBet
Acheive your dreams with Stanbic Bank. Visit thier website todayMore here.
By Staff Writer
The betting industry is now known to almost every sport's enthusiast. And it is more often seen as an additional source of income. So, bet Uganda online with 1xBet will help to earn money in the upcoming competitions of the Spanish La Liga, which intrigues many football fans today. Simply create an account on the platform and select the most interesting event.
To date, the Spanish championship is an uncertain situation. Two classic rivals – «Real Madrid» and «Barcelona» – are actively fighting for "gold", with an equal number of points throughout the season. Now a lot depends on the results of the remaining matches, that's why because of any loss of points a team may miss its chance for the championship.
Now the favorites are considered to be the "whites", as their head coach made a special emphasis on the formation of the correct lineup and style of play. Thus, the team of «Real Madrid» are characterized by the following reinforcements:
the addition of the very strong striker E. Hazard to the team;
team game improvement;
game motivation.
In addition, Lionel Messi now shows bad results during the games – unconventional ball control and lack of dominance on the playing field.
With the use of betting online with company 1xBet in Uganda you have the opportunity to make quality forecasts for the upcoming matches of both teams.
And for all the users it is also possible to test certified casino slots on 1xbet.com.ug. They will give you unforgettable emotions and bring you additional income into the game balance.
Make your bets on NHL 20 cyber league online on 1xBet daily
Cyber sports has been developing in bookmakers' companies for six months now. Many clients have paid attention to it because of its advantages. For example, make your bets on NHL 20 cyber league online on 1xBet and increase daily the amount of money on the game balance. For each event here, there are many options for bets that will successfully lead to an increase of your account balance. Virtual hockey league will be as spectacular as the real one. The best Cyber sportsmen in the world will showcase their skills so it will be possible to get big winnings.
In order to add even more emotion, it is possible to make the bets on NHL 20 Cyber league online in 1xBet and watch the online broadcasts of each game. This will also allow to watch the game's progress and make the most accurate forecasts. You can always keep abreast of all events.

(Visited 1 time, 1 visit today)