Savio Kabugo Was The Hero As Uganda Beat Ghana At Namboole

By James Robert Kayindi
Uganda's chances to qualify for the Africa Cup of Nations were brightened yesterday with a historical and heroic 1-0 win over group leaders  Ghana in the 2015 AFCON qualifiers at the Nelson Mandela Stadium, Namboole.
Central defender Savio Kabugo of Sports Club Victoria University (SCVU) was the hero of the day after he headed home in the 8th minute to give Uganda Cranes an early first half lead of the game which eventually turned out to be the last stroke that broke the "Black Stars'" back at Namboole Stadium.
Kabugo headed from Mike Sserumaga's corner when he surged above all defenders to hit the back of the net as he restored back the Uganda Cranes to their home winning ways after Togo put a stop to its 10-year home unbeaten record last month on the 11th of October 2014. Midfielder Mike Sserumaga was making a return to the national team after two years of not being summoned for national duty.
The make or break clash between Uganda and Ghana saw head Coach Milutin 'Micho' Sredojevic include half-fit AS Vita striker Yunus Sentamu in his starting lineup before he limped off the pitch to be replaced by Gor Mahia's 'Muzei' Daniel Sserunkuma.
Later Geofrey 'Baba' Kizito was brought on in the 65th minute for Mike Sserumaga and lastly URA striker Robert Ssentogo came on for Portugal based William Luwagga Kizito.
Celtic's Mubarak Wakaso came on for player maker Andre Ayew who plays for Marseille. T.P Mazembe's Solomon Asante then come on for Afriyie Acquah before David Accam who plays for Sweden's Helsenborg F.C came on for Everton's Christian Astu; those were the changes made by Ghana's care taker coach, Maxwell Konadu.
TEAM LINE UPS:
Cranes XI:
Denis Onyango (GK), Isaac Isinde, Brian Majwega, Andrew Mwesigwa (c), Savio Kabugo, Tonny Mawejje, Mike Sserumaga, Farouk Miya, William Luwagga Kizito, Geoffrey Massa and Yunus Sentamu
Substitutes: Robert Odongkara (GK), Geoffrey 'Baba' Kizito, Daniel Sserunkuma, Habib Kavuma, Martin Kizza and Moses Oloya.
GHANA XI: Razak Braimah, Harrison Afful, Baba Rahman,John Boye, Jonathan Mensah Rabiu Mohammed Christian Atsu, Afriyie Acquah, Majeed Waris Agyemang Badu, Andre Ayew
Email Robert: Robert.k.circles@gma­il.com
(Visited 1 time, 1 visit today)
128 golfers qualify as Singleton Challenge tees off at Entebbe Club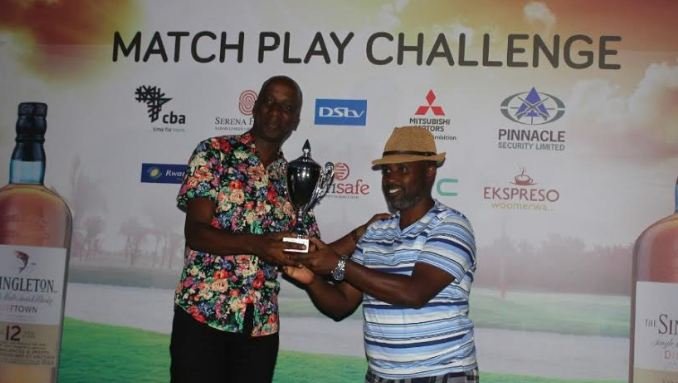 By Our Reporter
The Singleton Match Play Golf Challenge officially teed off with over 218 golfers participating in the qualifying round of the tournament. The 218 were bidding to be part of the 64 pairs to battle it out on the green over the next seven months at the Entebbe Club for one of local golf's most prestigious crowns.
Wendy Angudeyo (H/C 17) won ladies' Group A on the day, posting 65 Nett, while Rita Akot Apell (H/C 21), 68 Nett came tops in Group B. In the mean's category, Ibrahim Bagalana (H/C 5), 68 Gross claimed top position in Group A, as Collins Bulafu (H/C 13) – 69 Nett claimed Group B and Kenneth Kiddu (H/C 28) – 68 Nett (Countback) completed the winners' list with his triumph in Group C.
Speaking to journalists during the tee off of the prize giving, Mr. Mark Ocitti, the Managing Director, Uganda Breweries Limited thanked all the golfers who showed up and encouraged them to keep up the spirit. "Your determination to go the distance in the series has enabled us have two successful editions already. This year will definitely be bigger and better with more to win and accomplish," said Mr Ocitti.
Launched in 2017, at East Africa's oldest golf club, the Entebbe Club, the Challenge has over time established itself as the most exciting and also one of the most competitive in Uganda.
The Challenge will be played on a match play four ball better ball (4BBB) format, with the winning pairs from every month advancing to the next stage until the final in July. This year's winning pair will enjoy a fully paid golfing trip to watch the OMEGA Dubai Desert Classic. Some of the other prizes include a Mitsubishi Pajero Sport 2018 model staked by Victoria Motors for a golfer who manages a hole in one, DStv monthly subscription packages as well as weekend getaways at Serena Hotel, among others.
As is the Singleton Challenge tradition, after the prize giving at the 18th hole, golfers were treated to a Caribbean-themed 19th hole experience where legendary Maddox Sematimba provided the entertainment.
(Visited 1 time, 1 visit today)
Singleton Match Play Golf Challenge 3rd edition launched

By Our Reporter
The Singleton Match Play Golf Challenge is back in its third season this weekend following a successful 2018 edition which ended with the first-ever ladies' pair of Sheila Kesiime and Peace Kabasweka winning the ultimate prize.
The third edition of the country's premier golf experience will commence this Saturday, January 12 at its famed home; the Entebbe Club, which boasts of East Africa's oldest course.
Action tees off with a qualifying round, and will run for seven consecutive months, played on four ball better ball format, with a lower net score winning the hole.
"It's going to be yet another exciting year at the Singleton Challenge. We have already had two seasons of amazing golf at this tournament and once again in true Singleton fashion, we are going to energise and elevate all the senses together for the next seven months, on the green and at the 19th hole," said Annette Nakiyaga, UBL's Head of Luxury Portfolio.
Each pair will be required to take part in the qualifying round which will be played on a medal basis, with the best 60 pairs' joining the defending champions and another three pairs (wild cards) picked by the sponsor(s) making the final 64 pairs from the qualifying round. The championship will be played over a stipulated round not exceeding 18 holes. The tournament will also be played on February 16 (round one), March 9, April 13, May 11, June 8, and the grand finale on July 13, 2019.
The winning team this year will get a fully paid golfing trip to watch the OMEGA Dubai Desert Classic in January 2020. This is the biggest golfing classic aimed at developing professional and casual golf. It has featured golfers such as Tiger Woods, Ernie Els and Henrik Stenson, in the recent past.
There will also be business class return air tickets for the first and second runner-up pairs, as well as the winners of the subsidiary events in both the men's and ladies' categories. Other prizes include monthly subscription packages on DStv, golf accessories and HTC goodies.
(Visited 1 time, 1 visit today)
Uganda Cup returns with increase in prize money

By Our Reporter
Uganda's biggest knock out football competition, the 'Stanbic Uganda Cup' is back bigger and better with an increase in prize money for participating teams and exciting rewards for football fans.
The prize money has been increased from UGX 90 million to UGX 120 million with the winning team walking away with UGX 40 million, the Runner Up UGX 20 million, the semi-finalists UGX 10 million each, the quarter finalists UGX 5 million each and the teams that finish in the Round of 16 will each get UGX 2.5 million.
Speaking at the launch of the new season, Daniel Ogong, Stanbic bank's Head of Marketing & Communications said that Stanbic Bank is committed to supporting and driving growth in the communities in which it operates.
"Sports the world over is not just a recreational activity, it contributes to economic development through job creation, skills development, infrastructural investments and business growth. This is why Stanbic is partnering with FUFA to grow football through the Stanbic Uganda Cup and we look forward to an exciting and competitive season," Ogong said.
FUFA President Eng. Moses Magogo welcomed the development saying it will help grow football in the country. "We are excited to continue our partnership with Stanbic Bank in growing football across the country. The Stanbic Uganda Cup is the biggest sports competition in the country involving over 175 teams and 3,150 players from the first division to the fifth division as well as non-league teams. The competition has been played since 1971 with the winner representing Uganda in the CAF Confederations Cup. It is a tournament with a very rich history and we thank Stanbic for their sponsorship which is helping to revive football across the country," Eng. Magogo said.
The 2018/2019 season resumed on December 1, with pre-qualifier games taking place across the country in all the eight football regions.
(Visited 1 time, 1 visit today)