Savio Kabugo Was The Hero As Uganda Beat Ghana At Namboole

By James Robert Kayindi
Uganda's chances to qualify for the Africa Cup of Nations were brightened yesterday with a historical and heroic 1-0 win over group leaders  Ghana in the 2015 AFCON qualifiers at the Nelson Mandela Stadium, Namboole.
Central defender Savio Kabugo of Sports Club Victoria University (SCVU) was the hero of the day after he headed home in the 8th minute to give Uganda Cranes an early first half lead of the game which eventually turned out to be the last stroke that broke the "Black Stars'" back at Namboole Stadium.
Kabugo headed from Mike Sserumaga's corner when he surged above all defenders to hit the back of the net as he restored back the Uganda Cranes to their home winning ways after Togo put a stop to its 10-year home unbeaten record last month on the 11th of October 2014. Midfielder Mike Sserumaga was making a return to the national team after two years of not being summoned for national duty.
The make or break clash between Uganda and Ghana saw head Coach Milutin 'Micho' Sredojevic include half-fit AS Vita striker Yunus Sentamu in his starting lineup before he limped off the pitch to be replaced by Gor Mahia's 'Muzei' Daniel Sserunkuma.
Later Geofrey 'Baba' Kizito was brought on in the 65th minute for Mike Sserumaga and lastly URA striker Robert Ssentogo came on for Portugal based William Luwagga Kizito.
Celtic's Mubarak Wakaso came on for player maker Andre Ayew who plays for Marseille. T.P Mazembe's Solomon Asante then come on for Afriyie Acquah before David Accam who plays for Sweden's Helsenborg F.C came on for Everton's Christian Astu; those were the changes made by Ghana's care taker coach, Maxwell Konadu.
TEAM LINE UPS:
Cranes XI:
Denis Onyango (GK), Isaac Isinde, Brian Majwega, Andrew Mwesigwa (c), Savio Kabugo, Tonny Mawejje, Mike Sserumaga, Farouk Miya, William Luwagga Kizito, Geoffrey Massa and Yunus Sentamu
Substitutes: Robert Odongkara (GK), Geoffrey 'Baba' Kizito, Daniel Sserunkuma, Habib Kavuma, Martin Kizza and Moses Oloya.
GHANA XI: Razak Braimah, Harrison Afful, Baba Rahman,John Boye, Jonathan Mensah Rabiu Mohammed Christian Atsu, Afriyie Acquah, Majeed Waris Agyemang Badu, Andre Ayew
Email Robert: Robert.k.circles@gma­il.com
(Visited 247 time, 1 visit today)
MTN Mbarara run attracts 1,500 amidst heavy showers

• The MTN Mbarara Run was the third and last regional run ahead of the MTN Kampala Marathon
• Over 1,500 participants had registered for the run by Friday 16th November, 2018
• KCCA had the strongest outing, grabbing 3 out of 12 podium positions available
• Prisons and Police both took 2 out of 12 podium positions available
Mbarara: This Sunday morning, thousands of Mbarara residents braved mist, cold and rain showers to take part in the third and last regional run ahead of the much anticipated 15th edition of the MTN Marathon.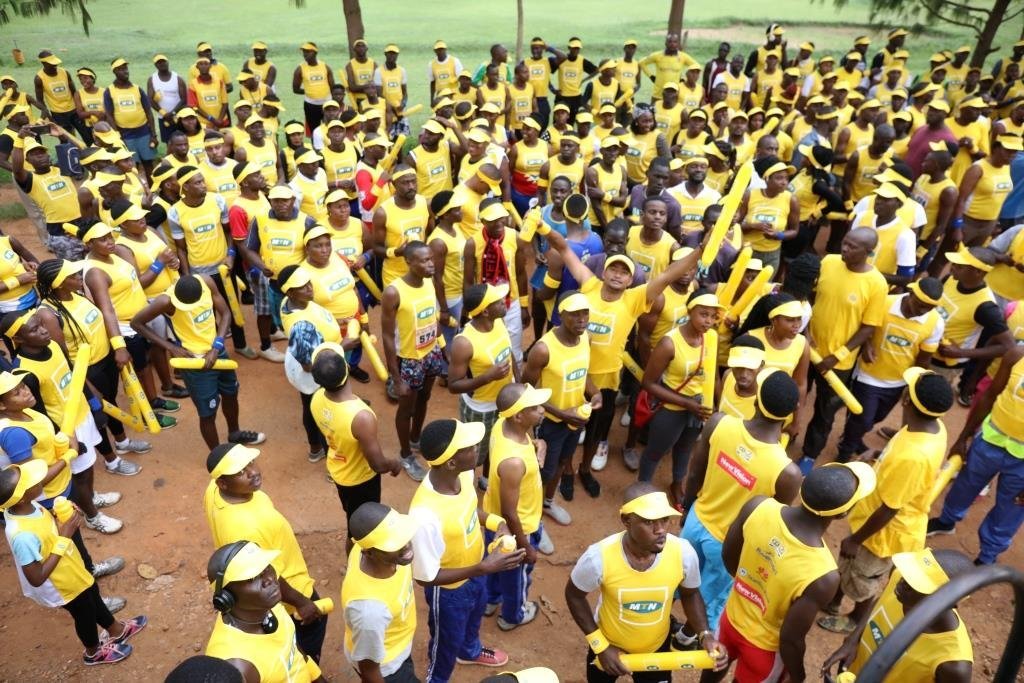 In the end Salimo David from Uganda Wildlife Authority (UWA) took the top honours in the men's 10km run while Ajok Dorcus from Uganda Prisons Athletics Club took top position in the women's 10km run. It was third time lucky for Salimo David who took part in the MTN Gulu and MTN Mbale runs but finished 5th and 6th respectively.
"I want to take part in either the 10km or 21km run next week at the MTN Kampala Marathon next Sunday" said Salimo David who was buoyed by his win and impressed with his resilience after taking part in three runs in a space of 21 days.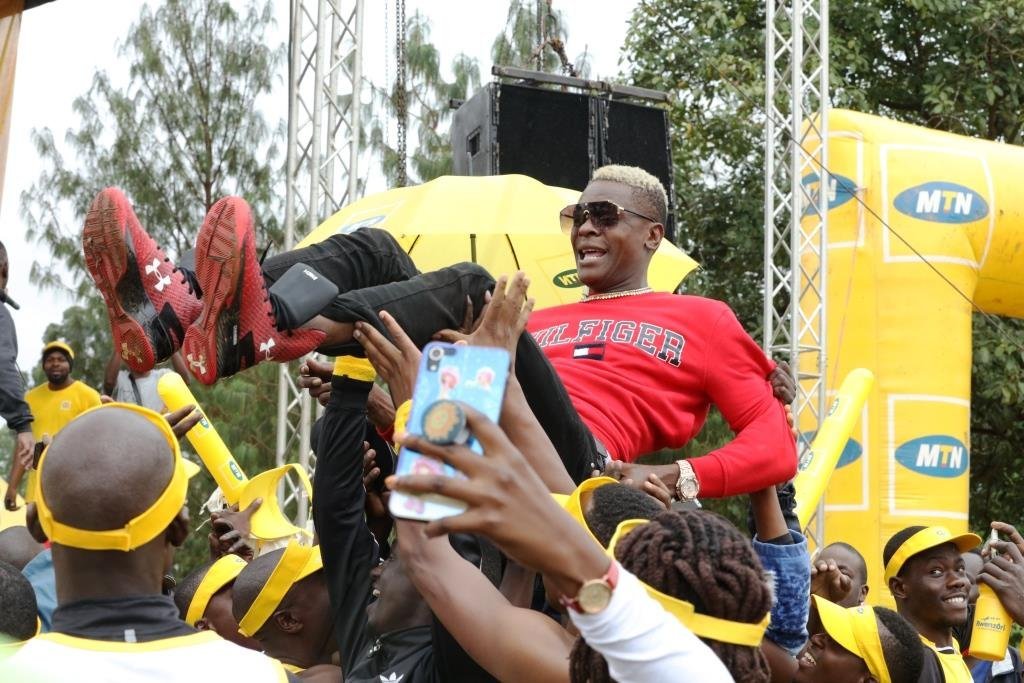 Wardress Ajok Dorcus who was in April this year promoted to Assistant Matron by the Commissioner General of Prisons for having represented Uganda at the Common Wealth Games in Australia 2018 also impressed at the MTN Mbarara run as she warded off stiff competition from Cheptegei Rebecca of UPDF and Achiru Nite of Ndejje.
Ugandan middle distance runner Dorcas Ajok is not new in the country's athletics history as she notably took part in the IAAF World Cross Country Championships in Uganda last year. She is well known in the track events and won gold at the 2016 All Africa University Games held in Johannesburg, South Africa.
"I came here to look for long distance endurance experience as I prepare for the runs next year" she said. She also confirmed, like Salimo David, that she will take part in the 10km MTN Kampala Marathon that will take place on Sunday 25th November, 2018.
KCCA turned double victors in both the men and women's 5km run as Chelimo Calvin and Cheko Moi took top honours. Sunday Sarius and Chemutai Vincent from Uganda Police took second and third places in the men's 5km run while Chelangat Rebecca from Prisons and Chebet Aisha from Arua finished in similar place in the women's 5km run.
It has been a good outing for the Uganda Police Athletics club who also finished strong in last week's Gulu Run. Kassim Latigo, a renowned Senior Fitness Instructor from Lakes Gym and Spa took the runners through a warm up session from 6.30am at the MTN Mbarara Run which was attended by a mix of running enthusiasts, family and friends.
On a weekend that saw celebrated sports journalist Andrew Kabuura get introduced to media personality Flavia Tumusiime, many had hoped that a local runner from Mbarara would put icing on the cake by taking a podium position but it was unfortunately not to be as local runners were swept away thanks to stiff competition thanks to visiting runners who came from other regions of Uganda.
Jose Chameleone and King Saha provided the much needed entertainment after a warm down session and prize giving ceremony. At the run, MTN Marathon partners and sponsors Coca-Cola Beverages Africa, Stanbic Bank, Huawei Uganda, Vision Group and SPEDAG were present courtesy of their regional executives and representatives.
(Visited 247 time, 1 visit today)
Coca-Cola Beverages Africa Uganda commits Ugx 150 Million to MTN Marathon

Coca-Cola Beverages Africa Uganda has announced its sponsorship of the 2018 MTN Kampala Marathon through its brand, Rwenzori Pure Natural Mineral Water.
As part of the sponsorship, the beverages giant will handover UGX 75 million worth of water and UGX 75 million in cash. They shall also deploy 100 people to collect the plastic discarded during and after the run in continuation of their recycling efforts and efforts to remove used plastics from the environment, therefore limiting environmental hazards.
Speaking during the handover ceremony, CCBA's Commercial Director Ivan Oboth said, "Coca-Cola is always proud to be part of a good cause and we are passionate about improving maternal health – this year`s marathon theme, both as a Company and at a personal level. This relationship shall continue for many years to come."
"In the true spirit of the partnership, three hundred employees will participate in the Marathon," he added.
On his part, Mr. Simon Kaheru, the Public Affairs & Communications Director for Coca-Cola Beverages Africa noted that, "The marathon gives us an opportunity to collect plastics and disseminate the message about recycling to all participants so that we limit the environmental damage caused when plastic is not disposed of properly. We shall therefore deploy plastic collection points along the MTN Marathon route."
MTN's Chief Marketing Officer Olivier Prentout welcomed CCBA's sponsorship of the MTN Kampala Marathon. "We are proud to enjoy such a strong partnership with Rwenzori Mineral Water. To rally behind initiatives to cause a better standard of life for our customers and Ugandans at large is what true corporate social responsibility is."
"We know that we cannot do much without hydration and we are grateful for this continued gesture from Rwenzori especially this year when we added the regional marathons that called for more water." He added.
(Visited 247 time, 1 visit today)
Third Regional Run under the MTN Marathon 2018 Series Launched in Mbarara

Mbarara is the third leg of the 2018 MTN Marathon Season
478 participants had registered in one day
There will be a 5km and 10km run around Mbarara
Registration for Mbarara open until Saturday 17th November
Mbarara: The third and last leg of the regional MTN Marathon 2018 was this morning launched in Mbarara at a press conference held at the Lake View Hotel. After successful showings in Mbale (Eastern Uganda) and Gulu (Northern Uganda), the Western Region is expected to show up in large numbers, this is according to Valery Okecho, Manager Corporate Communications at MTN Uganda:
"Within one day, we had 478 participants registered to take part in the Mbarara Run; we look forward to even more registering. MTN Uganda is excited about the regional runs because we are supporting the efforts of the Uganda Athletics Federation in developing local talent in readiness for international success on the race tracks" said Valery Okecho.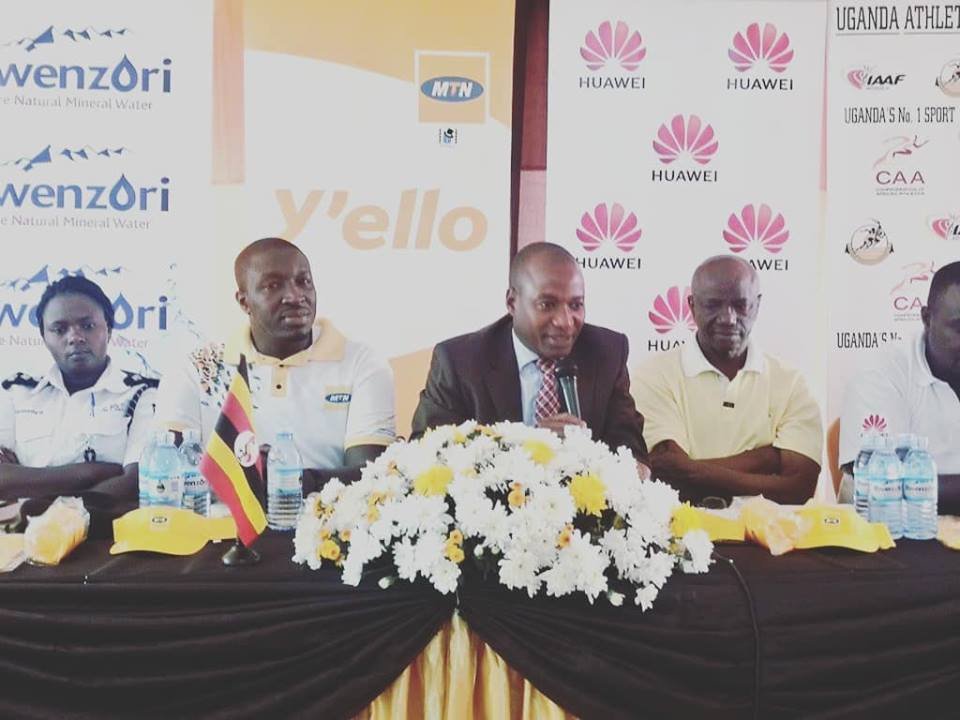 He also reiterated that the proceeds of the run will go towards maternal health support in Mbarara, just like the case for Gulu and Mbale runs. OC Tibesigwa Swizin and ASP Namanya Doreen, representing Uganda Police, pledged their support on behalf of the force in a joint statement:
"We shall deploy our units in more than 15 key points around the route to provide event security and ensure safety of the runners. Uganda Police has given the organisers a go ahead to host the Mbarara Run and we shall be there to ensure maintenance of law and order – before, during and after the event"
Just like in the Mbale and Gulu runs, the Police Athletics Club will also take part in the Mbarara Run as the force continues its pursuit of medals and improved finishing timings. Speaking on behalf of the Uganda Athletics Federation, Daniel Tamwesigire, Chairman of the Local Organising Committee for the Mbarara Run stated that all arrangements had been finalised to ensure a successful run:
"We have prepared in advance for the run and allocated a team of twenty (20) Marshalls who will work with a large number of volunteers to ensure the event runs smoothly. We thank MTN Uganda Foundation for actively supporting athletics development over the last fourteen years; in fact they were among the first sponsors of athletics in Uganda!" said Daniel Tamwesigire.
Present at the press conference were MTN Marathon partners and sponsors Coca-Cola Beverages Africa (Ssendi Umar Kabanda, Regional Sales Manager Rwenzori Water), Stanbic Bank (Twesigye Adrine Bright, Mbarara Branch Manager), Huawei Uganda (Allan Kyobe, Public Relations Manager), Vision Group and SPEDAG.
The Mbarara Run will take place on Sunday 18th November 2018 and runners will set off from the Mbarara Golf Course grounds.
(Visited 247 time, 1 visit today)