Onyango loaned out to Wits

Supersport.com
Dennis Onyango's quest for regular football could come to fruition after the Ugandan international goalkeeper secured a loan move to Premier Soccer League (PSL) side Bidvest Wits University from Mamelodi Sundowns.
Without necessarily losing out to their talented shot-stopper completely, Sundowns are trying to cut down the numbers of their bulging squad by loaning rather selling, 22-year-old Abel Mabaso being the other on the long list of players to have been loaned out.
Sundowns' official website confirmed: "Striker Edward Manqele has joined Moroka Swallows on a one year loan deal, while goalkeeper Dennis Onyango has also joined Bidvest Wits also on a loan deal.
"Young defender Abel Mabaso has also completed a one year loan move to PSL (Premier Soccer League) returnees, Mpumalanga Black Aces. He joins fellow defender Method Mwanjale and midfielder Themba Zwane."
Onyango has struggled to get playing time and with the arrival of Zambian goalkeeper Kennedy Mwene, in addition to two other senior stars, it was difficult to have three international shot-stoppers on the bench.
The news is music to the ears for Uganda as Onyango could have put some games under his belt before Cranes must-win Group J world Cup qualifier against Senegal on September 7.
(Visited 1 time, 1 visit today)
Friday Night Lights basketball returns

By Our Reporter
Friday nights in Kampala are set to become fun again for basketball fans as organisers have confirmed the return of the Tusker Lite Friday Night Lights. The event which had taken a break over the festive season is on this weekend, Friday, January 25 and fans can expect to enjoy a chilled evening while also being part of the exciting games.
Now in its eighth edition, the event that happens at Panamera Bar in Naguru took a new and exciting twist last year with the format of play being changed to a 3-on-3. With this new format, basketball fans get to play alongside their favourite players in teams of three as opposed to teams of five. The 3*3 format requires each team to have three basketball players, three fans, and two ladies.
After seven editions, one might argue that FNL has managed to position itself as one of the most exciting basketball events in the country. Starting Friday, January 25 and for four consecutive Fridays, about eight games will be played each night. The winning team will go home with lots of prizes from the tournament's sponsors with Shs100,000 up for grabs courtesy of Tusker Lite for each night's winner.
(Visited 1 time, 1 visit today)
128 golfers qualify as Singleton Challenge tees off at Entebbe Club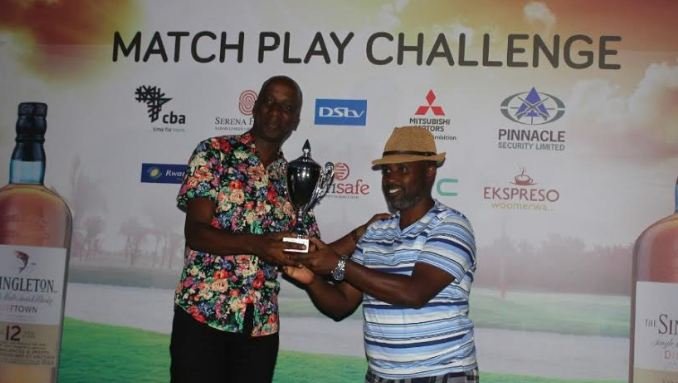 By Our Reporter
The Singleton Match Play Golf Challenge officially teed off with over 218 golfers participating in the qualifying round of the tournament. The 218 were bidding to be part of the 64 pairs to battle it out on the green over the next seven months at the Entebbe Club for one of local golf's most prestigious crowns.
Wendy Angudeyo (H/C 17) won ladies' Group A on the day, posting 65 Nett, while Rita Akot Apell (H/C 21), 68 Nett came tops in Group B. In the mean's category, Ibrahim Bagalana (H/C 5), 68 Gross claimed top position in Group A, as Collins Bulafu (H/C 13) – 69 Nett claimed Group B and Kenneth Kiddu (H/C 28) – 68 Nett (Countback) completed the winners' list with his triumph in Group C.
Speaking to journalists during the tee off of the prize giving, Mr. Mark Ocitti, the Managing Director, Uganda Breweries Limited thanked all the golfers who showed up and encouraged them to keep up the spirit. "Your determination to go the distance in the series has enabled us have two successful editions already. This year will definitely be bigger and better with more to win and accomplish," said Mr Ocitti.
Launched in 2017, at East Africa's oldest golf club, the Entebbe Club, the Challenge has over time established itself as the most exciting and also one of the most competitive in Uganda.
The Challenge will be played on a match play four ball better ball (4BBB) format, with the winning pairs from every month advancing to the next stage until the final in July. This year's winning pair will enjoy a fully paid golfing trip to watch the OMEGA Dubai Desert Classic. Some of the other prizes include a Mitsubishi Pajero Sport 2018 model staked by Victoria Motors for a golfer who manages a hole in one, DStv monthly subscription packages as well as weekend getaways at Serena Hotel, among others.
As is the Singleton Challenge tradition, after the prize giving at the 18th hole, golfers were treated to a Caribbean-themed 19th hole experience where legendary Maddox Sematimba provided the entertainment.
(Visited 1 time, 1 visit today)
Singleton Match Play Golf Challenge 3rd edition launched

By Our Reporter
The Singleton Match Play Golf Challenge is back in its third season this weekend following a successful 2018 edition which ended with the first-ever ladies' pair of Sheila Kesiime and Peace Kabasweka winning the ultimate prize.
The third edition of the country's premier golf experience will commence this Saturday, January 12 at its famed home; the Entebbe Club, which boasts of East Africa's oldest course.
Action tees off with a qualifying round, and will run for seven consecutive months, played on four ball better ball format, with a lower net score winning the hole.
"It's going to be yet another exciting year at the Singleton Challenge. We have already had two seasons of amazing golf at this tournament and once again in true Singleton fashion, we are going to energise and elevate all the senses together for the next seven months, on the green and at the 19th hole," said Annette Nakiyaga, UBL's Head of Luxury Portfolio.
Each pair will be required to take part in the qualifying round which will be played on a medal basis, with the best 60 pairs' joining the defending champions and another three pairs (wild cards) picked by the sponsor(s) making the final 64 pairs from the qualifying round. The championship will be played over a stipulated round not exceeding 18 holes. The tournament will also be played on February 16 (round one), March 9, April 13, May 11, June 8, and the grand finale on July 13, 2019.
The winning team this year will get a fully paid golfing trip to watch the OMEGA Dubai Desert Classic in January 2020. This is the biggest golfing classic aimed at developing professional and casual golf. It has featured golfers such as Tiger Woods, Ernie Els and Henrik Stenson, in the recent past.
There will also be business class return air tickets for the first and second runner-up pairs, as well as the winners of the subsidiary events in both the men's and ladies' categories. Other prizes include monthly subscription packages on DStv, golf accessories and HTC goodies.
(Visited 1 time, 1 visit today)