MTN Uganda contributes to the digitalization of the Kampala Public Library
MTN Uganda, in partnership with the Kampala Capital City Authority (KCCA) have re – established the Kampala Public Library (KPL) creating a one-stop centre for members of the general public and specific groups such as tourists and investors to utilise the facility to request for and receive information about Kampala city.
With the growing trends in technology, MTN Uganda has bridged the library's digital divide and increased the utilization of information technology in the acquisition of modern knowledge for lifelong self-learning. The MTN Foundation has provided equipment and internet connectivity solutions to KCCA.
Speaking at the handover ceremony, the CEO MTN Uganda Mazen Mroué reaffirmed MTN's commitment in providing ICT support to improve service delivery of the library and stated that the connectivity will create online linkages to the centre to increase its usage and visibility. This is also in line with the MTN Foundation's corporate social responsibility areas for 2013 which include Education, Health and National priority areas.
KCCA's Executive Director, Jennifer Musisi commended MTN Uganda for their contribution towards the expansion of the facility and stated that the company's technological support will go a long way in creating a facility that will offer comprehensive and timely information about Kampala City.
KCCA seeks to expand the use of the current facility by introducing new uses for the existing areas and incorporating technological aspects, themes and other elements that will enhance the image of a modern area of information usage and consumption.
The MTN Uganda Foundation is a not-for-profit legal entity that was inaugurated in July 2007 as a vehicle through which MTN Uganda implements its' Corporate Social Investments (CSI). The Foundation strives to improve the quality of life in communities where MTN Uganda operates in a sustainable way. Over the past five years since its launch, the MTN Foundation has supported a number of initiatives in the areas of Education, Health, Arts and Culture, Environment, Community Development and Low cost housing.
The MTN Uganda Foundation partners with both public and non-profit credible organizations to execute sustainable projects in each of the chosen focus areas. The Foundation is committed to ensuring that the selection and approval of its projects are conducted in a manner that is transparent, systematic, efficient, and effective while promoting its mission.
In 2013 and onwards, the MTN Foundation will focus on three key areas so as to leverage scale to achieve significant development impact. The three sectors will be Education, Health and National Priority Areas.
Launched in 1998, MTN Uganda is the leading communications operator in Uganda, offering Mobile and Fixed telecommunications, Mobile Money Services and Internet Service Provisioning. As of 31 March 2013, MTN Uganda recorded 7.95 million subscribers across Uganda. Visit us at www.mtn.co.ug and for our football fans www.mtnfootball.com. Customers can also follow us on www.youtube.com/mtnug and www.twitter.com/mtnugandacare for assistance.
About MTN Group
Launched in 1994, the MTN Group is a leading emerging market operator, connecting subscribers in 22 countries in Africa, Asia and the Middle East. The MTN Group is listed on the JSE Securities Exchange in South Africa under the share code: "MTN." As of 31 March 2013, MTN recorded 197.4 million subscribers across 22 countries. Visit us at www.mtn.com
(Visited 1 time, 1 visit today)
Reach A Hand Uganda launches project to improve incomes of young people
By Our Reporter
Reach A Hand Uganda (RAHU) in partnership with Unilever and AFRIpads  have launched a youth empowerment project dubbed "The Edupreneurs project" that is aimed at economically empowering young people through supplementing their incomes by a commission tailored sale of home commodities focusing on Lifestyle and health goods.
The project that will rely on RAHU's ever-growing network of peer educators, will bring services, hygiene products and health information closer to grassroots communities. The products to be currently sold will be made by like minded partners Unilever (particularly Sunlight, LifeBuoy, Royco and Vim) and AFRIpads( particularly So Sure pads).
"Since 2014, Reach A Hand Uganda has been training peer educators and one question that we have always asked ourselves is; how can we empower them economically to earn a living out of the voluntary work that they are doing. I am very positive of this partnership where our fast-growing network of young people can be economically empowered and are assured of a start in life, after their volunteering service with us." Humphrey Nabimanya, Founder & Team Leader of Reach A Hand Uganda said.
The project is set to kick start as a pilot in the southwestern district of Mbarara where RAHU's network of volunteers has actively engaged in community-centred mobilization for the receipt of information and services on reproductive health. The peer educators are expected to be given products to which they will sell in communities and get 70% of the profits as a commission.
The peer educators have undergone a robust training on product knowledge, marketing techniques and customer benefits and with the support from the teams at Unilever and AFRIpads, and are receiving commodities at a subsidized cost enabling them to make a significant margin of profit from their sales.
"Through this project, we are not only empowering these young people to become self-reliant and financially accountable but also enabling communities to access basic household commodities, services and health products that they would otherwise move distances for." Said Gertrude Adeker Emojong, Communications Officer, AFRIpads.
Long term, RAHU is looking forward to bringing more partners on board and expand the project in the future to have a footing in other districts as well as integrate its technological innovations into the project to include an Online Shop on the already existing SAUTIplus portal to enable online orders and deliveries.
(Visited 1 time, 1 visit today)
NSSF Friends with Benefits season 3 launched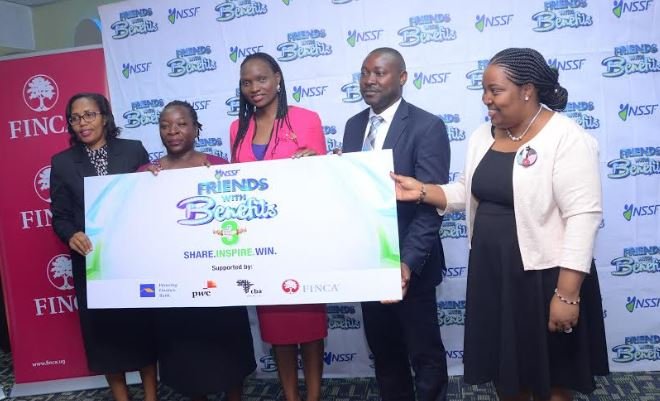 By Our Reporter
The National Social Security Fund (NSSF) has announced the return of their savings initiative dubbed NSSF Friends with Benefits for the third season.
The initiative that takes a Television Show format, promotes a savings culture amongst Ugandans by highlighting successful stories of people who received their NSSF savings and sustainably invested them or did something inspirational.
The show returns on the back of a 29% increase in the amount of money paid in benefits to qualifying members from UGX 278 billion in 2017 to UGX 360 billion in 2018. The number of beneficiaries also increased from 19,027 to 23,665.
Speaking to journalists at Workers House in Kampala, Barbra Teddy Arimi, the NSSF Head of Marketing and Communications said, "The Friends with Benefits show this year is unique as the Fund focuses more on imparting financial literacy knowledge to benefit not only our members or those close to retirement age but also our young people to make better and informed decisions when managing their personal finances."
According to the findings of a recent survey conducted to establish the quality of life of NSSF members before and after retirement, majority of members started saving late in life at about 38 years with an average saving period of only 16.7 years resulting in an inadequate pool of funds at retirement.
"This show not only motivates the public to start saving by demonstrating its value but also shines a light on viable investment options from members who have set themselves up to thrive even during retirement," Arimi added.
Beneficiaries will be required to submit a short and compelling story, stating how they utilized their NSSF savings and transformed their lives through a form available on the NSSF website www.nssfug.org
In addition, relatives and friends can also share stories of beneficiaries they know whose lives have been transformed because they put their benefits to excellent use.
The Top 16 successful stories will be aired in a compelling TV show where winners will be selected through voting by the public and an expert panel of judges. Three winners will then be rewarded with a total of Ugx 55million to further improve their lives.
(Visited 1 time, 1 visit today)
Jumia announces mega sale to celebrate 7th anniversary
By Our Reporter
JUMIA, a leading eCommerce platform in Uganda, is set to give back to their customers as they celebrate their 7th anniversary. They have announced that customers will enjoy discounts of up to 77% in a celebration running from June 24th to July 14th this year.
Jumia's activities in Uganda may have only started in 2014, but the company has made great strides in the e-commerce scene. Growing from an average of 100 orders a day, the online marketplace now processes thousands of orders daily and collectively has over 2,000 active merchants in the country with over 100 local partners.
Mr Ron Kawamara, CEO Jumia Uganda stated that, "Since launching in Uganda, we have revolutionized the economy through a sustainable impact on commerce in the country. We have added eCommerce as an alternative source of service provision through the platform such as food ordering, flight and hotel booking. But even as we celebrate these milestones, we continue to be innovative in finding more ways to solve problems faced by our vendors and customers."
Commenting on the celebration of this anniversary, Head of Growth Jumia Uganda, Mr. Paul Tesar, commended how Ugandans are increasingly embracing eCommerce and online shopping. He noted that top among reasons for this include availability of wider variety in assortment of products, affordable prices, convenience and trust.
(Visited 1 time, 1 visit today)