MTN Uganda announces national Grassroots Football Development Program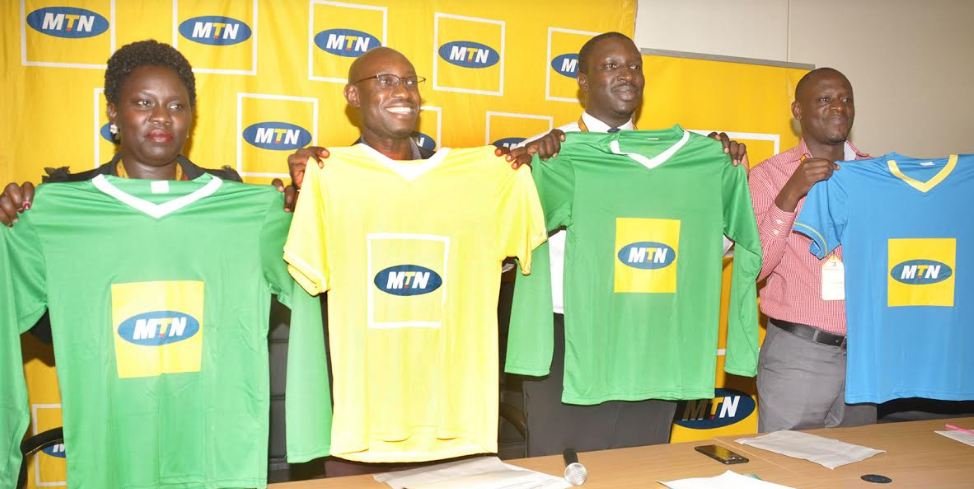 MTN Uganda has today unveiled its Grassroots Football Development Program where it will support local football teams countrywide with kits. The pilot program will see MTN Uganda acquire over 900 football kits which will be donated to football teams across the country covering all regions of Uganda.
In the first phase of this initiative MTN has invested over Ugx 50 million and it will see over 66 village football teams acquire new, quality football uniforms and soccer balls. The program was unveiled by the MTN General Manager for Sales and Distribution Mr. Keith Tukei who was ecstatic about the potential of the program in developing the game:
"The initiative is aimed at enhancing football playing experiences amongst children across the four regions of Uganda. Our aim as MTN Uganda is to grow the game of football, create inroads in spotting and identifying young, local talent and uplifting this talent to a national level".
Speaking at the launch, Valery Okecho the MTN Manager for Corporate Communications stated: "Football as a sport unites us all. The love for the game challenges our team at MTN to continuously seek ways to supply talent towards national excellence. This program is aimed at supporting young footballers who felt that their talent would lead them nowhere, who had no hope of exporting it from the dusty playgrounds in the countryside to national recognition. We do this in tandem with the pre-existing grassroots football development initiatives spearheaded by the local football governing body. It is our strong belief that through this support we shall develop a nation full of confident, talented footballers not only from Central Uganda but also from Northern, Eastern and Western Uganda".
The Grassroots program was envisaged after MTN Uganda Senior officials noticed there were lots of local, village teams playing with promise, participating and excelling in local tournaments but lacked the basic football kits like a team jersey or even a standard soccer ball.
"This program is really personal for us as a company, seeing kids and the youth alike out there enjoying themselves was touching. We thought to ourselves why not take this talent and nurturing it by supporting it using this program. When we talked to the local footballers, most of them had never won a new kit nor even played with a new ball. We therefore look forward to creating extra motivation to the footballers to train and have a great playing experience" Mr. Keith Tukei said.
Grassroot football teams that are talented, have a good track record, show promise, participate in local football tournaments and are not part of the top flight teams in the national league will be targeted through this program. It is expected that this initiative will be carried out annually.
For teams that are interested in benefitting from this program, they will have to officially register using a certain criteria that will look into their performance, promise and good conduct. The team should not be participating in any of the organised football leagues.
"In Uganda, grassroots football is used by some as a recreational activity, for others as a sport and for most as an avenue to express their talent. However many don't see this talent go through to the next level. It is therefore our hope that through this program more local footballers will be discovered by the larger clubs and eventually play for the national team" Mr. Keith Tukei said.
Beneficiaries will be seen to be competitive, represent the MTN brand and espouse its values, will henceforth be brand ambassadors and observe good conduct. Using its Regional Business Managers, MTN Uganda will scout for new talent and beneficiaries in the course of their field visits.
This project is being implemented by the Sales and Distribution team. The Uganda Sports Press Association (USPA) hailed this initiative by MTN Uganda. "As USPA we welcome this initiative to develop football from the grassroots because Uganda is full of potential but most of the talent remains untapped. We thank MTN for giving young footballers across the country a platform to showcase their potential and also for giving them a chance to dream and dream big. As a sports journalists' body we are happy when sports grows because it means that our sector is moving in the right direction" read a statement signed by Mr. Patrick Kanyomozi the General Secretary of USPA.
Internationally, FIFA supports Grassroots Programs by offering everyone the chance to play football, without discrimination and without the need for major infrastructure. With its core statement of 'Grassroots football is football for everyone, by everyone, everywhere' MTN Uganda's program is in line with supporting the development of grassroots football by facilitating the much needed football kits that are a preserve of a few.
The MTN Group abides by its Brand Mission of making customers' lives a whole lot brighter. In line with this mission the program will indeed make the lives of all footballers brighter.
(Visited 70 time, 1 visit today)
East Africa Development Bank marks 50 years

This year, East African Development Bank clocks half a century excelling in being the leading development finance institution for member states. It marks the 50th year when the bank first opened its door for business. With primary focus on interventions in food security, infrastructure, education, health, natural resources, environment and regional integration. Since its establishment in 1967, the bank has remitted financial and other support to its member states.
In contrast to other development finance institutions, EADB has over the five decades successfully adapted to an industry in complete transformation, owing to the bank's strategy of promoting sustainable socio-economic development in East Africa. In 1977, the bank suffered a scare of extinction after the collapse of East African Community due to operational and ideological differences between member states. The Bank was later reenacted by the signing of the Arusha Accord, which divided the assets of the former EAC and agreed that EADB should operate as a joint East African institution.
A celebration of 50th anniversary
Over the fifty years journey, EADB has made significant contribution to member states in areas of education, health, environmental and natural resources protection and trade
"All these success wouldn't have been possible without the hospitality of our wonderful host country Uganda her people & her leadership. We also thank our shareholders who remained unwavering in their support to the EADB over the last 50 years even in cloudy and stormy weather "said Ms. Vivienne Yeda, Director General EADB, during the celebrations at Serena Kampala Hotel.
EADB's next Strategic Plan (2020-2025) and a 50 Year Vision for Sustainable Development in Africa.
In order for EADB to impact the region and continue to support efforts by member states, towards realization of  next 50 years vision of prosperity for our people, we must Create the Future we Want, hence #Generation2068 macroeconomic symposium in Kampala. The EADB has assembled the greatest minds from Academia, Business, Donors and Government to envision the sustainable development required in Africa during the symposium in an event dubbed "Think Tank".
"We know that the future generations will face different challenges that we do due to the diminishing resources in our planet. We have come along & have many opportunities to shape the destiny of future generations so that they would be better off in real terms than we are today. We must address our challenges and difficulties with resolve and wisdom "added Ms. Vivienne.
(Visited 70 time, 1 visit today)
Coca-Cola Beverages Africa Uganda signs MOU with Royal Danish Embassy in Uganda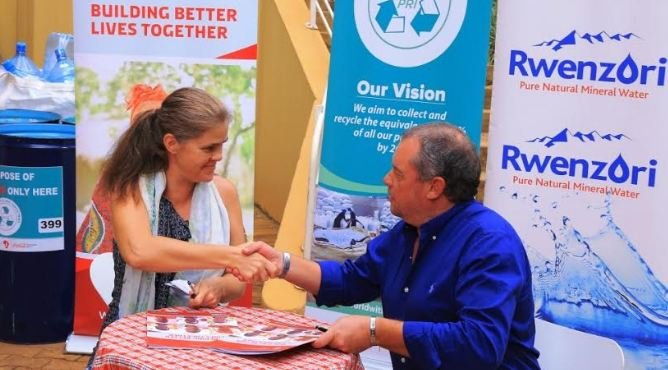 Coca-Cola Beverages Africa (CCBA) Uganda has signed a Memorandum of Understanding (MOU) with the Royal Danish Embassy in Uganda to help amplify their plastic collection effort as they drive their commitment as Coca-Cola to a World without Waste.
The Head of Mission at the Embassy of Denmark Ms. Majbrit Holm Jakobsen welcomed the partnership with CCBA and said "Sustainable development and green growth are focus areas of both Denmark and the Danish Embassy in Kampala, and Danish companies are leading when it comes to developing sustainable products and services. The cooperation with PRI is therefore a great opportunity to support Ugandan companies working towards the same goal".
Speaking at the ceremony, Mr. Conrad van Niekerk, the Managing Director of Century Bottling Company and Rwenzori Bottling Company, both subsidiaries of Coca-Cola Beverages Africa in Uganda noted "Food and beverage packaging is an important part of our modern lives, yet the world has a packaging problem, which we as CCBA, together with The Coca-Cola Company, have a responsibility to help solve. Clearly, plastics are a significant global challenge. Our commitment is to invest in our planet and our packaging, to help make the world's packaging problem a thing of the past, focusing on PET plastic."
"Through our PRI initiative, CCBA is leading the industry to bring people together to achieve a bold and ambitious goal: to help collect and recycle a PET plastic bottle for every one sold by 2030. This gives every package more than one life while contributing to job creation and growing adjacent local industries." he added Van Niekerk explained the importance of partnerships in achieving this goal: "We want to support the Government's environmental management objectives by making recycling more accessible for everybody to get involved."
On their part, Ms. Majbrit Holm Jakobsen concluded: "We are excited at the shared opportunities that this recycling initiative creates for all of us and we are committed to ensure that the Embassy and all our staff participate to make this successful."
"We are happy that the Danish Embassy can contribute to a more sustainable and climate conscious Uganda through this initiative. We will like to do even more, and are at the moment looking for more opportunities of recycling of waste in Uganda."
CCBA's 2030 recycling target is part of a larger strategy to create partnerships in plastic collection in all 13 countries where it currently operates.
(Visited 70 time, 1 visit today)
Akuna Muchezo Development Club wins "Battle for Cash" challenge season 2

dfcu Bank, in partnership with NTV Uganda and Price Waterhouse Coopers (PwC) have awarded the winners of the second edition of the nationwide Savings and Investment campaign dubbed 'Battle for Cash'. Aimed at building a savings and investments culture in Uganda, the 'Battle for Cash' challenge in form of a TV show engages various investment groups through saving and financial literacy workshops across the country and selects Clubs to take part in a competition.
For the past six (6) months, dfcu Bank's carried out workshops focusing on; Why and how to save, where to invest money so it can grow, things to think about when thinking of investing and so much more. This was aimed at changing the perceptions on money, savings and investments. dfcu Bank received applications from over two hundred (200) Investment clubs across the country and these were independently vetted by PwC to select top 20 clubs that entered the TV competition.
The Battle for Cash challenge has been running on NTV every Sunday at 6:00pm. As part of the application process, clubs were tasked to develop a Business plan for an innovative investment project. At the start of the show all shortlisted 20 clubs had to defend their business plans to a panel of judges to make it to the next show. The clubs were trained in different aspects and assigned weekly tasks to demonstrate their ability to put into practice what they had been taught.
According to Pamela N. Bahumwire, Partner at PwC Uganda there is a lot to learn from the Challenge. "The teams that put themselves forward to participate in the challenge are courageous and we could a lot from them. We all have a lot of potential that we may never realise until we put it to test," she added.
Speaking during the grand finale event, the dfcu Bank CEO, Juma Kisaame said: "Financial inclusion is high on dfcu Bank's agenda. We believe that providing financial literacy is critical in driving financial inclusion in a sustainable way. There is a pressing need to raise domestic savings in our country and convert it into financing – loans – for infrastructure, housing and small business creation. As dfcu Bank, it gives us a sense of pride that we are playing our
role in the savings equation. We have a long history of promoting a Savings and Investment culture that dates as far back as 2007 when we introduced the Savings and Investment Clubs proposition to foster group savings. To date we supported the formation of over 20,000 Savings and Investment clubs across the country with a savings turnover of over UGX 600 billion. We believe there is a greater opportunity to raise more awareness and challenge ourselves about savings and investments," he concluded.
Following last year's inaugural campaign, dfcu registered an increment in Investment Clubs with over 6,000 new Clubs being set up since January 2018.
"The Battle for Cash competition has offered many lessons for us and we have been able to use these lessons to work towards the ultimate prize. This has been a great opportunity for us to get new ideas on how to handle different business challenges," said a representative from Akuna Muchezo Development Club the winner of the Battle for Cash Season II finale.
Speaking at the Award ceremony, the Katikiro of Buganda Owekitibwa Charles Peter Mayiga, commended dfcu Bank on choosing Nairobi as a destination for the Study tour for the participating Clubs. "Many Kenyan companies now registered on the Stock Exchange started as Investment Clubs and are turning the economy around. If you stay the course, get advice from experts like PwC, on top of the exposure you have got, you may be the biggest businesses this continent has ever seen," he added.
An amount totaling to UGX 100 million in prize money was set aside for the Investment Club challenge including regional draws carried out in different parts of the country. Additionally, one delegate from each of the 20 selected clubs that entered the competition is to be sponsored to attend a study tour in Nairobi in January 2019. This as the top seven (7) clubs will receive free advisory services for a period of one (1) year courtesy of PwC.
(Visited 70 time, 1 visit today)