MTN Uganda announces national Grassroots Football Development Program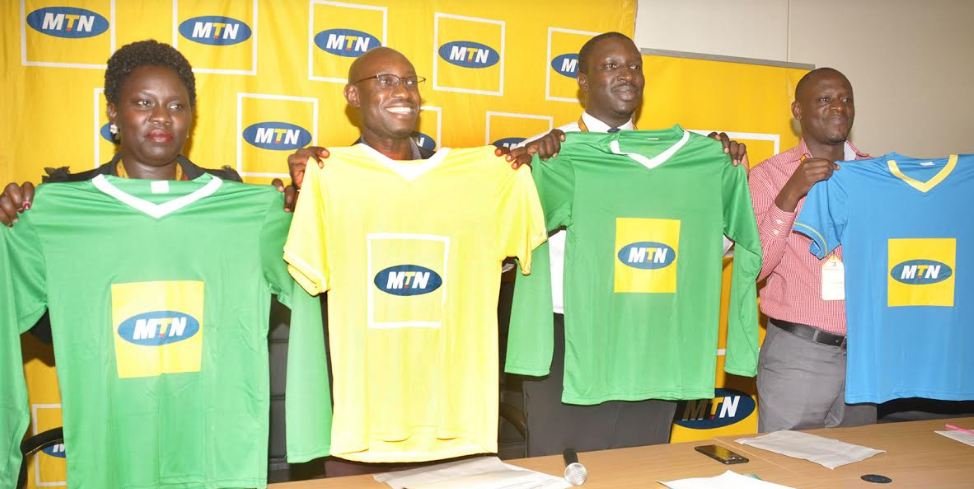 MTN Uganda has today unveiled its Grassroots Football Development Program where it will support local football teams countrywide with kits. The pilot program will see MTN Uganda acquire over 900 football kits which will be donated to football teams across the country covering all regions of Uganda.
In the first phase of this initiative MTN has invested over Ugx 50 million and it will see over 66 village football teams acquire new, quality football uniforms and soccer balls. The program was unveiled by the MTN General Manager for Sales and Distribution Mr. Keith Tukei who was ecstatic about the potential of the program in developing the game:
"The initiative is aimed at enhancing football playing experiences amongst children across the four regions of Uganda. Our aim as MTN Uganda is to grow the game of football, create inroads in spotting and identifying young, local talent and uplifting this talent to a national level".
Speaking at the launch, Valery Okecho the MTN Manager for Corporate Communications stated: "Football as a sport unites us all. The love for the game challenges our team at MTN to continuously seek ways to supply talent towards national excellence. This program is aimed at supporting young footballers who felt that their talent would lead them nowhere, who had no hope of exporting it from the dusty playgrounds in the countryside to national recognition. We do this in tandem with the pre-existing grassroots football development initiatives spearheaded by the local football governing body. It is our strong belief that through this support we shall develop a nation full of confident, talented footballers not only from Central Uganda but also from Northern, Eastern and Western Uganda".
The Grassroots program was envisaged after MTN Uganda Senior officials noticed there were lots of local, village teams playing with promise, participating and excelling in local tournaments but lacked the basic football kits like a team jersey or even a standard soccer ball.
"This program is really personal for us as a company, seeing kids and the youth alike out there enjoying themselves was touching. We thought to ourselves why not take this talent and nurturing it by supporting it using this program. When we talked to the local footballers, most of them had never won a new kit nor even played with a new ball. We therefore look forward to creating extra motivation to the footballers to train and have a great playing experience" Mr. Keith Tukei said.
Grassroot football teams that are talented, have a good track record, show promise, participate in local football tournaments and are not part of the top flight teams in the national league will be targeted through this program. It is expected that this initiative will be carried out annually.
For teams that are interested in benefitting from this program, they will have to officially register using a certain criteria that will look into their performance, promise and good conduct. The team should not be participating in any of the organised football leagues.
"In Uganda, grassroots football is used by some as a recreational activity, for others as a sport and for most as an avenue to express their talent. However many don't see this talent go through to the next level. It is therefore our hope that through this program more local footballers will be discovered by the larger clubs and eventually play for the national team" Mr. Keith Tukei said.
Beneficiaries will be seen to be competitive, represent the MTN brand and espouse its values, will henceforth be brand ambassadors and observe good conduct. Using its Regional Business Managers, MTN Uganda will scout for new talent and beneficiaries in the course of their field visits.
This project is being implemented by the Sales and Distribution team. The Uganda Sports Press Association (USPA) hailed this initiative by MTN Uganda. "As USPA we welcome this initiative to develop football from the grassroots because Uganda is full of potential but most of the talent remains untapped. We thank MTN for giving young footballers across the country a platform to showcase their potential and also for giving them a chance to dream and dream big. As a sports journalists' body we are happy when sports grows because it means that our sector is moving in the right direction" read a statement signed by Mr. Patrick Kanyomozi the General Secretary of USPA.
Internationally, FIFA supports Grassroots Programs by offering everyone the chance to play football, without discrimination and without the need for major infrastructure. With its core statement of 'Grassroots football is football for everyone, by everyone, everywhere' MTN Uganda's program is in line with supporting the development of grassroots football by facilitating the much needed football kits that are a preserve of a few.
The MTN Group abides by its Brand Mission of making customers' lives a whole lot brighter. In line with this mission the program will indeed make the lives of all footballers brighter.
(Visited 70 time, 1 visit today)
MTN UGANDA LAUNCHES MTN SHORTZ.
MTN Shortz allows subscribers to post video content
There is an opportunity for content created to generate revenue
Video content of up to 10 minutes can be uploaded
To subscribe and upload, visit www.mtnplay.co.ug/shortz
MTN Uganda in a continuous drive to become a digital company has today launched MTN Shortz, a short video streaming platform. MTN Shortz is a mobile-only service that allows subscribers to upload videos of no more than 10 minutes. MTN Shortz is available through mobile phones only on www.mtnplay.co.ug/shortz.
The streaming service allows subscribers to directly post video content from their mobile devices.
"MTN is creating an opportunity for its subscribers to create video content and earn from it. As the leading tech brand in Africa, we are always looking for ways to use technology to provide services that uplift the quality of life in the markets where we operate and so MTN Shortz," said Olivier Prentout, the Chief Marketing Officer.
MTN Shortz has several channels that subscribers can pick to upload content of their choice. It consists of channels belonging to different content owners, which users can access to view a variety of content. For subscribers to view the content on MTN Shortz, there is a daily charge of between Ugx200 and Ugx1000.
For a video viewed, the content owner will be able to earn some money from the visits.
"The MTN Shortz channels will have local content videos, meaning that for the Ugandan content producers, there is an opportunity for views and extra income. MTN believes that MTN Shortz will be able to drive local content video production," Prentout notes.
Adding "There is also an opportunity for those that want to be seen by professional content creators. There are several professional content creators that will be using MTN Shortz and will be able to identify the untapped talent. You won't have to wait for the opportunity to come to you, you can create it."
For the MTN Pulse community, MTN Shortz is empowering the lifestyle of creating an opportunity. There are several platforms where people can post videos, however on MTN Shortz, the fact is that there is an opportunity to make money. The MTN Pulse community, there will be several exclusive offers in order to access and use MTN Shortz.
(Visited 70 time, 1 visit today)
Opportunity Bank rebrands
By Our Reporter
Opportunity Bank, a leading microfinance bank in Uganda, announced their new brand and officially unveiled their  new and improved Head Office in Kamwokya on Friday.
These changes will elevate Opportunity Bank's focus on the ability to provide a strong customer experience and technology-led financial services offering to well serve their existing customers and potential target market in the small and mid-sized businesses (SMEs).
Mr. Tineyi Emmanuel Mawocha, Chief Executive Officer of Opportunity Bank said that "There are still many people who are unbanked and have fettered access to loans for developing their businesses. Being able to provide a strong customer experience while exhibiting our unique brand values and financial solutions can be a key differentiator to enable the local market access to turn-key banking products and services. With our rebranding efforts, Opportunity Bank has been empowered to offer banking solutions and experienced customer support services that SMBs need to grow."
The acting Board Chairperson, Mrs Winnie-Lawoko-Olwe, also added that "Opportunity Bank's unique banking platform is able to meet consumer needs in an easy-to-use way for any SME and individual. Opportunity Bank continues to develop its multi-functional platform, helping our local markets grow one business at a time. The innovative banking solutions that a small business owner will need to grow their business is extensive. We knew that a unique approach was needed, and we have moved to tailor our products and services specifically to meet our client's needs."
Executive Director-Supervision at Bank of Uganda Dr. Tumubweine Twinemanzi who officiated at the launch said that increased confidence in banking benefits will see the move of the 'unbanked funds' from under the mattress to commercial banks. Opportunity Bank's new branding further enables the bank to stand out, not only within the expansive financial sector industry, but also within the ever-growing mobile money banking sector technology ecosystem. Small business owners will enjoy the ease-of-use of Opportunity Bank's sophisticated technology, along with the human touch that is delivered through superior customer service.
The New Opportunity Bank logo brings a sharp new visual identity, characterising the brand as bold, smart, effective, and original. Opportunity Bank's emphasis on providing a full suite of products and services to the local market is reflected in the company's new tagline, – "Empower yourself, empower your business, empower your future." This language speaks to the core belief that in a vast, ever-changing, and evolving financial sector, Opportunity Bank can fully cater to each and every business to establish and secure a thriving banking solution.
(Visited 70 time, 1 visit today)
dfcu Bank moves to consolidate its partnership with Non-Governmental Organizations
In a move to grow the entrepreneurial outlook of Non-Governmental Organizations (NGOs), dfcu Bank hosted a breakfast meeting with over 150 current and prospective NGOs at the Imperial Royale Hotel, Kampala.
The meeting provided a platform for Non-Governmental Organisation's to hear from subject experts and share insights on how to develop an entrepreneurial mindset if they are to remain relevant and sustainable.
According to William Sekabembe, the Chief of Business & Executive Director this calls for putting beneficiaries at the center of programme development; more structure, transparency, accountability and innovation.
"With shrinking donor funding and increasing competition, it is important that NGO's realign their operations to transition from reliance on grants to becoming social enterprises. This change in mindset and ultimately operations will drive sustainability and make them more attractive to financial institutions and give them leverage in negotiating for better financial solutions," says William Sekabembe.
dfcu Bank introduced its NGO account in 2013 and has revamped its offering to give NGO's more so they can carry out their operations with ease. The current customer value proposition includes among others: free account maintenance & activity fees; interest rates of up to 4% p.a on UGX accounts & 1.25% p.a on USD accounts; free internet banking; free access to a third-party & Bulk payments solution and dedicated services points at selected branches across the 66-branch nationwide network.
This is in line with dfcu's brand promise of making more possible for the sectors it serves and attain its aspiration of becoming a Universal Bank.
(Visited 70 time, 1 visit today)