Kasuku Is Blackmailing me, Hilderman Washes Dirty Linen In Public
Dr.Hilderman is soon becoming another talk-and-talk microphone on Social media. On a Sunday when everyone was busy praising their heroes, Hilderman was pouring scorn on his villains. Hilderman said:
"Wat is wrong with some guys? Imagine somebody being given just a lunch fee of 50,000 to talk ill about me on radio.This has taken along time ever since this animal acquired this job and every artist is complaining about him. If u dont give him money he talks negative about you all the time, where is the professionalism? The little i knw about media is fair and balanced reporting and presentation but as producers of the shows,don't u sense any form of personal issues with some presenters when they all the time talk negatively about some people/groups? Now this fool is calling me to be paid if i dnt mbu akikube nga akiza side ndala silly. In a few months dat job of yoz will be no more. Talent is never corruptible,and this fool can sound real kumbe he is faulsly reporting/presenting for mere meat. We get our talents from far,if u are a music critic musically speak,bt this fool never talks in music terms, music keys,tym signature,tonz etc.For the sake of the media house i have not exposed this person,coz da media house means a lot to me right from the start of my career.By the time i write this kibade kisuse era munsonyiwe. Whoever messes with your job deserves the worst. blesses Sunday."
Hilderman was hitting at Kasuku one of the most feared yet humble radio presenters. According to many artistes, they think Kasuku takes money to either praise or talk ill about them. "Kasuku is that stinging bee in the music industry, the industry fears him, he talks without fear or favour," said a friend.
Hilderman went on to hit at Kasuku saying: "I employed myself and you want to finish my investment and sacrifice coz of black mail? and this fool mufele nyo nti when he is talking u can think he is giving the truth kumbe he is provoking u omusasule akuwane. bt tompanangako ever since u got that job bt nsula wange,ndi land lord,nina kyendaga and for your information my funs lov me for wat u think is negative silly."
It is shaming that Hilderman forgot the quote that says: "Silence is golden." However, Hilderman forgot to show evidence of Kasuku soliciting money from him. It is a misconception among artistes and celebrities to think that journalists get paid before they can praise anyone. For anyone who knows Kasuku, he is honest in his dealings and gives credit where it's due. Over to you Kasuku and Hilderman.
(Visited 186 time, 1 visit today)
Toniks signs under Gifted Music Group
By Staff Writer
The latest news reaching our desk indicates that singer Allan Toniks is officially part of Uganda's ever growing music label, Gifted Music group
The singer who has been quiet for a while is set to do a musical comeback with huge pojects under his new home GMG. Sources close to the record label revealed to us that everything was finalised and within a short period of time, Allan will be officially announced as a GMG member
Toniks is the second artist to be signed under the label after signing sensational singer Smart Djaba earlier this year. Allan's first song under GMG, Romance is set to be out this Saturday 24th February 2018
We will keep you posted
(Visited 186 time, 1 visit today)
Spice Diana breaks silence on allegedly wearing artificial hips.
Embattled singer Spice Diana may fall prey to all the mushrooming bad rumors about her but she will not let one thing go un-explained. The singer who has in the recent past had very rough days has broken the silence on allegations that she wore hips on her concert day and perhaps still wears then. The singer who previously has had bad interview days on BBS and NTV will let all that pass but not the lies that she wore hips.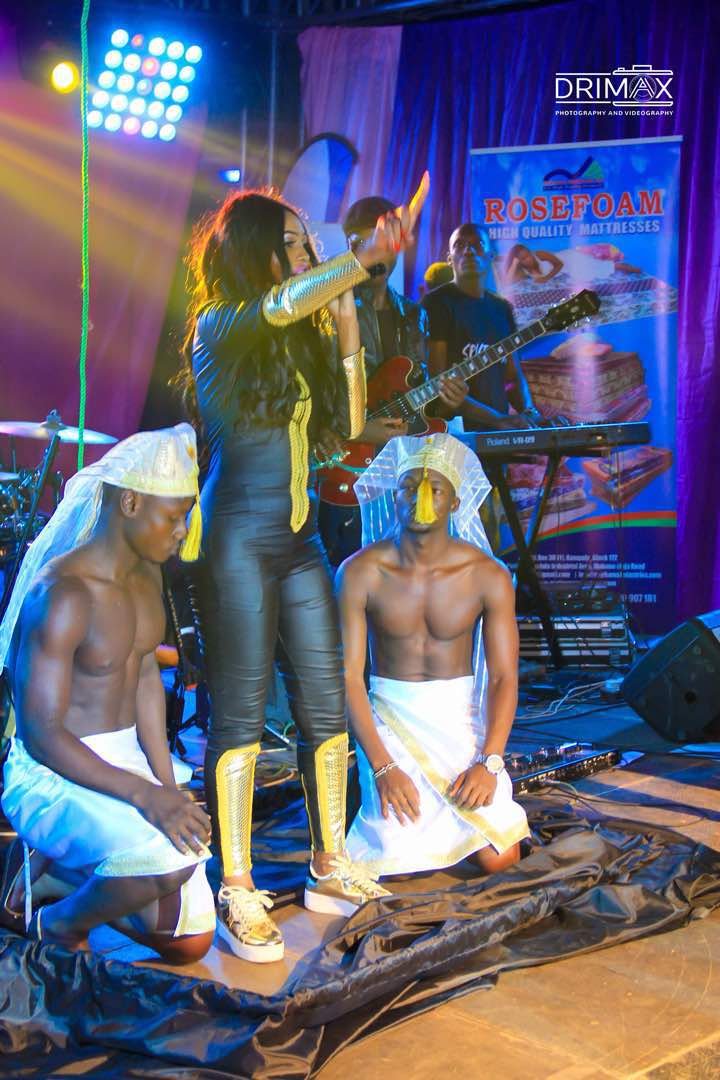 According to Spice Diana, on her concert day she had a costume for the day and was expected to make a grand entrance, to fly in like an angel. "Spice was to come on stage flying like an angel and obviously she had to wear support right from her thighs. Inside her costume she had material from which the ropes that support her were tied and that explains the alleged hip extensions that people are implying." Her manager explained. The singer further confirmed and admitted that had other clothings inside her costume but they were not hip extensions but rather part of her support to her flying entrance.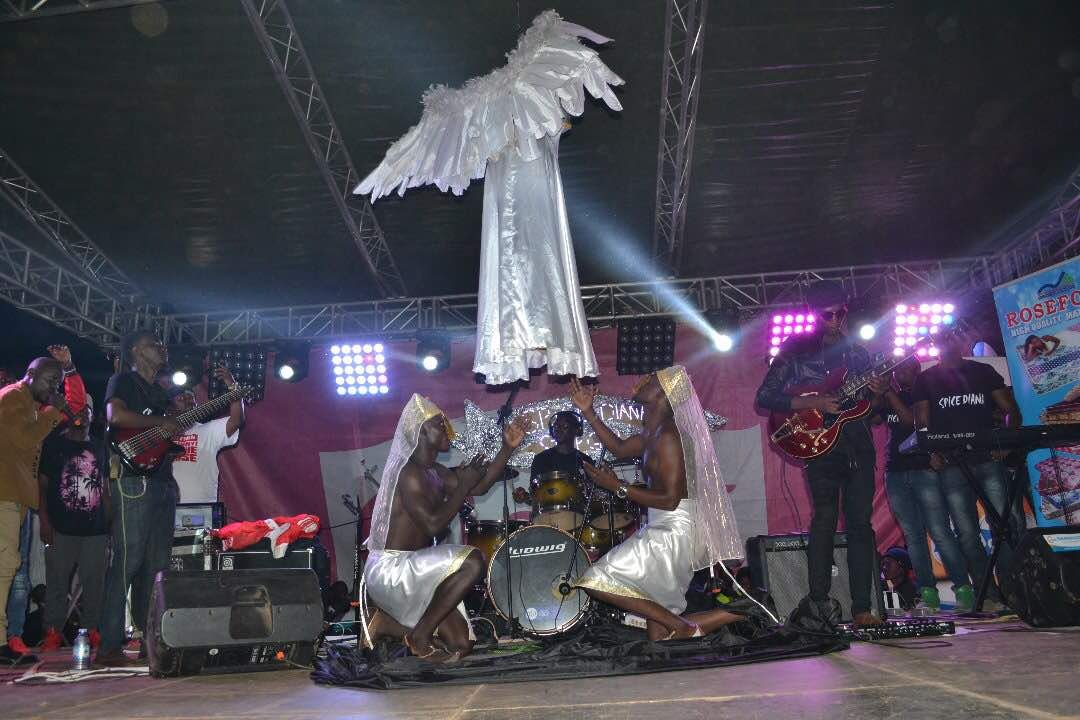 Spice Diana is with no doubt one of the very beautiful female singers we have and we agree she doesn't need hip extensions to rock us.
(Visited 186 time, 1 visit today)
I am a music Dynamo, Jose Chameleone challenges Bebe Cool to a battle of champions.
By Stuart G-Khast.
Singer Jose Chameleone has come out clear and commented on the fast spreading word about his much anticipated battle with Bebe Cool. Chameleone has not declined on any chances that the battle could actually take place.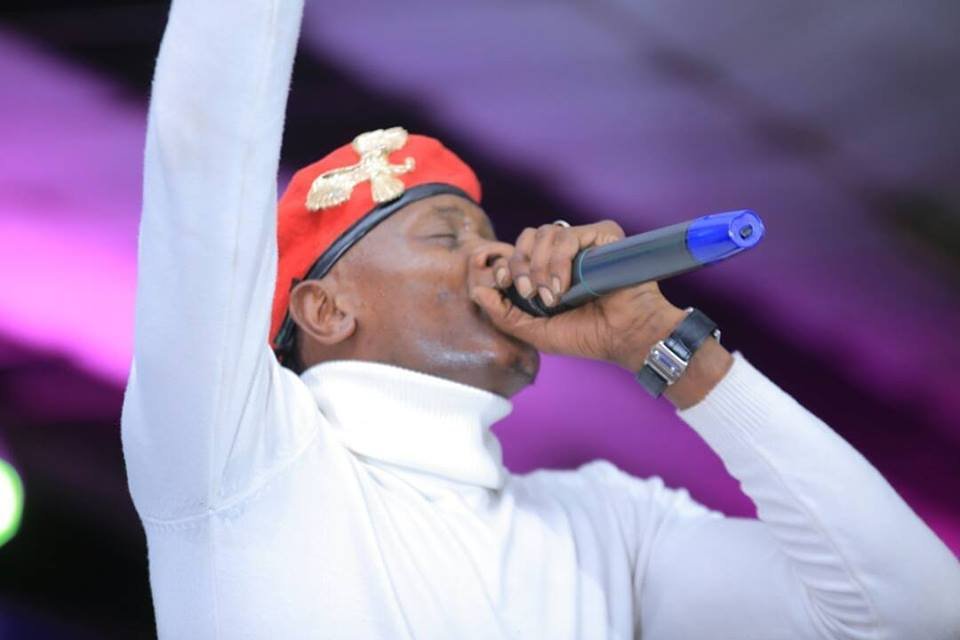 In a long stamen he noted "… I remain the undisputed. I have heard of the battle with my big brother though no one has come forward to put the deal on table. I am a music Dynamo and who so ever wants to battle should know that that's the day you are going to be buried before your disciples!!
And I will put a cross on your grave as I engrave R.I.P. I WILL ONLY ENTER THAT ANTICIPATED SHOWDOWN IF THE KCCA WILL AGREE TO LET IT BE NO TIME LIMIT. He who runs out of music, Goes home.
Jose Chameleone seems ready for what could be the biggest artiste battle of the decade.
(Visited 186 time, 1 visit today)