iDroid USA Launches 3D Smartphones in Uganda

By BigEyeUg Reporter
iDroid USA 3D smartphones best referred to as 'Clever Gadget' have officially launched in Uganda. The iDroid Royal V7 and iDroid Tango A5 smartphones were launched last evening at the Kampala Sheraton Hotel by the Uganda Minister of State for Housing, Hon. Sam Engola, at a ceremony attended by tech freaks, government officials and several stake holders in the mobile phone industry.
Speaking at the launch, iDroid USA co-founder and CEO, Joe Qureshi, revealed iDroid USA is a brain child of five entrepreneurs whose main mission is to create amazing experiences through mobile computing where technology is used easily for consumption.
True to his word, the audience was left awestruck as Qureshi demonstrated the key features of the new iDroid smartphones. "The iDroid smartphones have a screen triggering unique wake up gestures technology bringing things that people care about most right to the start screen. The feature combines basic everyday tasks such as checking e-mail, browsing the web, playing music, sharing pictures and many more, so people can do more in fewer steps," he explained.
iDroid Royal V7 will retail at Ugx 949, 000 while the iDroid Tango A5 will retail at Ugx649, 000 and they all come with a free data package. These gadgets can be found at MTN, Airtel, Africell and Simba Telecom outlets. They can also be bought online at www.jumia.ug.
(Visited 1 time, 1 visit today)
Riham rewards first winners in "Sip Sip Sumulula" promotion

By Our Reporter
Hariss International Limited, the manufacturer of RIHAM products, has  rewarded the first batch of winners in their drink and win promotion dubbed "Sip Sip Sumulula". This was during a ceremony held at their head offices in Kawempe on Wednesday where 36 customers from with in the central region walked with different prizes including sports bikes, flat TV screens, smartphones and 1 million shillings in cash.
Speaking during the ceremony, Riham's Hussein Ahmed said; "We recently launched our countrywide drink and win campaign and are glad to be rewarding to the first batch of winners."
"Customers are at the heart of our business and we will continue to give back while creating exciting experiences for them as we also enrich their lives." He added.
The joy was palpable as winners received their prizes. They danced and made ululations as the Riham officials individually handed over the prizes.
Kyeyune Abdul Rahman, a resident of Kyengera, was one of the most animated winners. He recounted his journey to being one of the lucky winners saying, "I usually drink Rockboom to replenish my energy. When I heard about the campaign, I started drinking lots of it and keeping the bottle tops. I am very happy because with this sports bike that I have won, I feel that I have gotten tenfold what I spent."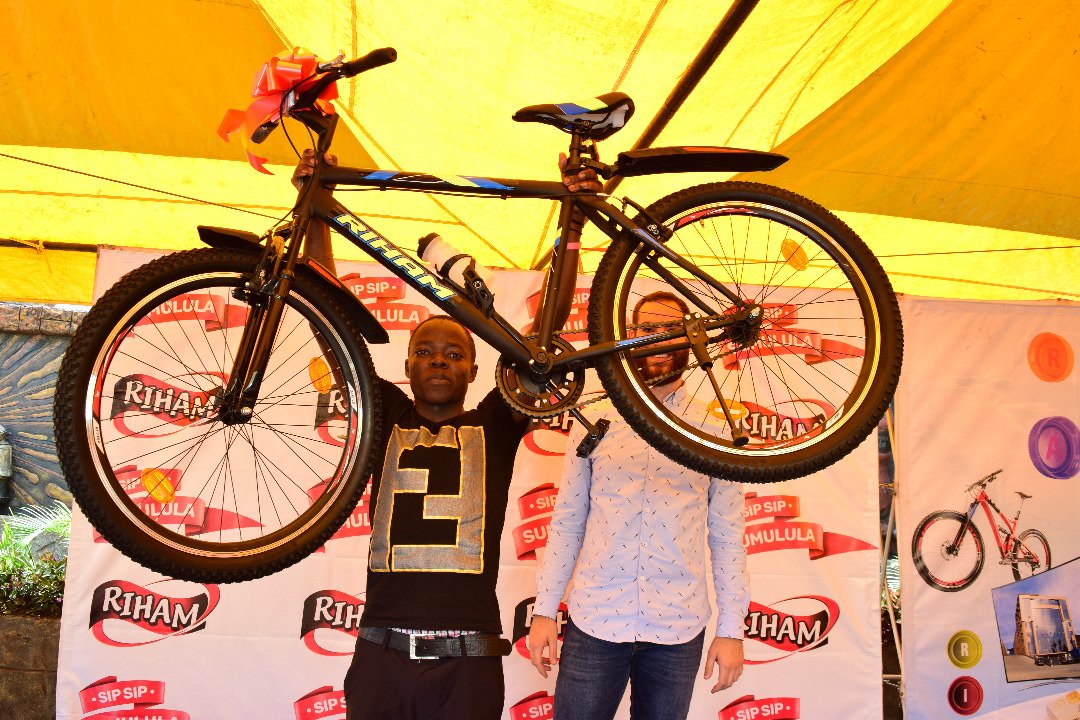 To participate in the 'Sip-Sip Sumulula' promotion, customers simply have to purchase a Riham Cola, Rockboom or Funtime 320ml bottle, check under the bottle cap for any one of the letters that complete the word RIHAM.
To win 1 miilion in cash, customers will have to collect 10 complete RIHAM words while to win flat screen TV sets, they will have to collect 5 words and then 4 words for mobile phones, and 3 words for sports bikes.
(Visited 1 time, 1 visit today)
Airtel recognizes budding "internet hustlers"

By Our Reporter
Airtel Uganda has marked the end of the inaugural season of their testimonial digital series – 'My Hustle'. The season finale saw the telecommunications network identify and recognise the most internet-driven, most innovative and most impactful business through both public vote and a panel of judges.
Edrine Sempebwa, a 27-year-old Economics graduate and founder of SpareWo – an online shop for motor spare parts; Pius Enywaru, the founder of Fastlane Media & Communications and George Nsamba a self-taught filmmaker and proprietor of The Ghetto Film Project all walked away with UGX 5,000,000 each for Most Innovative Hustle, Most Internet-Driven Hustle and Most Impactful Hustle respectively.
All the 29 personalities received a certificate of recognition from Airtel Uganda, a router and assorted branded items.
Launched in September 2018, 'My Hustle' is an online-based series featuring different budding entrepreneurs running small and medium enterprises powered by the internet and Mobile Money. Since its inception, the series has given 29 personalities and small businesses, such as a dog trainer, a visual artist, a lawyer earning from a food business, a FinTech company, e-commerce shops for car spare parts and building material, a customized wigs entrepreneur, a scented candles maker and many others, an opportunity to share their stories and market their products in under 2 minutes.
Mr. V.G. Somasekhar, the Airtel Uganda Managing Director applauded the 29 entrepreneurs for their remarkable work in the areas of job creation and utilization of technology to improve their lives.
"World over, technology has been recognized as a major catalyst for development of individuals, communities and businesses. Airtel Uganda is proud to be pioneering a similar cause in Uganda through this very popular series that identifies, recognizes and shines a light on internet and mobile wallet driven small and medium enterprises," he noted.
"Upon the completion of reliable and affordable countrywide internet connectivity, the next major step is assisting and empowering people to reap its benefits across all sectors regardless of the socio-economic divide."
The Guest of Honor Mr Gideon Badagawa – Executive Director Private Sector Foundation Uganda – applauded Airtel for this innovation.
"Every year thousands of youth graduate from University, excited to join the work force. Unfortunately, most of them spend the first few years unemployed. With innovations such as Airtel's 'My Hustle', entrepreneurs get the right platform market and showcase their business to the market," he said.
"To this and many more other initiatives, we are proud to associate with Airtel Uganda as development partners towards realizing the Uganda Vision 2040."
(Visited 1 time, 1 visit today)
Breeze Travel and Safaris giving Ugandans chance to AFCON

Many Ugandans would be dying to witness the forthcoming Africa Cup of Nations in Egypt yet they do not know how to go and with whom. Be worried not, Breeze Travel and Safaris Limited is dedicated to make the experience easier for you. Like the company did in the 2017 African Cup of Nations qualifying rounds where it took up to 70 Ugandans to witness greatness in Gabon and World Cup in Russia 2018, it will be making the experience even better this year in June where it will take more Ugandans to witness their country participate in the biggest African tournament. The company has been licensed and intends to take a handful of Football lovers to Egypt and also accommodate them until end of the tournament. Breeze Travel and Safaris Limited is one of the few licensed companies to take Ugandans on such trips and will be at it again this year. The company also has in the past organized international Business, Sports and Leisure trips and tours for its clients world-wide by having continuous special travel and cruise packages to Africa, Asia, Europe and USA among others. Breeze Travel and Safaris Limited is the official FUFA fans travel agent and has always given a memorable experience to its clients.
"We have for the past 16 years given thousands of Ugandan tourists memorable experiences and we are proud to announce that we will be taking more Ugandans to Egypt in June. Our fares are fair to average earning Ugandans and accommodation and feeding is also on us. We want to give Ugandans a chance to be part of the African Cup of Nations (AFCON) and support our Team Uganda Cranes this year" CEO Alexis Jubilee remarked.
Breeze Travel & Safaris Ltd has been at the fore front of organizing better, fare and memorable sport tourism among them is the most talked about Maseru, Lesotho Tour that took over 100 people of all classes to watch African Cup of Nations Qualify Match in 2007 , from then they have organised different packages for sports including World Cup Fans to South Africa 2010 , Kenya vs Uganda in NairobiI- Nyayo stadium 2013, Africa Cup of Nation Qualify in Ghana 2008, Afcon Gabon in 2017 and World Cup Russia 2018.
Based on this experience and understanding of Sport Travel terrain they have again very exciting packages to offer Sports loving Uganda Tourists with the best memorable but fairest packages to travel Cairo- Egypt and watch Uganda Cranes come back in the African Cup of Nations Finals. The package accommodates Budget/Luxury fans who would like watch one match, two matches or the three group matches involving Uganda Cranes.
Available packages.
OPTION ONE: BUDGET
• RETURN ECONOMY TICKET
• RETURN AIRPORT TRANSFERS
• 6NIGHTS OR 10 NIGHTS ACCOMMODATION IN A 3* HOTEL PER PERSON SHARING
• DINNER ON A NILE CRUISE WITH ORIENTAL BELLY DANCER SHOW
• CITY TOUR
• MATCH TICKETS
• ALL ENTRACES FOR SIGHTSEEING
• GROUND RETURN TRANSFRES TO THE STADIUM
• ENGLISH- SPEAKING EGYPTOLOGIST GUIDE
OPTION TWO: LUXURY
• RETURN ECONOMY TICKET
• RETURN AIRPORT TRANSFERS
• 6NIGHTS OR 10 NIGHTS ACCOMMODATION IN A 4* HOTEL ON BB PER PERSON SHARING
• 2 NGHTS IN 05* NILE CRUISES BASED ON FB
• AIR TICKETS FROM CAIRO TO LUXOR/ASWAN
• TOURS: Visit East Bank, Luxor, Karnak Temple, temple of Edfu, Komombo Temple, Aswan High Dam, Unfinished Obelisk
• CITY TOUR OF CAIRO
• MATCH TICKETS
• ALL ENTRACES FOR SIGHTSEEING
• GROUND RETURN TRANSFRES TO THE STADIUM
• ENGLISH- SPEAKING EGYPTOLOGIST GUIDE
PACKAGES EXCLUDE:
• VISAS
• ANY EXTRAS NOT MENTIOBED IN THE ITINERARY
• TIPPING, TELEPHONE BILLS AND LAUNDRY
• MEALS AND DRINKS WHERE NOT SPECIFIED
Get details and book your slot here https://www.breezetravel-safaris.ug
(Visited 1 time, 1 visit today)