FM Radio broadcasting in Uganda turns 20 this month.

Here's a toast to the talent that has made tuning in to the Frequency Modulation band on our stereo sets worth our while over the years. Some are still riding the crests of the airwaves, others have found better passions while some are departed (RIP). Moses Serugo a top arts & entertainment journalist Moses Serugo. Photos by Raj'Media.
James Onen aka Fat Boy and Seanice Kacungira host Sanyu FM's flagship show Sanyu Breakfast weekdays 6-10am. The dynamic duo weave loose banter and intellectual discourse that sets them apart from the rest of the morning radio rat pack. The twosome mostly appeals to upwardly mobile corporates and university students. They form some of the bankable radio talent today with Seanice representing her Alma Mater Namasagali College as the biggest incubator of on-air private FM radio talent over the past two decades.
Feminists may dislike them but this testosterone-laded trio has run with its consistent format every weekday since 1996 when CBS FM went on air as the electronic media mouthpiece of the Buganda Kingdom. Kato Lubwama, Abbey Mukiibi and "Bwakedde Mpulira" host Abu Kawenja offer choice prime time listening weekdays 7.30am-7.50am packing everything from political satire, marital parody, et al in what is principally a sports show. "Kalisoliso" always acts as a salve to anyone dreading the workday ahead. It is also the best example of a seamless transition from stage to radio. All three hosts are renowned thespians in their own right.
Alex Ndawula is the Patriarch of private FM radio broadcasting in Uganda. Alongside music entrepreneur Chris Ireland and DJ Chazzo, the trio held the nation captive in the early days of FM radio when Radio Sanyu went on air a week to Christmas in 1993. Alex would later jump ship to the more streamlined and definitively urban 91.3 Capital FM as host of it's breakfast show. He went on to "pioneer" the Morning Crew format at the same station later in 1996 and continues to roar despite relegation to a cluttered threesome on a now sedate drive show. A feather in your cap (make that 20) Alex!
Siima Kyakuhaire Kyomuhendo Sabiti represents the new voices of FM broadcasting enough to win over cynics who may have tuned out for a lack of infotainment. The XFM 'boss lady" drives the station's flagship show X-AM alongside the eloquent Rudende Nkurunziza and the jesting Libolo to bring a freshness to radio that flexes your funny bone while delivering an infotainment binge. Her Saturday (6am-10am) pairing with KK (Katuramu Kenneth) on the aptly-titled "The Morning After The Night Before/ Postinor" show makes for great hangover therapy.
Beneath that cuddly bear demeanor lies the very definition of a "Radio Head". XFM's Rudende Nkurunziza salient feature is his desire to leave his listeners informed, a quality that only comes from the habit of prepping for one's show. The X-AM co-host brings a minty freshness to today's clogged (and at times over-polluted) airwaves.
Clown, jester, studio fool; whatever your opinion, Libolo is quite the affable fellow even with his effortless display of a lack of grey matter on air. He compliments his two X-AM co-hosts in a way that doesn't make him feel like he is playing gooseberry. Quite a lucky find here. Tune in to XFM weekdays 6am-10am.
XFM's X-AM breakfast trio Libolo, Siima Kyakuhaire Kyomuhendo Sabiti and Rudende Nkurunziza share a Kodak moment (was it a Nikon moment) "off air".
Allan the Cantankerous has been reborn in KK, host of XFM's drive show the X-IT. Off-the-cuff humour, information right of his fingertips and the not-socommon courtesy of back-crediting songs is what defines this self-deprecating Mutooro. We haven't heard anyone talk down his heritage like this reed-thin fella that could trade his forehead for a face like Shrek's maybe.
X-FM's Siima Kyakuhaire Kyomuhendo Sabiti and KK (Katuramu Kenneth) offer ideal hangover therapy on the aptly-titled "The Morning After The Night Before" (Saturdays 6am-10am) that apparently works better than Postinor.
Off-air, XFM's Saturday morning twosome of KK and Siima as as playful as they are on air. Theirs is one of the most bankable pairings on the airwaves at the moment.
Capital FM's Shawn Kimuli and Tatu do more than sit-in for the regular Morning Crew when the latter goes on leave. Here, the Kisementi duo go through that radio ritual that is "show prep".
Saturday mornings (for those that get to wake up with light heads) see 91.3 Capital FM's Shawn and Tatu steering listeners through laid back music and relationship advice. Tune in from 6am-10am.
The Capital Gang is an FM radio stable that emerged as an alternative political space. The studio format political debate show made its debut in 1995 with Capital FM owner Patrick Quarcoo as host and Charles Onyango-Obbo, Winnie Byanyima and Frank Katusiime as panelists. It is now hosted by leading educationist Oscar Semweya with a regular panel comprising Opposition Shadow Attorney General and Bugweri County MP Abdu Katuntu, Kyaddondo East MP Semujju Ibrahim Nganda, EALA rep Lydia Wanyoto, MP Chris Baryomunsi and Government spokesperson Ofwono-Opondo.
She may be Mrs Byaruhanga but to her legion of fans she remains Irene Ochwo host of the mid-morning show on Radio One (FM 90). She juggled the job of Literature teacher at SMACK (St. Mary's College Kisubi) alongside her early radio career at 91.3 Capital FM where she was a pioneer presenter of the Morning Crew alongside Alex Ndawula. She later abandoned teaching in 1997 to take up a managerial role at the newly launched Radio One. She has resisted the pressures of a wifely life and motherhood to stay on air.
Apart from the money of early broadcast proprietors Thomas Katto, William Pike and Patrick Quarcoo, FM Radio in Uganda also owes a lot to the sheer guts of a certain Peter Sematimba. The emergence of a new sound from Dungeon Studios in 1993 gave voice to a new generation of youth, who wanted to be heard on radio. In this picture, the bespectacled man in the middle many came to know as Dr. Senga is flanked by the Dungeon posse comprising (L-R); Ragga Dee, Brenda Z'Obbo, Bob Bashabe (RIP), Steve Jean, Roger Mugisha, Simon Base Kalema Symon Kalema, Lillian Butele Kelle, Jenkins Mukasa, Terry Divos Atwooki, Jimmy Bageire aka MC Afrique, Rasta Rob and Shanks VVD. Most have since retired into radio and music production while Peter Sematimba oscillates between being an evangelist and the proprietor of Super FM (88.5).
A rare picture of Peter Sematimba and his family. His his wife and children lived in the US while Sematimba was all the rage on the budding Ugandan FM radio scene in the '90s. At 91.3 Capital FM, he broke barriers by mainstreaming the taboo subject of sex, earning himself the moniker Dr. Senga (a male agony aunt of sorts) on his weekly Tuesday nightly show Capital Doctor. Sematimba later moved on to set up CBS FM in 1996 causing major seismic activity in the industry after the bulk of Radio Sanyu's pioneer talent jumped ship on his prompting.
Weekday evenings belonged to the then Radio Sanyu star Rasta Rob aka Owakabi aka Goody Goody. Rasta Rob (real names Robert Ogwal) endeared himself to the downtown masses what with his street lingo mastery. His was also mostly a "dedications" slot on which listeners could hear their greetings read live on air. Rasta Rob later crossed to CBS FM in 1996 and later moved on to an extended stint in the UK. He returned in the noughties and now hosts the breakfast show on Super FM.
Angela Newman commonly known by her on-air name Crystal is a Sanyu FM staple and has hosted the station's evening show (weekdays 5-8pm) for quite a while. Even when her co-hosts pass on (DJ Bangi) or move on to greener pastures (DJ Val), Crystal soldiers on with motherly resilience.
It was common for FM Radio proprietors to employ musicians in order to bait listeners. Apart from Rasta Rob, the other trio in this photo (L-R); Emperor Orlando (Radio Sanyu), Menton Summer (CBS FM) and Ragga Dee (Radio Sanyu) each started out as musicians before trying their hand at radio.
There was always a naughtiness about 91.3 Capital FMcampaigns including an apparently raunchy sweeper one in which a woman moans "do it some more". In this particular print media campaign photo, the Morning Crew; Oulanya Columbus, Karitas Karisimbi and Big Brother Africa 1's Gaetano Kagwa conjure up a 'menage a trois'. Despite it's heavily repeated playlist, 91.3 Capital FM always managed to bait and hook listeners with imaginative campaigns like "Hand Off My Hyundai", "The Capital FM Treasure Hunt" among others.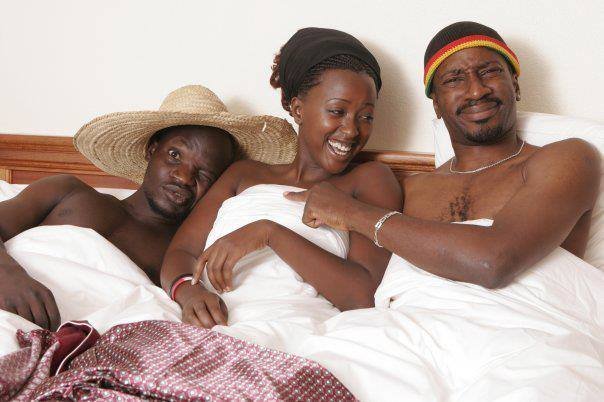 We stumbled onto this picture of former Radio Sanyu presenter Gloria Kamba off her Facebook profile page. Gloria was the first lady of breakfast radio going head to head with Alex Ndawula. While the latter was known for his brash on-air demeanour, Gloria was the go-to girl for everyone that was more on the cool, calm and collected side. She was part of the Naguru to Bulange radio talent exodus in 1996. Not much was heard of hear after quitting CBS FM in the late '90s.
Allan Mugisha (RIP) aka the Cantankerous One was arguably one of the most hilarious guys on radio. Many credit their introduction to jazz to his "Funky Jazz Connection" on Radio Sanyu. The segment played Sunday afternoons and he used his humour to bait listeners to the "music of talking instruments". He hosted a more purist affair as Dr. Jazz on Thursday. Allan later jumped ship to 91.3 Capital FM where his at times bawdy humour punctuated song interludes. He, however, had to battle a drinking problem that saw him booked into rehab a couple of times. His attempt to revamp his radio career on KFM didn't amount to much and his demise was a major blot on the industry. FACEBOOK PHOTO
DJ Bangi (Wilfred Bangirana – RIP) was synonymous with the Golden Oldies and his stints on Radio Sanyu, Capital Radio, Radio One and later Sanyu FM carried a signature oldies show. He tried his hand at mainstream shows; breakfast on Sanyu FM before settling for the afternoon drive show at the same station. Outside radio, Bangi hosted a monthly Oldies Night at Angenoir Discotheque. FACEBOOK PHOTO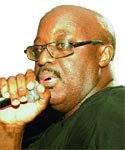 RS Elvis (Elvis Kalema) is a pioneer radio presenter who started out as a late night DJ tucking listeners into bed on Radio Sanyu's "Quiet Storm" in 1994. He later crossed over to Radio One in 1997 where after a stint on breakfast radio decided to settle for the evening drive show which he has hosted for over a decade. FACEBOOK PHOTO
Juliana had a stint on 91.3 Capital FM at a time proprietors felt the urge to tap into artistes' fan bases as a way to rack up listenership. She takes credit for showing Big Brother Africa 1's Gaetano Kagwa the ropes around the radio microphone. FACEBOOK PHOTO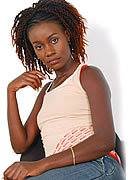 Probably the biggest influence on Uganda's FM Radio industry and not just as a presenter back-crediting songs on air but as a hit maker holding radio audiences captive every time he debuted a song from his Dungeon Studios. He was also the straight-talking Agony Uncle going by the moniker Dr. Senga host of Tuesday's Capital Doctor on 91.3 Capital FM.
Brenda Z'Obbo was mostly known as the other half of the girl urban pop group Prim n' Propa alongside Lillian Butele Kelle. This gave her the requisite thrust to try her hand on radio starting out on 91.3 Capital FM in 1994 before relocating to Radio One as a pioneer presenter in 1997 where she hosted the Lunch Time Request (1-4pm) slot. She then crossed the border to the greener pastures of the airwaves in Nairobi. FACEBOOK PHOTO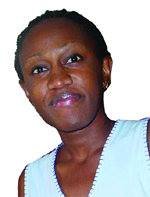 He may not admit to it but Father Damian Grimes was a loud influence on the early days of FM radio. The bulk of the talent back then passed through his educationist hands as headmaster of Namasagali College. The emphasis was to grant learners a holistic experience beyond the rote learning elsewhere. It is of little wonder that the self-assured eloquent-speaking Sagali alumni conquered radio back then. Gloria Kamba, Marcus Kwikiriza, Jim Musoke, Alex Ndawula, Ronnie Sempangi (RIP) all consider Namasagali College their Alma Mater. FACEBOOK PHOTO
Details here: https://www.facebook.com/FMradio20
(Visited 1 time, 1 visit today)
Watch the Africa Nations Cup this June, see how and with who


Many Ugandans would be dieing to witness the forthcoming Africa Nations cup in Egypt yet they do not know how to go and with whom. Be worried not, Breeze Travel and Safaris Limited is dedicated to make the experience easier for you. Like the company did in the 2017 African Cup of nations qualifying rounds where it took upto 70 Ugandans to witness greatness, it will be making the experience even better this year in June where it will take more Ugandans to witness their country participate in the biggest African tournament.
The company has been licensed and intends to take a handful of Football lovers to Egypt and also accomodate them until end of the tournament. Breeze Travel and Safaris Limited is one of the few licensed companies to take Ugandans on such trips and will be at it again this year.
Breeze Travel and Safaris Limited is an experienced tours and travel company that has given people a memorable package in and out of Uganda for over 15 years. Previously the company has organized Bussiness,Sports and Leisure trips and tours for it's clients.
The company also has in the past organized international tours by having continous special travel package to Egypt , Dubai, South Africa, Seychelles, Netherlands, USA among others.
Breeze Travel and Safaris Limited is the official FUFA fans travel agent and has always given a memorable experience to it's clients. "We have for the past 15 years given thousands of Ugandan tourists memorable experiences and we are proud to announce that we will be taking more Ugandans to Egypt in June. Our fairs are fair to average earning Ugandans and accommodation and feeding is also on us. We want to give Ugandans a chance to be part of the African Nations Cup this year" CEO Alexis Jubilee remarked.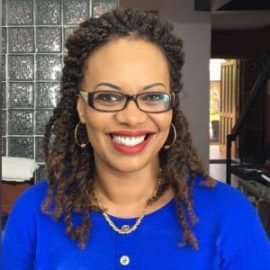 Breeze Travel and Safaris Limited is an experienced Tour and Travel Company that has given people a memorable packages in and out of Uganda for over 16 years!
They organise events spanning from Business , Education , Sports and Leisure trips and tours Wide-World with memorable experiences.
Breeze Travel & Safaris Ltd has been at the fore front of organising better ,fair and memorable sport tourism among them is the most talked about Maseru, Lesotho Tour that took over 100 people of all classes to watch African Cup of Nations Qualify Match in 2007 , from then they have organised different packages for sports including World Cup Fans to South Africa 2010 , Kenya vs Uganda in NairobiI Nyayo stadium 2013, Africa Cup of Nation Qualify in Ghana 2008, Afcon Gabon in 2017 and World Cup Russia 2018.
Based on this experience and understanding of Sport Travel terrain they have again very exciting packages to offer Sports loving Uganda Tourists with the best memorable but fairest packages to travel Cairo- Egypt and watch Ugandas Cranes come back in the African Cup of Nations Finals.
The package accomodates budget/ luxury fans who would like watch one match ,two matches or the three group matches involving Uganda Cranes.
Here are se of their available packages
OPTION ONE
BUDGET
PER PERSON SHARING
• RETURN ECONOMY TICKET
• RETURN AIRPORT TRANSFERS
• 6NIGHTS OR 10 NIGHTS ACCOMMODATION IN A 3* HOTEL
• DINNER ON A NILE CRUISE WITH ORIENTAL BELLY DANCER SHOW
• CITY TOUR
• MATCH TICKETS
• ALL ENTRACES FOR SIGHTSEEING
• GROUND RETURN TRANSFRES TO THE STADIUM
• ENGLISH- SPEAKING EGYPTOLOGIST GUIDE
OPTION TWO
LUXURY
• PER PERSON SHARING
• RETURN ECONOMY TICKET
• RETURN AIRPORT TRANSFERS
• 6NIGHTS OR 10 NIGHTS
• ACCOMMODATION IN A 4* HOTEL ON BB BASIS
• 2 NGHTS IN 05* NILE CRUISES BASED ON FB
• AIR TICKETS FROM CAIRO TO LUXOR/ASWAN
• TOURS: Visit East Bank, Luxor, Karnak Temple, temple of Edfu, Komombo Temple, Aswan High Dam, Unfinished Obelisk
• CITY TOUR OF CAIRO
• MATCH TICKETS
• ALL ENTRACES FOR SIGHTSEEING
• GROUND RETURN TRANSFRES TO THE STADIUM
• ENGLISH- SPEAKING EGYPTOLOGIST GUIDE
PACKAGES EXCLUDE:
• VISAS
• ANY EXTRAS NOT MENTIOBED IN THE ITINERARY
• TIPPING, TELEPHONE BILLS AND LAUNDRY
• MEALS AND DRINKS WHERE NOT SPECIFIED
Get details and book your slot here https://www.breezetravel-safaris.ug/tours-and-safaris/
(Visited 1 time, 1 visit today)
Sheilah Gashumba Shifts to Exo Lounge; Promises To Make It The Best

By Staff Writer
Forbes Billionaire Sheilah Gashumba has now shifted her clout to Exo Lounge in Industrial area.
Gashumba wants to make Exo Lounge bigger than La Paronis as a way of teaching them a lesson.
As La Paronis continues to diss Gashumba, she is going to make Exo Lounge the ultimate hangout spot in Kampala.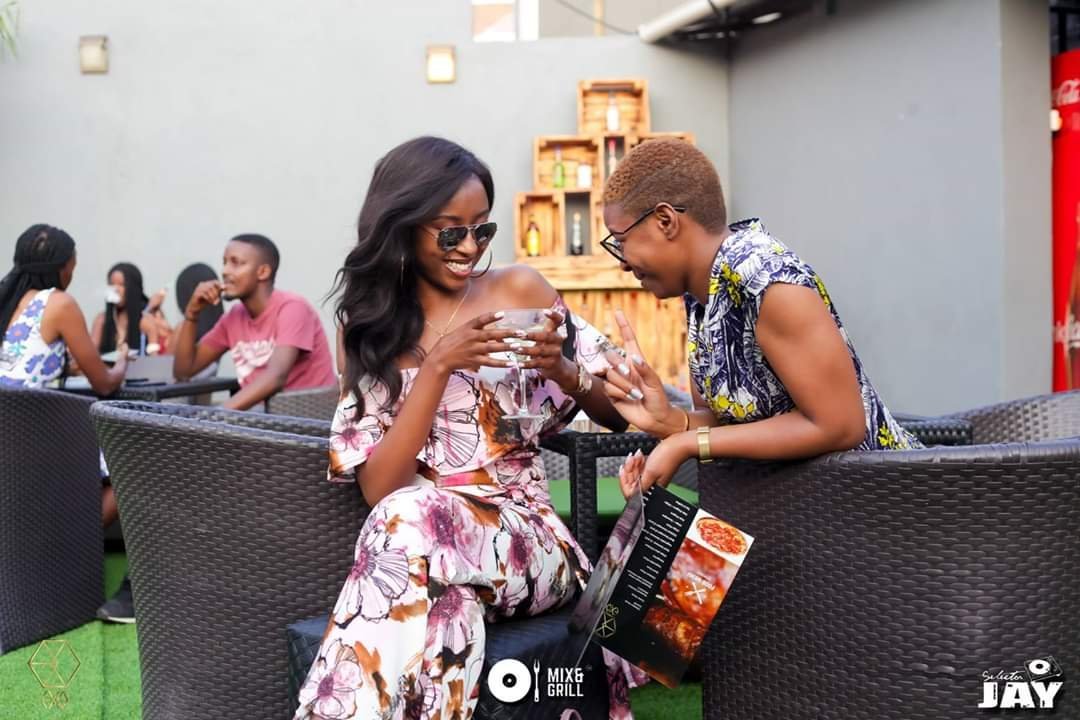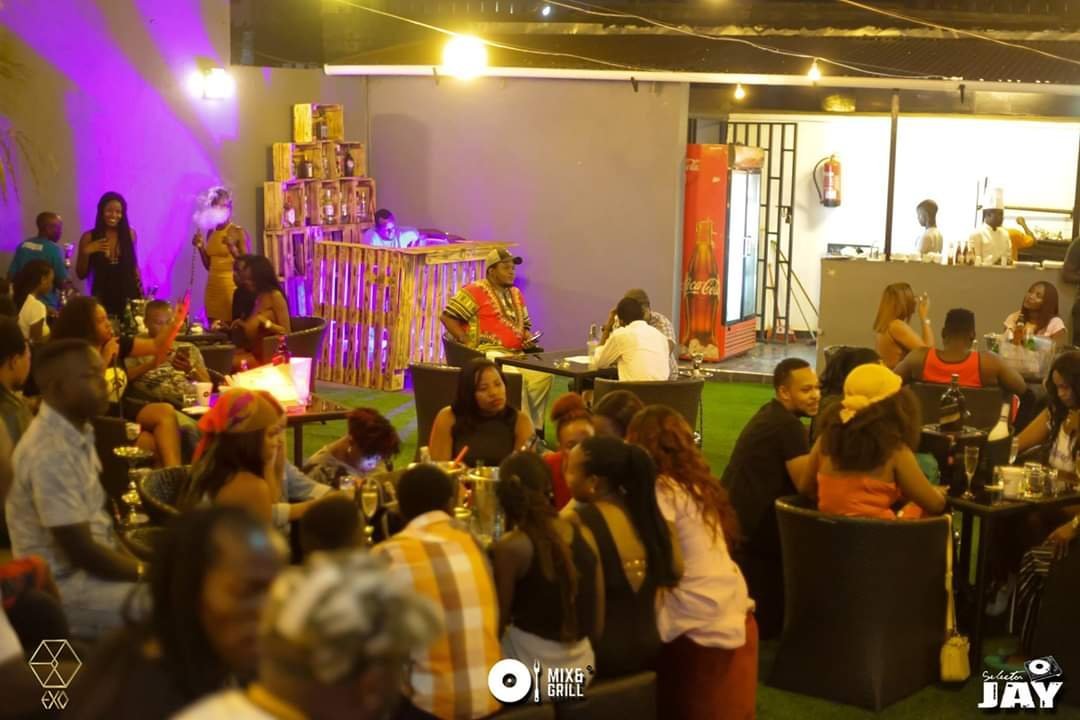 W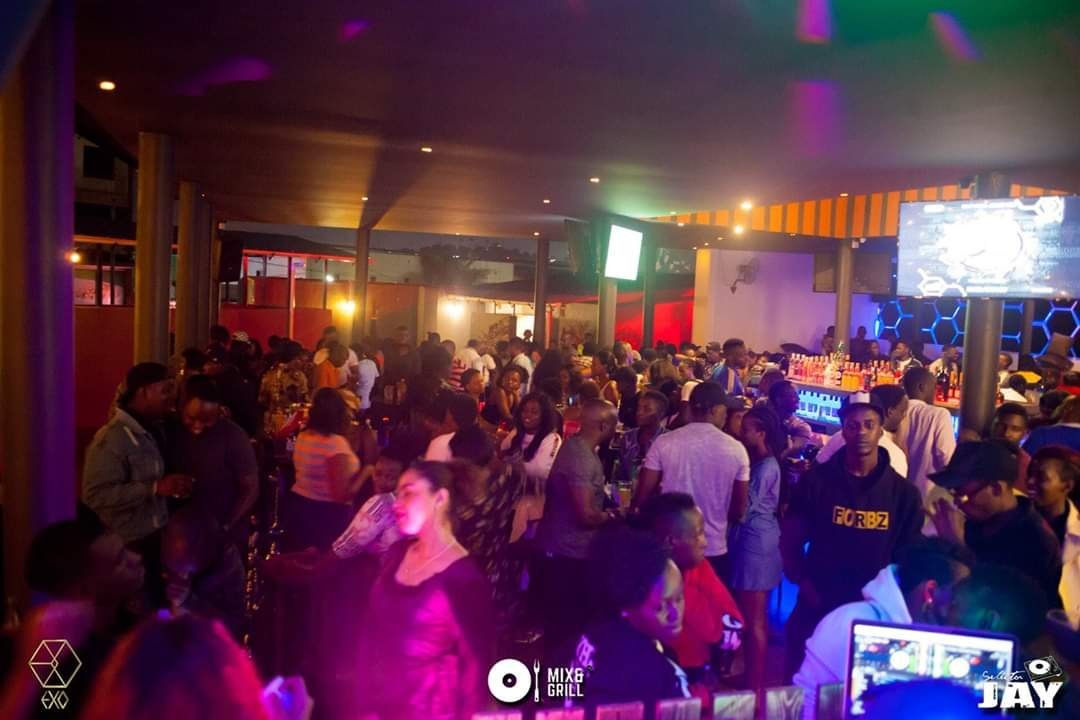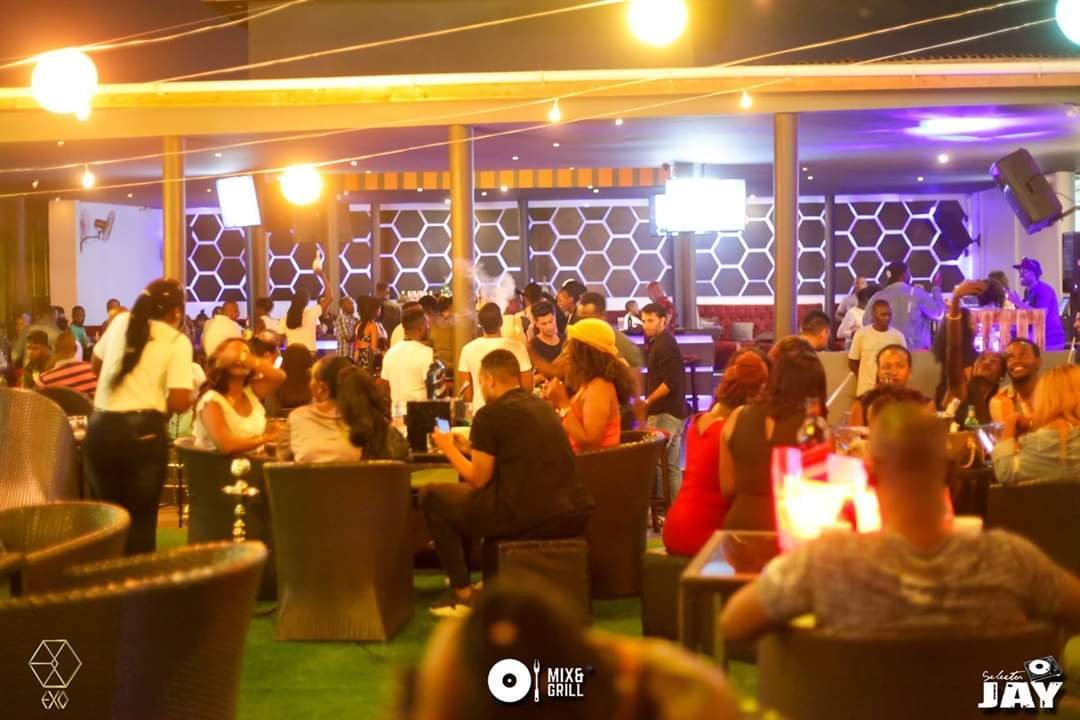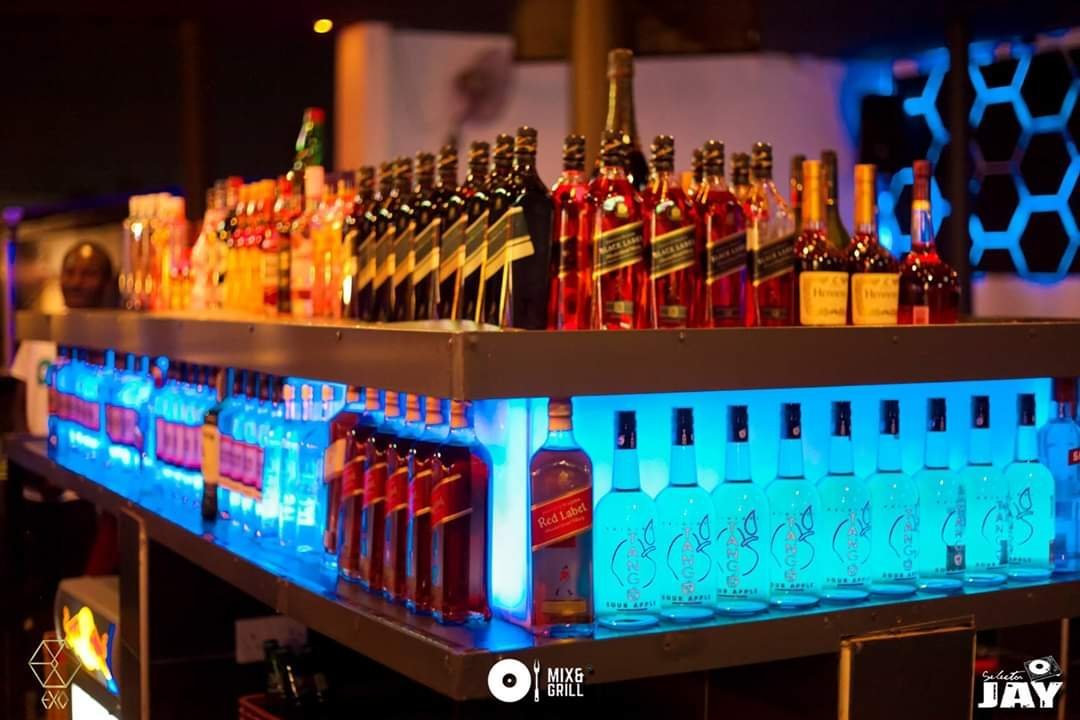 e now hear La Paronis is looking for a way to make peace with this God's Plan's daily food and save the situation
(Visited 1 time, 1 visit today)
Photos: What you missed as Selector Jay celebrated 15 years of deejaying

By Our Reporter
Selector Jay, who started out as a mobile DJ 15 years ago, has finally come of age. He stamped this with a mega show on Thursday evening at the Club Guvnor parking lot.
The cheerful DJ who has played at some of the top clubs and hangouts in the country saw his fans he has amassed over the years come out to celebrate with him his 15 year journey.
Despite the low turn up, revelers had a fun time as they danced away the  evening as different deejays took to the turntables. From Slick Stuart & Roger, to DJ Aludah, to DJ Nash, to DJ Brian, it was a rich line up that kept the crowd on their feet as they waited for the main man of the evening.
Selector Jay finally took over the turn tables minutes after midnight and was welcomed with wild screams and cheers from the already excited crowd. He kept up the tempo as he sampled several Ugandan hit songs during his set, much to the delight of the crowd who danced and mimed their favorite songs.
Jay was overwhelmed with the love shown by his fans and could not hide his gratitude as he continuously thanked the crowd for coming to celebrate with him this milestone.
Meanwhile, the event was spiced up with artiste performances who included Micheal Ouma, Feffe Busi, Eddy Kenzo, Bebe Cool, King Saha, Exodus, and Fik Femica among others.
The event was organized by Muchachos Events and sponsored by Johnnie Walker.
Here are some photos from the event.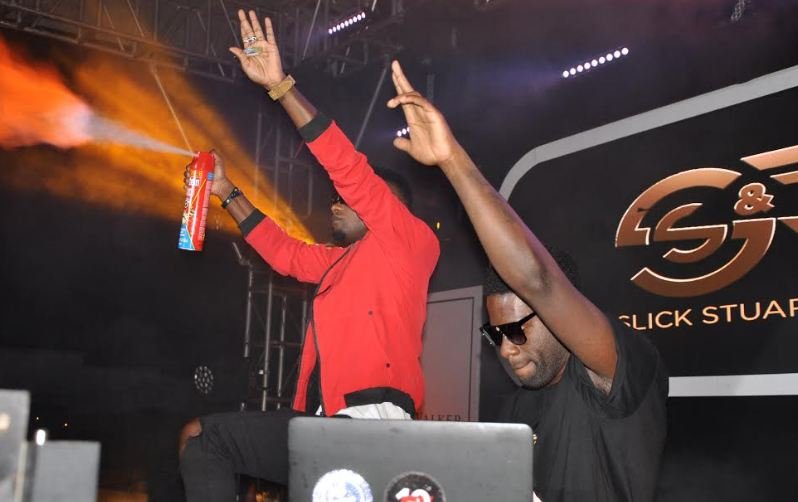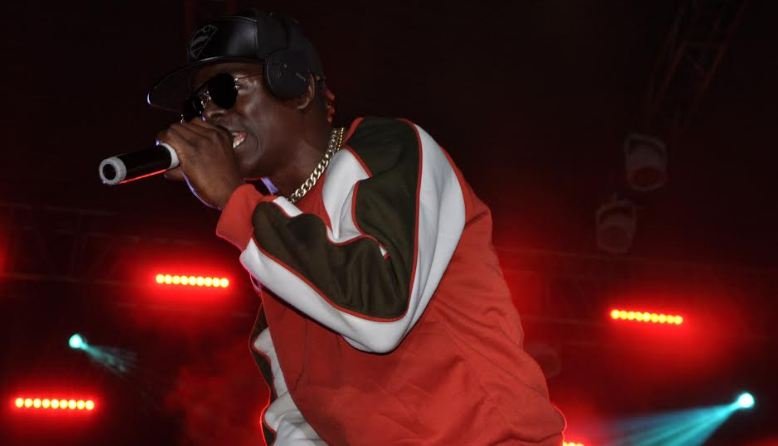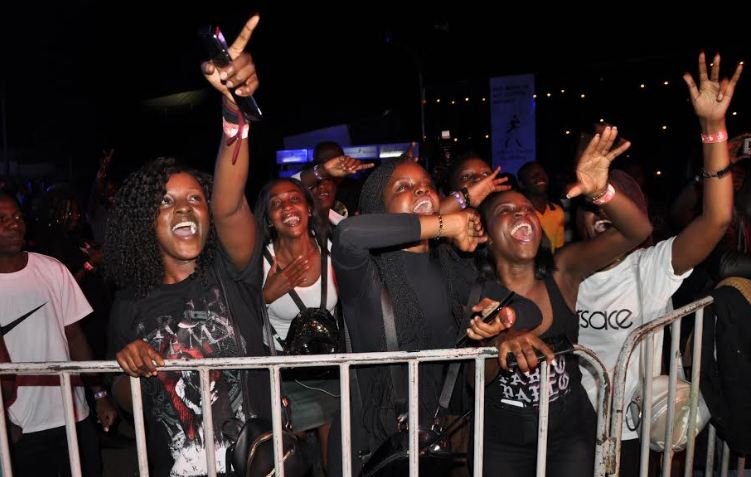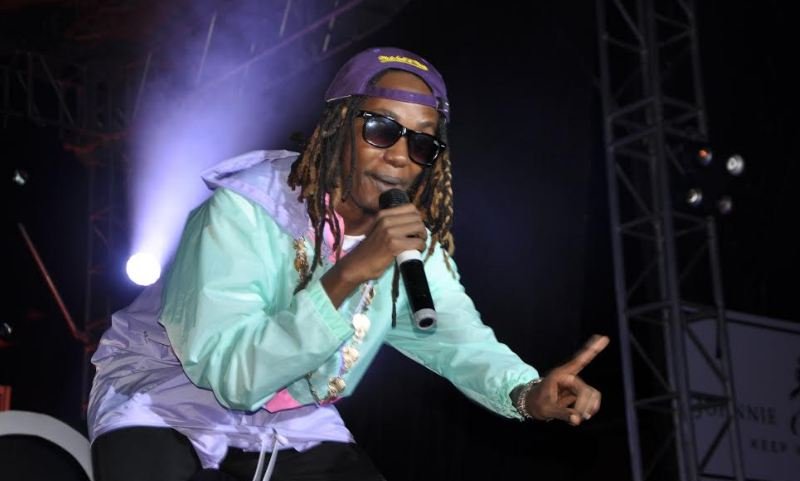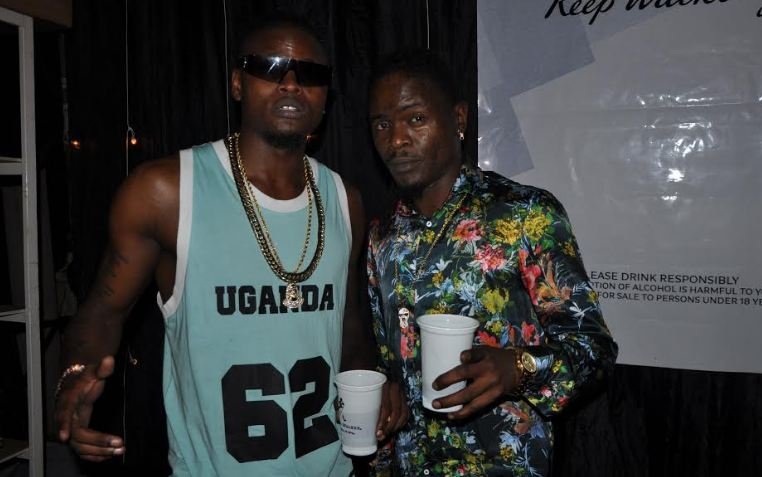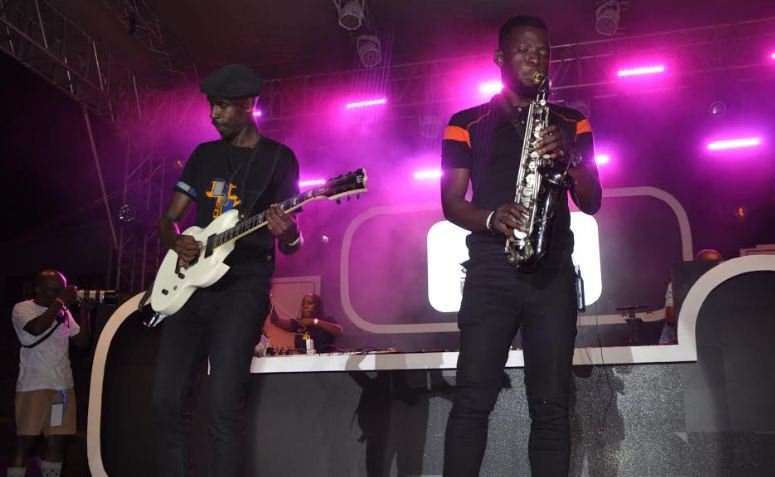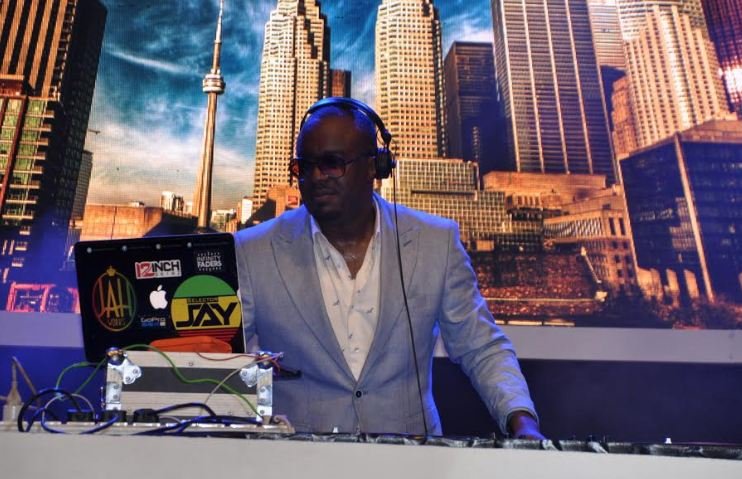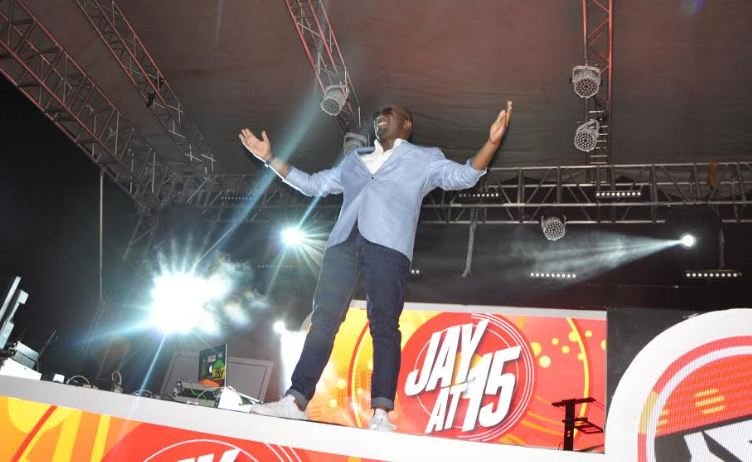 (Visited 1 time, 1 visit today)