Digital Inclusion, Financial Inclusion and Cybersecurity: Digital Impact Awards Africa Categories

Digital Impact Awards Africa (DIAA) 2015 project is underway with the theme "Maximising the Digital Dividend". DIAA focus is on digital inclusion, financial inclusion and cybersecurity for which 14 awards categories and 14 subcategories have been set.
DIAA 2015 follows the inaugural project where Prof. Emmanuel Tumusiime-Mutebile, Governor, Bank of Uganda, represented by Mr. Richard Mayebo delivered a keynote address on "Regulatory Challenges in the use of ICTs to promote Financial Inclusion".
DIAA Awards include:
Digital Financial Services-specific Awards: We have introduced three Awards i.e. Best Digital Payments/Transfers Services, Best Online/Mobile Banking Service and Best Mobile Money Service.
Digital Inclusion Awards: We have introduced 10 Awards covering websites, mobile apps, social media, e-commerce and e-services.
"Best Cybersecurity Practice" Award – This Award encourages organisations to treat cybersecurity as a business necessity.
Financial Inclusion:
Digital Financial Services
Best Payments/Transfers Service
Best Online/Mobile Banking Service
Best Mobile Money Service
Digital Inclusion:
Social Media
Best Government Agency on Social Media
Best Corporate Brand on Social Media
E-Service and  E-Commerce
Best E-Commerce (Classifieds/Marketplace)
Best E-Commerce (Store/Service)
Best E-Service
E-Government/M-Government
E-Health/ M-Health
E-Education/ M-Education
E-Agriculture/ M-Agriculture
Mobile App
Best Mobile App
Digital Marketing  and Customer Services
10. Best Digital Marketing Campaign
Corporate Digital Marketing Campaign
Government Agency Digital Marketing Campaign
NGO Digital Marketing Campaign
11. Best Digital Customer Service
Corporate Digital Customer Service
Government Agency Digital Customer Service
Corporate Website
12.Best Corporate Website
Corporate Website Functionality
New Corporate Website Re-Design/Re-Launch
Mobile Usability for Corporate Website
Cybersecurity
Cybersecurity
13. Best Cybersecurity Practice
Cybersecurity Practice by Private Organization
Cybersecurity Practice by Public Organization
Overall
Digital Brand of the Year 
14.Digital Brand of the Year
(Visited 1 time, 1 visit today)
Riham showers customers with love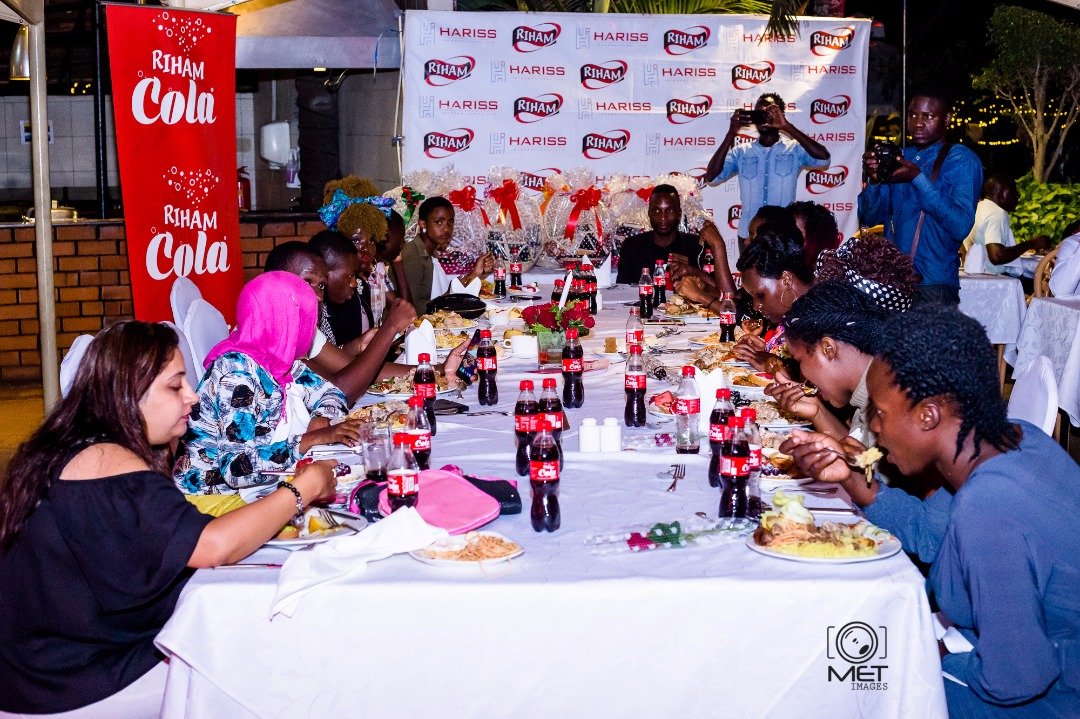 By Our Reporter
Whenever Valentine's Day is approaching, there is always pressure to find a perfect present. This year was not different as millions of people world over were seen crisscrossing streets and shopping malls in search of that perfect gift.
But some were saved from this hustle and bustle by people centred companies such as Harris International Limited, which arranged fully paid parties for them and their loved ones.
In what was dubbed the "Win Your Crush with Riham Love this Valentine's Day" promo, up to 20 lucky winners were treated to a fully paid dinner at Kampala Sheraton Hotel's Paradise Restaurant. Each left with a gift hamper thereafter.
The party was not short of pomp, and colour. The winners indulged their cravings; enjoying a full-course dinner spiced up with all sorts of dessert; Fruits, Cake, Chocolate, and Ice Cream, among others. The night's live music band never disappointed either.
"As Valentine's Day is a day to celebrate love, we feel that declaring your long standing and underlying love to another is worth the bravery! We are excited to be extending our support to the Lucky winners who shared heart-warming stories about their crushes," Ms Rachael Luwedde, the public relations officer of Harris International Limited noted, adding; "We believe in love, especially in the love for our customers! So, we are optimistic that this campaign has not only rewarded them for their continuous support to us, but also helped them find their true love this Valentine's Day."
(Visited 1 time, 1 visit today)
Hariss International Limited rewards employees, promises to invest more in Uganda

By Our Reporter
As part of its commitment to enhance cohesion, togetherness and team work among employees and the company leadership, Hariss International Limited held its annual staff party on Saturday at Kabira Country Club, Bukoto.
Dubbed "Hariss Day", the end of 2018 party was a fanfare with employees and their employers indulging themselves in remarkable display of talent while wining and dining together.
Speaking at the party, Hon Latif Ssebagala, the Member of Parliament Kawempe North admitted that even though there are many companies located in Kawempe, Hariss International is number one.
"Over the four terms I have been in the Uganda Parliament, we have received a lot of complaints from workers of several companies but I can confirm here and now that we have never received any petition or complaint about Hariss International. This means that Hariss International works in harmony with her staff and always rewards hard work," Hon Ssebagala said, adding; "As we collectively work to fight unemployment which is a big challenge in Uganda, I pray to the almighty God to enables Hariss International grow more and open up so many branches across our country so that people in other parts of Uganda also benefit from Hariss International opportunities."
The Kawempe North Member of Parliament thanked the over 1700 Hariss International staff for their immense contribution but also spared some time to advise them on how to get ever much better.
"I want to remind you that you are not paid for what you studied, but for what you do; your input, efforts and handwork. As you execute your duties; continue being honest, committed and above all treasure what you do. Thank you so much for putting us on the map," Hon Ssebagala concluded.
On his part, Mr. Yasser K. Ahmad; a co-founder and chairman of Hariss International revealed to the attending staff that his company is very proud, committed and dedicated to the Ugandan market.
"As leaders of Hariss International, we shall continue to support you, our dear staff in each and every way possible. We shall continue to invest in training, mentorship and better working conditions for you. Our priority is on Ugandans. We don't want to import expatriates to come and work here. We believe in Ugandans and are willing to continue our investment in them," Mr Yasser Ahmad said.
He added; "Unlike those multi-nationals with headquarters in America and/or Europe, our headquarters are here. We are proudly Ugandan. We want to work from Uganda and win over markets in East Africa, across Africa and the rest of the world."
All the staff that attended the event went home gifted with over 100 taking home top honours from the different Awards categories. Some went home Ugx 5 million richer than how they arrived.
Mr Chadi Ahmad, the Sales and Marketing Director noted that while 2018 was a very competitive year, his Hariss staff never disappointed and as such the end of year celebration was in order.
"In 2018, we saw our staff grow to 1700 people (permanent and temporary). This is very huge considering that we were less than 300 in 2013. In 2019, it is important for us to use our time wisely. Dedication and team work must be continued. We need to give twice, double our efforts so that we can overcome any challenges now and in the future." He noted.
The party that started at 3pm, went on until 10pm. It was spiced up by acts from Myco Ouma, Levixone, Rema Namakula, Bebe Cool and Moses Golola.
(Visited 1 time, 1 visit today)
First-ever Chamberthon in Kigali sees strong participation from UAE and African startups

By Our Reporter
A total of 20 startups from the UAE and Africa participated in the first-ever Chamberthon in Kigali, Rwanda, where participants collaborated and developed a framework for Dubai Chamber of Commerce and Industry's Global Business Forum Mentorship programme, new cross-border mentorship programme.
Organised by Dubai Chamber, the Chamberthon was held during the Africa Tech Summit 2019. A total of 10 startups from the UAE were selected by the Chamber to participate in the Chamberthon, attend the Africa Tech Summit in Kigali, and join their African counterparts for a full day of interactive sessions. Participants were divided into mixed teams of African and UAE entrepreneurs, representing many sectors and fields, including agriculture, healthcare, environment, fintech, climate change, social responsibility, construction, and customer experience among others.
The startup teams developed and presented a wide variety of innovative and practical ideas that will be used to structure Dubai Chamber's Global Business Forum Mentorship Programme. The three-month mentorship programme aims to foster cross-border cooperation between startup communities by pairing startups with mentors who can provide them with valuable expertise, support and guidance.
Natalia Sycheva, Manager of Entrepreneurship for Dubai Chamber said: "We are very encouraged by the strong interest and participation in the Chamberthon which is a new concept and extension of the Global Business Forum, an important platform that Dubai Chamber leverages to foster economic cooperation and explore opportunities in promising markets around the world."
She added: "Today, startups and entrepreneurs are the drivers of innovation. With this in mind, Dubai Chamber is constantly scaling up its support to startups through new initiatives like the Chamberthon and GBF Mentorship Programme that engage entrepreneurs and provide them with the knowledge and tools they need to expand globally."
"The Chamberthon has given me an opportunity to exchange and brainstorm on innovative ideas with people from around Africa and UAE. This is a stepping stone for me to be able to broaden my reach with my startup and I believe that the GBF Mentorship Programme is a valuable initiative by the Dubai Chamber of Commerce and Industry," said Irasubiza Sadrah, whose startup, iTec, is looking to tackle climate change by developing an easy to use Agro-Condition System which will
be implemented to create a controllable low-cost artificial climate Greenhouse.
After the winning Chamberthon ideas are chosen, a total of 10 startups from the UAE and Africa that make the final cut will be selected to participate in the GBF Mentorship Programme. The holistic programme will provide many benefits beyond mentorship, including access to networking and Dubai Startup Hub services and support, as well as speaking and exhibiting opportunities at the 5th Global Business Forum on Africa in Dubai, taking place in November 2019.
(Visited 1 time, 1 visit today)