CECAFA Kagame Cup: KCCA finish third as Azam are crowned champions.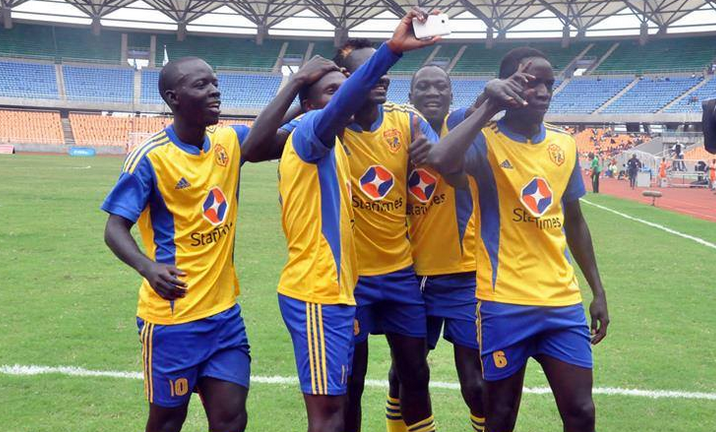 By James Robert Kayindi
Uganda's representatives at this year's CECAFA Kagame Cup, Kampala Capital City Authority FC finished third after defeating Sudanese side Khartoum 2-1 at the Tanzania National Stadium on Sunday afternoon.
Two first half goals from Michael Birungi and Muzamir Mutyaba were enough to see off Khartoum in the third place playoff of the competition. Ousmaila Baba scored Khartoum's only consolation of the day before half-time as he raised his personal tally to three goals at the tournament.
Five minutes to half-time Ahmed Adam and Michael Birungi received matching orders from the referee for unsporting characters.
With both teams down to ten, all their second half efforts were fruitless as the score sheet remained 2-1 in favour of the 'Kasasiro Boys'.
KCCA walked away with US$10,000 (about Shs34m) after finishing third better than last year's fourth place finish when they lost to Rwanda's Police at the same stage.
At the finals, Tanzanian side Azam FC eased passed Kenya's Gor Mahia by 2-0 to win the annual competition for the first time.
KCC Starting XI: Emmanuel Opio, Denis Okot, Joseph Ochaya, Timothy Awany, Hassan Wasswa Dazo, Ivan Ntege, Hakim Senkumba (Owen Kasule), Muzamir Mutyaba (Dan Nsubuga Sekabembe), Tom Masiko, Shaban Kondo, Michael Birungi Unused
Subs: Benjamin Ocha, Habib Kavuma, Ssaka Mpiima, Isaac Sserunkuma
Email Robert: Robert.k.circles@gma­il.com
(Visited 1 time, 1 visit today)
Pepsi Independence Golf Tournament returns for 9th edition
By Our Reporter
The Pepsi Independence Golf Tournament is back for its 9th edition. Themed "Tee Off Against Breast Cancer", it was officially announced during a press briefing held at Sheraton Kampala Hotel on Thursday morning.
Initiated in 2010, the Pepsi Golf independence tournament which is this year slated to take place on 09th October, is expected to attract over 130 golf players from different golf clubs across the country, both in the pros and amateur categories, that will participate in a competition with prizes to be rewarded at the end of the tournament.
This year's tournament is dedicated to breast cancer awareness and early detection."October being the breast Cancer awareness month and the month when Uganda commemorates her 57th independence, we sought an opportunity for participants and consumers to both celebrate and embrace talent for community support and development geared towards fighting the Cancer scourge in Uganda through the golf sport," remarked Mrs. Tracy Kakuru Otatina, Corporate Communications Manager Crown Beverages Limited while addressing the media.
"Our 2019 theme for this golf tournament is 'Tee off against breast Cancer' whose chief purpose is to procure a Cancer machine that will aid in early detection of all types of cancer because there still exists a gap in early detection support, hence fueling our decision to take on methods to deliver awareness through diagnosing the disease at an early stage." She added, further noting that, "All these years we have been inviting our partners, well-wishers, staff, for free participation in a friendly but competitive tournament, but this time round our green fees will be at UGX 100,000, and together with our partners' funds, we will be in position to procure the much needed machine."
Mr. David Sekitoleko, Business Development Consultant at Sheraton Hotel Kampala said, "I have been involved in the game of Golf over the years, and for this edition we shall have both professionals, and amateurs play in this tournament. Every year that the tournament is held, Pepsi and its partners put up a kitty that the professionals play for, and this edition will see professionals play for 30 million in a 3 day competition set to kick off on Sunday 6th, to Tuesday 8th, then on 9th October (Independence Day), the amateurs /corporate players will converge at palm valley for a half day competition."
(Visited 1 time, 1 visit today)
Kickboxer Patricia Apolot set for rematch with Kenya's Joyce Awino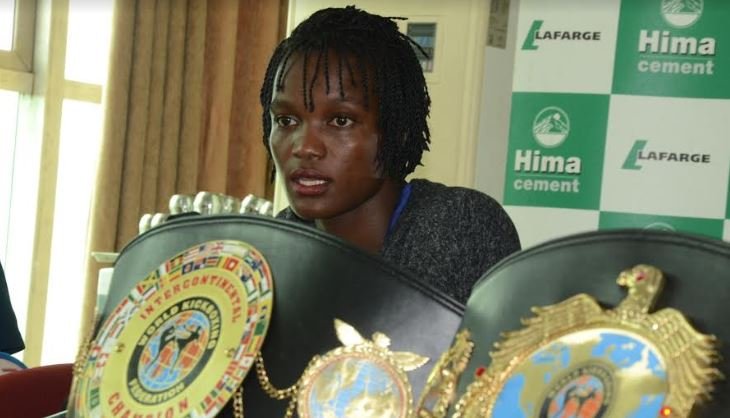 By Our Reporter
Uganda's top-ranked female kickboxer Patricia Apolot has vowed to crush Kenyan fighter Joyce Awino in their rematch slated for this weekend at Smiles Corner Hotel in Kireka, Kampala.
Known to many by her stage name "Black Pearl", Apolot will return to the ring against Awino in the African title fight dubbed "The Reveletion Night of 1000 Punches" on Saturday, August 31. The fight is in low kick style sanctioned by both Uganda Kickboxing Federation (UKF) and World Kickboxing Federation (WKF).
The two fought in April this year in Tororo and Apolot won by knockout.
"I have trained hard and very ready, so my fans should come expecting the best from me," Apolot said, adding that "I wish to thank my sponsors, Hima Cement, for their consistent financial and moral support towards my kickboxing career."
Hima Cement Marketing and Pricing Manager, Charles Mugasi said that the sponsorship is intended to enable her perform to her best and inspire other young girls in Uganda to join the kickboxing sport.
Apolot who has been involved in 21 professional fights winning 12 by knockout has changed the kickboxing landscape in Uganda with her unique techniques and unmatched determination to grow the at different levels more especially young girls.
She has won several tittles from home, continental, and intercontinental fights which makes her the holder of the largest number of belts and gold medals in the sport in Uganda and Africa at large.
(Visited 1 time, 1 visit today)
Bamasaaba Sports Tournament gets Ugx 50 Million boost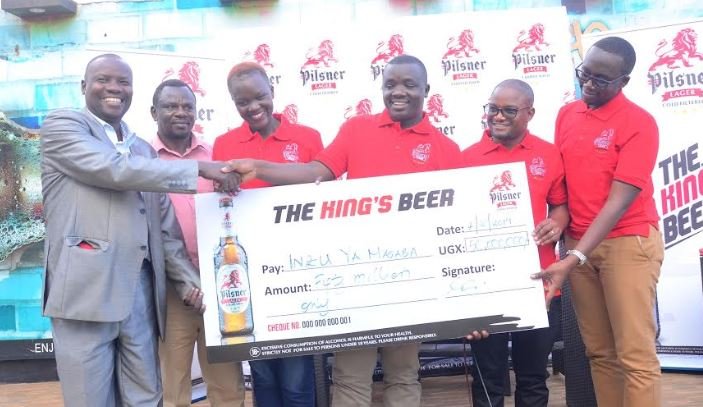 By Our Reporter
Pilsner Lager, a beer produced by Uganda Breweries, has announced a UGX50 million sponsorship package towards the upcoming Bamasaaba Sports Tournament 2019. The tournament will start on August 15 th and run up to October.
Organised by the Bamasaaba Sisimukha Club (BASC), the games bring together various teams from Masaaba communities in both Uganda and Kenya with the aim of honouring culture, promoting unity and the development of the Bamasaaba people through sports and games.
This year's sponsorship package was announced at a press briefing held at Uganda Breweries' head offices in Luzira.
While announcing the sponsorship, Edgar Kihumuro, the Pilsner Lager Brand Manager, said, "We live in an era when it is crucial for us to hold our cultural and traditional values close to heart. Pilsner Lager, as a brand, understands and cares about the pride associated with a deep African heritage and this commitment has seen us invest in the development of local sports potential, for example, with the ongoing Pilsner Super 8 Tournament. By sponsoring the Bamasaaba Sports tournament, not only are we advancing a passion for sports but also for the traditions that bring people together."
The tournament has, in the past, attracted various teams drawn from over 20 clans from the districts covering Mbale, Bududa, Sironko, Manafwa and Bulambuli in Uganda and the Bamasaaba Kenya Chapter which covers Trans Nzoia and Bungoma.
"The Bamasaaba Sports Tournament continues to be a wonderful opportunity for our people to come together in celebration of our culture and tradition. In addition, our youth are encouraged to stay in touch with their rich heritage through sports, which inspire, entertain and give them an opportunity to showcase their talent," said Israel Koboi, Chairperson of the Bamasaaba Sisimukha Club.
The sports tournament places an emphasis on football and netball that will be played in a series of group knockout stages.
"This year, we plan to include new activities like bicycle riding, a marathon, bull riding and shortput and we are glad for the support of partners like Pilsner Lager for being part of this journey," Koboi added.
(Visited 1 time, 1 visit today)