Bright Stars unveil shirt sponsor ahead of the new season
Uganda has been through a lot in the last 34 Years. Find out here
By Robert Kayindi James
Kawempe based side Bright Stars Football Club has unveiled their shirt sponsor ahead of the new season.
Bright Stars who host their home games at Champion Stadium in Mwererwe, Matugga-Entebbe unveiled Lato Milk and Fero Mobile as their shirt sponsors.
"Welcome on board our new Shirt Sponsors Lato Milk (Lato Milk-Stronger bones, Smarter minds) and Fero Mobile (Explore Your World )," the club posted to their Facebook page.
Bright Stars open their new campaign on Friday, August 19th against Uganda Cup champions Vipers Sports Club at Nakivubo Stadium before hosting league debutants Onduparaka FC at  Champions Stadium Mwererwe on Tuesday 23rd August.
Newly promoted side Onduparaka FC also recently unveiled Bet way as their shirt sponsor while Vipers are said to be in talks with Hima Cement on a sponsorship deal.
(Visited 1 time, 1 visit today)
Dusman Okee Clutching at Straws as the FMU Presidential Race Heats Up
Uganda has been through a lot in the last 34 Years. Find out here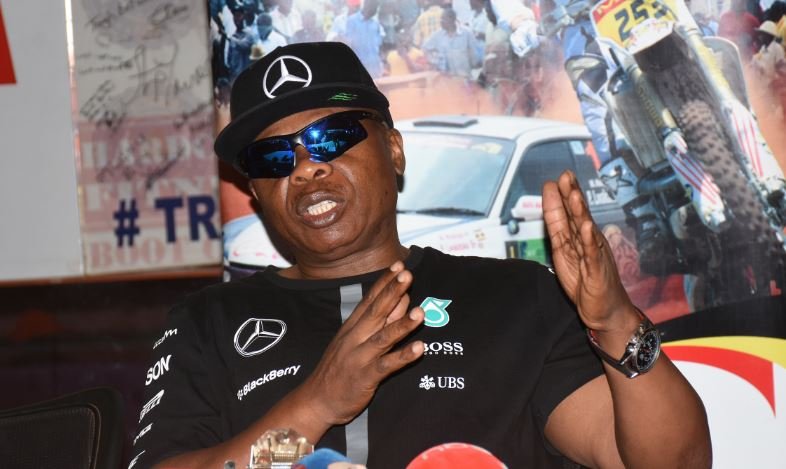 By Our Reporter
Dusman Okee appears a desperate man clutching at straws as the race for the next Federation of Motorsport Clubs of Uganda (FMU) president continues to heat up with Election Day drawing closer.
The incumbent has been accused of using unbecoming language after allegedly using racial slurs and epithets against Ugandans of Asian descent, who are among the front runners for the presidential seat.
This came to light when a motorsport enthusiast exposed Okee on the Uganda Rally News page. "The shocker came in on Tuesday this week, as the incumbent in his bid to tighten up his electorate, made call to one of the club presidents seeking for his vote using a race card tool, saying 'OMUZANNYO MUSAZEEWO OGUWA ABAYINDI'!" The post read.
In his further efforts to keep a firm grip on FMU presidency, he has allegedly been working the phones in order to dun everyone associated to the federation for cash contributions.
Our snoop has revealed that Okee went on to further hound his victims at their homes and places of leisure after they deliberately ignored his calls in his quest to seek financial support face to face.
According to our sources, he has continuously tried to contact Rajiv Ruparelia who has ignored all his calls in order not to be attached to the forth coming elections.
That's when he called Ambrose Byona, a rally driver and entrepreneur. Byona also ignored his calls only which prompted him to confront the later at Panamera where his pleas also fell on deaf ears.
Sure, he may argue that the money he's collecting is to ensure that all delegates are facilitated to the Annual General Meeting (AGM). And that such facilitation is normal. However, why one would need such extreme amounts of money to facilitate their election re-campaign if they've been outstanding at their job.
Okee who joined office in 2016 is seeking re-election as his four-year tenure comes to an end. For the hotly contested presidential seat, Okee will square off with former rally ace Ruparelia Dipu, former FUFA delegate Geoffrey Nsamba, a city lawyer, and former president, Jack Wavamunno who is seeking a fourth term.
The election is scheduled to take place on February 1, 2020 at FMU offices.
(Visited 1 time, 1 visit today)
"Running Out of Trees" relay set for February
Uganda has been through a lot in the last 34 Years. Find out here
By Our Reporter
Preparations are in high gear for the 2-day "Running out of Trees" relay from Kampala to Gulu.
The relay that will have 33 high profile and diverse runners run 10 kilometers each, is set to take place on Feb 7th and 8th February 2020. Flag off will be at Parliament.
The "Running out of Trees Campaign" spearheaded by Uganda Breweries Limited in partnership with Ministry of Water and Environment, was launched in October 2019.
The campaign seeks to rally Corporate Companies to come together and respond to the growing concern of deforestation in the country.
So far, a number of companies have come on board to support the campaign including Liberty Assurance which recently handed over a cheque of UGX 5,000,000 to UBL towards the run. Other companies include TOTAL Uganda and Stanbic Uganda among others.
The objective of this run is to rally every Ugandan to embrace April 25, 2020, the national day of tree planting on which 40million people in Uganda will be expected to plant and grow at least one tree.
(Visited 1 time, 1 visit today)
Photos: Fortebet gifts Hoima, Masindi, Kiboga and Kabango clientele
Uganda has been through a lot in the last 34 Years. Find out here
By Staff Writer
It was a weekend to remember as Fortebet appreciated it customers in the areas of Hoima, Masindi, Lwamata and Kabango. Just as it has done in all the other parts of Uganda, Fortebet even this weekend gave out lots of gifts to its customers in the above mentioned places.

Many of them walked away with Techno phone, T-shirts, caps, wristbands, pens and many more. Away from the branches, Fortebet also visited and donated to bodaboda riders reflector jackets in Masindi and Hoima. 50 riders benefitted from this free offer.

"What Fortebet has done in Masindi has never been done by any other betting company. They way you have been 'making gifts rain' indeed confirms that Fortebet is big. I am so happy that I have been one of the many winners. I am now remaining with one thing-winning 100 million," said one of the phone winners in Masindi.
This weekend, Fortebet will visit and gift its clients in Kyengera, Kitemu and Nsangi. Don't miss, be there and win!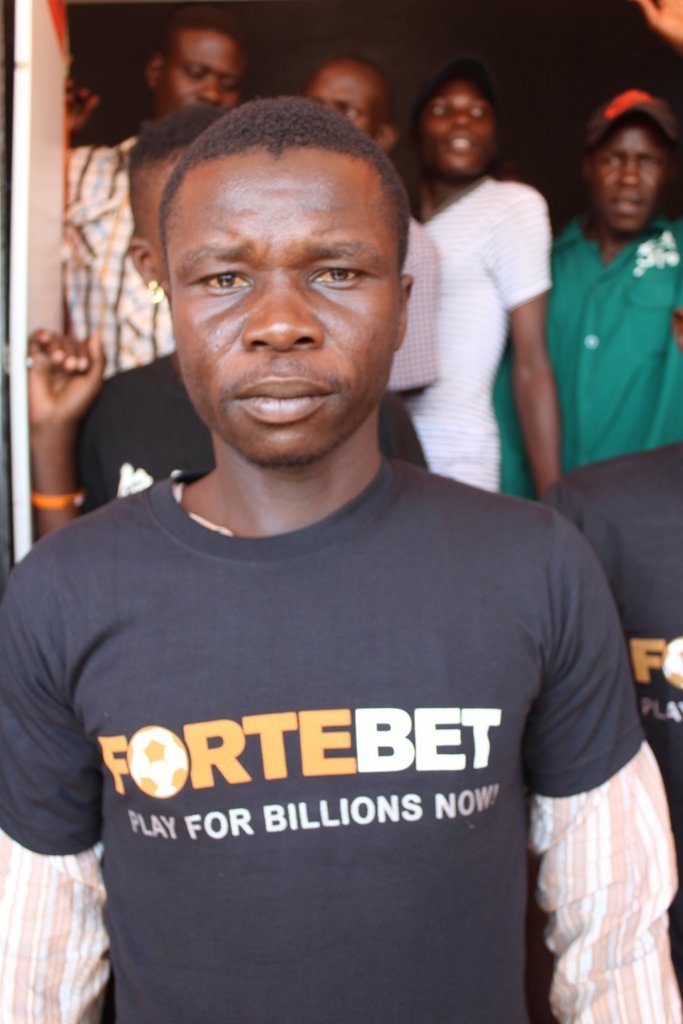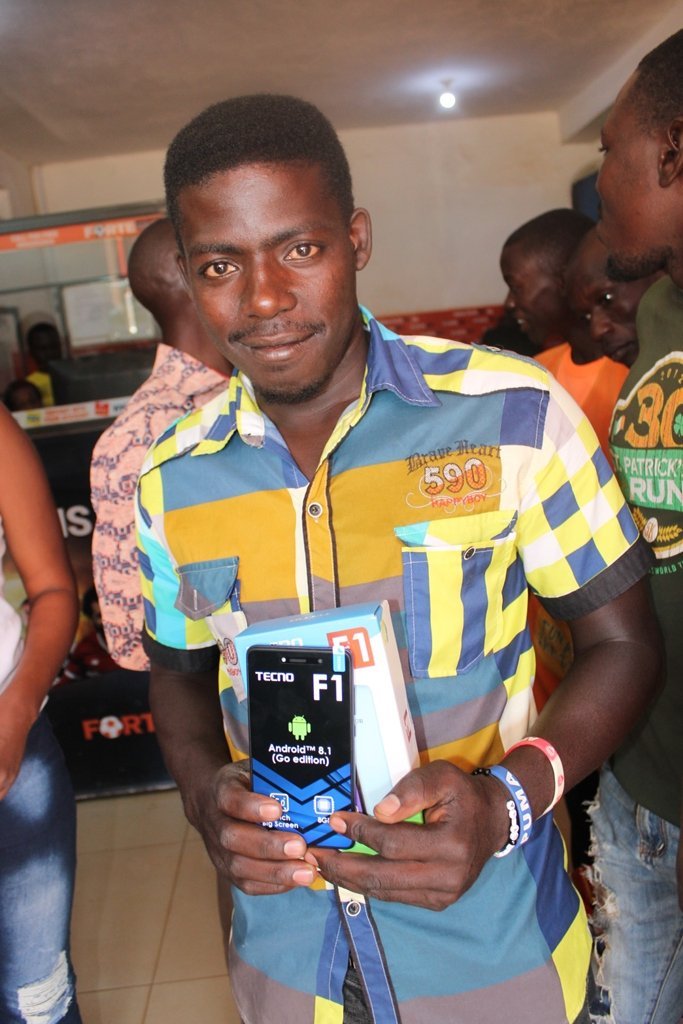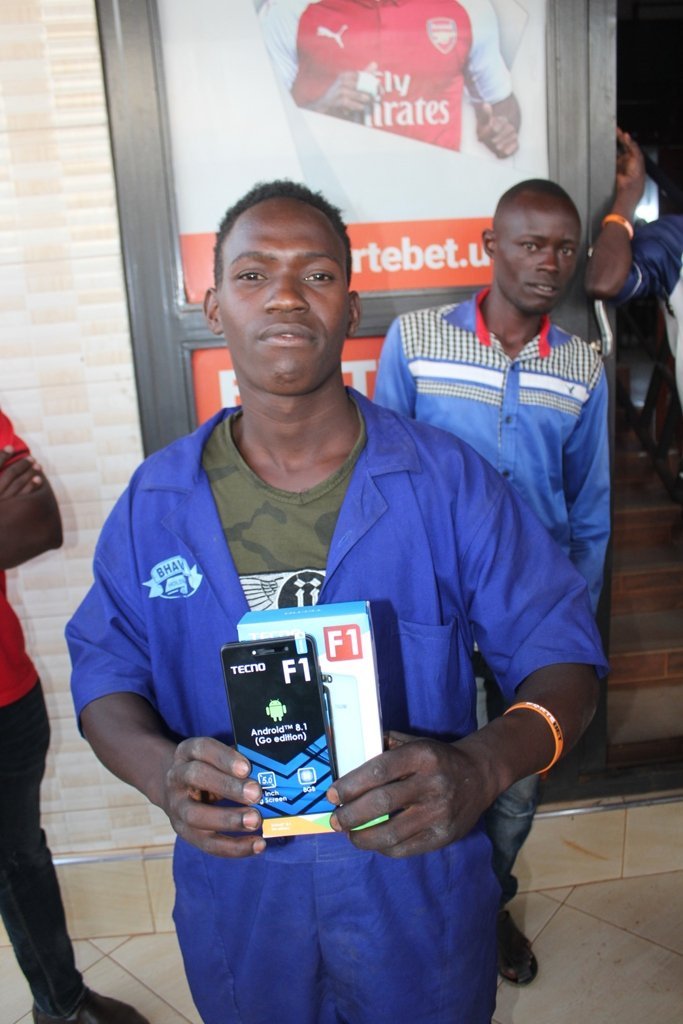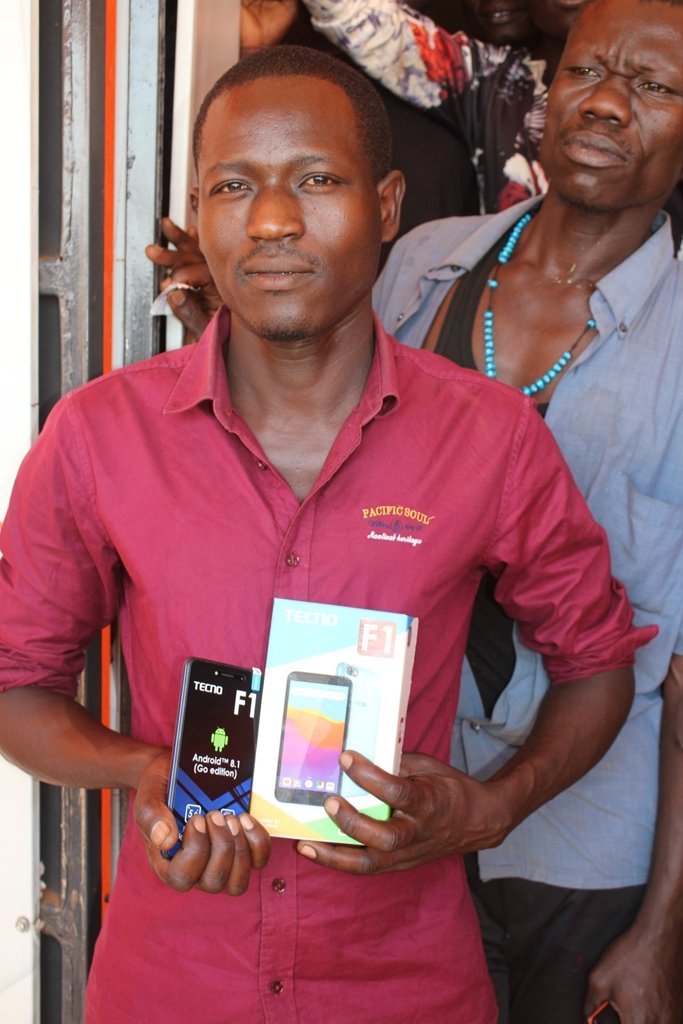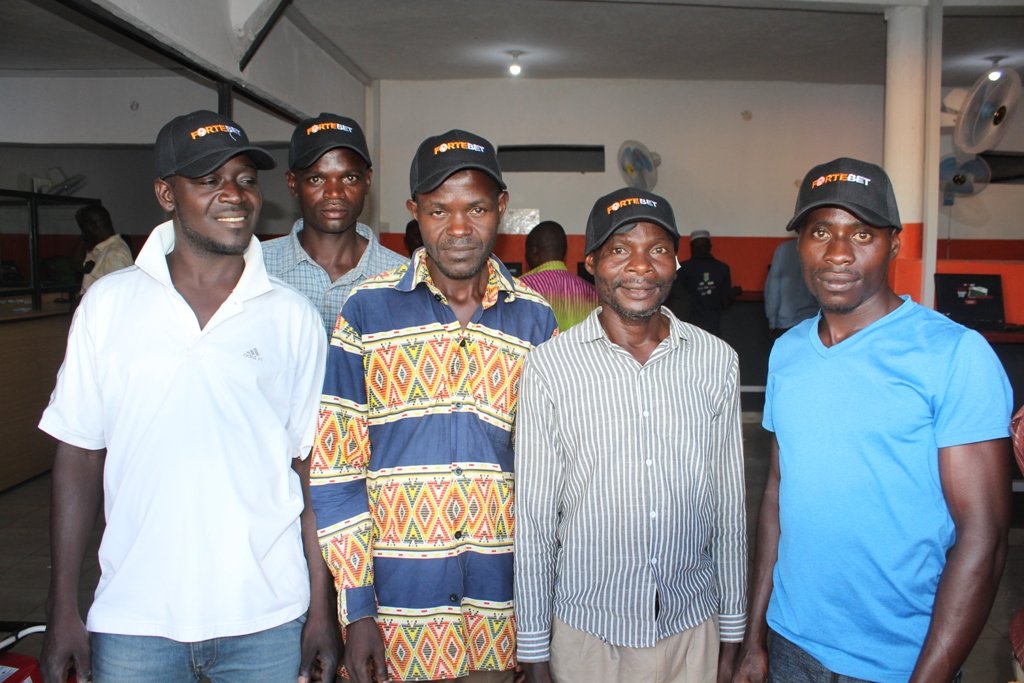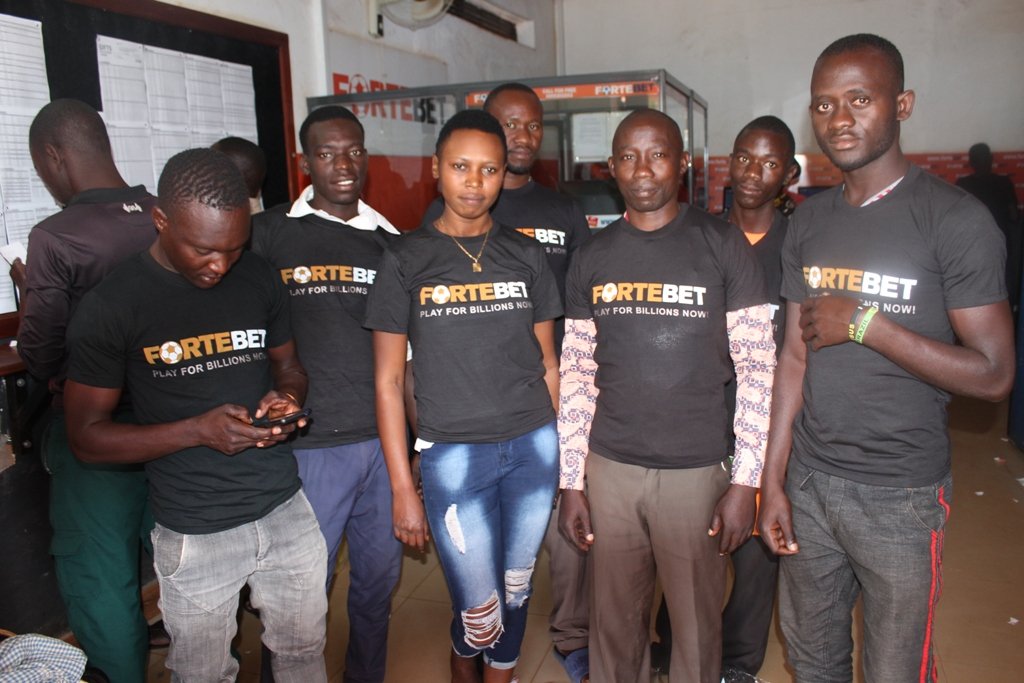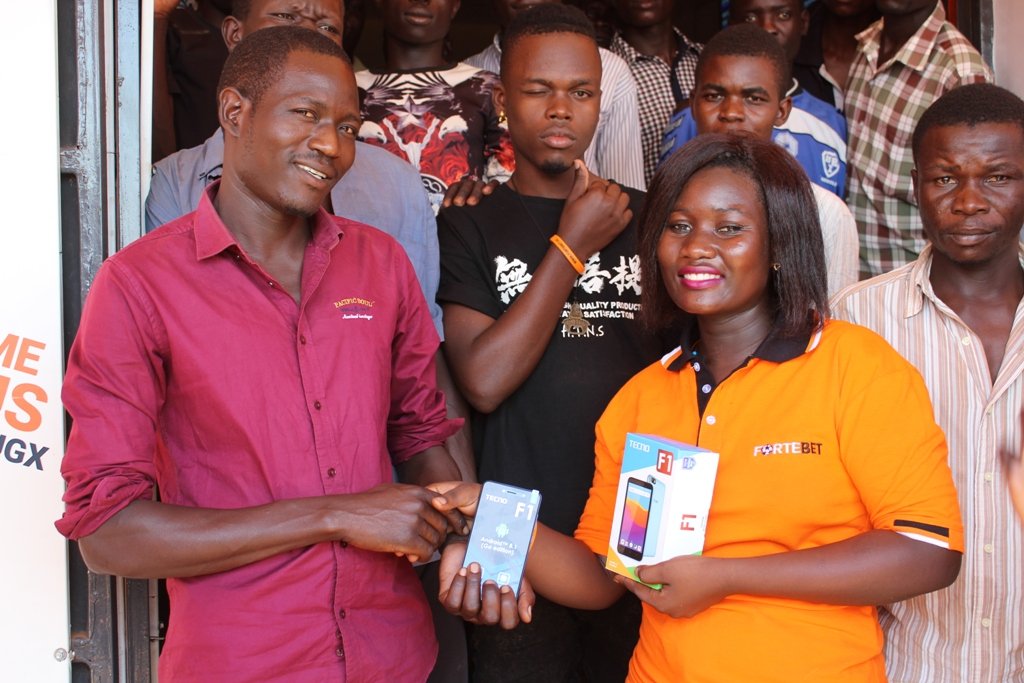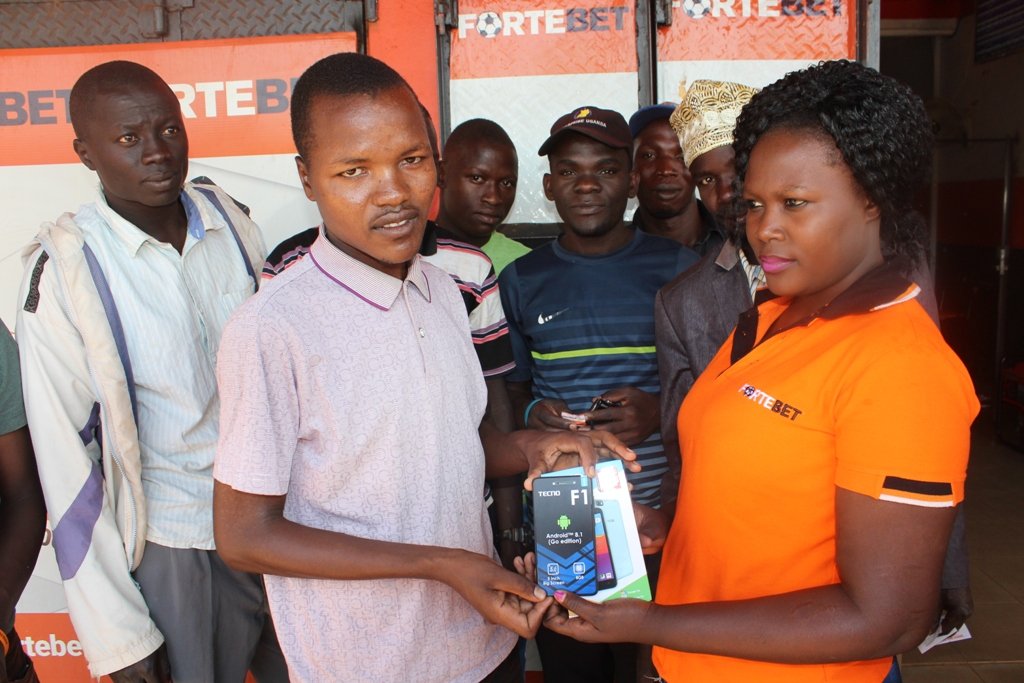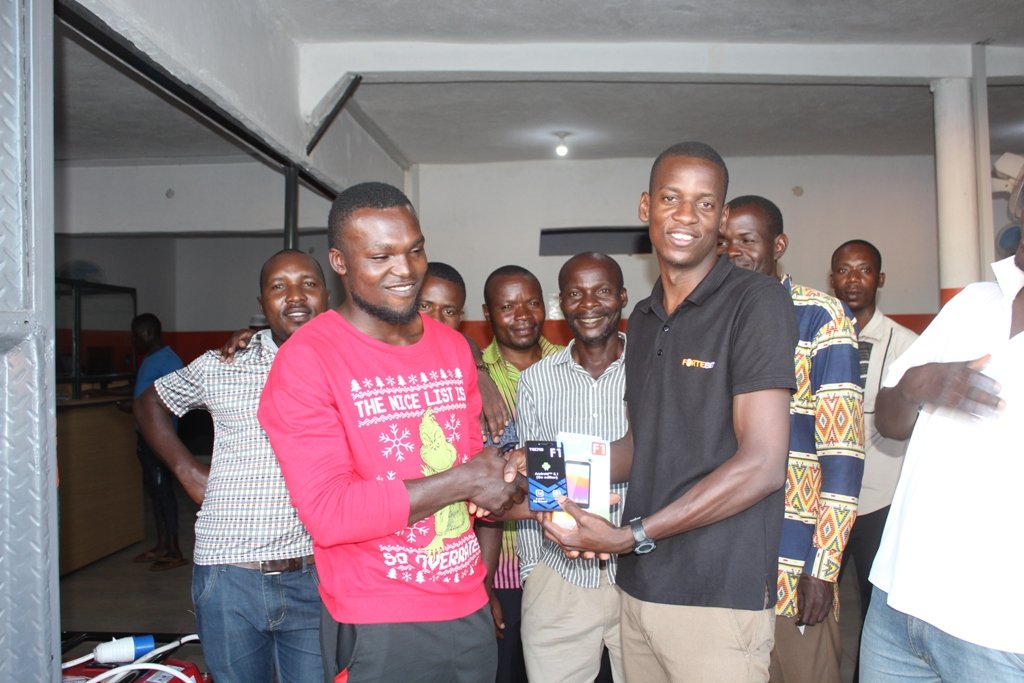 (Visited 1 time, 1 visit today)