Abryanz Style and Fashion Awards 2017: Here's the full list of nominees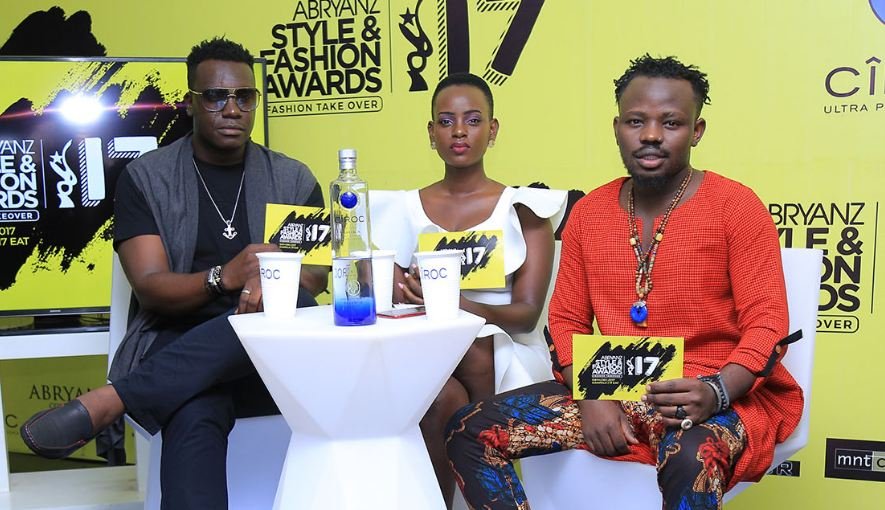 The 2017 Abryanz Style and Fashion Awards (ASFA) list of nominees was released on Wednesday via Facebook live. The live broadcast was hosted by ASFA founder Brian Ahumuza, media personality Bettinah Tianah, and renowned model scout Joram Muzira.
The nomination process opened on 7th September 2017, lasting for a month and concluding on 6th October 2017. The public's bid carried an influence of 35% on the final list, leaving the other 65% to an experienced panel of Judges consisting of Africa's biggest fashion influencers.
Winners will be announced at an award gala slated for December 8 at the Kampala Serena Hotel.
Check out the full list of nominees below:
Fashion designer of the year (Uganda)
1. Ras Kasozi
2. Fatuma Asha
3. Anita Beryl
4. Sham Tyra
5. Joe Malaika
Fashion Designer of the Year(Africa)
1. Eric Raisina (Madagascar)
2. Maki oh (Nigeria)
3. Sheria Ngowi (Tanzania)
4. Zeddie Loky (Kenya)
5. Quiteria and George (South Africa)
Female Model of the year (Africa)
1. Shanelle Nyasiase (Kenya)
2. Opeyemi Awoyemi (Nigeria)
3. Giannina Oteto (Kenya)
4. Aminat Ayinde (Nigeria)
Female model of the year(Uganda)
1. Anyola Anyon Asola
2. Angelo Keji Sarah
3. Aliet Sarah
4. Ayak Veronica
Male Model of the year(Uganda)
1. Paul Bradley
2. Troy Elimu
3. Danny Mbabazi
4. Mushema Housen
Male model of the year ( Africa)
1. Toyin Oyeneye (Nigeria)
2. Dave J. Kabamba (Congo)
3. Kwen Maye (Kenya- Nigeria)
4. Pabz Nasius (South Africa)
Make-up artist of the year(Uganda)
1. Mona Faces
2. Nahya Shero
3. Imani Makeup
4. Faith Presh
5. Derrick Ssekamate
Make-up artist of the year (Africa)
1. Marco Louis (South Africa)
2. Anita Brows (Nigeria)
3. Kangai Mwiti (Kenya)
4. Nancy Blaq (Ghana)
5. NYW makeup(Angola)
Hairstylist of the year(Uganda)
1. Grace Warren
2. Hair by Zziwa
3. Nambuusi Maureen
4. Freddie
Hair Stylist Of the Year(Africa)
1. Saadique Ryklief (south Africa)
2. Corrine Muthoni (Kenya)
3. Saul Juma (Kenya)
4. Ncumisa Mimi Duma (South Africa)
Fashion Photographer of the year
1. Oscar Ntege
2. Oneal Mujjumbura
3. Fred Bugembe
4. Daville
5. Mohsen Taha
Fashion Photographer of the year(Africa)
1. Rezebonna (South Africa)
2. Kudzai King (Zimbabwe)
3. Trevor Stuurman (South Africa)
4. Shawn Kieffer (Tanzania- South Africa)
5. Kuyoh Photography (Kenya)
Stylist of the year(Uganda)
1. Tazibone Solomon
2. Abbas Kaijuka
3. Mavo Kampala
4. Tinah Brad
Stylist of the year(Africa)
1. Swanky Jerry (Nigeria)
2. Brian Babu (Kenya)
3. Chuck Mbevo (Angola)
4. Kwena Baloyi (South Africa)
5. Reinhard Mahalie (Namibia)
Fashion blogger/ Writer of the year(Uganda)
1. Amarachi Grace
2. Lamic Kirabo
3. Samson Baranga
4. Gloria Haguma
5. Satisfashion UG
6. Shalom Nicolette
Fashion Blogger/Writer of the year(Africa)
1. Ono Bello (Nigeria)
2. Silvia Njoki (Kenya)
3. Joy Kendi (Kenya)
4. Ghana fashion marketing (Ghana)
Most stylish/Dressed celebrity (Female) Uganda
1. Natasha Sinayobye
2. Sylvia Namutebi
3. Crystal Newman
4. Judith Heard
5. Pherrie Kimbugwe
Most Stylish/dressed celebrity( Female) Africa
1. Nana Akua Addo (Ghana)
2. Toke Makinwa (Nigeria)
3. Moozlie (South Africa)
4. ilwad Elman(Somalia)
5. Lulu Michael (Tanzania)
Most Stylish/dressed celebrity (Male) Uganda
1. Aleecool
2. Zipper Atafo
3. Dj Roja& slick stuart
4. Alex Muhangi
5. Adams Ddumba
Most Stylish/dressed celebrity (Male) Africa
1. Aphrican Ape( Dami Olatunde) (Nigeria)
2. Idris Sultan (Tanzania)
3. Toosweet Annan (Ghana)
4. Emmanuel Ikubese (Nigeria)
Most Stylish male Artiste (Uganda)
1. Hanson Baliruno
2. Fik Fameica
3. Ykee Benda
4. B2C
5. Bebe Cool
6. Exodus
Most stylish male artiste (Africa)
1. Mr. Eazi (Ghana)
2. Wizkid (Nigeria)
3. Runtown (Nigeria)
4. Sauti sol (Kenya)
5. Riky Rick (South Africa)
Most stylish female artiste (Uganda)
1. Desire Luzinda
2. Nina Roz
3. Lydia Jazmine
4. Sheebah
5. Spice Diana
Most stylish female artiste (Africa)
1. Yemi Alade (Nigeria)
2. Tiwa Savage (Nigeria)
3. Nsoki Neto (Angola)
4. Nadia Nakai (South Africa)
5. Vanessa Mdee (Tanzania)
Best Styled/Fashionable music video of the year (uganda)
1. Stylo – Vinka
2. Am still here – Julianna
3. Wololo- David Lutaalo
4. Jubilation- Eddy Kenzo
5. The way- Sheebah
Best styled/ Fashionable music video of the year (Africa)
1. Love portion – Mafikizolo
2. Juice-Ycee & Maleek Berry
3. Mad over you – Runtown
4. Particular – Dj Maphorisa
5. love again – C4 Pedro ft Sauti sol
Best dressed female media personality (Uganda)
1. Malaika Nnyanzi
2. Bettinah Tianah
3. Judithiana
4. Deedan Muyira
5. Maria Kibalizi
Best dressed female media personality (Africa)
1. Anita Nderu (South Africa)
2. Stephanie Coker (Nigeria)
3. Nomzamo (South Africa)
4. Vimbai (Zimbawe)
Best dressed male media personality (Africa)
1. katleho Sinivasan (South Africa)
2. Uti Nwachukwu (Nigeria)
3. jamal Gaddafi (Kenya)
4. George Ndirangu (Rwanda)
5. Denola Grey (Nigeria)
Best dressed male media personality (Uganda)
1. Joel Khamadi
2. Solomon Serwanja
3. Denzel Mwiyeretsi
4. Edwin Musiime
5. Calvin the entertainer
Male Fashionista of the year (Uganda)
1. Abduz Spot
2. Handsome Allanlee
3. Ricky Mugenyi
4. Jacob Home of gents
5. Anthony kays
Male Fashionista of the year (Africa)
1. Eddie Kirindo (Kenya)
2. Noble Igwe (Nigeria)
3. Prince Thabiso Mkhize (South Africa)
4. Josef Adamu (Nigeria)
5. Sir Abner (South Africa)
Female Fashionista of the year(Uganda)
1. Sasha Ferguson
2. Aaron Hilson
3. Cynthia Nakiranda
4. Sandrah Lexy
5. Rashidah Mwiza(miss Shee)
Female Fashionista Of the year (Africa)
1. Stefani Roma (Kenya)
2. Sharon Ojong (Nigeria)
3. Antonia Shinana (Namibia)
4. Didi Olomide (Congo)
5. Hamisa Mobeto (Tanzania)
Staff Writer
(Visited 1 time, 1 visit today)