YOU CAN MAKE MONEY ANYWHERE
By Robert Bake Tumuhaise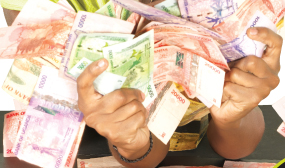 There are so many beliefs that people have in their minds surrounding money. One of them is that to earn big you have to migrate and go to another place. There is some truth because when you are in place where people do not know you, you can do anything for money, including the jobs that others underlook. But then, many people who keep looking for 'greener pastures' far away end up missing the 'pastures' around them.
Have you ever wondered why in Africa polygamy is common among men but rare amongst women? I believe it's because men are visually stimulated more than women and so our minds keep deceiving us that there is something better elsewhere than what we are finding in our wives. Thus, many men get tempted to explore the 'outside world' for love, only to end in frustration.
This mindset of wanting to try the outside world is worse in the territory of work and the search for financial freedom. There are so many Africans who believe they cannot become rich from their countries, and so, for years, they've been struggling to leave for better jobs abroad. They have already made up their minds – they are going to die poor unless they leave the country.
"Bake, for the last 10 years I've been chasing a UK Visa in vain. I have prayed and fasted but God has forsaken me," one of my friends lamented. Instead of asking God to give him wisdom to see opportunities around him, he was busy cursing him for denying him the opportunity to travel to his dreamland. What a crippling mindset!
I've met many friends who have been denied visas to the Western countries walking as if the whole world has collapsed over their heads. Despite the existence of so many opportunities in their country, their eyes are so blurred by that wrong thinking that those opportunities keep passing them by unnoticed. They have no time to focus on the resources they have within and around them that can be utilized to earn big money.
But how many of the rich people in this country really got their money from abroad? Isn't it funny how Ugandans are struggling to leave a country that foreigners are struggling to enter? While we dream of going to Asia to make money, hundreds of Asians are entering East Africa and are prospering. And how many Ugandans have returned from America or the UK without even enough dime for their ticket back? Some have even found themselves doing prostitution and other odd jobs that slash their dignity to pieces.
It's sad that some of our people have postponed living and are languishing in self-created limbo, waiting to start enjoying life when their dream of going to other places with better opportunities comes true. Truth be told; a success-minded person will always succeed from anywhere, including Uganda. Someone with a prosperity mindset will create wealth from anywhere and any situation while one with a poverty mindset cannot make big money no matter where they go.
I remember reading about a man who was once a millionaire in America. All his factories were destroyed during war and he fled to another country as a refugee. But within two years he was a millionaire again! His wealth was in his mind, not in any place. If you do the right thing, wherever you are, success will always find you there. I have no doubt that I am going to become a millionaire and a billionaire without leaving my country.
For those of you, who like me, are determined to prosper in Uganda, I want to recommend 4 things:
1. First is that you buy the DVD entitled 'UNVEILING INVESTMENT OPPORTUNITIES IN UGADA' which we covered at the last AUTHORS' FORUM. There is no one that has ever explained to me the opportunities we have for making money in Uganda better than the guests we hosted on that day, Stephen Asiimwe (Managing Director, East African Business Week) and Dr. Gudula Basaza (Chairperson, Uganda Women Enterpreneurs Association). A copy of the DVD costs 15,000 UGX, including delivery for those in Kampala. All you need to do is call Winnie Zose on 0774107287 or Leah on 0700487768.
2. The second thing is that you get hold of my unique inspirational novel entitled 'TEARS OF MY MOTHER; The Success Story of Nyamishana, the First Female President of Uganda'. This book that has been described both locally and internationally as unputdownable will inspire you to be the kind of person who sees opportunities anywhere and in anything. It will make you unstoppable in your search for your greatest greatness. A copy goes for 20,000 UGX. Again call the numbers above to order your copy.
3. The third thing is for you to call the same numbers and buy your ticket to the 6th Nov AUTHORS' FORUM at 20,000 UGX where we shall host in the celeb interview a 22-year old student Ortega Ian who is now owning a group of companies and is employing CEOs. Ortega has challenged me and I know he will challenge you too. The day will be crowned with an electrifying talk by Antony Gitonga, a top Kenyan business consultant, life coach and bestselling author of books like 'MADE FOR GREATNESS', who has spoken to and made CEOs all over Africa.
4. The forth and last thing is for you to forward this message to all your friends, enemies, relatives, colleagues, neighbours and everyone whose contact you have. This may give them something to forever thank you for.
Stay inspired and blessed.
(Visited 1 time, 1 visit today)
The MultiChoice Talent Factory announces the
MTF Academy Class of 2019
By Staff Writer
MultiChoice Africa is thrilled to announce that the final students for the MultiChoice Talent Factory (MTF) Academy Class of 2019 have been chosen. After a two-month long rigorous selection process across 13 African countries, 60 aspiring filmmakers representing East Africa, Southern Africa and West Africa will begin their 12-month training programme at the MTF Academies in Nairobi, Lusaka & Lagos in October this year.
The final candidates were selected after a rigorous interview and adjudication process by film and television experts, as well as regional Academy Directors Njoki Muhoho (East Africa), Berry Lwando (Southern Africa) and Femi Odugbemi (West Africa). Launched in May 2018 as part of MultiChoice Africa's ground-breaking corporate shared value (CSV) initiative, the MTF Academy is a 12-month fully-funded training programme aimed at upskilling the next generation of passionate young film creatives. As the first touchpoint of the shared-value initiative, the academy's curriculum was tailored alongside MultiChoice Africa partner institutions Pan-Atlantic University in Lekki, Kenyatta University in Nairobi, and the University of Zambia in Lusaka, which will respectively confer the course qualification upon completion of the academy programme.
In addition, The Henley Business School offers an orientation intervention to the students at the beginning and end of the 12-month programme. The appetite for training opportunities across Africa is massive within the creative film and TV industry, according to MultiChoice Talent Factory Director Cheryl Uys-Allie, which is exactly why the MTF Academy programme was launched."As one of the few industry players that not only tell African stories but also invest in them, the need for a dynamic training programme such as the MTF Academy has been a long time coming. As MultiChoice Africa, we always ask ourselves: what's next in the industry, and how can we better prepare for it? The MTF Academy was the answer to that question: By giving young Africans the chance to hone their television and film production skills," says Uys-Allie.The Class of 2019 is hot on the heels of the inaugural Class of 2018, who are ready to graduate and have their first films screened on M-Net channels and Showmax.
This year's class will reap the additional rewards of -new partnerships between the MTF Academy and Jasco Broadcast Solutions as well as Nihilent with its connection to Bollywood, as well as existing partnerships with the New York Film Academy College of Visual & Performing Arts (NYFA), DOLBY Institute and Universal Music Nigeria (UMG). As part of their curriculum, the 2019 candidates will also be exposed to the MTF Masterclasses, aimed at upskilling industry professionals and emerging creatives alike by offering exclusive access to practical, expert-led industry skills workshops across the 13 participating countries. Here's to another year of investing directly in Africa's dynamic storytelling spirit through the MTF Academy!
(Visited 1 time, 1 visit today)
Supa Sigiri's Relieve Households In Uganda Of Annual Excessive Charcoal Expenses
By Staff Writer
The Government of Uganda through the Uganda Clean Cooking Supply Chain Expansion Project, a Government of Uganda project, implemented by Private Sector Foundation Uganda (PSFU) is encouraging the public to use improved cook stoves dubbed 'Supa Sigiris' designed to use less charcoal, emit less smoke and cook faster than the ordinary cooking stoves found in most homes. Currently, Supa Sigiri's can relieve their users of at least 360,000Ushs worth of annual charcoal expenses.

According to the 2016/2017 Uganda National Household Survey, almost every household in the country either uses charcoal or firewood for cooking, revealing that the dependency on firewood as a source of energy is straining the environment locally, regionally and globally. Ordinary Sigiri's emit large amounts of black carbon which in the long run contribute to global warming.

The collective benefits of using any of the Supa Sigiri types are;
Supa Sigiris use less charcoal,
Supa Sigiris cooking time is greatly reduced thus making them a faster means of meal preparation,
Supa Sigiris emit less smoke, and therefore reduce the risk of health issues household members may face in association with smoke fumes released within the home,
Supa Sigiris also ensure a cleaner and safer environment generally in the home because of their unique design.
Speaking on the sidelines of the Capital FM Cook off with Supa Sigiri held last Friday, 23rd August 2019, Michael Oboth Sales Personnel for the Envirofit and Ecozoom cook stoves explained that the Envirofit and Ecozoom are a product of a World Bank research to combat climatic change which has become a global concern. 'Both Envirofit and Ecozoom cook stoves save consumption rate of fuel by 58%, have a 78% faster cooking rate and 82% smoke reduction.' Oboth added that one can cook with the Envirofit cook stove in the comfort of one's choice: on top of plastic tables, woollen carpets or tiles and they will not cause a fire outbreak.'

Biolite cook stove Representative Uganda Andrew Abacha said, 'Biolite improved cook stoves can uniquely charge your phone or light up as you cook. It uses minimal amounts of firewood which in the long run addresses environmental, health and financial challenges. It also saves its users money as they need firewood worth only 500 Ushs to cook with every day.'

Charles Akamanya, Sales Representative and Project Development Officer for the Potential Energy cook stove said, 'The Potential Energy cook stove is versatile, uses both charcoal and firewood, cooks at double the speed and comes with two provisions for cooking both at the top and bottom.'
Debbi Nansumba, Project Officer for the Smart Home Supa Sigiri Cookstove said that being part of the Uganda Clean Cooking Supply Chain Expansion Project has generally created awareness for the cook stoves and widened the market. She called upon the public to use Supa Sigiris cook stoves because of their benefits that make them unique from ordinary sigiris.

Mugwanya Ahmed the Sales Representative for Ugastove cook stoves said, 'Ugastoves are durable, can work for 4 years, have less carbon emission, save energy and use less charcoal than ordinary sigiris.'

The Supa Sigiris come in 7 brands and are priced as follows:
| | | |
| --- | --- | --- |
| | Stove type | Price (UGX) |
| 1 | Smart Home | 17,000 |
| | ILF Smart Home | 17,000 |
| 2 | Ugastove charcoal stove | 45,000 |
| | Ugastove dual stove | 45,000 |
| 3 | Ecozoom Jiko Fresh | 125,000 |
| | Ecozoom Jiko Bora | 165,000 |
| 4 | Envirofit Super saver charcoal stove | 200,000 |
| | Envirofit Charcoal stove | 170,000 |
| 5 | Biolite Home stove 2 | 180,000 |
| 6 | Potential Energy: Berkley Darfur stove | 95,000 |
| 7 | BURN Jikokoa | 150,000 |
| | BURN Kunikoa | 150,000 |
Any of the 7 Supa Sigiri's can be bought either by cash or loan (PSFU is reaching out to the various office SACCO's in and around Kampala for the member credit facility option). Supa Sigiri's sale points around Kampala and Wakiso can be accessed at the following locations:
Shop No. 4 located at Wandegeya market building, Northern wing,
Johnrich supermarket Kabalagala entrance,
Bugolobi market entrance, 
Nakawa market, charcoal entrance shop No. 278, 
Seeta Trading Centre next to Stanbic bank ATM.
Capital Shoppers Ntinda and Nakawa Entrance
Kasubi Market opposite Kobil Petrol Station
Supa Sigiri's can also be ordered via the phone on 0783813902; via SMS to 8008, Type Sigiri [leave space] your location and send; Email: info@supasigiri.co.ug; or by visiting the website www.supasigiri.co.ug. The Supa Sigiri's are also available on the JumiaUG shop.
(Visited 1 time, 1 visit today)
Breeze Serenity Saloon and Spa, a perfect one stop serene place for all your body care
By Staff Writer
Not so many places around town will have you get all your body services at a one stop. Serenity Saloon and Spa is one of those places that will not need you place to place, the Kimathi based Saloon and Spa has services ranging from makeup, weaving, braids, dreadlocks, massage, pedicure & manicure, facial, body scrub, hair treatment, tattoos and physiotherapy services.
From those that have been at the place, the customer care is excellent and in a conducive and mind relaxing environment that has FREE WIFI. Because we have been there to experience the ambiance, the place is convenient for all classes of people including the working class because it opens through all 24 hours.
While is remains a classy saloon and Spa the charges are relatively friendly. Breeze Serenity Saloon and Spa is located at Kimathi Avenue, Pan African House, next to Kampala Casino.
(Visited 1 time, 1 visit today)