YOU CAN MAKE MONEY ANYWHERE
By Robert Bake Tumuhaise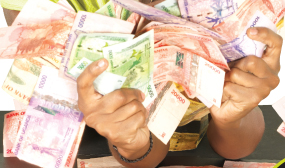 There are so many beliefs that people have in their minds surrounding money. One of them is that to earn big you have to migrate and go to another place. There is some truth because when you are in place where people do not know you, you can do anything for money, including the jobs that others underlook. But then, many people who keep looking for 'greener pastures' far away end up missing the 'pastures' around them.
Have you ever wondered why in Africa polygamy is common among men but rare amongst women? I believe it's because men are visually stimulated more than women and so our minds keep deceiving us that there is something better elsewhere than what we are finding in our wives. Thus, many men get tempted to explore the 'outside world' for love, only to end in frustration.
This mindset of wanting to try the outside world is worse in the territory of work and the search for financial freedom. There are so many Africans who believe they cannot become rich from their countries, and so, for years, they've been struggling to leave for better jobs abroad. They have already made up their minds – they are going to die poor unless they leave the country.
"Bake, for the last 10 years I've been chasing a UK Visa in vain. I have prayed and fasted but God has forsaken me," one of my friends lamented. Instead of asking God to give him wisdom to see opportunities around him, he was busy cursing him for denying him the opportunity to travel to his dreamland. What a crippling mindset!
I've met many friends who have been denied visas to the Western countries walking as if the whole world has collapsed over their heads. Despite the existence of so many opportunities in their country, their eyes are so blurred by that wrong thinking that those opportunities keep passing them by unnoticed. They have no time to focus on the resources they have within and around them that can be utilized to earn big money.
But how many of the rich people in this country really got their money from abroad? Isn't it funny how Ugandans are struggling to leave a country that foreigners are struggling to enter? While we dream of going to Asia to make money, hundreds of Asians are entering East Africa and are prospering. And how many Ugandans have returned from America or the UK without even enough dime for their ticket back? Some have even found themselves doing prostitution and other odd jobs that slash their dignity to pieces.
It's sad that some of our people have postponed living and are languishing in self-created limbo, waiting to start enjoying life when their dream of going to other places with better opportunities comes true. Truth be told; a success-minded person will always succeed from anywhere, including Uganda. Someone with a prosperity mindset will create wealth from anywhere and any situation while one with a poverty mindset cannot make big money no matter where they go.
I remember reading about a man who was once a millionaire in America. All his factories were destroyed during war and he fled to another country as a refugee. But within two years he was a millionaire again! His wealth was in his mind, not in any place. If you do the right thing, wherever you are, success will always find you there. I have no doubt that I am going to become a millionaire and a billionaire without leaving my country.
For those of you, who like me, are determined to prosper in Uganda, I want to recommend 4 things:
1. First is that you buy the DVD entitled 'UNVEILING INVESTMENT OPPORTUNITIES IN UGADA' which we covered at the last AUTHORS' FORUM. There is no one that has ever explained to me the opportunities we have for making money in Uganda better than the guests we hosted on that day, Stephen Asiimwe (Managing Director, East African Business Week) and Dr. Gudula Basaza (Chairperson, Uganda Women Enterpreneurs Association). A copy of the DVD costs 15,000 UGX, including delivery for those in Kampala. All you need to do is call Winnie Zose on 0774107287 or Leah on 0700487768.
2. The second thing is that you get hold of my unique inspirational novel entitled 'TEARS OF MY MOTHER; The Success Story of Nyamishana, the First Female President of Uganda'. This book that has been described both locally and internationally as unputdownable will inspire you to be the kind of person who sees opportunities anywhere and in anything. It will make you unstoppable in your search for your greatest greatness. A copy goes for 20,000 UGX. Again call the numbers above to order your copy.
3. The third thing is for you to call the same numbers and buy your ticket to the 6th Nov AUTHORS' FORUM at 20,000 UGX where we shall host in the celeb interview a 22-year old student Ortega Ian who is now owning a group of companies and is employing CEOs. Ortega has challenged me and I know he will challenge you too. The day will be crowned with an electrifying talk by Antony Gitonga, a top Kenyan business consultant, life coach and bestselling author of books like 'MADE FOR GREATNESS', who has spoken to and made CEOs all over Africa.
4. The forth and last thing is for you to forward this message to all your friends, enemies, relatives, colleagues, neighbours and everyone whose contact you have. This may give them something to forever thank you for.
Stay inspired and blessed.
(Visited 1 time, 1 visit today)
Uganda Breweries partners with Kabaka Foundation to construct sanitation facilities in city markets
By Our Reporter
In a bid to improve the sanitation and hygiene that are health concerns in Kampala markets, Uganda Breweries Limited has launched a sanitation project that will see the brewery construct modern public sanitation facilities for the residents and traders of Nakulabye, Katwe, Mengo and Mulago Markets.
The project dubbed the "Kampala City Markets water and Sanitation" has been done in partnership with the Kabaka Foundation, which is an NGO presided over by His Majesty the Kabaka of Buganda. The 3 months project which is part of UBL's "Water of Life" initiative will cost UGX 300 Million and will benefit over 26,000 people.
Under this project, each Market will get a modern sanitation facility with eights units; a toilet for people with disabilities, a washroom for men and women, three urinal bowls for men, one shared attendants room, a water reservoir of 5000 liters, a 1000 liter over- head tank and a water pump.
Speaking during the ground breaking ceremony at Nakulabye Market, Uganda Breweries Managing Director Mark Ocitti said, "Access to clean sanitation facilities is critical to the health and prosperity of our communities, and yet, too many people especially in the markets around the city do not have access to these basic services. Uganda Breweries is proud to partner with the Kabaka Foundation to reform and improve the lives of more than 26,000 people who live and work around these markets."
Ocitti noted that this project is not the first done in partnership with the Buganda Kingdom. "UBL and the Kingdom have a long standing partnership to brew Ngule beer, the Kingdoms official beer. The beer is made from cassava and sorghum all of which are sourced locally from Buganda Kingdom."
In his remarks, Owekitibwa Chris Bwanika, a Trustee in the Kabaka Foundation said, "This project marks another milestone in achieving Kabaka foundation's aim of improving sanitation. Kampala city markets have dilapidated sanitation facilities and with the construction of these new facilities, we will now be able to address the problem of poor sanitation and the consequent spread of diseases among the residents, especially the children."
Uganda Breweries Limited has in the past years run similar projects. In 2017, the company constructed public sanitation facilities worth UGX 300 million at Port Bell and Kirombe markets. The project benefits over 12,000 residents, traders and visitors to the two areas. UBL has also previously constructed sanitation facilities in Ggaba market and Kinawataka market.
(Visited 1 time, 1 visit today)
Sheraton hosts Muslim community to iftar dinner
By Our Reporter
Sheraton Kampala Hotel treated the Muslim community to iftar dinner as they broke their fast on Thursday evening. The dinner was held to thank their Muslim partners, clients and guests for the continued support to the hotel and to also wish them blessings during this holy month of Ramadan.
The dinner was a blend of Middle Eastern and Ugandan cuisine consisting of special and customized meals of starter, salads, condiments & dressing, soups, main course, carving, dessert and a variety of drinks.
While addressing the guests during the dinner, the General Manager, Sheraton Kampala Hotel, Jean-Philippe Bittencourt encouraged the Muslims to keep up with the good spirit of brotherhood as they observe this Ramadan. He further thanked them for the immeasurable support to the Sheraton hotel and encouraged them to work as a team for peace and unity to be realized.
"To observe, this holy month, the hotel has set aside a special prayer place where our employees, guests and customers can say their prayer and break their fast. We have a designated area at the Victoria Restaurant where they can have a lavish buffet as they break their fast from Monday to Saturday," Mr. Jean Philippe Bittencourt further noted.
Ramadan is the ninth month of the Islamic calendar and, is observed by Muslims worldwide as a month of fasting to commemorate the first revelation of the Quran to Muhammad, according to Islamic belief. Muslims are expected to put more effort into following the teachings of Islam with the fast beginning at dawn and ending at set.
Sheraton hotel during this holy month of Ramadan has special daily Iftar menu packages for individuals, families, groups and companies hosting their Muslim clients or customers to a special dinner.
(Visited 1 time, 1 visit today)
By Our Reporter
"V-Power Weekend", a promotion that allows customers to purchase Shell V-Power at the same price as regular fuel, is back.
Launched in March this year, the promotion is open to all Shell customers and is available at over 80 Shell stations countrywide. The offer runs for the entire weekend starting Friday morning to Sunday evening.
"This promotional offer is aimed at getting car owners to try the advanced fuel formulation and experience the thrilling power and performance of our premium fuel Shell V-Power," said Emmanuel Ssebunya, Brand Manager Fuels at Vivo Energy Uganda. "Shell's new fuels contain exclusive DYNAFLEX Technology which helps clean and protect key components in vehicle engines, reduces friction between the piston and cylinder wall, reduces possibility of engine knock leading to better engine efficiency and performance."
The V-Power Weekend offer will run every month till December 2019 to give as many motorists as possible an opportunity to experience Shell premium fuels.
"Whatever car you drive, wherever you are going, visit a Shell station to get a full tank of Premium Shell V-Power at the price of regular fuel and GO WELL," he added.
(Visited 1 time, 1 visit today)