YOU CAN MAKE MONEY ANYWHERE
Charge Faster and Play More with the new P38 Pro. Find out more here!
By Robert Bake Tumuhaise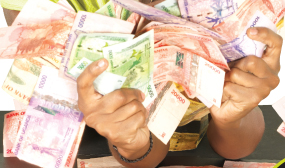 There are so many beliefs that people have in their minds surrounding money. One of them is that to earn big you have to migrate and go to another place. There is some truth because when you are in place where people do not know you, you can do anything for money, including the jobs that others underlook. But then, many people who keep looking for 'greener pastures' far away end up missing the 'pastures' around them.
Have you ever wondered why in Africa polygamy is common among men but rare amongst women? I believe it's because men are visually stimulated more than women and so our minds keep deceiving us that there is something better elsewhere than what we are finding in our wives. Thus, many men get tempted to explore the 'outside world' for love, only to end in frustration.
This mindset of wanting to try the outside world is worse in the territory of work and the search for financial freedom. There are so many Africans who believe they cannot become rich from their countries, and so, for years, they've been struggling to leave for better jobs abroad. They have already made up their minds – they are going to die poor unless they leave the country.
"Bake, for the last 10 years I've been chasing a UK Visa in vain. I have prayed and fasted but God has forsaken me," one of my friends lamented. Instead of asking God to give him wisdom to see opportunities around him, he was busy cursing him for denying him the opportunity to travel to his dreamland. What a crippling mindset!
I've met many friends who have been denied visas to the Western countries walking as if the whole world has collapsed over their heads. Despite the existence of so many opportunities in their country, their eyes are so blurred by that wrong thinking that those opportunities keep passing them by unnoticed. They have no time to focus on the resources they have within and around them that can be utilized to earn big money.
But how many of the rich people in this country really got their money from abroad? Isn't it funny how Ugandans are struggling to leave a country that foreigners are struggling to enter? While we dream of going to Asia to make money, hundreds of Asians are entering East Africa and are prospering. And how many Ugandans have returned from America or the UK without even enough dime for their ticket back? Some have even found themselves doing prostitution and other odd jobs that slash their dignity to pieces.
It's sad that some of our people have postponed living and are languishing in self-created limbo, waiting to start enjoying life when their dream of going to other places with better opportunities comes true. Truth be told; a success-minded person will always succeed from anywhere, including Uganda. Someone with a prosperity mindset will create wealth from anywhere and any situation while one with a poverty mindset cannot make big money no matter where they go.
I remember reading about a man who was once a millionaire in America. All his factories were destroyed during war and he fled to another country as a refugee. But within two years he was a millionaire again! His wealth was in his mind, not in any place. If you do the right thing, wherever you are, success will always find you there. I have no doubt that I am going to become a millionaire and a billionaire without leaving my country.
For those of you, who like me, are determined to prosper in Uganda, I want to recommend 4 things:
1. First is that you buy the DVD entitled 'UNVEILING INVESTMENT OPPORTUNITIES IN UGADA' which we covered at the last AUTHORS' FORUM. There is no one that has ever explained to me the opportunities we have for making money in Uganda better than the guests we hosted on that day, Stephen Asiimwe (Managing Director, East African Business Week) and Dr. Gudula Basaza (Chairperson, Uganda Women Enterpreneurs Association). A copy of the DVD costs 15,000 UGX, including delivery for those in Kampala. All you need to do is call Winnie Zose on 0774107287 or Leah on 0700487768.
2. The second thing is that you get hold of my unique inspirational novel entitled 'TEARS OF MY MOTHER; The Success Story of Nyamishana, the First Female President of Uganda'. This book that has been described both locally and internationally as unputdownable will inspire you to be the kind of person who sees opportunities anywhere and in anything. It will make you unstoppable in your search for your greatest greatness. A copy goes for 20,000 UGX. Again call the numbers above to order your copy.
3. The third thing is for you to call the same numbers and buy your ticket to the 6th Nov AUTHORS' FORUM at 20,000 UGX where we shall host in the celeb interview a 22-year old student Ortega Ian who is now owning a group of companies and is employing CEOs. Ortega has challenged me and I know he will challenge you too. The day will be crowned with an electrifying talk by Antony Gitonga, a top Kenyan business consultant, life coach and bestselling author of books like 'MADE FOR GREATNESS', who has spoken to and made CEOs all over Africa.
4. The forth and last thing is for you to forward this message to all your friends, enemies, relatives, colleagues, neighbours and everyone whose contact you have. This may give them something to forever thank you for.
Stay inspired and blessed.
What is TRENDING today? Find out here!
(Visited 1 time, 1 visit today)