Python Eats Passed Out Drunk Guy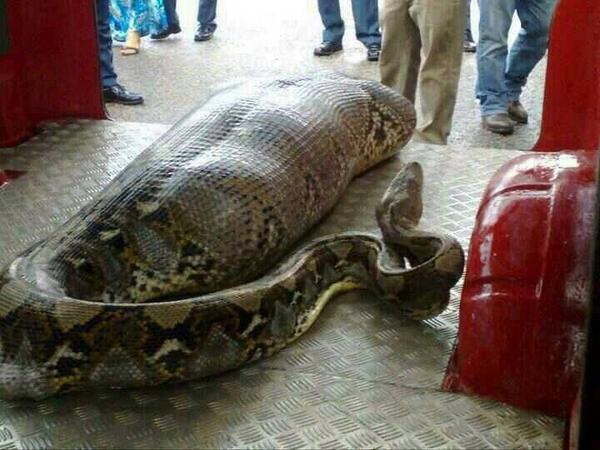 An Indian man suffered an excruciating death when he was swallowed whole by a python after falling asleep drunk outside a liquor store.
Note to self: Do not get drunk and pass out outside in India. I have been incredibly drunk in my checkered past, and I have done some things I am not proud of, including passing out cold in some strange places for lengthy amounts of time. However, I am sure that I would wake up from my drunken slumber if a python was trying to eat me, and I think I would be able to escape his deadly coils. That's just because I am self confident.
"The #SamsungTwitterParty is back! Get ready to party the night away come 19th December at Zone 7 with fellow tweeps. Entrance is 15,000shs. Call 0775439894 for details. Great music and drinks."
Pythons are constrictors, so it is likely that the snake came across the passed out man and could tell that he was still alive, since pythons can sense heat. The snake then constricted the man, and began to suffocate him while he was passed out, so if the man woke up and realized what was going on it was already too late.
Rest in peace, drunk guy, at least your senses were dulled with alcohol when you met your untimely inebriated end.
Source: Sportsmasher
"[katogoaward]"
Start making money online today with Bitcoin. Sign up here!
(Visited 1 time, 1 visit today)