Miss World Organizers Fear Extremists may be Plotting Attack during the Competition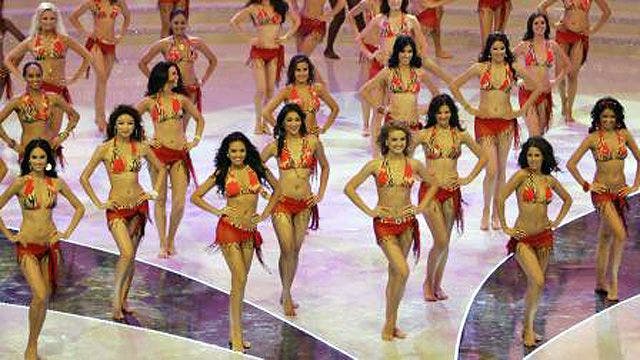 foxnews.com
Beauty queens and backstage drama may seem inevitable, but at this year's Miss World competition, something more serious than hair-pulling and name-calling has come from host country Indonesia: Muslim hardliners have threatened to hijack the competition despite major concessions from the government and organizers.
The bikinis that have been a pageant hallmark were replaced with more conservative sarongs three months ago, after a small but vocal group complained that showing too much skin would be offensive to the world's more populous Muslim country. But that only temporarily quieted protests over the event, which holds its internationally televised finale on Saturday.
The Islamic Defenders Front, known for angry protests and violent raids on bars and prostitution dens, began holding demonstrations weeks ago with thousands displaying signs that read: "Miss World is Whore Contest" and "Miss World Go to Hell." More mainstream groups, including an influential Islamic body, joined in and called for the show to be banned.
Then just three weeks ago, the government announced that the final would be moved from the outskirts of the capital, Jakarta, and instead held on the Hindu-dominated resort island of Bali where earlier rounds were taking place.
The organizers were left bewildered and panicked, having just three weeks to rearrange an event that had been three years in the making. Hundreds of hotel rooms and 6,000 plane tickets had to be canceled and rebooked, and a new venue secured.
And even now, concern remains that Muslim extremists may try to disrupt the event. The British, Australian and U.S. embassies have issued warnings to citizens planning trips to Bali during the competition, saying there could be large-scale protests or even attacks.
Haidar Al-Hamid, who heads the East Java branch of the Islamic Defenders Front, said that despite tight security aimed in part at keeping protesters out of Bali, he plans to rally against the Miss World contest and has ordered all members to find a way to reach the nearby island.
Meanwhile, many Indonesians say they are proud that the next Miss World will win her crown and sash in their country.
"It's good for Indonesia to host such a pageant. We can tell the world what our country is like. They can see the hospitality of our people … for me, this is a positive thing for Indonesia," said Tony, 38, who works at a private bank in Jakarta and uses only one name like many Indonesians. "Everyone is now free to voice their opinions more openly. Although we do not agree with (the protesters), we cannot ban them."
At the same time, a small extremist fringe has become louder and more violent in recent years, attacking Christians and other religious minorities, along with anyone else deemed immoral.
The hardliners forced Lady Gaga to cancel a sold-out show last year after they branded her a "devil worshipper." Aerosmith also abruptly pulled the plug on a May concert, citing security concerns, days after a bomb plot against the Myanmar Embassy was revealed. Jennifer Lopez performed in the capital, but the sexy singer covered up and toned down her racy dance moves.
[showmyads]
Hary Tanoesoedibjo, head of Miss World sponsor MNC media group, said the government's decision to move the pageant venue is a mistake that creates a negative impression for the 131 countries represented in the pageant.
"The decision was changed so quickly just because of pressure from a certain group," the billionaire said at a news conference. "We are worried this will create the perception that we are a weak nation."
This is not the first time the British-based Miss World, which started as a bikini contest in 1951, has faced opposition from Muslims. In 2002, contestants were forced to leave Nigeria after religious riots trigged by the contest exploded inside the country, leaving some 100 people dead and hundreds injured. The competition was instead held in London.
(Visited 1 time, 1 visit today)
Comedian Reign too close with upcoming singer Vilani
By Staff Writer
It looks like there's something cooking between talented comedian Reign- of the Maulana and Reign duo and upcoming female singer Vilani.
Word reaching our desk indicates the two, Reign and Vilani, have been inseperable the last few weeks.
We hear the two spend most of their time together. However it's unclear what their business could be. Unconfirmed reports reveal the two could be an item. However another source says the two have a business deal they have been working on together.We wonder what deal it could be considering they are in different entertainment fields. Ever since she joined the industry, new star Vilani, better known as 'The Sweet Malaika gal' has always made a fashion statement which has attracted men.With her sweet melodious and tempting voice, Vilani proved by her song, Sweet Malaika, that she has all it takes to have men dying for a piece of her. Reign could be one of them.
(Visited 1 time, 1 visit today)
What You Missed At the DJ Ciza House & Barbecue Party
By Staff Writer
Last Saturday, one of Kampala's finest DJS, DJ Ciza hosted his famous house party that attracted a section of Kampala party animals. The DJ Ciza house Party took place at an exclusive crib along Kyambogo Road Ntinda.
Also called the real crowd pleaza, Ciza hosted his fans, artistes and fellow DJs to an all you can eat party where guests eat until they could eat no more.
He was also supported by fellow DJs like Naselow, DJ Nyowe, Selector Jay, DJ LL and artistes like Cosign, Mugaba and JWats among others.
The party started at around 6pm and went on till 3am.
DJ Ciza is a versatile DJ that has marked his place in the industry. He has played at both small and big stages. He currently plays at Radiocity and hosts weekly nights including but not limited to Jamrock Thursday's at Valhalla, vibe up Friday's at H20 Kololo among others.
(Visited 1 time, 1 visit today)
Jose Chameleone cleans up Twitter, follows only two Ugandan artistes, your guess is as good as ours.
By Reporter
After being unfollowed by the President or rather his administrator, Jose Chameleone has not taken Twitter lightly. The singer has done some cleaning up and has been left with only 108 accounts to follow and only two of those are Ugandan artistes.
It is not rocket science that Chameleone only decides to follow his two brothers Pallaso and Radio&Weasel, had it been any others maybe we would be wondering the criteria he used.
Chameleone is one of the most followed Ugandan artistes on Twitter and not following you may not go so well with you as an artiste.
(Visited 1 time, 1 visit today)