MACUFE festival gives Bloemfontein the chance to beat its own drum as a tourist hotspot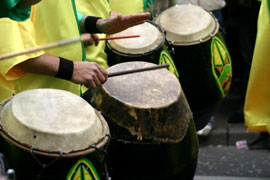 At the heart of the Free State lies the historic, hospitable city of Bloemfontein, known as the 'City of Roses'. Proud host city to the MACUFE Festival, Bloemfontein is an Afrikaans word that means 'flower fountain'. The city is known for its diverse tourism offerings: culture and heritage, adventure, nightlife, restaurants and scenic beauty.
As MACUFE's reputation as a must attend show on South Africa's event calendar has grown, so too has Bloemfontein's profile as a host city and tourist destination. Music lovers, tourists and famous personalities are attending the festival by the numbers and are discovering that music and festivities aside, there is so much more to see and do in the historically rich city and province.
In recent years, South African Tourism has played host to journalists attending the Macufe festival and other major events happening in the country. The platform is apt for demonstrating the things one can do when in the Free State in addition to attending the festival.
"There are indications that MACUFE will soon make it into the list of top three South African arts festivals. And to cap it all, the tours offered by South African Tourism in between the festival of the historic and beautiful city of Bloemfontein put an icing on the entire unforgettable experience," says Chuks Nwanne, a Lifestyle and Entertainment correspondent at the Guardian, Nigeria.
This year's Macufe celebration boasts an impressive line-up featuring internationally celebrated South African singer Lira, Afro pop group Mafikizola, jazz maestro Huge Masekela, rapper AKA and gospel singer Rebecca Malope. International artists such as Keri Hilson and Anthony Hamilton are also confirmed to take to the stage.
There are a number of shows taking place during the week starting with the arts and crafts programme. MACUFE 2013 also offers a music festival, which comprises of a divas concert, a rock concert, an indoor jazz concert, a gospel concert, a comedy show and the MACUFE Cup when Kaizer chiefs take on Bloemfontein Celtic.
The Macufe festival is the place where culture, arts and entertainment meet in South Africa. For it to be held in a province so drenched in history and culturally relevant is perfectly suited.
Start making money online today with Bitcoin. Find out how here!
(Visited 1 time, 1 visit today)