MACUFE festival gives Bloemfontein the chance to beat its own drum as a tourist hotspot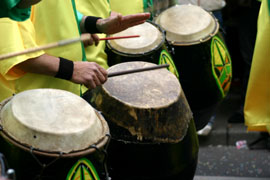 At the heart of the Free State lies the historic, hospitable city of Bloemfontein, known as the 'City of Roses'. Proud host city to the MACUFE Festival, Bloemfontein is an Afrikaans word that means 'flower fountain'. The city is known for its diverse tourism offerings: culture and heritage, adventure, nightlife, restaurants and scenic beauty.
As MACUFE's reputation as a must attend show on South Africa's event calendar has grown, so too has Bloemfontein's profile as a host city and tourist destination. Music lovers, tourists and famous personalities are attending the festival by the numbers and are discovering that music and festivities aside, there is so much more to see and do in the historically rich city and province.
In recent years, South African Tourism has played host to journalists attending the Macufe festival and other major events happening in the country. The platform is apt for demonstrating the things one can do when in the Free State in addition to attending the festival.
"There are indications that MACUFE will soon make it into the list of top three South African arts festivals. And to cap it all, the tours offered by South African Tourism in between the festival of the historic and beautiful city of Bloemfontein put an icing on the entire unforgettable experience," says Chuks Nwanne, a Lifestyle and Entertainment correspondent at the Guardian, Nigeria.
This year's Macufe celebration boasts an impressive line-up featuring internationally celebrated South African singer Lira, Afro pop group Mafikizola, jazz maestro Huge Masekela, rapper AKA and gospel singer Rebecca Malope. International artists such as Keri Hilson and Anthony Hamilton are also confirmed to take to the stage.
There are a number of shows taking place during the week starting with the arts and crafts programme. MACUFE 2013 also offers a music festival, which comprises of a divas concert, a rock concert, an indoor jazz concert, a gospel concert, a comedy show and the MACUFE Cup when Kaizer chiefs take on Bloemfontein Celtic.
The Macufe festival is the place where culture, arts and entertainment meet in South Africa. For it to be held in a province so drenched in history and culturally relevant is perfectly suited.
(Visited 1 time, 1 visit today)
Pastor Bugembe to use concert money to build 6,000-seater church
By Staff writer
Pastor Wilson Bugembe today held a press conference at his Nansana based temporary church where he will also hold his upcoming concert 'Tuzimbe'. His concert is slated for 31st August at his church in Nansana and will be accompanied by other artistes doing both gospel and secular music.
During the press conference the pastor revealed that all monies collected that day will be used to construct a well furnished church with sitting capacity of over 6,000 people. The said church is expected to be completed by January 2020.
Bugembe urged all his fans to flock his Light The World Ministries church and also not to politicize his concert by wearing attires with political colors especially the berets because he was warned by police not to allow politics to interfere in his concert or risk being stopped from performing.
Pastor Bugembe has over years domeyhits albums and singles like Kani, Ani, Yellow, Njagala Kumanya, Akawala Ako, Sibiwulira, Wanaza, Biribabitya, and Lengera Embaata among others.
(Visited 1 time, 1 visit today)
Kenyan DJ Pierre Makena coming to Uganda
By Staff Writer
Kenyan Female DJ Makena will be coming to Uganda and particularly to Bbunga based nightlife spot Nomad bar and grill. The grill is slated for 7th September in a night themed "All ladies affair party". DJ Pierre will be joined by DJ Lola from Uganda.
Event will be hoosted by NTV's MC Esco, DJ Ace and DJ Kerb. The DJ Makena is also an actress and TV host and has served in the inaugural season of popular reality music show, Tusker Project Fame.
Determined to network with industry bigwigs, she poured herself into her duties and soon enough, climbed through the ranks becoming a camerawoman. The calls she so desperately longed for also started pouring in as the producers of TV drama series Tahidi High contacted her for a role.DJ Pierra Makena won best supporting actress for her role in When Love Comes Around at the annual Nollywood and African Film Critics awards held in Los Angeles.
(Visited 1 time, 1 visit today)
The MultiChoice Talent Factory announces MTF Academy Class of 2019
By Staff Writer
MultiChoice Africa is thrilled to announce that the final students for the MultiChoice Talent Factory (MTF) Academy Class of 2019 have been chosen. After a two-month long rigorous selection process across 13 African countries, 60 aspiring filmmakers representing East Africa, Southern Africa and West Africa will begin their 12-month training programme at the MTF Academies in Nairobi, Lusaka & Lagos in October this year.
The final candidates were selected after a rigorous interview and adjudication process by film and television experts, as well as regional Academy Directors Njoki Muhoho (East Africa), Berry Lwando (Southern Africa) and Femi Odugbemi (West Africa). Launched in May 2018 as part of MultiChoice Africa's ground-breaking corporate shared value (CSV) initiative, the MTF Academy is a 12-month fully-funded training programme aimed at upskilling the next generation of passionate young film creatives. As the first touchpoint of the shared-value initiative, the academy's curriculum was tailored alongside MultiChoice Africa partner institutions Pan-Atlantic University in Lekki, Kenyatta University in Nairobi, and the University of Zambia in Lusaka, which will respectively confer the course qualification upon completion of the academy programme.
In addition, The Henley Business School offers an orientation intervention to the students at the beginning and end of the 12-month programme. The appetite for training opportunities across Africa is massive within the creative film and TV industry, according to MultiChoice Talent Factory Director Cheryl Uys-Allie, which is exactly why the MTF Academy programme was launched."As one of the few industry players that not only tell African stories but also invest in them, the need for a dynamic training programme such as the MTF Academy has been a long time coming. As MultiChoice Africa, we always ask ourselves: what's next in the industry, and how can we better prepare for it? The MTF Academy was the answer to that question: By giving young Africans the chance to hone their television and film production skills," says Uys-Allie.The Class of 2019 is hot on the heels of the inaugural Class of 2018, who are ready to graduate and have their first films screened on M-Net channels and Showmax.
This year's class will reap the additional rewards of -new partnerships between the MTF Academy and Jasco Broadcast Solutions as well as Nihilent with its connection to Bollywood, as well as existing partnerships with the New York Film Academy College of Visual & Performing Arts (NYFA), DOLBY Institute and Universal Music Nigeria (UMG). As part of their curriculum, the 2019 candidates will also be exposed to the MTF Masterclasses, aimed at upskilling industry professionals and emerging creatives alike by offering exclusive access to practical, expert-led industry skills workshops across the 13 participating countries. Here's to another year of investing directly in Africa's dynamic storytelling spirit through the MTF Academy!
(Visited 1 time, 1 visit today)