Infinix Hot 6 Pro officially launched in Uganda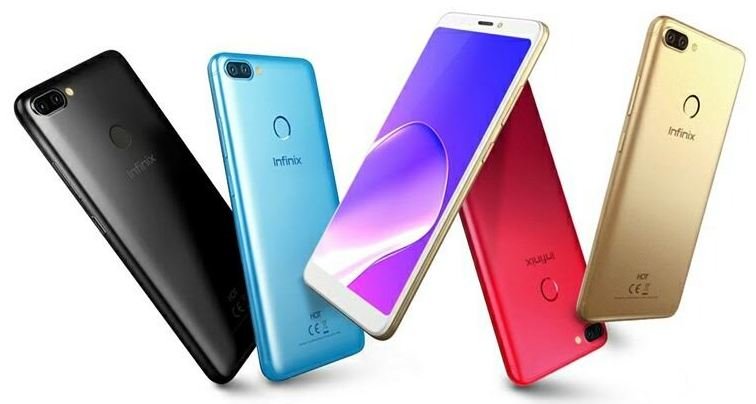 Ride Cashless with SafeBoda! You can top up your SafeBoda credit through the app using either MTN or Airtel Money OR Come by the SafeBoda offices on Bukoto street between 10am to 4pm to directly pay cash for credit!Click here to download the app
By Our Reporter 
Infinix Mobile has officially launched the Hot 6 Pro on the Ugandan Market. The Hot 6 Pro comes with a pile of new features and is designed with a dual camera setting on the rear, an 18:9 Infinity display and also comes at the best price you can ever find.
The Infinix Hot 6 Pro is the successor to last year's Infinix Hot 5 and Hot 5 Lite, announced in August 2017. Unlike the Hot 5 series which lacked a pro version, Infinix has included a Pro version in the Hot 6 series.
The Hot 6 Pro comes with the 13MP +2MP dual rear camera plus a 5MP selfie camera, a 6 Inch bezel-less display and houses a Snapdragon 425 chip. It also packs 2GB of RAM, 16GB storage space and a massive 4000mAh battery capacity.
This is the second Infinix model after the Infinix S3 with Qualcomm Snapdragon chip in the company's bid to treat customers with a faster experience.
The Hot 6 has a Plastic unibody plus a rear fingerprint scanner for quick access to the phone. It is 7.8mm thick and weighs 145g, slim and light enough to be carried around without any inconvenience.
It also comes with a 6.0" HD+ Infinity display for a clear viewing experience, a 4000mAh Li-Ion battery that comes with fast charging technology (Quick Charge 2.0) taking less than 1 hours to charge it from 0% to 100% and a standby time of 2 days.
The Hot 6 Pro comes with the Snapdragon 425 chip from Qualcomm with Quad-core processor and 64-bit CPU architecture. The 4-cores of processor here reaches a standard speed of 1.4GHz with 28nm process technology for a smooth ride.
Its memory is 2GB RAM + 16GB ROM (Expandable up to 32GB) and runs on the latest Android 8.1 Oreo Operating system.
The Hot 6 Pro has a 13MP rear shooter with a 2MP companion to help in autofocus and portrait modes.
Surprisingly, they will both perform like a typical 13MP shooter with f/2.0 aperture and a 5MP for selfies.
The Hot 6 Pro supports faster 4G LTE networks and is now available in Sandstone Black, Magic Gold and Bordeaux Red for only UGX539,000/= at any Infinix Branded store near you.
(Visited 1 time, 1 visit today)
Infinix Note 5 officially unveiled in Uganda
Ride Cashless with SafeBoda! You can top up your SafeBoda credit through the app using either MTN or Airtel Money OR Come by the SafeBoda offices on Bukoto street between 10am to 4pm to directly pay cash for credit!Click here to download the app
By Our Reporter
Infinix Mobility has today officially unveiled their latest flagship, the Infinix Note 5, in Uganda at a media event held at Hotel Triangle. This follows a global launch held in Dubai on Sunday.
Speaking at the unveiling ceremony,  Yang Ralap, the Brand Marketing manager Infinix Uganda said, "As a brand we are committed to bringing cutting-edge technology and stylish designed mobile devices to young generations at an affordable cost."
Powered by Google's Android One OS, the Note 5 brings secure and smart AI-powered innovations – like the Google Assistant and Google Lens – to everyone, living up to its tagline "Beyond Intelligent".
It features a 12MP rear camera and a 16MP low-light front camera, which allows selfie lovers to take high-quality selfies even in low light, and has an inbuilt long-lasting 4500mAh battery with a 3A Fast Charge that will keep users fully functional throughout the day.
It also boasts of a big display, which provides users with superb viewing and entertainment experience with an Infinity 6.0'' FHD screen and a 18:9 screen ratio.
The Infinix Note 5 is retailing at Ugx 769,000, and is available in Red, Blue, and Black color variants.
(Visited 1 time, 1 visit today)
Huawei exposes Ugandan students to high-end tech
Ride Cashless with SafeBoda! You can top up your SafeBoda credit through the app using either MTN or Airtel Money OR Come by the SafeBoda offices on Bukoto street between 10am to 4pm to directly pay cash for credit!Click here to download the app
Ugandan ICT students currently undergoing training at Huawei's Technologies Co. Ltd Headquarters in Shenzhen China, have appreciated the one-week hands on training that has exposed them to the latest technology trends and what the future of the ICT Industry will be. The students who include eight in their final year, one in second year and one in her first year were the successful ones picked from four public Universities in Uganda to benefit from the Huawei Seeds for the Future Programme 2018. This is after their proposals about using ICT to improve certain issues in the health, education, agriculture and transport sectors were the best among the 35 presented by University students.
During their time at the Huawei headquarters, which is built on an area covering 2.2 km², the Ugandan students were exposed to the different networks like the 3G, 4G and also made to understand more about the cutting-edge technologies trends such as 5G, Internet of Things (IOT) and Cloud computing. They had a hands-on practice in Huawei Technologies' most advanced labs and were also taken on a guided tour of Huawei's Exhibition hall of digital
technology.
The students described their training at Huawei as a great eye opener into the emerging and dominating technologies in the world today. They were particularly ardent about the cloud computing which enables data to be stored in the clouds so that one can easily access it from any place on a monitor without a computer.
Kasumba Robert a final year student of Software Engineering from Makerere University said he liked the future potential of Huawei 5G network which will open doors to an all connected world. "With an all connected world, my proposal on helping farmers get information about the common crop and animal diseases as well as pests will easily come to life and many homes shall be able to share the much-needed information easily and cheaply or at no cost at all", Kasumba said.
Oola Gerald a finalist of Information Technology at Muni University said the training has shown him that implementing the technologies and embracing them is not as hard as he earlier thought. "I have learnt that in order to leverage on the emerging 4.5G and 5G technologies which will dominate the world in the not so far future, I should incorporate remote sensors such as thermometers and blood pressure sensors in my health care proposal in order to have the data processed quickly."
The students were also passionate about the Internet of Things (IoT) which is the connection between objects, humans and other things using sensors. Karasira Cosmas a year four Computer Engineering student at Busitema University said the Seeds for the Future training has opened up his world to the evolving technology. "IoT technology can surely be used in the project of installing closed-circuit television camera in our city and towns to curb the rampant crime, safe driving, improved health care and smart homes to mention but a few", he said.
Mangeni Ajambo Cleopatra a Makerere University finalist of Computer Science said she enjoyed the networking lessons and was looking at the challenge ahead to improve her skills. She also noted that with a 5G network capable of transmitting data at up to 20 gigabits per second (Gbps), IoT and Cloud computing, the health of a patient with chronic disease can be closely monitored in real time because there will be immediate communication between the wearable gadgets and smartphone.
"With this training I can now say that I am ready to make my contribution to the digital community. I am going to teach my colleagues about the 5G technology and how to build a 4G base station" said Kirembwe Andrew an Information Technology student finalist from Muni University.
As for Annet Mary Nakate a third year Information Systems student from Muni University, she has learnt the basics of networking especially when it comes to modern technology and was also exposed to smart farming.
Mugisha Samuel a second-year student from Muni University said what he found most interesting was the Phone tracking and Quick Response (QR) technology that can help improve the standards in Uganda. He added that the infrared technology he was exposed to can contribute much to his automated solar powered incubator proposal.
Obbo Peter said when he returns to Uganda he will enlighten his friends about the 5G network and encourage them to embrace it since only a few know about the 4G and cannot even tell the difference.
Nanyonga Berinda a Software Engineering finalist from Makerere University described the training as very educational and a mind questioning experience. "Every second I spent in this training is so memorable to me and I would wish to pass on the skills I have learnt from the Chinese people to my colleagues," she said.
The youngest on the team Abigaba Hilda a First-Year student from Lira University said the training hadn't been so compatible with what she was learning, but she was however happy to get exposed to the future potential of the 5G network.
According to Huawei's Global Head of Corporate Social Responsibility Holy Ranaivozanany, the Seeds for the Future programme was initiated by Huawei Technologies to nurture the talent for tomorrow that will contribute to building the Information and Communication Technology Industry. "We create a pool of talent that will probably be working for Huawei in the future, or with our competitors and customers but really contributing to the industry. It is important that we give the students a hands-on experience and chance to try and build the networks themselves", she said.
She added that 108 countries are so far benefitting from the seeds for the Future programme and a total of 3,660 people have benefitted from the 2 weeks study tour to China since it was initiated in 2008. She also pointed out that many of those who come to Huawei headquarters for the training are inspired by Huawei's story to believe in what they would like to do in the future and how technology can make a difference in their respective countries. "We hope that in the future these students can apply these technologies in their countries", she said.
Huawei's Global Head of Corporate Social Responsibility said the programme will continue for the next coming years and she hoped it will continue giving the young talents an open mind and enable them to make a difference by being innovative and bringing in new technologies so as to effectively contribute to the development of the ICT Industry.
The Huawei Seeds for the future programme has been running in Uganda since 2016 and a total of 30 students have benefitted. In China the Ugandan group was twinned with ten students from Myanmar.
(Visited 1 time, 1 visit today)
TECNO launches 24MP Selfie Camera Smartphone
Ride Cashless with SafeBoda! You can top up your SafeBoda credit through the app using either MTN or Airtel Money OR Come by the SafeBoda offices on Bukoto street between 10am to 4pm to directly pay cash for credit!Click here to download the app
By Our Reporter
TECNO, under TRANSSION HOLDINGS, has launched the first 24MP clear selfie camera smartphone – TECNO CAMON X Pro in Africa. TECNO also teamed up with world's premier internet company Google, to launch a range of smartphones on Android™ Oreo™ System (Go edition) at its 2018 Global Spring launch which took place in Lagos, Nigeria.
Andy YAN, Vice President of TRANSSION HOLIDINGS reiterated the brands innovative culture from its formative years till date. He dissected the challenges of emerging markets, their realities and TECNO's commitment to continually roll out innovative products that are very competitive and accessible to the end users. "At TECNO, we do not adopt a one-size-fits-all approach in developing our products. We take insights from our consumers' habits, preferences and needs to develop the next groundbreaking product that fits perfectly into their lifestyle and consequently displaces the competition".
"We are not strangers to the business climes in Africa and other emerging markets of the world," Stephen HA, Managing Director of TECNO Mobile, added. "in fact, our insights about these markets inform our creativity and define our competitive edge."
TECNO CAMON X Pro: 24MP Clearer Selfie with Live FACE ID
The CAMON X Pro debuts a 24MP + 16MP front and rear cameras with an increased image definition of 30% over that of the CAMON CX to ensure that images are clear and sharp. It dons a 6-inch FHD screen with industry leading 18:9 full view screen, 64GB ROM, 4GB RAM and superfast face recognition technology (featured by FACE ID access).
With a dual ISP image processor, the device can process actions a lot faster as both processors work synchronously together compared to the previous generations of the CAMON. Dark state and noise reduction on the CAMON X has been upgraded by 20% with the memory color function so as to ensure natural color reduction while balancing the color so it can be more pleasant for users to capture incredibly stunning pictures. With portrait background bokeh, the background virtualization function of both CAMON X and X Pro produce strikingly beautiful selfies with little interference from the background.
The CAMON X and CAMON X Pro debut a new Face ID technology that can be used to unlock the phone when lighting up the screen. By grasping the face information, the Face ID has 50ms recognition rate and is more functional than the fingerprint identification feature. Also, the HiOS UI identifies components causing heating in the background and quickly cools off the phone through a series of methods such as background cleaning.
Compared with the previous generation products, both in speed and power consumption has been significantly improved by leveraging Mediatek's helio P23.
TECNO F Series: Built For Speed by Google Android™ Oreo™ System
The F Series is TECNO's mid-range smartphones which come with impressive processing memory and commendable cameras. The TECNO F series dons full display IPS Touchscreen, 2MP front cameras for F1 and F2, and 5MP front cameras for POP1 (F3). All of them are with wide degree Selfie Panorama which will enable users rotate the device from side-to- side in order to take stunning wide-angle selfies.
TECNO F series are powered by Android™ Oreo™ (Go Edition) which is optimized to offer consumers a number of benefits including a smooth and fast experience tailored to devices with 1GB of RAM or less, new and reimagined Google apps for entry-level smartphones including Google TM Go, YouTube Go, and the Google Assistant for Android (Go edition) and an enhanced data efficiency.
Sagar Kamdar, Director, Product Management, Android, said: "Android Oreo (Go edition) is specifically optimised to bring the magic of Google and Android to smartphones with limited memory and processing power. We're excited to see TRANSSION group take the next step towards bringing computing to more people by launching Android Oreo (Go edition) phones on its brand."
"We are also delighted to announce our partnership with Google. As the mobile industry continue to evolve and consumers continue to ask for more, we are certain with our expertise and resourceful partnerships with the likes of Google, we will be able to effectively cater for the needs of mobile phone consumers in emerging markets," Arif Chowdhury, Group Vice President TRANSSION concluded.
(Visited 1 time, 1 visit today)