Facebook reportedly testing 'Highlights': your friends' lives at a glance
Days after acquiring cross platform messaging app WhatsApp, Facebook has released an updated version of its social networking app for iOS 7. Included amongst the usual bug fixes and improvements is a special feature called 'Highlights', which, if reports are to be believed, could be the next big thing for users to check out after News Feed.
According to TechCrunch, the new feature will replace the 'Requests' tab with a 'People' tab. However, the feature is currently only available to a select set of iOS users. Earlier the 'Requests' tab, located next to 'News Feed', would just show the 'Friend Requests' and the 'People You May Know' sections. It now has a series of sub-tabs in it, which make for interesting reading.
'Everyone' displays an alphabetical list of friends that a user has. 'History' on the other hand shows a list of people a user has interacted with recently, in a reverse chronological order. However the hidden card in the deck is called 'Highlights'. It is also the first tab that a user sees when using the new 'People' tab. It features new friend requests, birthdays of friends, and also includes a list of life events from friends, like a new job, an updated relationship status, and more. There is also an upcoming birthdays section and there is the 'People You've Contacted' section similar to the History sub-tab.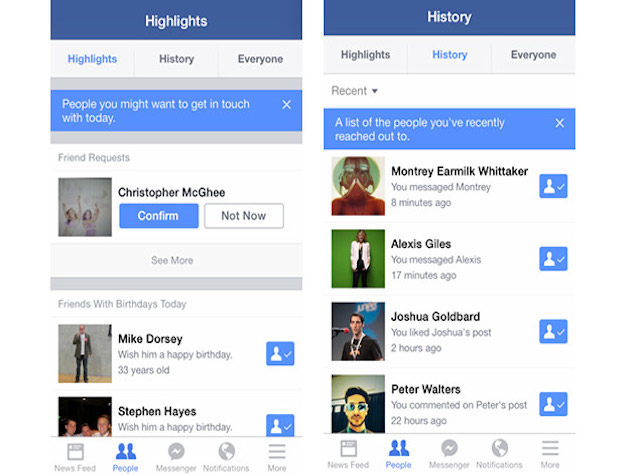 Facebook seems to slowly moving towards people-focussed content and Highlights is clearly a step in that direction. It will be interesting to see when, and indeed if, this feature will be rolled out to other users and platforms, since it has only been spotted by a select few on iOS 7 only.
Source: NDTV
"[kaatogoaward]"
Start making money online today with Bitcoin. Sign up here!
(Visited 1 time, 1 visit today)