Artist's Portrayal Of Kim Kardashian As A Religious Idol Stirs Controversy
No matter how hard you try, it's nearly impossible to resist becoming an enthusiastic or begrudging member of the Kardashian Kult. We don't know how it happened, nor do we understand why, but the reality TV family has become an actual topic of conversation, debate and articles — like this one, sorry!
The reigning Queen of the Kardashian Klan is, of course, Kim, who, through a combination of selfies, marriages, divorces, civil rights activism, a video game, and a sex tape, has managed to make herself the Elizabeth Taylor of our time… or something.
A Brooklyn-based artist is calling us all out for our Kardashian-centric ways through a series of dizzying depictions of Mrs. West as a variety of religious icons. Hannah Kunkle delivers Kardashian as the Virgin Mary, Medusa, the devil and even Kleopatra. The 23-year-old artist's garish style, somewhere between net art and religious tapestry, perfectly captures the absurdity of our nation's Kardashian obsession and predilection towards celeb idolatry in general.
"Kim Kardashian is the subject of this series because she is someone I and many others are fascinated with without even sometimes knowing why," Kunkle explained to The Huffington Post. "She is everywhere we look and knowledge of the ins and outs of her life is almost unavoidable… Kim Kardashian has such a strange version of fame. We don't totally understand what makes her so fascinating."
Kunkle's work recently went on view in a Bushwick exhibition titled "The Passion of Kim Kardashian." Not too surprisingly, the religious community was unamused. "It's deplorable," Pastor Reggie Stutzman of Real Life Church told The New York Daily News. "It's sacrilegious, irrelevant, and disrespectful… It's idol worship."
The Hindu community wasn't too keen on Kunkle's artistic vision either. "I am certainly not happy about this," said Dr. Uma Mysorekar, of the Hindu Temple Society of North America. "Any religious symbol should not be used or abused."
Yet Kunkle, who thought the backlash was "pretty hilarious," wasn't about to let religious tradition get in the way of celebrity obsession. "Kim Kardashian is god," she summarized to VICE. "She's crazy bodacious and has the nose job of an angel. I don't know if she's omniscient, but no one can deny she's not omnipresent. Kim floats above us all, even the deniers and the haters. We have accepted her into our lives via television screens, memes, and Instagram feeds. If Jay Z is the father and Yeezus is the son, then she is the ever-present holy ghost of pop culture."
Source: Huff Post
(Visited 58 time, 1 visit today)
Jose Chameleone speaks about his wife's alleged nudes.
While the internet woke up to pictures of celebrated singer Jose Chameleone's wife baby shower pictures that were received with mixed feelings, husband and singer Jose Chameleone has come out and commented on his wife's alleged nudes.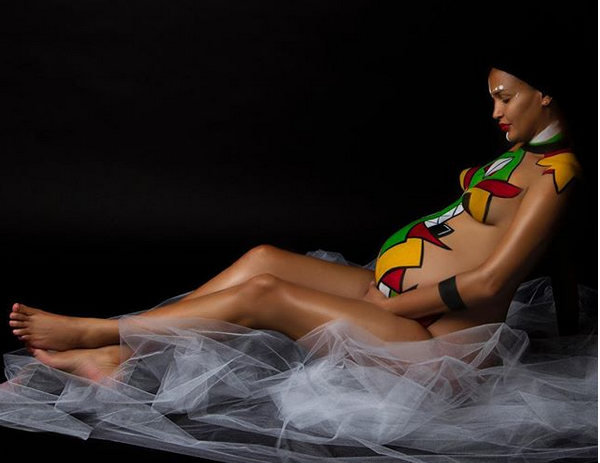 Through his Instagram, Chameleone complimented his wife with the same circulating picture and captioning "Great piece of Andreon Atim"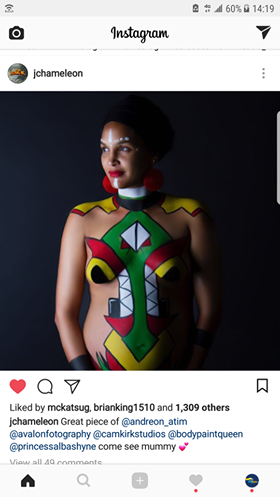 Daniella is currently in the states where she went to deliver the couple's fifth child.
(Visited 58 time, 1 visit today)
Photos: Spice Diana and manager open new studio.
on rampage female singer Spice Diana is over the moon after her and her manager Rogers Lubega opened up their own studio in Makindye Luwafu. The studio has been named 32 records after her song and slang that trended after her NTV Mwasuze mutya show.
In her statement she posted "My first project at my MUSIC STUDIO 32 RECORDS. Another dream achieved. Thank you Lord, the way you're too good to me scares me. Bless the work of my hands. Launching it so soon, can't wait."
(Visited 58 time, 1 visit today)
Bryan White and King Michael Face UGX 210 Million Lawsuit Over Torture of Lucky Costa.
By Our Reporter
Lucky Costa aka Simon Mukasa stands a chance of walking away with UGX 210 million should court rule in his favour. On Tuesday 20th March 2018, Lucky Costa through his lawyers Muwada and Company Advocates served Bryan White and his employee, King Michael with an intention to sue.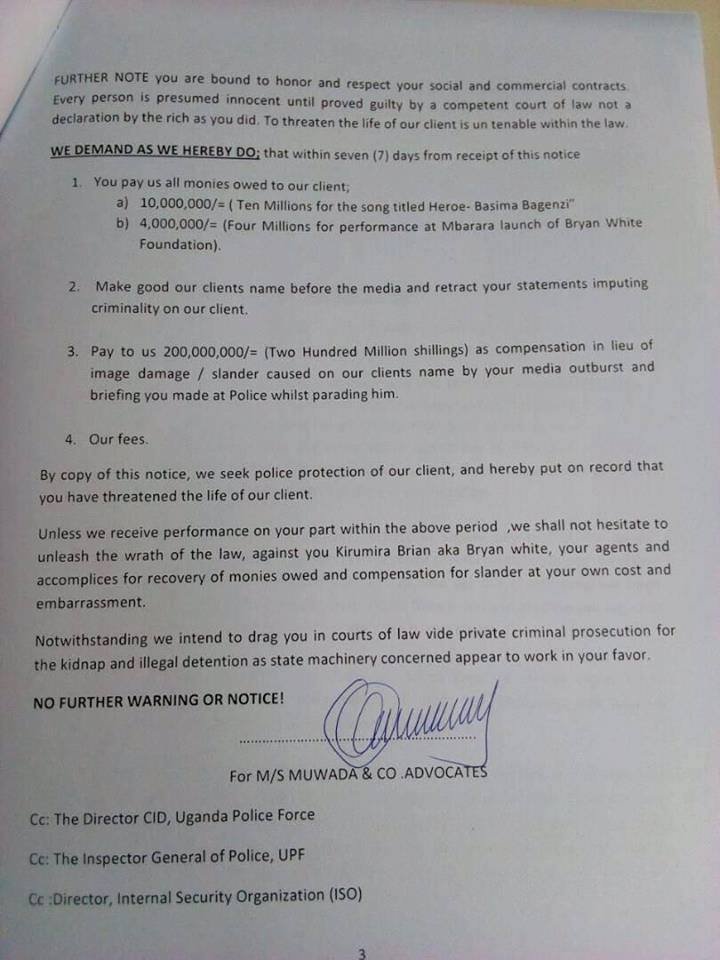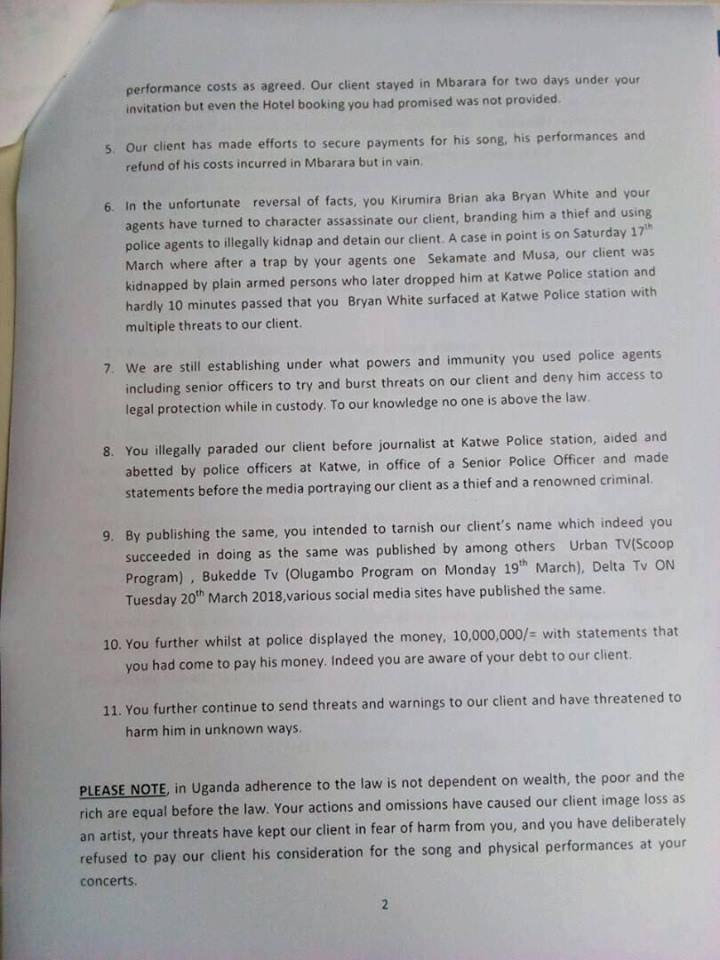 In it, Lucky Costa asks that Bryan White immediately pays up UGX 10 million for the song he produced and wrote in praise of White. Costa also asks that he be paid 200 million for damages caused to his name. He claims he was tortured and his reputation was greatly injured. Lucky Costa has placed conditions over which Bryan White will survive facing court and suffering the full wrath of the law.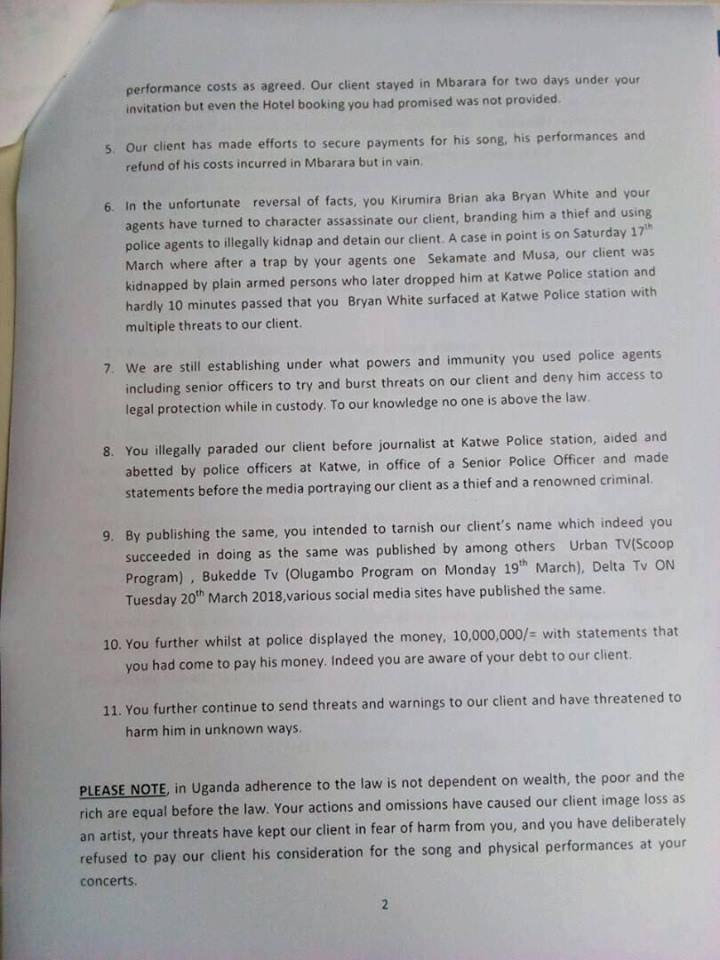 One of the conditions involves a public apology by White to Costa. That the public apology should be made on the podium.
(Visited 58 time, 1 visit today)