Anita Fabiola joins drive to provide free eye care services
By Our Reporter
Socialite and media personality, Anita Fabiola has joined a drive to provide free eye care services to the local masses.
Through her NGO, Fab Girls Foundation, she partnered with ICare Foundation and North Indian Cultural Association of Uganda to conduct a three-day free eye camp at Luweero Health Center IV aimed at reaching out to the local community in the district and surrounding areas.
Explaining why she decided to support this initiative, Fabiola said that "Because our foundation focuses on empowering, uplifting and creating awareness on the issues faced by the girl child in Uganda, with health as a key issue, we found it befitting to support this humanitarian initiative, channeled towards ensuring that Uganda has a population that doesn't only hear about its beauty, but can see it and appreciate it in order to serve this mighty nation better."
The ICare Foundation Managing Director, Isaac Kigozi also noted, "At the ICare foundation, we believe that your vision is our insight,  for without your sight our nation would be rid of vital personalities who can contribute to the development of our homeland in whichever way."
"Most causes of blindness in developing countries are all avoidable. This is why we and our partners are here to ensure that you people in Luwero continue to navigate and understand the world around you." He added.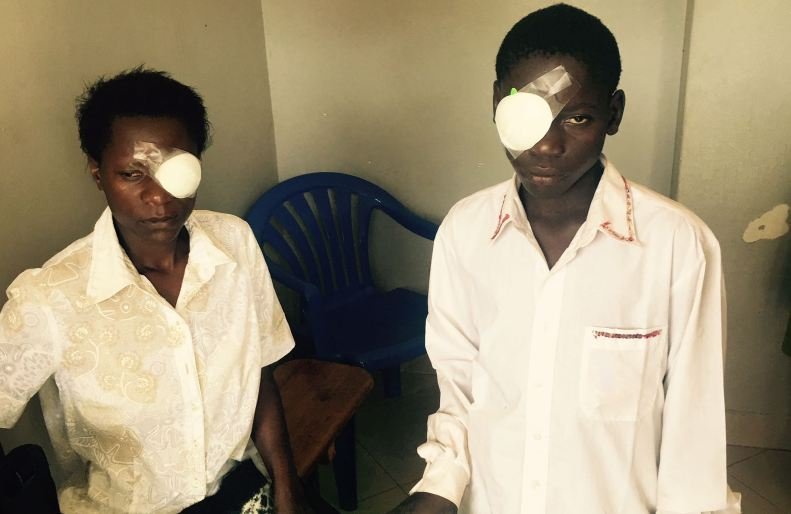 According to the Health Centre in Charge Dr. Sarah Ogobi, the common cases at the eye clinic include Refractive error, Cataracts, Glaucoma, and tumors among other eye conditions. The camp which was held under the theme, "Your eyesight is our insight," concluded on Sunday with 197 people operated on, 1950 screened and more than 800 receiving free eye glasses and medicines.
The free eye camp will next be conducted at different hospitals in Kampala, Gulu and Kabale.
(Visited 263 time, 1 visit today)
Jose Chameleone speaks about his wife's alleged nudes.
While the internet woke up to pictures of celebrated singer Jose Chameleone's wife baby shower pictures that were received with mixed feelings, husband and singer Jose Chameleone has come out and commented on his wife's alleged nudes.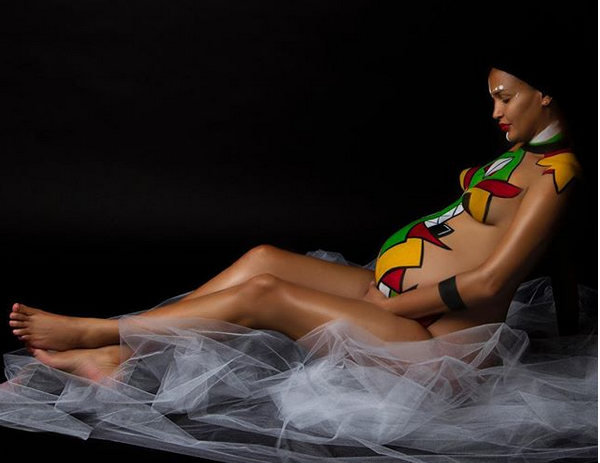 Through his Instagram, Chameleone complimented his wife with the same circulating picture and captioning "Great piece of Andreon Atim"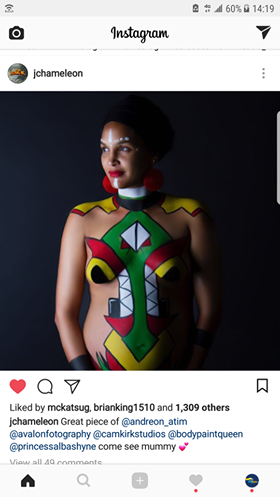 Daniella is currently in the states where she went to deliver the couple's fifth child.
(Visited 263 time, 1 visit today)
Photos: Spice Diana and manager open new studio.
on rampage female singer Spice Diana is over the moon after her and her manager Rogers Lubega opened up their own studio in Makindye Luwafu. The studio has been named 32 records after her song and slang that trended after her NTV Mwasuze mutya show.
In her statement she posted "My first project at my MUSIC STUDIO 32 RECORDS. Another dream achieved. Thank you Lord, the way you're too good to me scares me. Bless the work of my hands. Launching it so soon, can't wait."
(Visited 263 time, 1 visit today)
Bryan White and King Michael Face UGX 210 Million Lawsuit Over Torture of Lucky Costa.
By Our Reporter
Lucky Costa aka Simon Mukasa stands a chance of walking away with UGX 210 million should court rule in his favour. On Tuesday 20th March 2018, Lucky Costa through his lawyers Muwada and Company Advocates served Bryan White and his employee, King Michael with an intention to sue.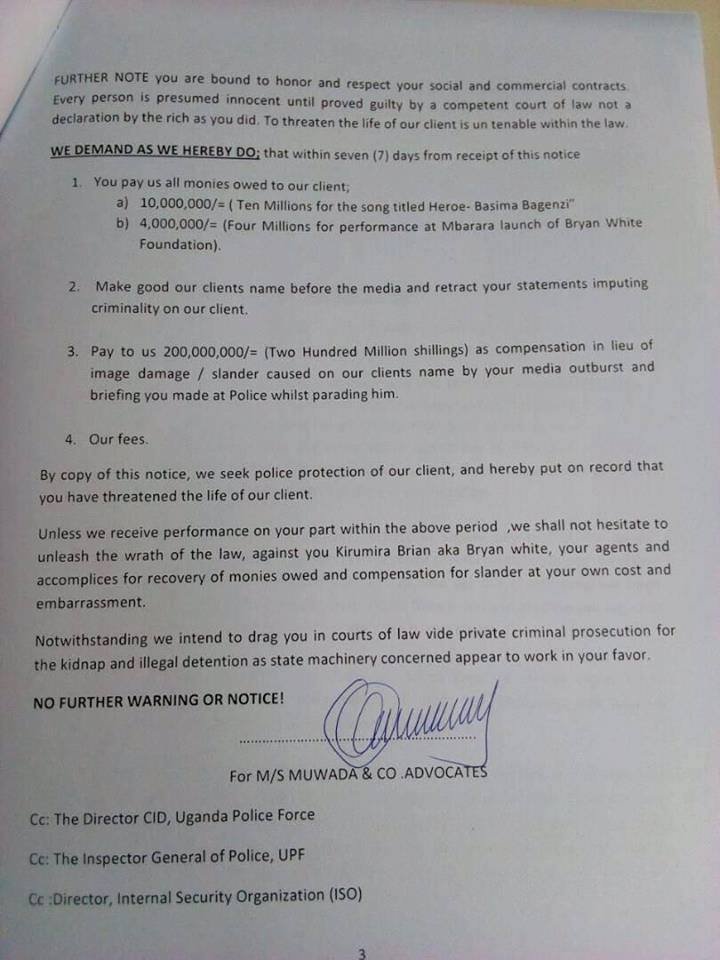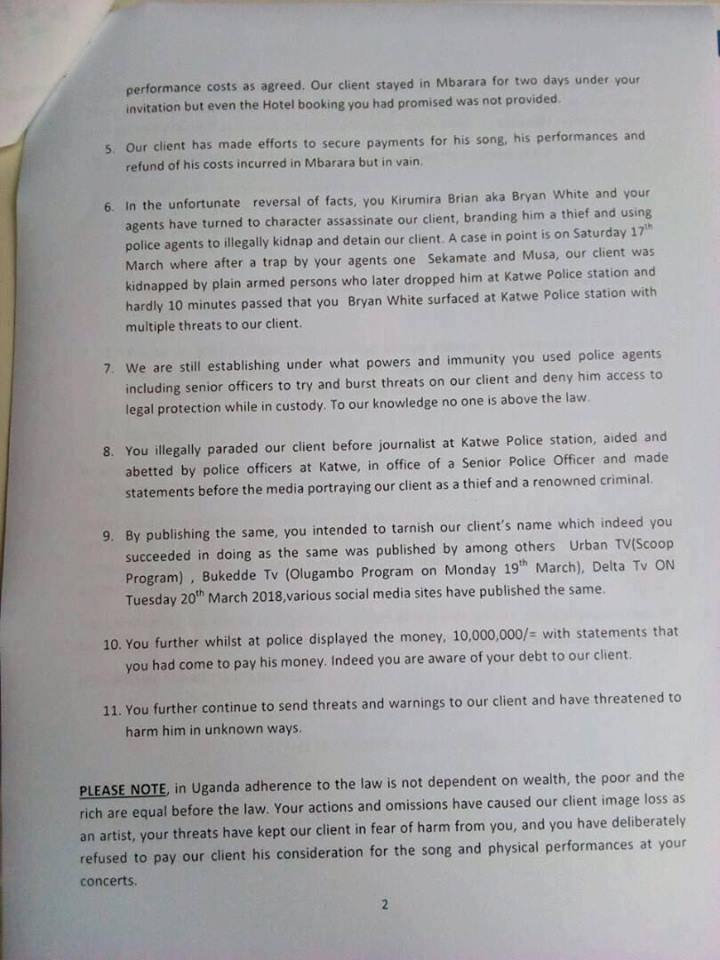 In it, Lucky Costa asks that Bryan White immediately pays up UGX 10 million for the song he produced and wrote in praise of White. Costa also asks that he be paid 200 million for damages caused to his name. He claims he was tortured and his reputation was greatly injured. Lucky Costa has placed conditions over which Bryan White will survive facing court and suffering the full wrath of the law.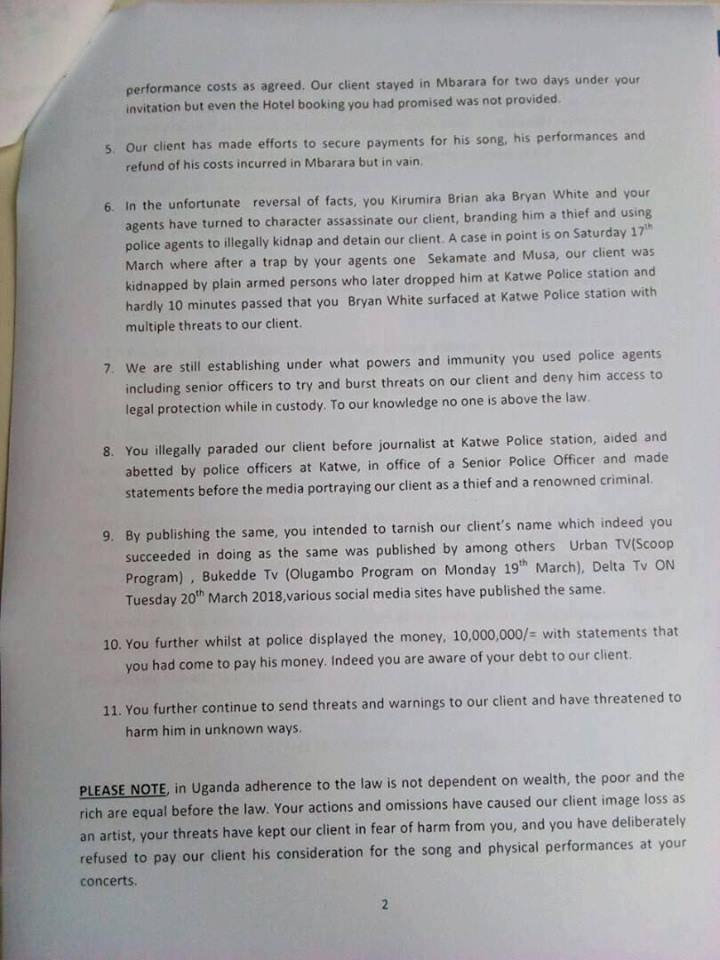 One of the conditions involves a public apology by White to Costa. That the public apology should be made on the podium.
(Visited 263 time, 1 visit today)