Young Achievers Awards 2013, A Mélange of Inspiration and Aspirations
The theme for the Young Achievers Awards 2013 was about rewarding innovation and excellence. And excellent they were, as all the invited guests were treated to a sumptuous cocktail just before the official event kicked off. The cocktail was meant to nurture a culture of networking as the young brains that are changing Uganda were able to interact and share ideas on how to move Uganda forward.
Not long just after 7PM, the event kicked off with a live band performance and thereafter real business began. The 2013 awards were hosted by the eloquent and elegantly dressed Michael Matovu who announced the people nominated in the various categories.
Patricia Nsanze Nzeyi, the chairperson Board of Directors of YAA gave her speech where she echoed the youthful traits of 'rebels that change things.' It was not long before Gerald Abila, the founder of the Barefoot Law Firm walked away with the leadership and social entrepreneurship that was handed over by Richard Byarugaba, the Managing Director of NSSF.
Other outstanding achievers included, the 17 year old Chess Maestro, Phiona Mutesi who rose through the slums of Katwe to become a world class chess wizard. She was able to beat the likes of Jas Mangat and Ibrahim Ssekagya to the Outstanding Sports Personality Award.
But of course, the main moment of the night was coming, that was Uganda's Youssou Ndou aka Joel Sebunjo. His performance at the awards ceremony made me feel, that he is not just Uganda's Youssou Ndou, he is actually Uganda's Joel Sebunjo. He played the Kora like he was the Kora himself, in the moment when he played, him and the kora became one and the audience was clearly impressed, not even the Queen of Buganda could stop enjoying the great performance.
And when it came to Esther Kalenzi, she made our night, speaker after Speaker kept commending her on her great oratory skills. Her award acceptance speech turned into a pitch that moved many to make contributions towards her 40 days over 40 smiles Foundation. Yeah, you know, so we said. And Cedric Babu, the CEO of Kinetic Group, gave Shs.500,000 towards the cause of behalf of his mum, Ms.Olive Kigongo.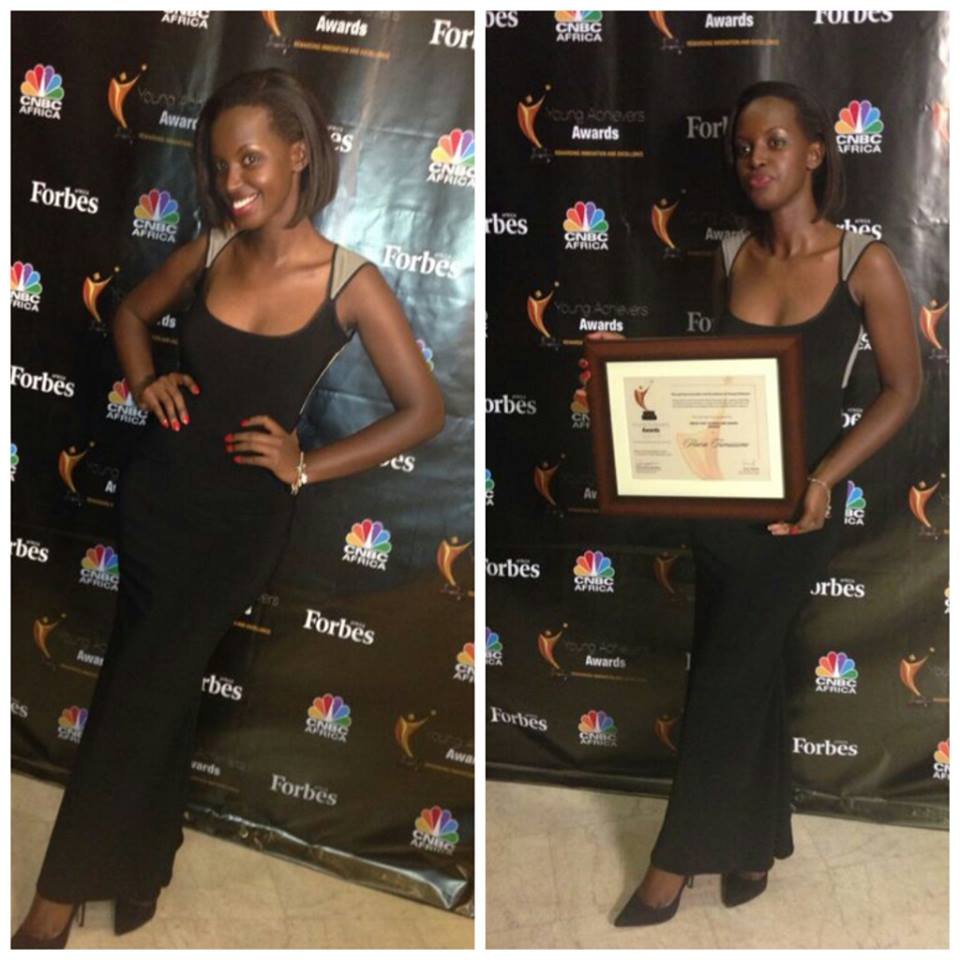 My only short-comings at the awards was that, it was very easy to predict the winners for each given category. Perhaps these were names that had really stood out in 2013, but then again, we need some suspense, we need some shocks, because that's where the real beauty of the awards comes in from.
To really sum up the event, we had a Keynote speech from Her Royal Highness the Nnabagereka Sylvia Nagginda Luswata who whirled her speech around the life of Mandela as someone who walked the talk. The Chief Guest, Dr.Mthuli Ncube then echoed that for Uganda to transition into a middle income country by 2017, investment should be made to further the excellence and innovation of the youth.
And as the night came to a close, the family of The late Dr.James Mulwana received the Lifetime Achievement Award on his behalf. In the words of his son, and heir, Geoffrey Mulwana, "Dad was passionate about the youth… dad put his heart to everything he did in life. He believed in hard work. Dad taught us that there is no shortcut to success but only through hardwork."
By the time we closed off the night, it was clear, that the awards once again had presented themselves as a mélange of Inspirations and Aspirations. Inspiration for those in the audience to take a step and work on their dreams and aspirations for the winners and nominees to go the extra mile and break the records they had set.
FULL LIST OF WINNERS
1. Media and Journalism Award: Flavia Tumusiime
2. Business Entrepreneurship Award: Angels Initiatives [George William Bakka, Joachim Ewechu and Ivan Mandela]
3. Young Achievers Awards Outstanding Performing Arts: Kenneth Kimuli aka Pablo
4. Young Achievers Ericsson Innovation excellence award: Dr. Davis Musinguzi (The Medical Concierge Group)
5. Young Achievers Award for Farming and Agro-Processing: Eric and Rebecca Kaduru. KadAfrica Ltd
6. Young Achievers Award for Leadership and Social entrepreneurship: Gerald Abila
7. Outstanding Sports Personality Award: Phiona Mutesi
8. Heroes Award: Esther Kalenzi (40 days over 40 smiles)
9. Lifetime Achievement Award: The Late Dr. James Mulwana
10. Young Achievers Awards star Hall of Fame: Mrs. Olive Zaitun Kigongo
11. Overall Young Achiever: Addmaya (Peter Mukiibi and Arthur Nakkaka)
To connect with Ian Ortega: Facebook: www.facebook.com/ianort Facebook: www.facebook.com/ortegaiancom Twitter: @ortegaUganda Whatsapp: +256788551121 Email: ortian@gmail.com
(Visited 1 time, 1 visit today)
UBL rewards youth in Northern Uganda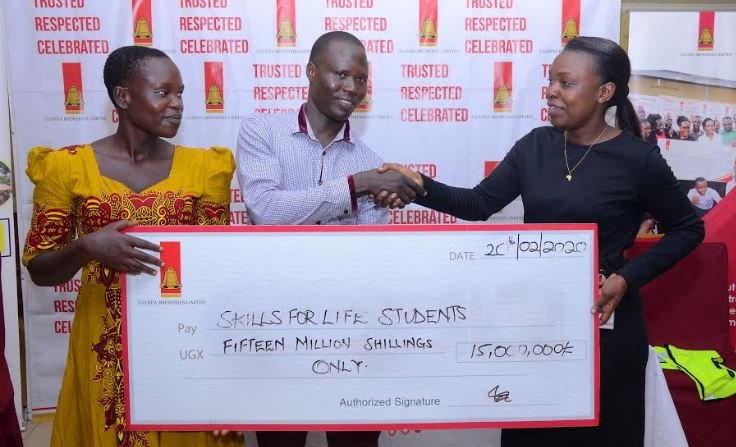 By Our Reporter
Uganda Breweries Limited (UBL) has given cash rewards to 10 youth from Northern Uganda for their startup businesses. These youths received a reward of Ugx 15 million for excelling in the UBL skills for life program.
UBL, under the skills for life scheme, in October 2018 offered 30 scholarships worth shs 116 million to young, academically talented but financially challenged students from the farming communities in Northern Uganda. Under project, UBL provided funds to cover tuition, entrepreneurship training and mentorship that enabled the students to start businesses in their communities.
"At Uganda Breweries, one of our key priority areas is skilling youth in order to secure a sustainable future. Under our Skills for Life Initiative, we continue to offer special opportunities to the nation's brightest scholars who are less fortunate. We not only offer them scholarships but also provide career guidance and mentorship on business start-ups and expansion skills which the youth can later use to increase job opportunities in their communities, improve their incomes and eradicate poverty in the long run." Charity Ekudu Kiyemba, the Uganda Breweries Legal and Corporate Relations Director said.
"From the total beneficiaries that we sponsored and skilled in 2018, we are happy to share that all have finished school and gone ahead to start businesses of their own. However the 10 youths that we are rewarding today put up exceptional and valuable businesses which we are proud to recognize." She added.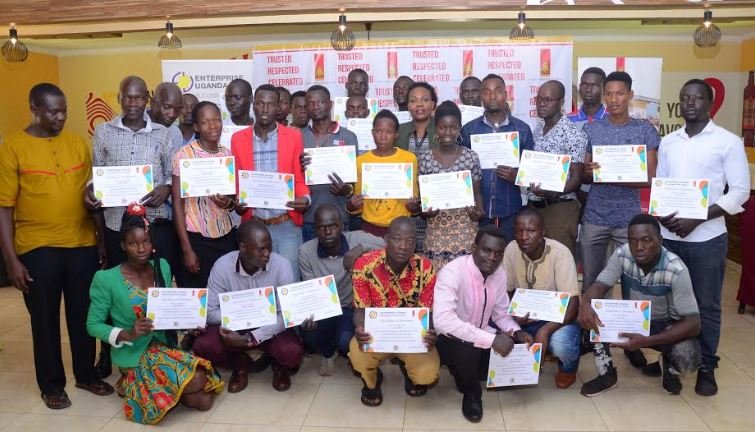 The scholarship project is managed and run on behalf of UBL by technical expert, Enterprise Uganda, who have vast experience in SME development, training and mentorship in entrepreneurship. Enterprise Uganda was in charge of skilling, mentoring and training the students as well as selecting the top performing businesses to receive the seed capital.
Explaining the criteria they used to pick the students to receive the reward money, Rosemary Mutyabule from Enterprise Uganda said, "We selected the best young entrepreneurs based on their capacity to execute and implement business projects. We also assessed the sales that were made since they started the business, the profits made, the number of employment opportunities that have been created by the business and the general contribution of the business to the neighboring community."
"For example 21 years old Betty Apoo from Kitgum technical Institute in December 2018 set up a tailoring business and a Simsim business in Rackoko, Pader district. Her initial capital was shs 98,000/= borrowed from her aunt. She made sales of Shs 1,000,000/= and a profit of shs 510,000/=. Betty is now supporting her family and paying school fees for her two children."
"Similarly, Auma Sunday Okee (22 years) set up a maize grain farm in Mucwini, Kitgum district using capital of shs 98,000/=. She earned sales of shs 1,611,000/= and a profit of shs 1,446,000/=. Ojok Christopher from St Daniel Comboni started a piggery and brick making business in February 2019 with capital of shs 150,000. He has so far made sales of shs 560,000 and currently employs 6 people in his brick laying business."
The youth that have received the seed capital are Nelson Mandela, Christopher Ojok, Innocent Wokorach, Geoffrey Opoka, Bongomin Calvin from St Daniel Comboni in Gulu, Auma Sunday Okee, Ocen David, Apoo Betty Canwak, Okema John Kelly and Ayaa Rosemary from Kitgum Technical Institute.
Since inception in 2001, the Uganda Breweries Skills for Life Initiative has awarded over 200 university scholarships to bright and needy students across East Africa, with 40 of them from Uganda.
In 2017, UBL re-focused their scholarships to focus on Technical and vocational courses in response to the cry for more practical entrepreneurial skills for the youth to reduce unemployment levels around the country. UBL has so far awarded scholarships worth UGX 230m to 70 students in vocational schools in Northern, Western and Central Uganda. Every year the company will be giving out scholarships to students from the different regions around the country.
(Visited 1 time, 1 visit today)