Young Achievers Awards 2013, A Mélange of Inspiration and Aspirations

The theme for the Young Achievers Awards 2013 was about rewarding innovation and excellence. And excellent they were, as all the invited guests were treated to a sumptuous cocktail just before the official event kicked off. The cocktail was meant to nurture a culture of networking as the young brains that are changing Uganda were able to interact and share ideas on how to move Uganda forward.
Not long just after 7PM, the event kicked off with a live band performance and thereafter real business began. The 2013 awards were hosted by the eloquent and elegantly dressed Michael Matovu who announced the people nominated in the various categories.
Patricia Nsanze Nzeyi, the chairperson Board of Directors of YAA gave her speech where she echoed the youthful traits of 'rebels that change things.' It was not long before Gerald Abila, the founder of the Barefoot Law Firm walked away with the leadership and social entrepreneurship that was handed over by Richard Byarugaba, the Managing Director of NSSF.
Other outstanding achievers included, the 17 year old Chess Maestro, Phiona Mutesi who rose through the slums of Katwe to become a world class chess wizard. She was able to beat the likes of Jas Mangat and Ibrahim Ssekagya to the Outstanding Sports Personality Award.
But of course, the main moment of the night was coming, that was Uganda's Youssou Ndou aka Joel Sebunjo. His performance at the awards ceremony made me feel, that he is not just Uganda's Youssou Ndou, he is actually Uganda's Joel Sebunjo. He played the Kora like he was the Kora himself, in the moment when he played, him and the kora became one and the audience was clearly impressed, not even the Queen of Buganda could stop enjoying the great performance.
And when it came to Esther Kalenzi, she made our night, speaker after Speaker kept commending her on her great oratory skills. Her award acceptance speech turned into a pitch that moved many to make contributions towards her 40 days over 40 smiles Foundation. Yeah, you know, so we said. And Cedric Babu, the CEO of Kinetic Group, gave Shs.500,000 towards the cause of behalf of his mum, Ms.Olive Kigongo.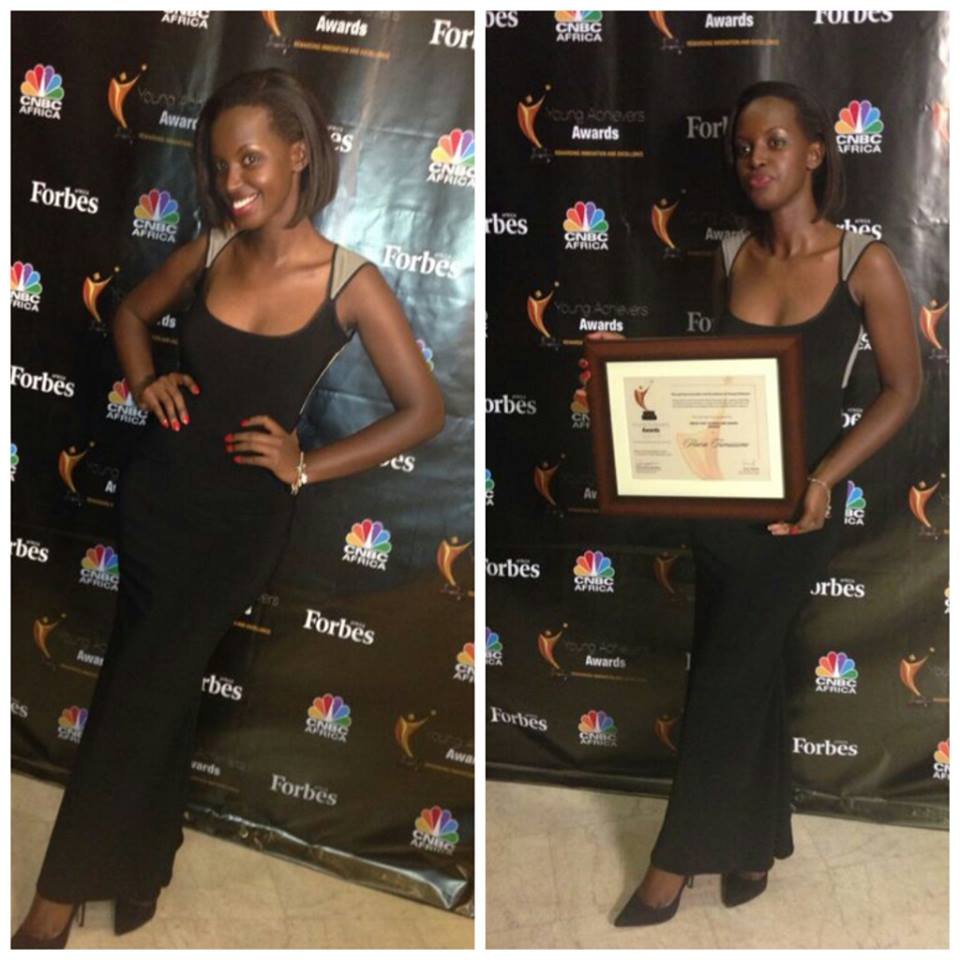 My only short-comings at the awards was that, it was very easy to predict the winners for each given category. Perhaps these were names that had really stood out in 2013, but then again, we need some suspense, we need some shocks, because that's where the real beauty of the awards comes in from.
To really sum up the event, we had a Keynote speech from Her Royal Highness the Nnabagereka Sylvia Nagginda Luswata who whirled her speech around the life of Mandela as someone who walked the talk. The Chief Guest, Dr.Mthuli Ncube then echoed that for Uganda to transition into a middle income country by 2017, investment should be made to further the excellence and innovation of the youth.
And as the night came to a close, the family of The late Dr.James Mulwana received the Lifetime Achievement Award on his behalf. In the words of his son, and heir, Geoffrey Mulwana, "Dad was passionate about the youth… dad put his heart to everything he did in life. He believed in hard work. Dad taught us that there is no shortcut to success but only through hardwork."
By the time we closed off the night, it was clear, that the awards once again had presented themselves as a mélange of Inspirations and Aspirations. Inspiration for those in the audience to take a step and work on their dreams and aspirations for the winners and nominees to go the extra mile and break the records they had set.
FULL LIST OF WINNERS
1. Media and Journalism Award: Flavia Tumusiime
2. Business Entrepreneurship Award: Angels Initiatives [George William Bakka, Joachim Ewechu and Ivan Mandela]
3. Young Achievers Awards Outstanding Performing Arts: Kenneth Kimuli aka Pablo
4. Young Achievers Ericsson Innovation excellence award: Dr. Davis Musinguzi (The Medical Concierge Group)
5. Young Achievers Award for Farming and Agro-Processing: Eric and Rebecca Kaduru. KadAfrica Ltd
6. Young Achievers Award for Leadership and Social entrepreneurship: Gerald Abila
7. Outstanding Sports Personality Award: Phiona Mutesi
8. Heroes Award: Esther Kalenzi (40 days over 40 smiles)
9. Lifetime Achievement Award: The Late Dr. James Mulwana
10. Young Achievers Awards star Hall of Fame: Mrs. Olive Zaitun Kigongo
11. Overall Young Achiever: Addmaya (Peter Mukiibi and Arthur Nakkaka)
To connect with Ian Ortega: Facebook: www.facebook.com/ianort Facebook: www.facebook.com/ortegaiancom Twitter: @ortegaUganda Whatsapp: +256788551121 Email: ortian@gmail.com
(Visited 1 time, 1 visit today)
Emirates appoints new Country Manager in Uganda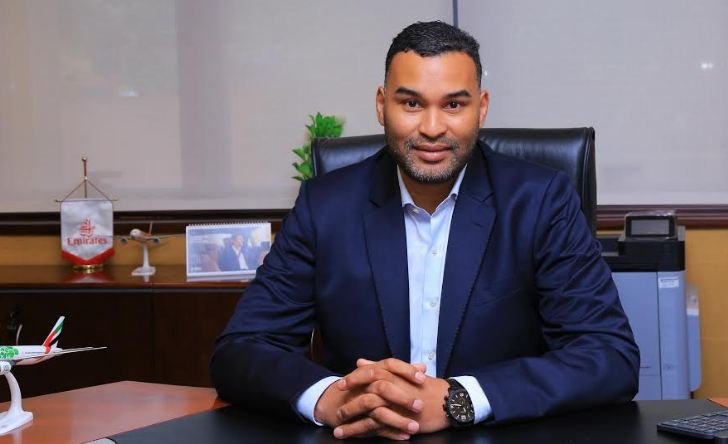 Emirates has appointed John Gemin as its new Country Manager for Uganda.
Mr John, whose appointment was effective from December 17, 2018, is now responsible for Emirates' overall business in Uganda, overseeing sales and service functions for the airline's passenger, cargo, management and airport operations and reports directly to Orhan Abbas, Emirates' Senior Vice President, Commercial Operations Africa.
Mr John holds a bachelor's degree in International Business and Management Studies obtained from the Amsterdam University of Applied Sciences in Amsterdam. He has worked with Emirates for four years, during which time he served as Business Analysis Manager within the Commercial Operations covering mainly the Latin American markets.
Commenting on his appointment, Mr John said: "I am honoured and very excited to be leading the Emirates operations in Uganda. I look forward to working with our local team of dedicated and talented staff to ensure Emirates growth and continued success in the market."
Customers travelling on Emirates can look forward to world class service and hospitality from the airline's multi-national cabin crew, including Ugandan nationals, while enjoying complimentary gourmet meals and beverages. Emirates also offers over 4,000 channels of on-demand audio and visual entertainment on its award-winning ice system, from the latest movies, music and games.
(Visited 1 time, 1 visit today)
Civil engineer wins 39,449,025 UGX with 1,000 UGX stake to become betPawa Uganda's first BIG winner of 2019

By Staff Writer
Iganga district civil engineer, Mugaya Rogers Sosi has been crowned betPawa Uganda's very first BIG winner of 2019 after walking away 39,449,025 UGX richer from a 1,000 UGX stake on a 5 leg bet. Mugaya saw his initial returns increased, after he activated betPawa's 10% win bonus for correctly predicting 5 games or more.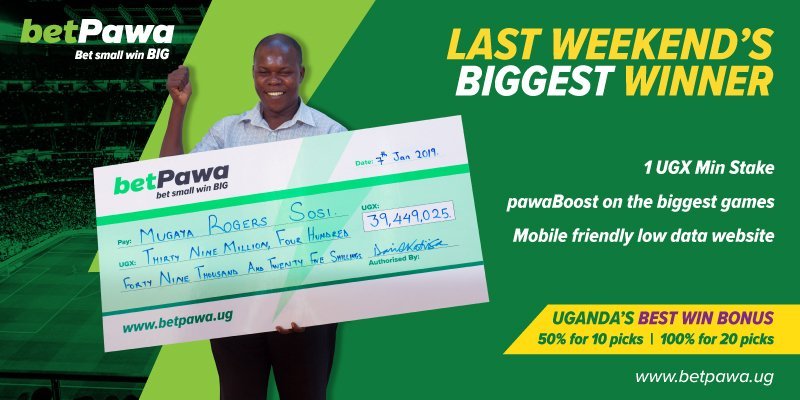 betPawa gives its customers the chance to win more by automatically applying win bonuses, seeing bettors activate a 50% win bonus for 10 or more legs and 100% for 20 or more. Although Mugaya didn't activate a large win bonus with 5 games, he still achieved a BIG win by backing several teams who were outsiders to win!
Can you win BIG like Mugaya? Claim your betPawa FREEBET today:
How Mugaya won 39,449,025 UGX with a 1,000 UGX stake on 5 games
The civil engineer took a risk with his bets, betting on one draw and four teams to win who went into their games as underdogs. Mugaya backed fourth-tier side Andrezieux to beat Ligue 1 favourites Marseille, Rennes and Brest to draw, English conference team Barnet to beat Sheffield United, Oldham Athletic to beat Premier League side Fulham and finally Jordan to beat Australia.
Mugaya expressed that he first found out about betPawa online, saying "I was doing engineering research on the internet and had heard someone talking about betPawa being the best and most trustworthy betting company, and yes, it is true. You can always count on betPawa."
How his BIG win will help to support his future plans
The Iganga district resident plans to use his BIG win to pay for his education, support his business and assist with building work at home, saying "I am currently doing my masters degree, so this money will help me to complete my education. I will also use my win to boost my business and complete work on my house."
When he was asked about what others should do, Mugaya said "Come and join betPawa and become a winner like me. I am the lucky winner of today but you too can try your luck by betting small and winning BIG! betPawa are transparent, trustworthy and give excellent customer support."
betPawa would like to congratulate Mugaya on his win! We hope that you enjoy your winnings.
What is betPawa's no minimum stake? betPawa offers its customers with the genuine chance to bet small win BIG by allowing users to bet as little as 1 UGX.
What is betPawa's win bonus? betPawa offers the best win bonus in Uganda, allowing users to win up to 100% extra. With 50% for 10 correct picks and 100% for 20 correct picks or more, meaning you get much more in return!
betPawa is the easiest way to bet online securely. Not only do they offer the best odds on the market but they provide their customers with the opportunity to bet small win BIG using a no minimum odds service of just 1 UGX, they also offer win bonuses to increase betting returns and they provide 24hr support to customers that need it.
New to betPawa? Claim your FREEBET now! Visit: www.betpawa.ug/freebet
Disclaimer;
Bet responsibly. Not allowed to minors. Betting may be addictive and psychologically harmful. betPawa is licensed and regulated by the National Gaming Board.
Lic# 24
(Visited 1 time, 1 visit today)
Lucky subscribers and agents win millions in new Airtel promo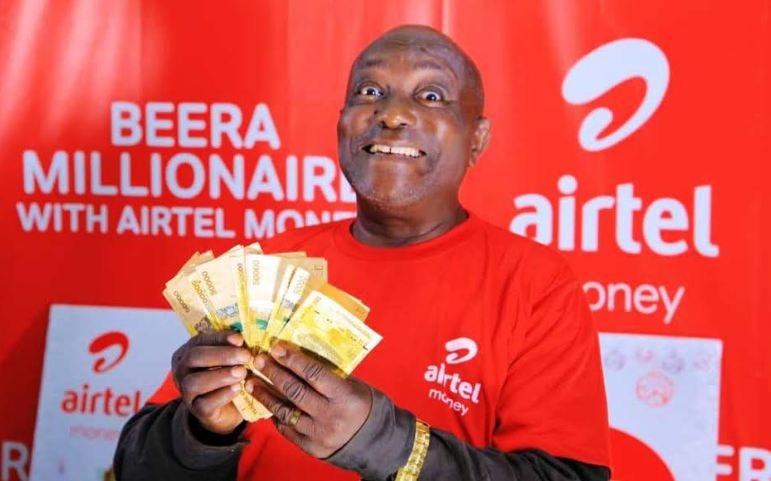 With the New Year beckoning, Airtel Uganda has handed over millions in cash prizes to over twenty lucky subscribers and agents in the second cash handover ceremony of the 'Beera Millionaire ne Airtel Money' promotion.
Launched in December this year, 'Beera Millionaire with Airtel Money', will run for 90 days and is set to reward all customers that carry out a financial transaction such as Cash In, Cash out, P2P, Recharge Airtime or Data, Bank to Wallet, Wallet to Bank & Bill Payment in a single day, as well as all active financial transacting agents.
During the handover, a business lady, photographer, journalist and electrician, all from Kampala were joined by a teacher from Mbale, a farmer from Mukono, a trader from Mityana, a driver from Kakiri, a mobile money agent from Kawempe and many other winners to celebrate as they received their cash from the Airtel Uganda's Head of Revenue Planning Mr. Michael Lukyamuzi.
"As a brand, we are committed to changing lives of Ugandans regardless of location, occupation or socio-economic class and this promotion is making this commitment a reality. Some of the winners here today transacted for as little as ten thousand shillings and now they have become millionaires," Lukyamuzi remarked.
"I encourage everyone to spread this good news. Inform your family and friends to keep transacting using our platform and change your lives," he concluded.
As part of the ongoing promotion, all participating customers and agent numbers will be uploaded into a randomizer to pick the lucky winners. Five lucky customers will win 1 million shillings each (5 million shillings daily, 1 million for each) and 1 lucky customer will win 10 million shillings in the weekly grand draw. 1 lucky agent will stand a chance to win 1 million shillings daily and 1 lucky agent will win 1 motorbike in the weekly draw.
(Visited 1 time, 1 visit today)