Young Achievers Awards 2013, A Mélange of Inspiration and Aspirations

The theme for the Young Achievers Awards 2013 was about rewarding innovation and excellence. And excellent they were, as all the invited guests were treated to a sumptuous cocktail just before the official event kicked off. The cocktail was meant to nurture a culture of networking as the young brains that are changing Uganda were able to interact and share ideas on how to move Uganda forward.
Not long just after 7PM, the event kicked off with a live band performance and thereafter real business began. The 2013 awards were hosted by the eloquent and elegantly dressed Michael Matovu who announced the people nominated in the various categories.
Patricia Nsanze Nzeyi, the chairperson Board of Directors of YAA gave her speech where she echoed the youthful traits of 'rebels that change things.' It was not long before Gerald Abila, the founder of the Barefoot Law Firm walked away with the leadership and social entrepreneurship that was handed over by Richard Byarugaba, the Managing Director of NSSF.
Other outstanding achievers included, the 17 year old Chess Maestro, Phiona Mutesi who rose through the slums of Katwe to become a world class chess wizard. She was able to beat the likes of Jas Mangat and Ibrahim Ssekagya to the Outstanding Sports Personality Award.
But of course, the main moment of the night was coming, that was Uganda's Youssou Ndou aka Joel Sebunjo. His performance at the awards ceremony made me feel, that he is not just Uganda's Youssou Ndou, he is actually Uganda's Joel Sebunjo. He played the Kora like he was the Kora himself, in the moment when he played, him and the kora became one and the audience was clearly impressed, not even the Queen of Buganda could stop enjoying the great performance.
And when it came to Esther Kalenzi, she made our night, speaker after Speaker kept commending her on her great oratory skills. Her award acceptance speech turned into a pitch that moved many to make contributions towards her 40 days over 40 smiles Foundation. Yeah, you know, so we said. And Cedric Babu, the CEO of Kinetic Group, gave Shs.500,000 towards the cause of behalf of his mum, Ms.Olive Kigongo.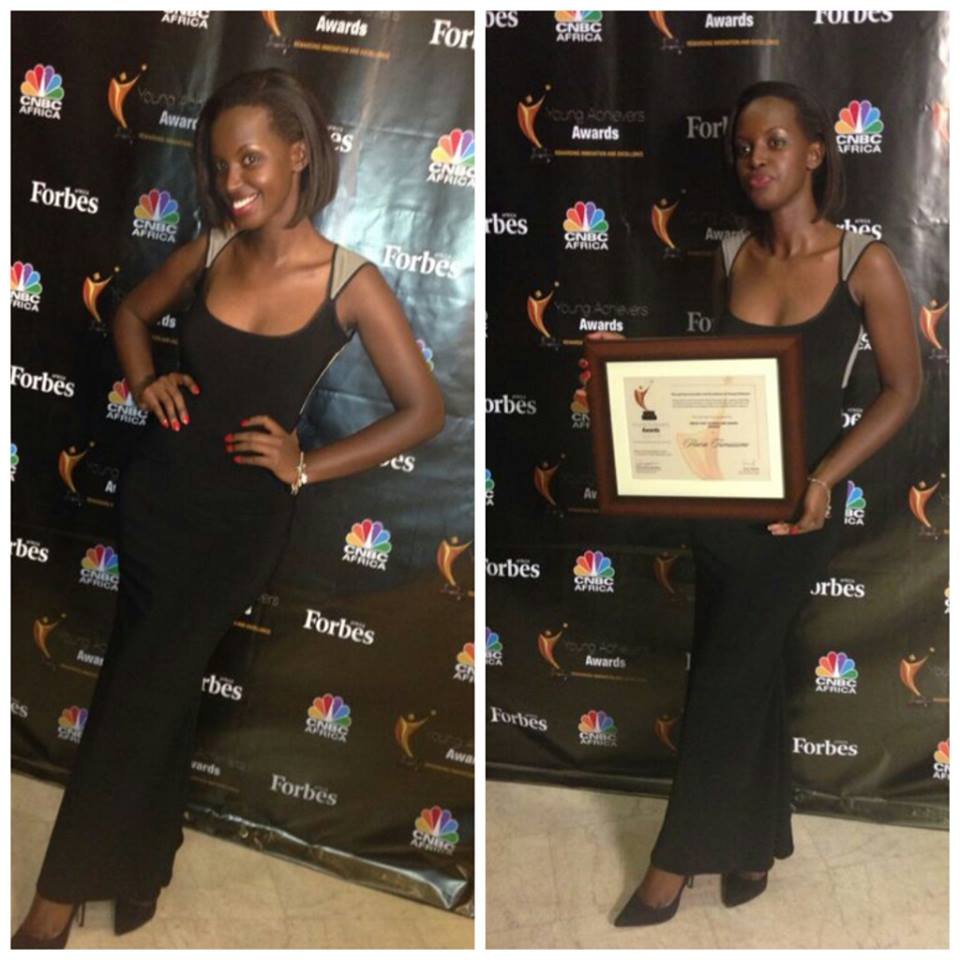 My only short-comings at the awards was that, it was very easy to predict the winners for each given category. Perhaps these were names that had really stood out in 2013, but then again, we need some suspense, we need some shocks, because that's where the real beauty of the awards comes in from.
To really sum up the event, we had a Keynote speech from Her Royal Highness the Nnabagereka Sylvia Nagginda Luswata who whirled her speech around the life of Mandela as someone who walked the talk. The Chief Guest, Dr.Mthuli Ncube then echoed that for Uganda to transition into a middle income country by 2017, investment should be made to further the excellence and innovation of the youth.
And as the night came to a close, the family of The late Dr.James Mulwana received the Lifetime Achievement Award on his behalf. In the words of his son, and heir, Geoffrey Mulwana, "Dad was passionate about the youth… dad put his heart to everything he did in life. He believed in hard work. Dad taught us that there is no shortcut to success but only through hardwork."
By the time we closed off the night, it was clear, that the awards once again had presented themselves as a mélange of Inspirations and Aspirations. Inspiration for those in the audience to take a step and work on their dreams and aspirations for the winners and nominees to go the extra mile and break the records they had set.
FULL LIST OF WINNERS
1. Media and Journalism Award: Flavia Tumusiime
2. Business Entrepreneurship Award: Angels Initiatives [George William Bakka, Joachim Ewechu and Ivan Mandela]
3. Young Achievers Awards Outstanding Performing Arts: Kenneth Kimuli aka Pablo
4. Young Achievers Ericsson Innovation excellence award: Dr. Davis Musinguzi (The Medical Concierge Group)
5. Young Achievers Award for Farming and Agro-Processing: Eric and Rebecca Kaduru. KadAfrica Ltd
6. Young Achievers Award for Leadership and Social entrepreneurship: Gerald Abila
7. Outstanding Sports Personality Award: Phiona Mutesi
8. Heroes Award: Esther Kalenzi (40 days over 40 smiles)
9. Lifetime Achievement Award: The Late Dr. James Mulwana
10. Young Achievers Awards star Hall of Fame: Mrs. Olive Zaitun Kigongo
11. Overall Young Achiever: Addmaya (Peter Mukiibi and Arthur Nakkaka)
To connect with Ian Ortega: Facebook: www.facebook.com/ianort Facebook: www.facebook.com/ortegaiancom Twitter: @ortegaUganda Whatsapp: +256788551121 Email: ortian@gmail.com
(Visited 393 time, 1 visit today)
Hima Cement introduces new product on the market

By Our Reporter
Hima Cement has today introduced a new product on the market, the Supaset 32.5R. Launched under the tagline, 'strength and speed in one bag,' Supaset is consistent in quality and is fast setting. This new development comes to reinforce the company's commitment to innovations that cater to the everyday needs of their customers.
"We are committed to developing and improving to provide high quality products that our customers can trust and rely on. Our products adhere to the stringent quality standards and undergo very strict testing procedures to ensure reliability." Said Hima Cement Marketing Director Mr. Allan Ssemakula at the launch of Supaset 32.5R at the company head offices in Kampala.
"The Supaset 32.5R answers the question of aesthetics.  Many of our customers always prefer a dark finish, and we offer that with our new product," he added. "The new brand also  sets much faster, rapidly gains strength and comes packaged in Kraft paper bag for less dust emission. "
SupaSet is suitable for high strength, medium and low strength concrete projects that include among others, flooring for both domestic and industrial purposes, making foundations, blocks and other everyday maintenance and renovation projects.
The new cement brand is already on the a market and is available at the leading hardware stores in the country.
(Visited 393 time, 1 visit today)
MTN implements reduced Mobile Money Tax

The reduction of the mobile money tax is from 1% to 0.5% on withdrawals only and takes effect on Saturday 17th November 2018
There is no more tax when sending or receiving money and making payments
Kampala, Uganda  MTN Uganda has today implemented the revised tax measures on mobile money transactions – from 1% to 0.5% on withdrawals only.
The implementation comes after the assenting of the Excise Duty (Amendment) Act (2018) into law by President Yoweri Museveni. This Act reduces the tax that went into force on 1st July 2018 and limits its application to only withdrawals from customers' mobile money wallets. The tax will not apply to other forms of mobile money transactions like payments, sending and receiving money and deposits or buying of airtime and bundles using MTN MoMo.
This is a welcome move that is applauded by the industry because the customers spoke, and they were listened to. MTN's hope is that the reduction in the tax will bring back mobile money customers who had been discouraged from using the service due to the high cost of the tax.
We believe that mobile money has greatly accelerated financial inclusion by overcoming access to money barriers. It also further promotes business, trade and commerce especially within the informal sectors of the economy and rural, hard to reach parts of Uganda which have no access to formal financial services.  
(Visited 393 time, 1 visit today)
Women entrepreneurs win big in Rising Woman Initiative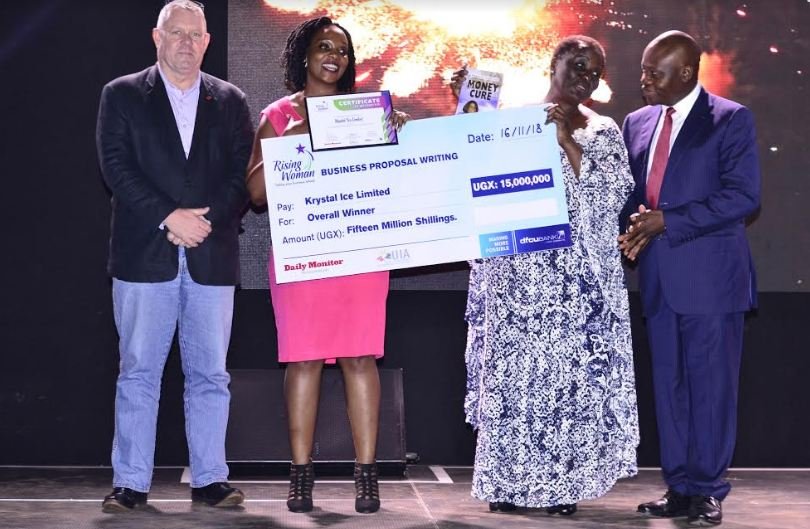 dfcu Bank in partnership with Monitor Publications Limited's (MPL) flagship brand Daily Monitor and Uganda Investment Authority-UIA, have just concluded a nationwide three-phase initiative dubbed Rising Woman under the theme 'Taking your Business Ahead'. The objective of the initiative is to recognize, celebrate and promote a culture of mentorship among women entrepreneurs in Uganda.
At least eight hundred (800) women entrepreneurs have benefited from the business training conducted in different parts of the country since July. One hundred (100) women entrepreneurs have taken part in an Exhibition intended to provide women in business a platform to show case their products and services and share knowledge with other entrepreneurs.
As part of the initiative, a call for the submission of business proposals was made. The Business proposal writing competition was aimed at giving women an opportunity to articulate their business ideas in writing and win partial funding for the same. A total of over eighty 80 business proposals were submitted and independently vetted from which twenty (20) businesses had a chance to vie for the top ten (10) spots.
On Friday evening, dfcu bank, Daily Monitor and UIA recognized and awarded three women entrepreneurs with cash prizes of up to UGX 30,000,000 million and an all-expense paid study tour trip to Nairobi after emerging victorious in the highly competitive proposal writing competition.
The overall winner Krystal Ice Limited took home UGX 15,000,000 million, Cradle Child Care Centre, the first runner up was awarded UGX 10,000,000 million and second runner up Kalaa Mugosi Women Empowerment Limited received UGX 5,000,000 million.
Additionally, one delegate from each of the 10 selected businesses that entered the competition will be sponsored to attend a study tour in Nairobi in January 2019. They will also receive free business advisory services for a period of one (1) year courtesy of the dfcu Women in Business Program.
The Award ceremony was presided over by the former Vice President of Uganda Dr. Specioza Wandira Kazibwe.
(Visited 393 time, 1 visit today)