Why Comedy Store is being relocated to UMA hall

Comedy Store Ug, a weekly comedy show hosted by comedian Alex Muhangi, is being relocated again.
The weekly comedy show which was shifted from Diners Lounge to neighboring The 400 in Bukoto in October last year is now being relocated to UMA Exhibition Hall in Lugogo.
According to a statement released by management, they are relocating again over constant clashes with the authorities at their current venue. The statement read:
"The circumstances that prompted us to move the show were unprecedented and beyond our making. Central to these circumstances were the continued disruptions by city authorities over what they called noise pollution to residents in the neighborhood.
"They further said that the show was contravening with the mandatory timelines for night events. It's upon this background that as Management of Comedy Store, we came to the realization that it was no longer possible to hold shows at the 400 without interruptions. Both parties (Comedy Store and 400) agreed that it was in their own best interests to deal with this challenge.
"Therefore, we hereby announce that we shall henceforth host our weekly shows at the UMA Exhibition Hall in Lugogo, which is an indoor venue and thus won't go against the KCCA regulations that guide entertainment events."
Comedy Store Ug will make a debut at their new home on Thursday, 25 January, 2018.
Staff Writer
(Visited 1 time, 1 visit today)
Sauti Ya Africa release new video — "Biri Muggwe". Watch it here!

Ugandan music group, Sauti Ya Africa are back with a new single.
The recently crowned Commonwealth Music Ambassadors have released a new single dubbed "Biri Muggwe".
Produced by D-King and video directed by Meddie Menz,  "Biri Muggwe" is a love ballad in which they shower praise on their supposed lover.
Meanwhile, Sauti Ya Africa landed the Commonwealth Music ambassadorial role after winning a music competition which involved the 53 Commonwealth member countries early this year. As part of the deal, they will be recording more music in the UK soon.
Watch "Biri Muggwe" video below.
Staff Writer
(Visited 1 time, 1 visit today)
VIDEO: How Bryan White's car knocked a boda boda man
Gato Preto kick off Nyege Nyege Music Festival

BigEyeUg Team
The annual music festival MTN Nyege Nyege kicked off on Friday at an exclusive launch party at Design Hub in Bugolobi. Music Duo Gato Preto entertained contemporary music lovers to give fans a glimpse into what to expect at this year's festival which is billed to be the biggest since Nyege Nyege was started in 2015.
The festival, which is sponsored by Bell Lager , Uganda Waragi and MTN Uganda, will go back to its home town, Jinja, at the beach front of Nile Discovery Beach. The Afrofuturistic duo Gato Preto –Lee Bass from Ghana and Gata Misteriosa from Mozambique – opened up this year to a line-up of 300 artistes selected from around the world who will be bringing contemporary African music to Uganda. Selected artists will be performing a collection of kuduros, kwaito, Afro house, hiplife, Tuareg rock, cosmic synths, Arab tech, Morrocan bass, zouk bass, soukous, balani, funana, swahaili trap and Tigrinian blues.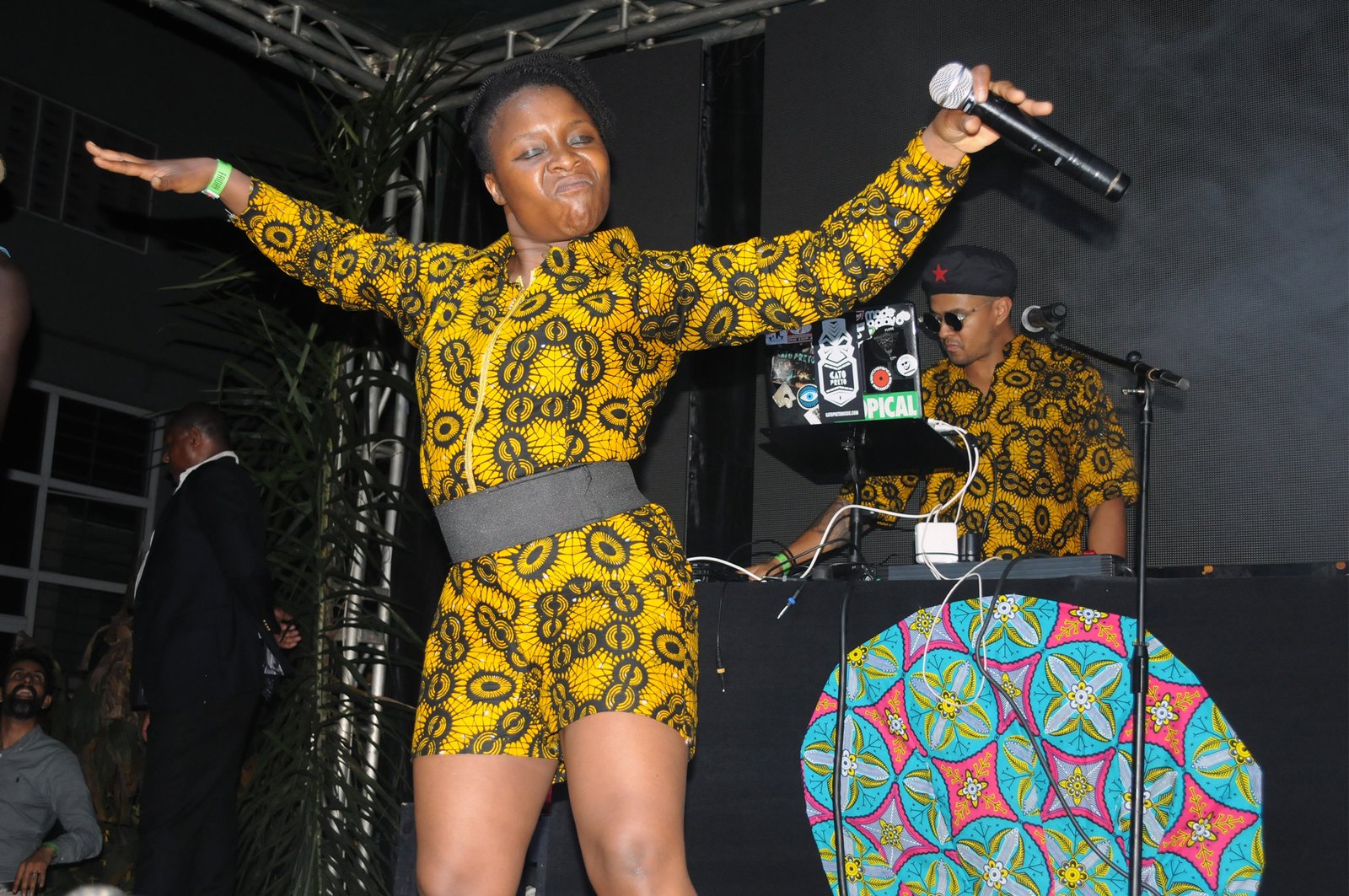 Uganda will showcase the best of the traditional musical heritage with musicians from over 15 tribes and a host of DJ's from around the country including electro Kadodi producers from Mbale, Acholi Dj's from Gulu and a who's who of Kampala's EDM music community.
From South Africa; Sho Madjozi, Rude Boyz, Dominowe and Phatstoki, folk/funk diva Zetina Mosia and underground electro producers Sleeping Buddah. The Tanzanian line up will feature the cream of the Singeli scene of Dar Es Salaam including the "Godmother of Singeli" Rehema Tahiri for an exclusive performance, as well as rhythm heavy Jagwa Music troupe and Gogo multi-instrumentalist Msafiri Zawose. Tuareg rock band Etran de l'Air will leave Niger for the first time to perform at MTN Nyege Nyege.
Kenya will be represented by L'Orchestre Les Mangelepa, considered as one of the golden era of Kenyan Lingala.
"Nyege Nyege is a unique music festival attracting a vibrant audience from Uganda and the world at large. Year on year, the festival has grown in strength and we are pleased to have been part of this journey for the past three years. We have made a commitment to this activity for the next three years and are confident that it will deliver guaranteed unique experiences with Bell Jamz and Uganda Waragi as partners," said Agaba Tumusiime, Brand Manager, Uganda Waragi.
In addition, the festival has birthed Nyege Nyege regional experiences in Gulu, Arua, Mbarara and Entebbe.
Nyege Nyege is a showcase of the connections between Africa and the rest of the world with Cumbia from South America, vodou jazz from Haiti and underground hip hop from America. Nyege Nyege takes its inspiration from the legendary World Festival of the Black Arts' that took place in Dakar Senegal in 1966.
Four days of non-stop musical celebration will include state of the art sound systems, games, picnics, boat rides, film screenings, custom made afro-futuristic decorations, biking and quad biking on the shores of the River Nile in a stunning location surrounded by over four acres of lush tropical forest.
(Visited 1 time, 1 visit today)