What we know about Anita Fabiola's leaked nud3s. [Photos]
You could win big cash with FortBet. Click here for more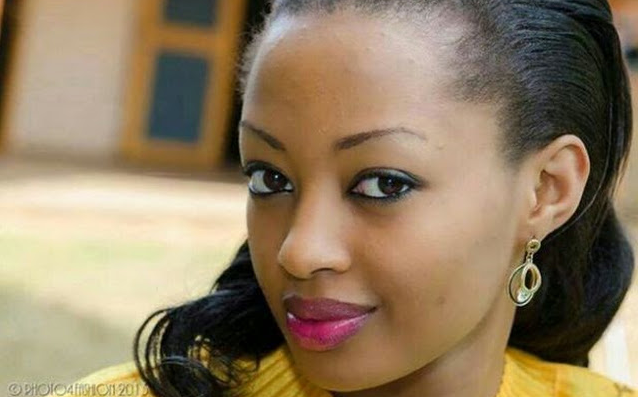 By BigEyeUg Team
For a long time, Anitah Fabiola's nud3 photos have been the talk of town. First, was the story that her nud3s were in the hands of some villain who wanted money from the NTV Uganda presenter and ex-Miss Uganda contestant. Then, the story of Fabiola offering some cash to the villain came through and it turned out the money was not enough, he wanted close to 8 million yet the brown beauty didn't have that much at the time.
Well, the photos have been released and are now allover the tabloids. But what is the story behind these nud3s? We tell you what we know about Anitah Fabiola's nudes.
According to our sources, Fabiola denies having taken any nude photos despite the fact that the pictures are making rounds allover Social Media with her face. At one time she posted on her Facebook page saying that tabloids were haunting her and making up lies to destroy her image. She insisted on building her career no matter what they said.
Sadly for her, the photos leaked online and in the papers. We have had a look at the photos and they are clearly showing the brown beauty in a bathtub showing off her boobs, and entire body using the bathroom camera. In one of the photos, Fabiola shows off her natural boobs as she pulls an innocent duck-face.
In the next photo Fabiola parades her nud3 body while holding a Samsung note phone. She then captures a full shot of herself showing her hips, private area and boobs.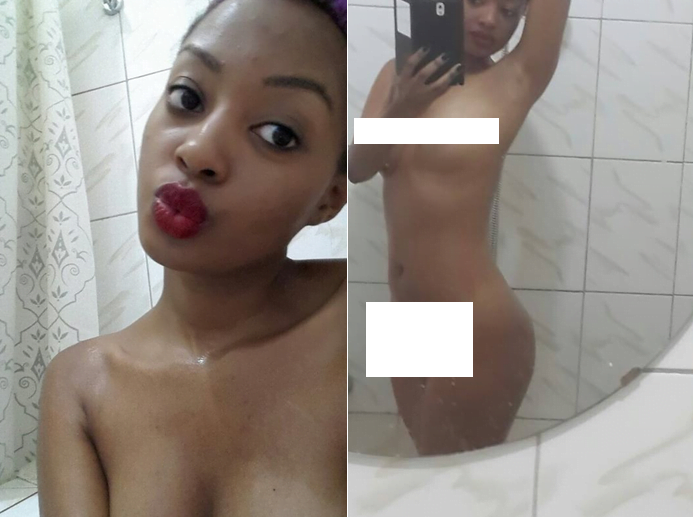 The 21-year-old Mass Communication student at Makerere University and host of 'Be My Date TV' show who was thrown out of her rented house 3 months ago for non-payment has decided to keep quiet and let this night mare pass. She has refused to pick calls or answer messages about the same.
We will keep you posted.
(Visited 1 time, 1 visit today)
Photos: Ozward Boateng presented Lifetime Achievement Award by President's daughter Diana Kamuntu Museveni at ASFAs
You could win big cash with FortBet. Click here for more
By Reporter
American designer Ozward Boateng on Friday night added another accolade to his already rich collection. While attending Uganda and Africa's biggest fashion red carpet awards the Abryanz style and fashion awards, Ozward was honored with a Life achievement award that was presented to him by the President's daughter Diana Kamuntu Museveni.
Diana piled praise for the designer and openly disclosed her admiration for the American designer. Here are some moments while Diana presented Ozward his Life time achievement award.
(Visited 1 time, 1 visit today)
Photos: How Mbonye's son "Teacher Wisdom" spent 100M proposing to girlfriend
You could win big cash with FortBet. Click here for more
By Reporter
Last week we brought you a story of how Teacher Wisdom from Prophet Mbonye's flock spend a fortune proposing to his long time lover, we have landed more pictures showing how it was all spent.
The couple enjoyed a boat cruise, spend a night at Serena Kigo among many other caah splashing enjoyments.
Here are more moments from the proposal
(Visited 1 time, 1 visit today)
Fashion excellence awarded at Abryanz Fashion Awards, full list of winners
You could win big cash with FortBet. Click here for more
By Reporter
A breath of fresh air to the fashion industry in Uganda and the world is what can be used to describe the Abryanz Style and Fashion Awards (ASFAs) that took place today at Serena Kampala Hotel.
In it's 7th edition, the glamorous event hosted Africa's biggest red-carpet event featuring top 100 Starz that have made headline News throughout the year. This cemented the theme for this year that seeks to celebrate the uniqueness in everyone – The Starz.
The awards that were broadcast on top media channels including Uganda's leading broadcaster, NTV Uganda, Spark TV and Nigeria's Spice TV shone the spotlight on the outstanding stars that day.
The talk of the night was Jidenna's performance. The American rapper, singer and songwriter and fashion star staged his best show yet, leaving everyone amazed. From his award-winning songs like Bambi to Classic Man and to particula he sure stole the show and left all entertained.
The nights was dotted with Ugandan pperformances from John Blaq, Beenie Gunter, Eddy Wizzy dancing group.
At the glamourous event, in the eyes of many, British fashion designer, Ozwald Boateng, who is credited for infusing a trademark twist on classic British tailoring and bespoke style, received the Lifetime Achievement award.
Speaking at the event; the CEO of Abryanz Style and Fashion Awards. Brian Ahumuza noted that it has been a long 7 year but all worth the while. Brian expressed gratitude to masses that have continuously supported the event but also urged the fashion industry to keep yearning to learn as Ugandan fashion spreads to the continent. He also pledged support to the young fashionistas and designers whenever he can.
The CEO Talent Africa, Uganda's leading events and Entertainment Company who worked together with the ASFAs to bring a new level of professionalism in event and business management, Aly Allibhai, said that from the start, the new partnership was meant to make the ASFAs the biggest fashion event in Africa. He added; "Talent Africa is very pleased to be a partner of the ASFAS. It's always our pleasure to make great partnerships inorder to bring you the best events Experience. We look forward to the next 2 years as together we build the best redcarpet and awards show in Africa"
Joram Muzira was awarded a surprise Star Makers accolade for producing established models to the world.
Here is the full list of the winners in the Abryanz Style and Fashion Awards, African fashion industry stake holders including fashion designers, models, icons, media influencers categories.
Here are the winners of the night.
1. Lifetime Achievement Award – Ozwald Boateng
2. Icon Award – Jidenna
3. Positive Change – Susan Guerts
4. Special Recognition Award for Innovation – Kayiira
5. Fashion Designer of the Year (Uganda)- Kaijuka Abbas
6. Fashion Designer of the Year (Africa)- Ifeanyi Nwune
7. Model of the Year (Uganda)- Aliet Sarah
8. Model of the Year (Africa)- Shanelle Nyasiase
9. Fashion Stylist of the Year (Uganda)- Mavo Kampala
10. Fashion Stylist of the Year (Africa)- Chuck Mbevo
11. Hair Stylist of the Year (Uganda)- Ice Kenny
12. Hair Stylist of the Year (Africa)- Corrine Muthoni
13. Fashion Photographer (Uganda) – Walter Keys
14. Fashion Photographer (Africa) – Andile Mthembu
15. Make Up Artist of the Year (Uganda) – Nayha Glam
16. Make Up Artist of the Year (Africa) – Lavie Makeup
17. Most Stylish Female Artiste (Uganda) – Spice Diana
18. Most Stylish Female Artiste (Africa) – Souhila
19. Most Stylish Male Artiste (Uganda) – Fik Fameica
20. Most Stylish Male Artiste (Africa) – Bourna Boy
21. Fashionable Music Video Award(Uganda) – Sunday Allan Tonix, Slick Stuart and Roger
22. Fashionable Music Video Award (Africa) – Pull Up by Bourna
23. Fashion Media Excellence Award – Gloria Haguma(Uganda)
24. Fashion Media Excellence Award (Africa) – Bella Naija
25. Star Maker – Joram Muzira
(Visited 1 time, 1 visit today)