'We Are Very Sorry For The Wahala' – Don Jazzy & Olamide
Music industry heavyweights, Olamide and Don Jazzy, started the New Year by turning on each other, leaving many in the music industry shocked.
Both artists had collaborated on the song Skelemba, which is included in Olamide's November 2014 album Street OT, giving the impression that the two were more of friends.
The relationship between both label heads turned sour following a series of events at the 2015 Headies Awards in Lagos after Marvin Record starlet, Reekado Banks, beat Olamide's protégé, Lil Kesh, to the coveted Next Rated Artist prize.
A visibly irritated Olamide expressed his frustration at the decision when he accompanied another YBNL act, Adekunle Gold, who won the award for Best Alternative Artiste, to receive the award.
"He (Lil Kesh) is our next rated artiste. He had back to back hits throughout the year – Lyrically, Shoki, Gbese and Efejoku," he said among other things before throwing the mic away and storming off the stage.
The situation took a turn for the worst when Marvin Record boss, Don Jazzy, apparently feeling slighted, told Olamide to come and take the car, which went with the Next Rated award, if he wanted it.
While receiving the special recognition award, Don Jazzy said, "I came out here to support my children. As they were trying to present the award, Reekado Banks was performing at Ali Baba's show. I have already told my children that I will buy cars for all of them… Egbon Olamide, if you want the car come and collect it."
The comments enraged the YBNL boss who took to Twitter to insult his Marvin Records counterpart, warning him to stay away from Lagos mainland.
In a series of tweets the YBNL boss accused Don Jazzy of ruining D'Banj's career and oppressing artistes signed to his record label.
After leading the Marvin Records crew to perform at the One Lagos Fiesta which ushered in 2016 for thousands of Lagosians, it didn't look like Don Jazzy's next stop was to catch a beef.
The successful music stars both shared the picture above saying:
"We are very Sorry for the wahala make una no vex oh. It is our responsibility to lead but then again we are only human and we all make mistakes! #WeAreSorryHeadies #WeAreSorryFans #PeaceAndUnity #SMD #YBNL #OneLagos #OneNigeria".
Source: Naijapicks.com
(Visited 1 time, 1 visit today)
DJ Roja and Slick Stuart set for Mixtape Party 6th edition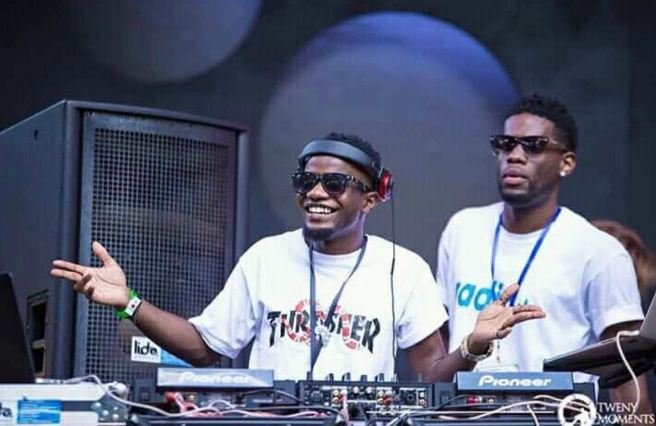 By Our Reporter
The annual Mixtape Party is back. Hosted by deejaying duo, Roja and Slick Stuart, it is returning for it's 6th edition.
The party which was birthed in 2014 with the inaugural edition hosted at Club Venom has continued to grow bigger and better over the years.
Following a successful first edition, the party was next shifted to Laftaz Swimming Pool where it was held in 2015 and 2016. The duo then moved the party to Golf Course Hotel for the 4th and 5th editions.
Roja and Slick Stuart are once again moving to a new venue. The deejays will host this year's edition at UMA show grounds.
Besides deejay showcases, the Mixtape party will also feature performances from top musicians like Bebe Cool, Beenie Gunter, Allan Toniks, Fik Fameica and Rema among others.
The event will take place on November 8th and tickets will be 20K.
(Visited 1 time, 1 visit today)
Rapper Lyrical G releases 9th studio album
By Our Reporter
Ugandan HipHop musician and producer Lyrical G, real name Jeff Kintu has dropped his 9th studio album. Dubbed "Geezy", the new album features 15 tracks with collaborations from several musicians including GNL Zamba, St Nellysade and Unique among others.
The album was mostly self-produced and is composed mainly of hip-hop songs such as "Keep It Lit", "Been bout my thang", "Tuli Majje", and "Atamukutte", to mention but afew.
On the new album, he reminisces on how far he has come and how much he has achieved in the industry.
Geezy is a follow-up to his 2014 album, "Feel Good Music".
According to the rapper, the new album was delayed because he was out of the country for two years on other personal business.
"I went abroad in 2015 and did not return until 2017," he told media. "I was away on business not related to music and that's why I didn't release any music like has always been the norm."
"I started working on this new album in 2018 and now it is finally ready for release," he added.
The Geezy album is only available in physical copies.
(Visited 1 time, 1 visit today)
Better things are ahead – Yvonne stands with Eddy Kenzo
By Staff Writer
In the Kenzo – Rema drama that has already lasted longer than we expected, not many women have stood on Eddy Kenzo's side but Yvonne Starr has urged the singer to take heart and trust things will get better.
Rema left Kenzo to settle in marriage with a gynecologist known as Dr. Hamza Ssebunya. It has caused a stir which keeps attracting opinions from several other public figures.
Apart from Full Figure, most female celebrities have expressed their attachment and support to fellow female singer Rema Namakula, some going ahead to say that she has empowered them greatly.
On the other hand, most male celebrities have also stood with Kenzo who has turned out hurt the most by the prevailing situation. Sheikh Muzaata and other friends of Dr. Ssebunya have however made it hell for the Sitya Loss singer.
Yvonne Starr, a rising songstress behind several hit songs like Direction, has added her voice to those standing with Kenzo as he urges him to be strong as things will get better with time.
(Visited 1 time, 1 visit today)