VIDEO: Woman attacks Bebe Cool in club
Bebe Cool has shared a video showing how he was attacked by a fan at Liquid Silk. He also used the opportunity to speak his mind about the matter.
Watch video below.
Here is what he said.
In the video below,u can make your own judgement as this woman claimed I approached her and said stuff to her.
U clearly can see her looking for someone in the bar unfortunately it was me.
She approaches me and pulls my pants and to my shock,it's a sudden turn to see a person who disrespects me and my wife.
Immediately I turn, you can see my hands in action telling her to leave but she insists and there I even gently push her away,but she won't go.
Any respectable lady would walk away n think of the next move but nga bwomanyi kanalukalala, nga ate kakadde, nganedobozi lya kisajja,she won't take take a know,she still stays.People asked her to go but she still refused and it's clear in the video.I had to call security to remove this woman from where I was and what happened next u will see in the next video.

The next day it's allover social media that I attacked a woman. I had to ask for the security footage because my name has been tarnished by so many people for their personal selfish reasons. 

I had my editor blur the video to keep the code of protection of innocent people in a public place/bar.
This video is in two parts,part one, a woman attacks me and part two,her and her friend do the unthinkable.
I am a professional artist and I don't mind fans but u must respect your self to earn respect.

(Visited 1 time, 1 visit today)
Nxt Radio's DJ Geeman rewarded, now finding G-Spots on a daily
By Reporter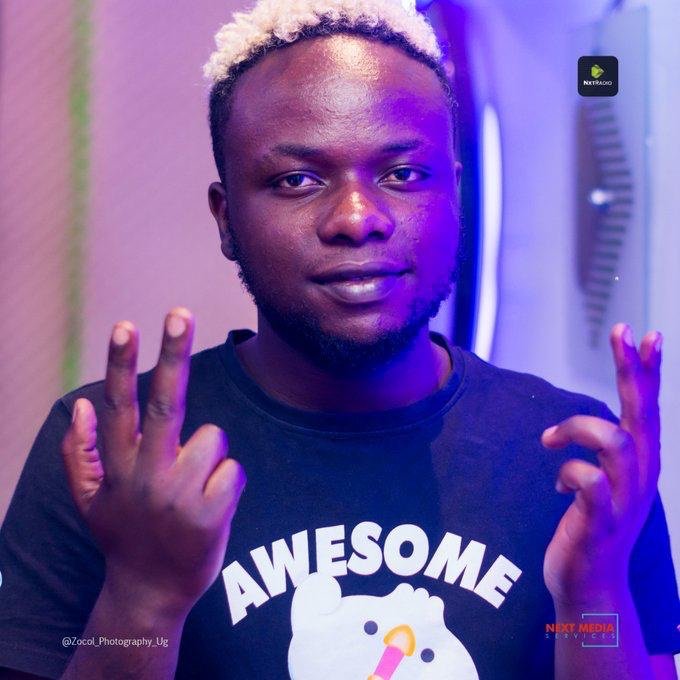 If you don't listen much to Uganda's pioneer audio-visual radio station, 106.1 FM Nxt Radio, then you have probably seen a white-hair-tinted DJ mashing up the stages of Blankets & Wine, usually dressed in his signature lime-green baggy t-shirt. That lad is talented, isn't he?
Well, hehis name is DJ Geeman, and he is one of the Nxt Radio resident DJs. He now has his own daily show, the "Nxt G-Spot," a dream for many a DJ, and as it turns out, he is very highly regarded around the station.
"DJ Geeman is one of the hottest upcoming deejays in this town and that explains our choice," the Nxt Radio General Manager, Marcus Kwikiriza, told this website.
Geeman's commitment, hunger and diversity are some of his biggest traits and go a long way to explain why the station handed him this new daily 2-3pm project.
"2pm is right after lunch and research shows us that most people tend to require a bit of a 'wake me up' then. The G-Spot is, therefore, that one-hour package to do just that, to give our listener that deserved great afternoon, and who better to deliver this than DJ Geeman?" further remarked the "Big Hits Station" General Manager.
The Nxt G-Spot offers Reggae on Mondays, HipHop & RnB on Tuesdays, African Music on Wednesdays, Throwbacks on Thursdays, and House Music on Fridays. Time to have dates with our headsets, right?
With music being one of the greatest creations by mankind and an important part of our life as a way of expressing our feelings and emotions, our verdict is that Nxt Radio is yet again right on the money!
Nxt Radio can be listened to LIVE on 106.1 FM, via the Nxt Radio App, via the Nxt Radio website or via StarTimes on Channel 243.

(Visited 1 time, 1 visit today)