Uganda's top artistes thrill revelers in World AIDs Day concert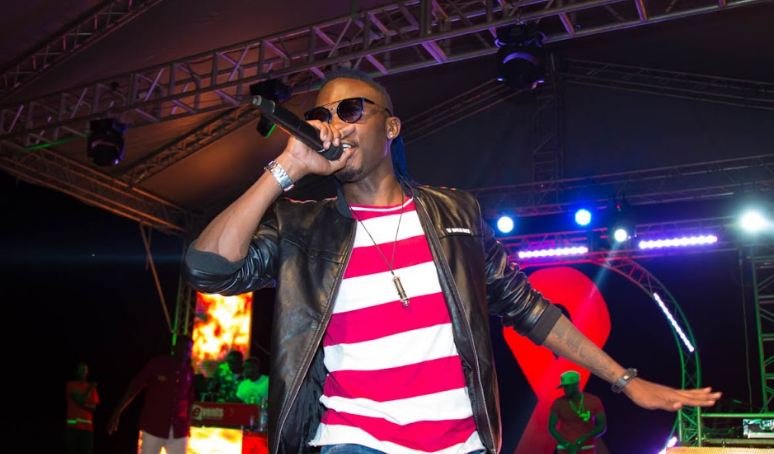 By Our Reporter
As the world marked World AIDS Day on December 1st, Reach A Hand Uganda (RAHU), a youth empowerment organisation, delivered the message to the youth through the "I Know Kati" HIV/AIDS awareness concert that was held at Nyamityobora Sports Grounds in Mbarara for the first time.
The day officially began with a 10KM and 5KM World AIDS Day Marathon and later went into speeches from local area politicians and stakeholders who emphasized the need to fight HIV/AIDS in Mbarara district.
"Mbarara District is ranked among the top 13 districts with a high number of HIV/AIDS in Uganda and therefore, we need to constantly find new ways of ensuring that we reduce these rates in our district." Dr. Peter Ssebutinde, the District Health Officer Mbarara, said in his speech.
Assistant Inspector General of Police Dr. Stephen Kasiima who also heads the Traffic and Road Safety Directorate of the Uganda Police Force while speaking at the concert, encouraged youth to always not be under the influence of alcohol and drugs as it will lead to tragic consequences like fatal accidents and engaging in unprotected sex leading to HIV/AIDS.
After the speeches, Reach A Hand Uganda then started offering services like family planning services and cervical cancer screening (PSI Uganda, Uganda Health Marketing Group, Mariestopes International Uganda and Reproductive Health Uganda), HIV testing and counseling (by AIDS Information Center and The AIDS Support Organization) among others.
The merry makers were then treated to lots of entertainment from Reach A Hand Uganda's cultural Icons Geosteady, Mun*G, Allan Toniks, Nutty Neithan alongside top musicians around town that were Fik Fameica, Darxx Kartel, Rena Nalumansi, Gravity Omutujju.
"Prior to the concert, the Reach A Hand Uganda team and partners had been to different communities like Rubindi, Rwanyamahembe, Kizungu, Kakoba, Bugamba and Katete to create HIV/AIDS awareness integrated with access to family planning services." RAHU Team Leader Humphrey Nabimanya noted.
(Visited 62 time, 1 visit today)
Toniks signs under Gifted Music Group
By Staff Writer
The latest news reaching our desk indicates that singer Allan Toniks is officially part of Uganda's ever growing music label, Gifted Music group
The singer who has been quiet for a while is set to do a musical comeback with huge pojects under his new home GMG. Sources close to the record label revealed to us that everything was finalised and within a short period of time, Allan will be officially announced as a GMG member
Toniks is the second artist to be signed under the label after signing sensational singer Smart Djaba earlier this year. Allan's first song under GMG, Romance is set to be out this Saturday 24th February 2018
We will keep you posted
(Visited 62 time, 1 visit today)
MTN Uganda announces sponsorship of the Nyege Nyege Festival
MTN Uganda has become the official title sponsor for the annual Nyege Nyege International Music Festival. The announcement comes after MTN Uganda reached an agreement to sponsor the festival for the next three years. The sponsorship is effective from the September 2018 edition.
"MTN Uganda is delighted to be the title sponsor of the Nyege Nyege International Music Festival. As a brand we recognize that being part of this celebration of the arts and culture for three days non-stop helps create sustainability of this very important festival," said Olivier Prentout, the Chief Marketing Officer MTN Uganda.
He said this at the unveiling ceremony that took place at The Square, Industrial Area on Wednesday evening.
MTN is sponsoring the Nyege Nyege International Festival with the aim of ensuring it continues to develop, attract artists and the thousands of music, arts and culture enthusiasts that show-up for the three days.
"This festival is a celebration of music and culture from all over the world. This 3-day celebration allows people to connect, learn something new and have a good time. MTN feels that this is the right festival to partner with since we are all about celebrating, innovation and facilitating the growth of others," Prentout added.
The festival not only attracts local revelers but is also an opportunity for Uganda's tourism sector to thrive as people from several parts of the world attend. It will take place from Thursday, 6th September to Sunday, 9th September 2018 along the shores of The Nile in Jinja.
"We would like to thank MTN Uganda for believing in this celebration of music and culture. This will be an opportunity for us to keep hosting the event and supporting the ever-increasing numbers that turn up to celebrate," said Derek Debru, one of the Founders of Nyege Nyege.
(Visited 62 time, 1 visit today)
Spice Diana breaks silence on allegedly wearing artificial hips.
Embattled singer Spice Diana may fall prey to all the mushrooming bad rumors about her but she will not let one thing go un-explained. The singer who has in the recent past had very rough days has broken the silence on allegations that she wore hips on her concert day and perhaps still wears then. The singer who previously has had bad interview days on BBS and NTV will let all that pass but not the lies that she wore hips.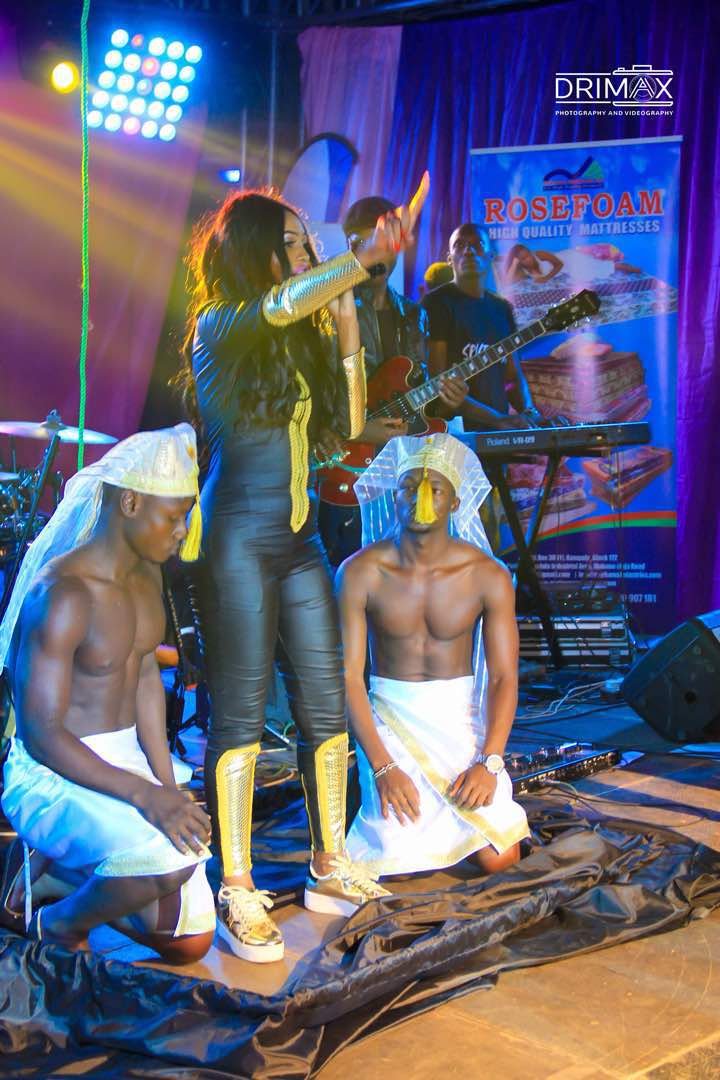 According to Spice Diana, on her concert day she had a costume for the day and was expected to make a grand entrance, to fly in like an angel. "Spice was to come on stage flying like an angel and obviously she had to wear support right from her thighs. Inside her costume she had material from which the ropes that support her were tied and that explains the alleged hip extensions that people are implying." Her manager explained. The singer further confirmed and admitted that had other clothings inside her costume but they were not hip extensions but rather part of her support to her flying entrance.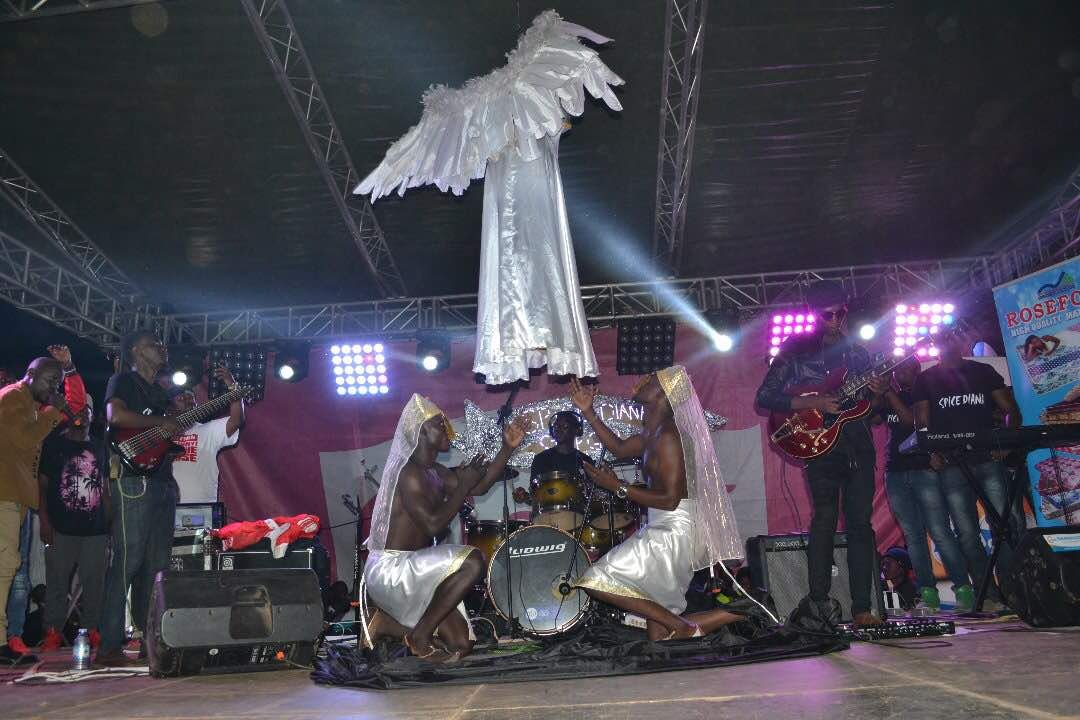 Spice Diana is with no doubt one of the very beautiful female singers we have and we agree she doesn't need hip extensions to rock us.
(Visited 62 time, 1 visit today)