Ugandan Music Artistes and Their Districts of Origin:
By Ian Ortega
Masaka Tops List After carrying out a month long survey, we now reveal the full list of popular Ugandan music artistes and their districts of origin. We can now tell which district produces the most popular artistes.
1. Keko: Tororo District
2. Bobi Wine: Masaka
3. Juliana Kanyomozi: Fort Portal
4. David Lutalo: Luwero
5. Jackie Chandiru: Arua
6. Rachael Magola: Iganga
7. Maro: Jinja
8. Eddy Kenzo: Masaka
9. Gravity Omutujju: Butalejja
10. Captain Dollar: Jinja
11. Abdu Mulasi: Masaka
12. Coco Finger: Lira
13. Lady Mariam: Ntugamo
14. Don Balaam: Ntugamo
15. Mathias Walukaaga: Masaka
16. Sizzaman: Wakiso
17. Jamal: Masaka
18. MUN G: Masaka
19. 1rail: Jinja
20. Bebe Cool: Masaka
21. Late Herman Basudde: Masaka
22. Late Prince Job Paulo Kafeero: Buikwe District
23. Cindy: Hoima
24. Pr.Wilson Bugembe: Masaka
25. Ronald Mayinja: Gomba
26. Navio: Masaka/Kampala
27. Sister Charity: Bushenyi
28. Tonix: Mbarara
29. Judith Babirye: Mbale
30. Rema: Masaka
31. Jose Chameleone: Wakiso
32. Santana: Bushenyi
33. Lumix: Gulu
34. Annet Nandujja: Gomba
35. Barbie jay: Fort Portal
36. Bella: Jinja 37. Kid fox: Jinja
38. Aziz Azion: Fort Portal
39. Geofrey Lutaaya: Rakai
40. Charles Sekyewa: Rakai
41. Vampino: Pallisa
42. Maurice Kirya: Pallisa
43. Late Martin Angume: Kayunga
44. Edwin Ruyonga: Masindi
45. Atlas: Mbarara
46. Loketo Lee: Gulu
In the list, it was revealed that Masaka District topped as the district that has produced the most popular Ugandan artistes. Most artistes, alive and dead were revealed to have been born and raised in Masaka.
In fact, if there is one district that has the biggest say on Uganda's music industry, it's definitely Masaka. Jinja came in the second position, though most of its artistes did not always last for long in the music industry.
(Visited 7,571 time, 1 visit today)
Jose Chameleone speaks about his wife's alleged nudes.
While the internet woke up to pictures of celebrated singer Jose Chameleone's wife baby shower pictures that were received with mixed feelings, husband and singer Jose Chameleone has come out and commented on his wife's alleged nudes.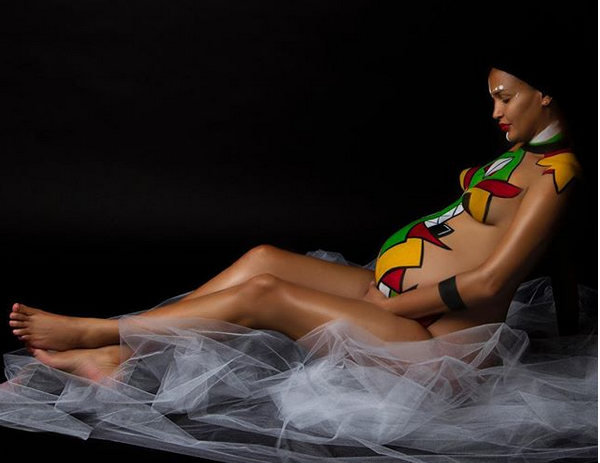 Through his Instagram, Chameleone complimented his wife with the same circulating picture and captioning "Great piece of Andreon Atim"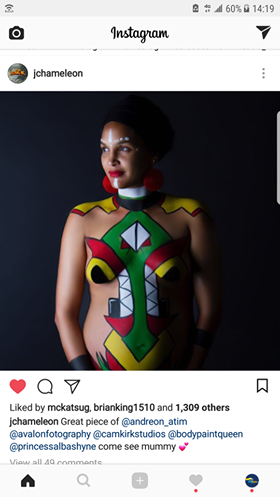 Daniella is currently in the states where she went to deliver the couple's fifth child.
(Visited 7,571 time, 1 visit today)
Photos: Spice Diana and manager open new studio.
on rampage female singer Spice Diana is over the moon after her and her manager Rogers Lubega opened up their own studio in Makindye Luwafu. The studio has been named 32 records after her song and slang that trended after her NTV Mwasuze mutya show.
In her statement she posted "My first project at my MUSIC STUDIO 32 RECORDS. Another dream achieved. Thank you Lord, the way you're too good to me scares me. Bless the work of my hands. Launching it so soon, can't wait."
(Visited 7,571 time, 1 visit today)
Bryan White and King Michael Face UGX 210 Million Lawsuit Over Torture of Lucky Costa.
By Our Reporter
Lucky Costa aka Simon Mukasa stands a chance of walking away with UGX 210 million should court rule in his favour. On Tuesday 20th March 2018, Lucky Costa through his lawyers Muwada and Company Advocates served Bryan White and his employee, King Michael with an intention to sue.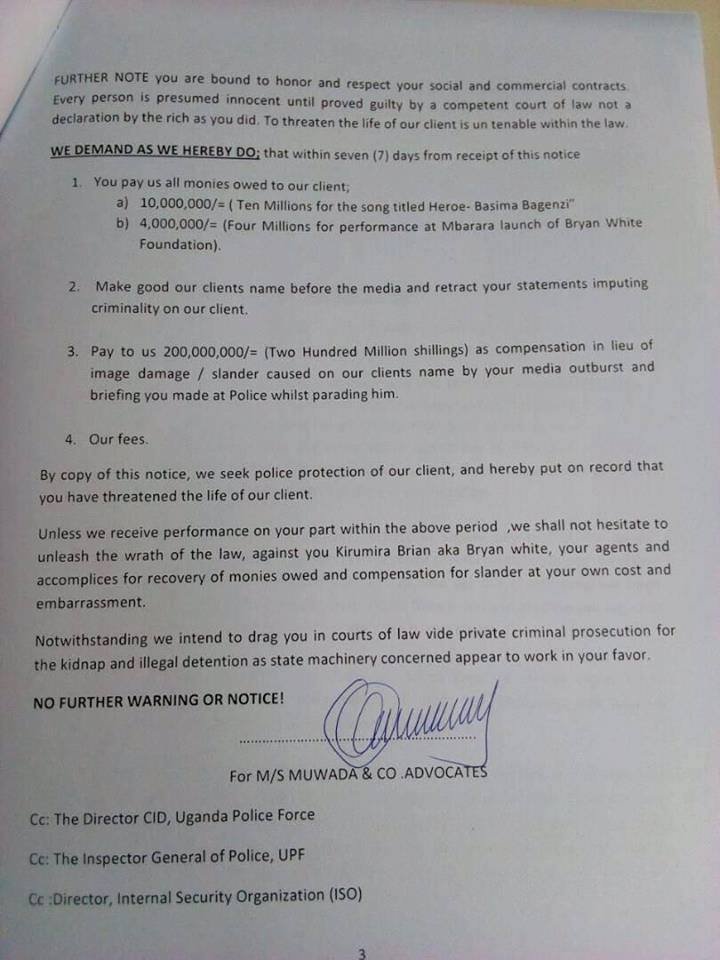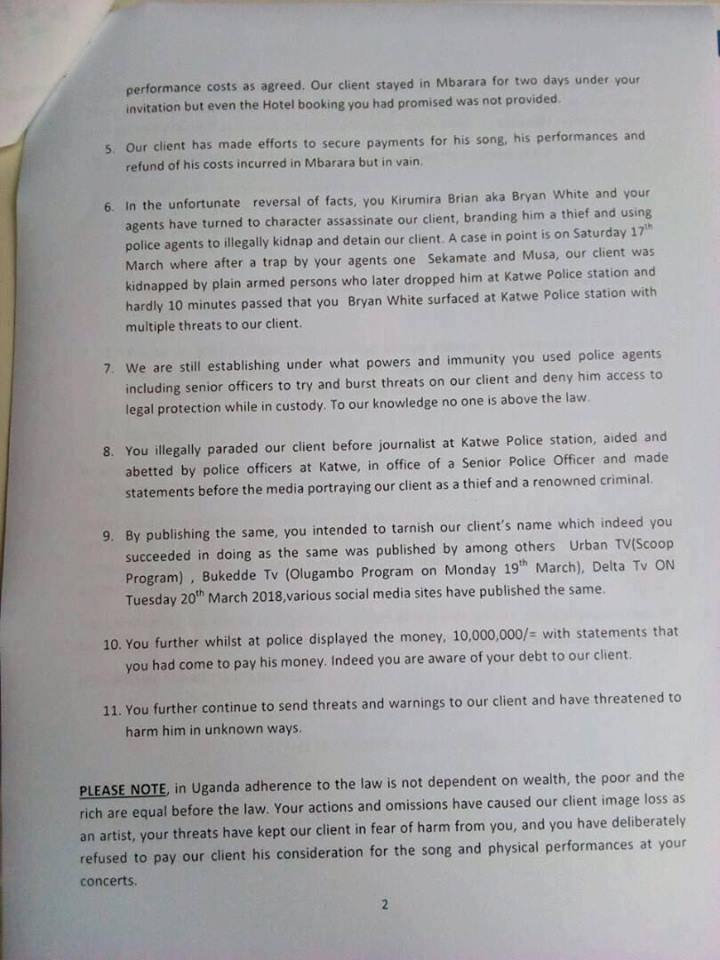 In it, Lucky Costa asks that Bryan White immediately pays up UGX 10 million for the song he produced and wrote in praise of White. Costa also asks that he be paid 200 million for damages caused to his name. He claims he was tortured and his reputation was greatly injured. Lucky Costa has placed conditions over which Bryan White will survive facing court and suffering the full wrath of the law.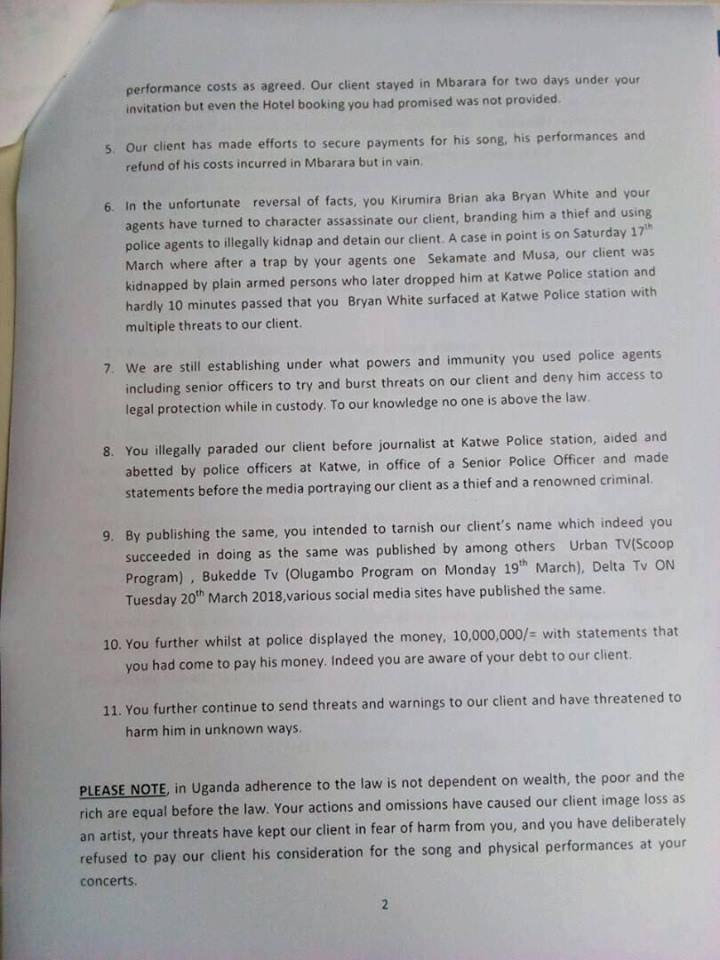 One of the conditions involves a public apology by White to Costa. That the public apology should be made on the podium.
(Visited 7,571 time, 1 visit today)