UBC to retire 30 employees

By Our Reporter
Uganda Broadcasting Corporation recently hosted the first capacity building workshop at Pearl of Africa Hotel as they prepare 30 of its staff for retirement.
The day-long workshop equiped retirees with skills to prepare them for the next stage in their lives with presentations to assist them diligently choose paths that best suit them. The presentations were from reputable personalities in investment, money management, Uganda Registration Services Bureau (URSB) and retirees from other industries sharing their life stories.
The 30 esteemed members retiring soon have been split across differing departments, business units and levels of management at UBC namely TV content producers, technicians, radio/TV engineers, content researchers, on air broadcasters and production graphics designers.
"As the national broadcaster, UBC would like to thank these staff for passionately and with devotion dedicated so many years to making us the powerhouse that we are today. We wouldn't have done it without you all. You have weathered numerous storms and shown us direction time and time again. We are eternally grateful and wish them boundless opportunities in their next endeavors," Winston Agaba, the managing director stressed.
(Visited 218 time, 1 visit today)
NTV The Beat Revamp Soaring

By Demo Reily
With popular city emcee Dagy Nyce settling in superbly well with Sheila Gashumba and Tracy Kababito, the trio has with no doubt beaten all odds to put on a great TV show for NTV The Beat fans.
Those that thought otherwise in terms of managing the show after the departure of the long serving host Douglas Lwanga from the show have also noticed the growth.
Many thought that the management could fail to replace the gap left behind when Lwanga left. But, hey looks like they finally managed to pull it off.
It's literally 60 days down the road, and the story seems to be changing every other day from "They cannot" to "May be they can" and now to "Yes they can".
Tracy has been learning and coping really quickly with her amaizing deep voice, while Gashumba carries on with her experience and touch of how the industry works. Nyce on the other hand strikes the perfect balance between holding the show together with his adverse knowledge of the game, having been doing this for close to a decade now.
If Daggy is not cracking jokes, he is dancing and as always very playful on set with the gals. He also puts up small sweet fights with the Deejay Brian and Dash on set to make a great show.
We must admit that the BEAT has finally risen to the occassion. Credit to NTV for showing such stamina again everytime it looses its fine products to other rival stations.
(Visited 218 time, 1 visit today)
Netflix announces multi-year production deal with the Obamas

Barack and Michelle Obama will work both in front of and behind the camera in a multi-year production deal with Netflix.
The unique pact was announced on Monday. The first content from the Obamas will appear in 2019 at the earliest, according to a person involved in the deal.
Netflix did not specify a timeline. But the company's announcement of the deal said "the Obamas will produce a diverse mix of content, including the potential for scripted series, unscripted series, docu-series, documentaries and features."
Sometimes the former president and first lady will be on camera as hosts or moderators, the source said on condition of anonymity. In other cases they will stay behind the scenes as producers.
Financial terms were not disclosed. The Obamas are giving Netflix valuable content that many of the streaming service's 125 million members may want to watch. And Netflix is giving the Obamas a valuable platform to stay visible in their post-White House years.
The Obamas said Monday that they want to harness "the power of storytelling" to promote common values.
"We hope to cultivate and curate the talented, inspiring, creative voices who are able to promote greater empathy and understanding between peoples, and help them share their stories with the entire world," Barack Obama said in a statement.
"Netflix's unparalleled service is a natural fit for the kinds of stories we want to share, and we look forward to starting this exciting new partnership," Michelle Obama added.
The Obamas now need to hire a team of producers. They have set up a company called Higher Ground Productions "as the entity under which they will produce content for Netflix," Netflix said.
These types of exclusive production partnerships are common in Hollywood — in fact, Netflix has been attracting a bevy of A-listers, including Shonda Rhimes and Ryan Murphy.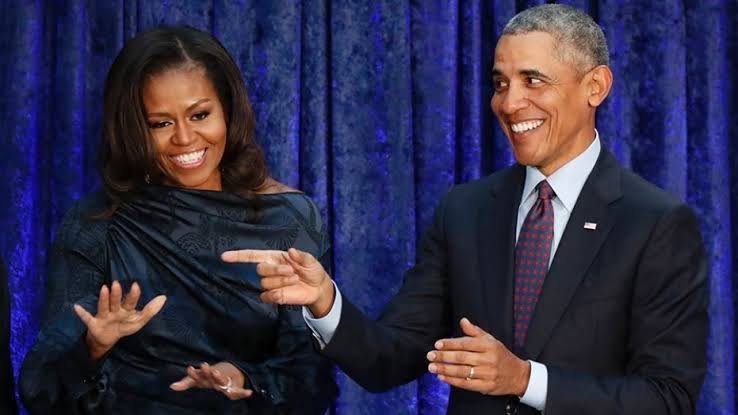 But this is a first-of-its-kind deal for a former U.S. president.
The talks with Netflix were first reported back in March.
Back then, The New York Times described two potential shows. In one, "Mr. Obama could moderate conversations on topics that dominated his presidency." Another show "could feature Mrs. Obama on topics, like nutrition, that she championed in the White House."
In the final days of the Obama administration, it was reported that Obama was interested in pursuing digital media ventures after he left office.
Jen Psaki, the White House communications director at the time, told CNN that "he is very interested in how people consume information and the changing trends," citing online and mobile news consumption.
CNN
(Visited 218 time, 1 visit today)
Anitah Fabiola back from France, says it was not photoshop

BigEyeUg Team
Beauty queen and TV host, Anitah Fabiola real names Anitah Kyalimpa is back from France where she had gone for the Cannes Film Festival.
Fabie who had a good time in France and let her fans know all about it on her Instagram is back and happy to be in Uganda.
Fabiola who is looking fresh from France has this to say.
'I was in Cannes which is South of France for a whole two weeks. Every night was a different screening for a movie. I was at 4 different carpets and it was all great. Haters say it was Photoshop but it wasn't. I had an amazing time there. The thing is that cameras and phones are not allowed on the carpet. This is the most organised red carpet event in the whole world. I had a lot of fan.'
Anitah Fabiola is now back on NBS Katch Up for her fans who have been missing her.
(Visited 218 time, 1 visit today)