Here are the top richest families in Uganda
By Prim Kembabazi
Careful financial planning, business shrewdness have made these families the wealthiest in Uganda. They have accumulated so much wealth, guarded it jealously and are always ready to pass it on to the next generation once the time comes. Here are the top richest families in Uganda.
1. Mukwano Family
They have been in the industrialization business for a long time. It all started back in the day when their father Ali Muhammad Karmali came to Uganda in 1904 and built a big empire for them. They have invested heavily in cotton, tea and coffee. The company name came from their founding father's closeness with the people who called him "Mukwano Gwa Bangi" loosely meaning "friend of the masses" hence the name Mukwano. Mukwano has a group of factories that manufacture soap, toilet paper, process Tea leaves and many other products. They have expanded their business to Rwanda, Kenya, Burundi among other nations. Money flows in this family like the river Nile from Uganda to Egypt.
2. Madhvani Family
They got their wealth from their father Mujibai Madhvani. He was a prosperous businessman in the UK. They decided to invest heavily in Uganda. They are into lots of trading deals in the county. They deal in sugar and tea with a stake in Kakira sugar. They own several tourism businesses across the county. Green house farming is also on their business portfolio. They are into IT firms and software development for big companies.
3. Wavamuno Family
They are a household name in Uganda. Wavamuno owns shares in different businesses in Uganda making a huge fortune every year. The Wavanumo family is into real estate. They own Mercedes benz in Uganda. They are also into bottled water business. He has shares in Radio Simba and a top insurance company. All Wavamuno's children are very successful with the likes of Elvis Sekyanzi making it big with their personal businesses. Gloria Wavamuno is also big on the international fashion scene. Sadly, they recently lost one of their businesses, WBS TV over unpaid tax arrears.
4. Sembule Family
They own Sembule Steel Rolling mills. They started from humble beginnings back in 1971. Founded by Christpher C. Sembuya and Lt Henry W. Buwule. The two were siblings. Their company has overtime become one of the leading wire-nail manufacturing companies in the country. They are also into banking, electronics, and insurance among others. After 30 years in the business, they have amassed so much wealth. In 2014, they got a bailout from government when business was not going on well.
5. Hajji Mutaasa Kafeero family
Hajji Mutasa's wealth is estimated at a total of 20 Million USD. He is a Ugandan businessman from Bushenyi. He attended school at his father's Primary School. Mutasa owns several arcades in the city including Mutasa Kafero Mall, Zainab Azia Emporium. He is also the owner of Hotel Triangle. He also owns several other properties in the city and in Jinja.
6. Sudhir Ruparelia Family
According to Forbes in 2015, he was the 27th wealthiest individual in Africa, with an estimated net worth of US$800 million. Ruparelia was born in Kabatoro, Kasese District in the Western Region of Uganda to an upper-middle-class Gujarati family. His great-grandfather reached Mombasa, Kenya in 1897 from India and set up a trading store there before coming to Uganda in 1903. His grandfather was born in Uganda in 1918 and his father in 1932.
He moved to the United Kingdom with his parents in 1972 at the age of 16, when the dictator Idi Amin expelled all Asians from Uganda. He returned to Uganda in 1985, with US$25,000 earned from several casual jobs including working in supermarkets, factories, and butcheries. Ruparelia started selling beer and spirits imported from Kenya. In 1989, beer importation was banned to encourage local brewing of alcohol and he realised he could not make beer. But since his customers, who were mainly foreigners, paid him in foreign currency, he started Crane Forex Bureau, the first in Uganda. With his profits, Ruparelia ventured into other businesses, including forming Crane Bank in 1995. Later, he organized his businesses under the umbrella of the Ruparelia Group.
Also on the list is Ssenseko Kulabya family, Cranimwer Kaaya, Mohan Kiwanuka, Musa Kasule Family, Aga Ssekalala Family, The Mehtas, Bumba Family and Mugaalasi Family.
(Visited 9,995 time, 2 visit today)
StarTimes geared up for World Cup live broadcast following the Trophy tour in Uganda.
With the 2018 FIFA World Cup Russia broadcast rights in Sub-Saharan Africa, Ugandans are definitely going to enjoy the world's greatest sporting showpiece on StarTimes.
StarTimes is an official broadcaster of 2018 FIFA World Cup Russia and will broadcast all the 64 matches in HD across its Satellite, Terrestrial and OTT platform. Ugandans, wherever they are shall be able to enjoy the World Cup countrywide.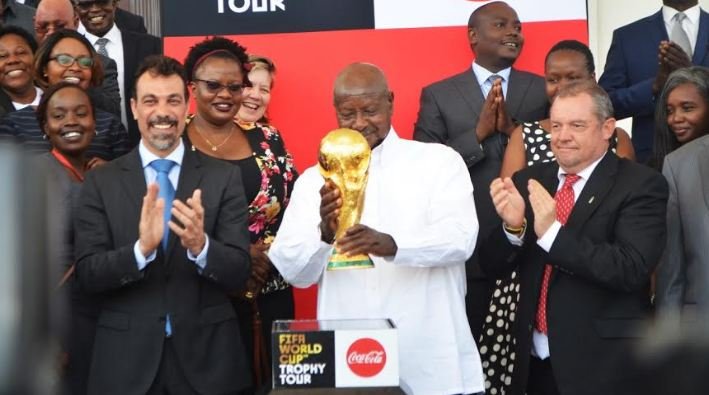 Using our World Football channel as the flagship channels, our other channels that will host live HD broadcasts will include Sports Premium, Sports Arena and Sports Focus.
As the Trophy tour is on, the World Cup fever is rising now amongst fans countrywide. StarTimes pledges nothing but the best reliable TV broadcast come June/ July 2018.
(Visited 9,995 time, 2 visit today)
StarTimes subscribers to enjoy free upgrade this Easter season.
As Ugandans celebrate Easter season, the leading pay TV in Uganda StarTimes is offering their customers a chance to enjoy a one month free upgrade from the current bouquet as long as they pay their monthly subscription. The promotion that started today will end on 20th April 2018.
StarTimes customers on both terrestrial and satellite platforms can make a monthly subscription for their favorite bouquet and enjoy this Easter offer. Speaking to our reporter, the StarTimes Brand and Marketing Vice President, Mr. Aldrine Nsubuga Snr, noted that the promotion is aimed at ensuring that their customers enjoy the benefits of the higher bouquet for the price of a lower bouquet in order for them to experience the variety of channels on StarTimes bouquets.
He explained for example, that if a subscriber pays for basic bouquet (18,000/=) during this period, he / she will get a full upgrade to classic bouquet (36,000/=).
The Public and Relations and Communications Manager of StarTimes, Christine Nagujja, noted that subscribers on satellite can also enjoy the same benefits when they pay for either Nova or smart bouquets. Those who pay for the premium bouquets, namely, classic or super will enjoy an extra week for free.
StarTimes is an official broadcaster of the FIFA World Cup Russia, 2018 and is treating its customers to the full range of programming and content beginning with this Easter season.
(Visited 9,995 time, 2 visit today)
Crown Beverages Limited marks 25 Years of Pepsi in Uganda
By Staff Writer
Crown Beverages Limited who are the official Bottlers of Pepsi brands in Uganda celebrated 25 years at a glamorous event that was attended by Chairperson and CEO of PepsiCo, Mrs. Indra K. Nooyi.
The event that took place on Thursday, February 22, 2018 and saw several PepsiCo senior executives, senior government officials, partners and other stakeholders was held at the prestigious Lake Victoria Serena Hotel- Kigo.
Speaking at the event while announcing a US$2m partnership with CARE International to enhance food security and nutrition in rural households, Chairperson and CEO of PepsiCo, Mrs. Indra K. Nooyi, said that he was thrilled to be part of Crown's 25th anniversary celebration and to launch the partnership that will help unlock opportunity and prosperity in Uganda.
She went on to say that; "PepsiCo is teaming up with one of the world's leading NGOs, CARE, to launch an effort that will enhance food security and nutrition in rural households in two districts of Uganda namely Kyenjojo and Kyegegwa with a strong emphasis on women farmers. PepsiCo will provide $2 million over the next three years to improve skills and access to productive assets, such as land, water, and finance, while also helping these women take advantage of opportunities in higher-end markets."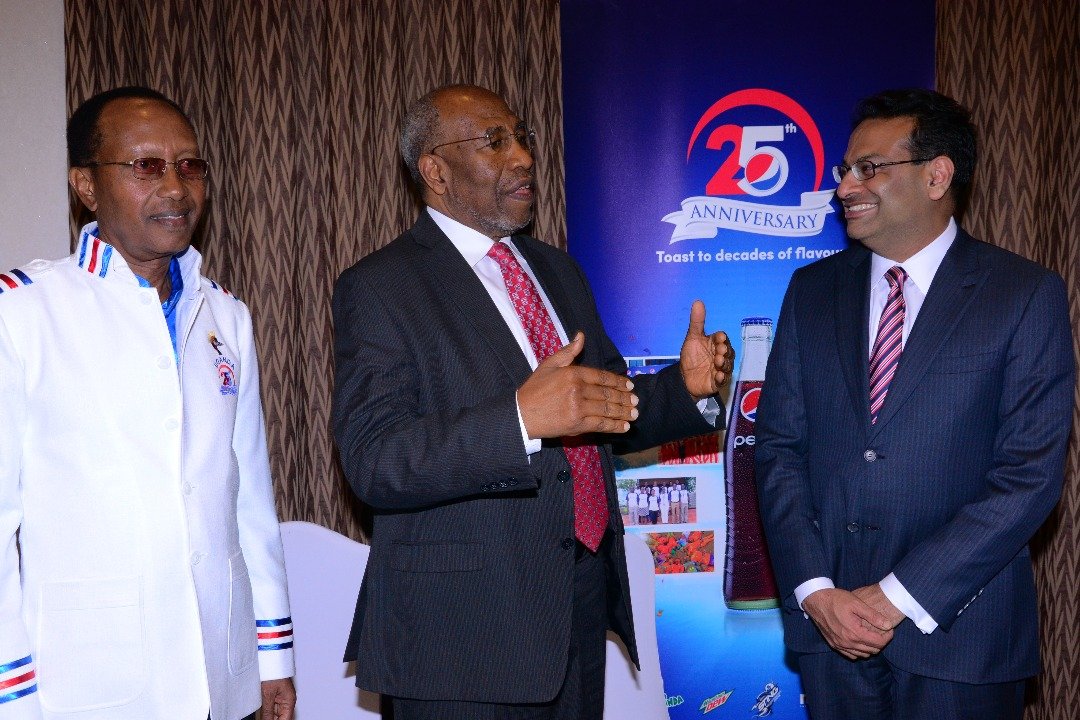 Her powerful speech was followed by the Chairman of Crown Beverages Limited, Dr. Amos Nzeyi's speech who said that Pepsi is successful in Uganda today because of the many stakeholders we serve as a company.  "It's therefore befitting for us to toast to decades of flavor with the many stakeholders who have made our success in Uganda possible," he noted in his speech.
He also reaffirmed Pepsico's investment in communities while generating domestic revenue for the governments in the region.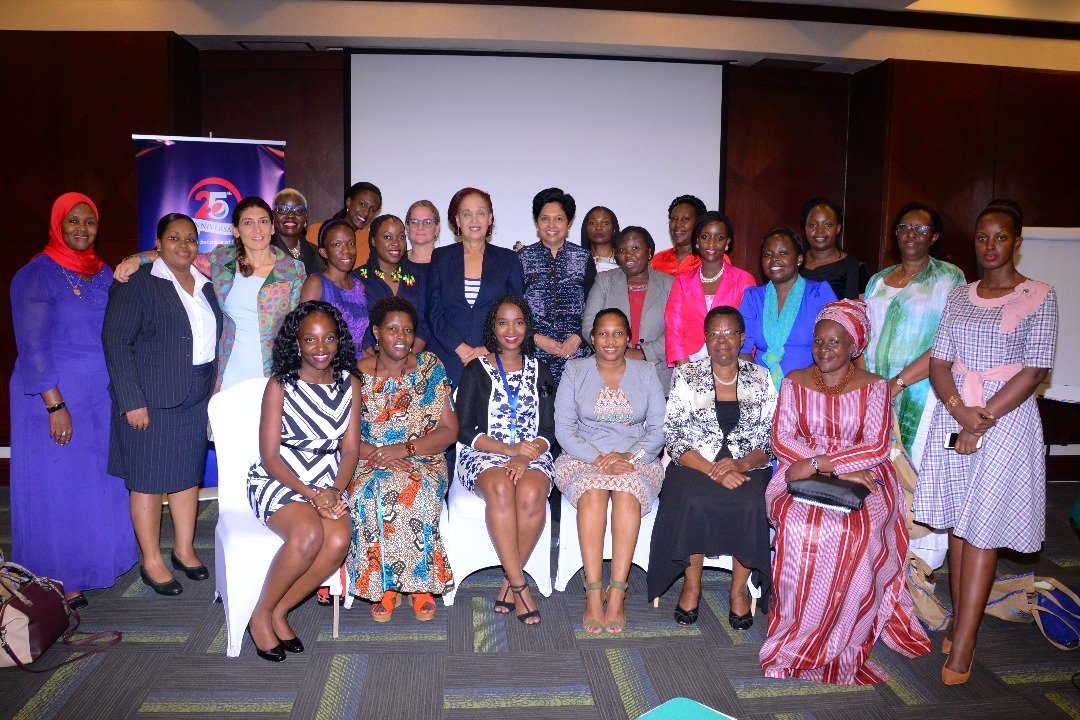 Mr. Paddy Muramiirah, CEO Crown Beverages Limited added saying, "We are pleased to celebrate 25 years in Uganda because it's a culmination of many years of investment and commitment to delighting our customers with international quality beverages. This year's celebration is another wonderful opportunity for us to appreciate the Ugandan consumer of our soft drinks for their loyalty and passion for Pepsi over the years. We celebrate with you too."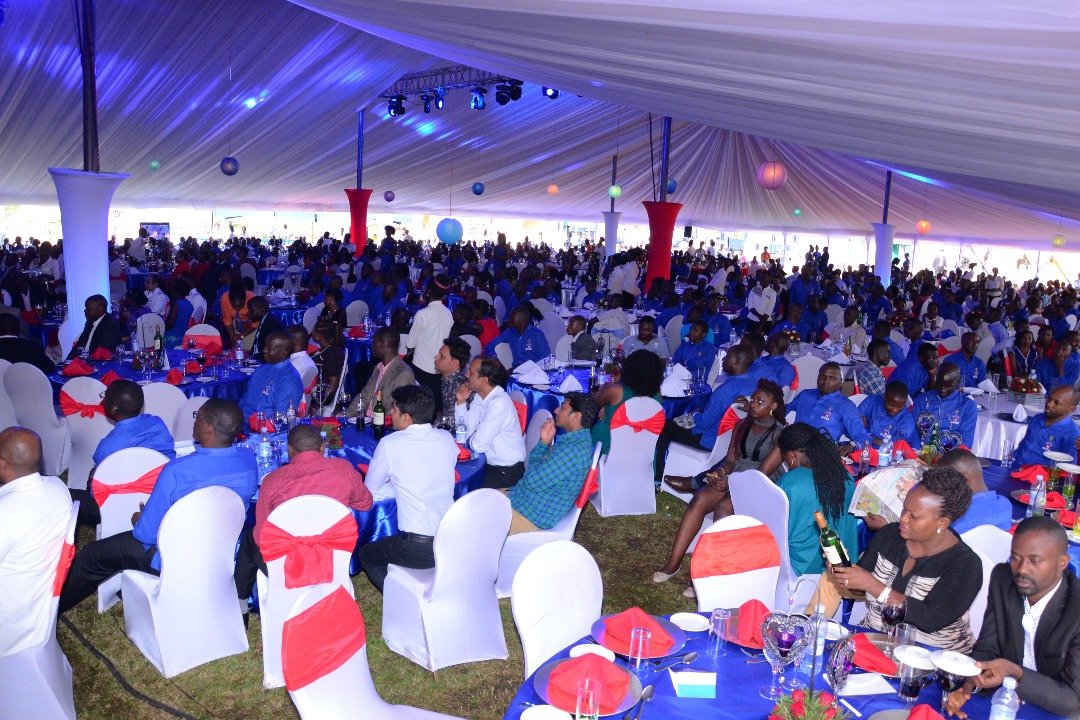 (Visited 9,995 time, 2 visit today)