ThinTallTony Evicted from Big Brother Naija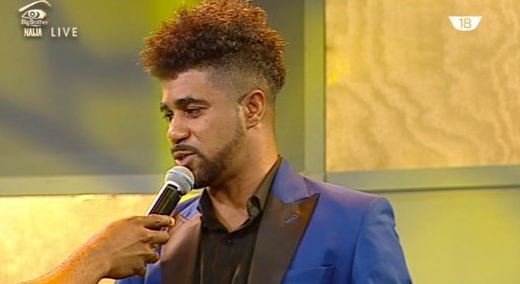 After 78 days of exciting moments in the house, ThinTallTony has been evicted from the on-going Big Brother Naija competition, putting an end to his dream of winning the coveted prize of N25m and an SUV.
This came following last week's nomination which put up four housemates: Efe, Debie-Rise, TBoss, and ThinTallTony for eviction. After a suspense-filled moment, which sparked tension among the nominated housemates, Ebuka Obi-Uchendu, the show host announced that Efe and Debie-Rise had been saved from eviction. Their joy knew no bounds as Efe fell flat on the floor while Debie-Rise was momentarily speechless.  This limited the contest to TBoss and ThinTallTony. As fate would have it, ThinTallTony was announced the seventh real housemate to be evicted from the big brother house.
Interestingly, Efe led in this week's popularity test with a wide margin of 51.97 percent. Debie-Rise came a distant second with 21.78 percent, followed by TBoss and ThinTallTony with 14.57 percent and 11.68 percent respectively.
When ThinTallTony was asked to leave the house, his female ally, Bisola buried her face in her palms and wept inconsolably. Bally on the other hand was transfixed momentarily as ThinTallTony made his way out of the house.
While on stage with Ebuka, the 5ft 7 dancer said: "I've waited for 12 years to be here. I lived it to the fullest. I'm living the dream." He added, "It is heartbreaking that I was evicted, but it's all good. Life goes on."
When asked about his romantic relationship with Bisola, ThinTallTony said: "That wasn't real. No offense to anybody but that's pure honesty. She is an incredible woman, but we spoke about it and she took it maturely". He however said his friendship with her would remain for life.
Then Ebuka brought up the much talked about issue of his marriage, the now ex-BBN housemate openly stated, 'Like I said in the game, I never spoke about my family. I kept it really separate, I don't want anyone to know about that part of my life because the truth is, I've done research before about people, humans, and how they think, not just in Nigeria but around Africa. When I did that research, I realized there is a way people look at you when you are married, especially in the game, and I'm married. Nobody knows I am." He was however shocked when Ebuka told him that his marriage was public knowledge, even to his fellow housemates.
ThinTallTony however pointed out that he was misquoted. He said, "When I said my family is dead, what I was referring to are my grannies, brother and sister who I hold in high esteem."
In what appears to be a shift from the norm, the Head of House task, which used to be a Monday affair was done immediately after the eviction. This time, the housemates were asked to burst lots of balloons to uncover some hidden ballots containing different alphabets to correctly spell "Head of House". According to Biggie, whoever wins this task will automatically become the ultimate Head of House. Efe beat fellow housemates in the HoH race to emerge winner.  Efe's victory has abruptly ended Bassey's reign as HoH.
This week's eviction show was quite thrilling as CEO of Marvin Records, Don Jazzy was a celebrity guest, seated among the live crowd as one of his proteges, Reekado Banks treated the audience to two of his hit tracks, 'Oluwa Ni' and 'Ladies and gentlemen." DNA Twins, finalists on The Voice Nigeria competition, also serenaded the night with their latest track "How Can".
(Visited 219 time, 1 visit today)
Jose Chameleone speaks about his wife's alleged nudes.
While the internet woke up to pictures of celebrated singer Jose Chameleone's wife baby shower pictures that were received with mixed feelings, husband and singer Jose Chameleone has come out and commented on his wife's alleged nudes.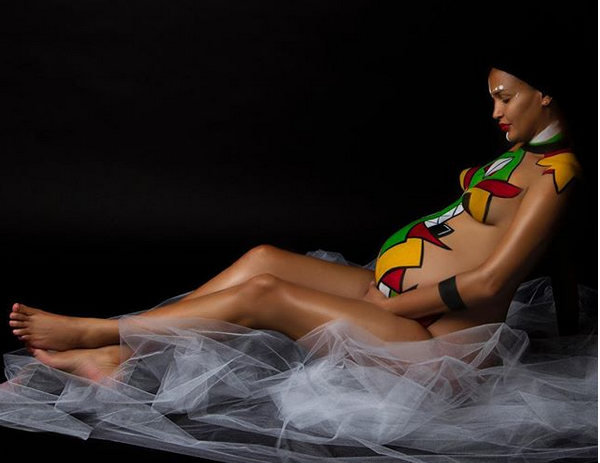 Through his Instagram, Chameleone complimented his wife with the same circulating picture and captioning "Great piece of Andreon Atim"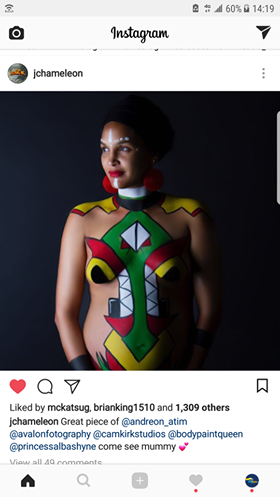 Daniella is currently in the states where she went to deliver the couple's fifth child.
(Visited 219 time, 1 visit today)
Photos: Spice Diana and manager open new studio.
on rampage female singer Spice Diana is over the moon after her and her manager Rogers Lubega opened up their own studio in Makindye Luwafu. The studio has been named 32 records after her song and slang that trended after her NTV Mwasuze mutya show.
In her statement she posted "My first project at my MUSIC STUDIO 32 RECORDS. Another dream achieved. Thank you Lord, the way you're too good to me scares me. Bless the work of my hands. Launching it so soon, can't wait."
(Visited 219 time, 1 visit today)
Bryan White and King Michael Face UGX 210 Million Lawsuit Over Torture of Lucky Costa.
By Our Reporter
Lucky Costa aka Simon Mukasa stands a chance of walking away with UGX 210 million should court rule in his favour. On Tuesday 20th March 2018, Lucky Costa through his lawyers Muwada and Company Advocates served Bryan White and his employee, King Michael with an intention to sue.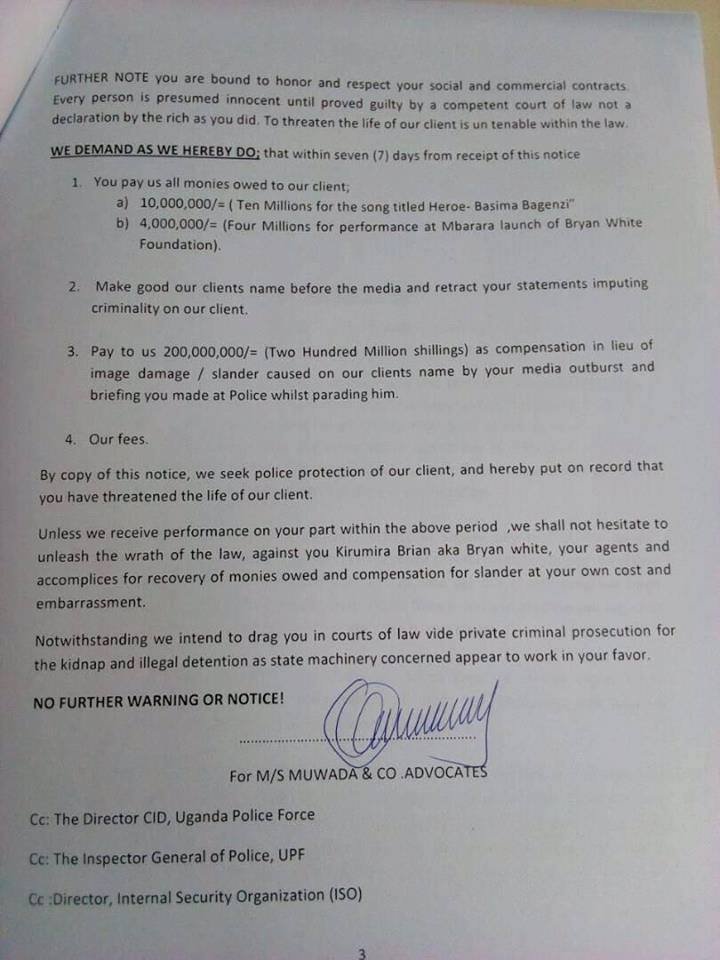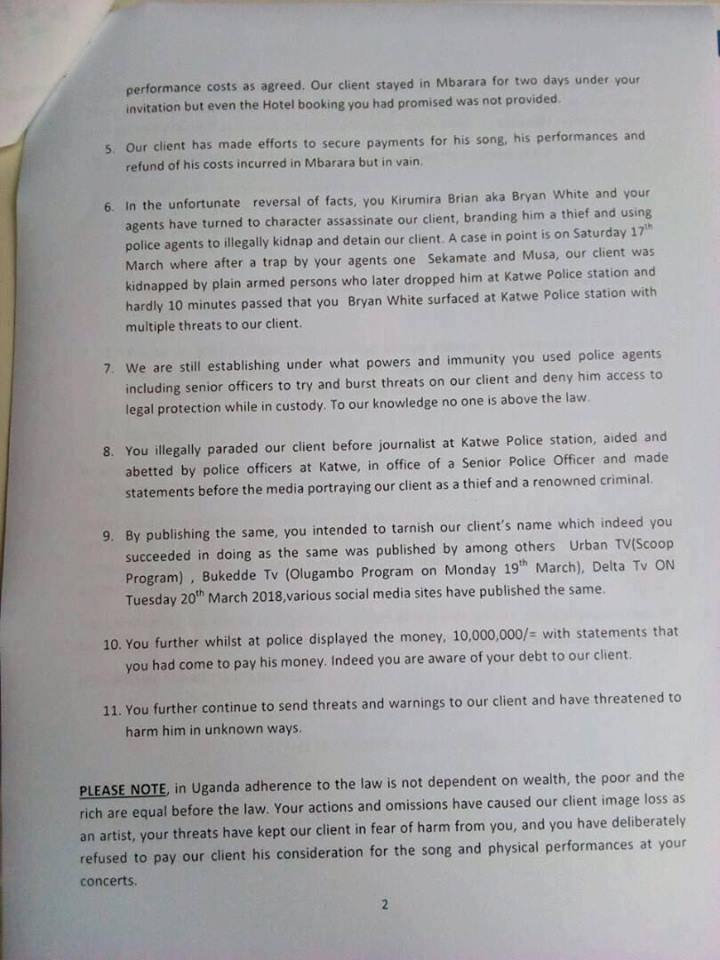 In it, Lucky Costa asks that Bryan White immediately pays up UGX 10 million for the song he produced and wrote in praise of White. Costa also asks that he be paid 200 million for damages caused to his name. He claims he was tortured and his reputation was greatly injured. Lucky Costa has placed conditions over which Bryan White will survive facing court and suffering the full wrath of the law.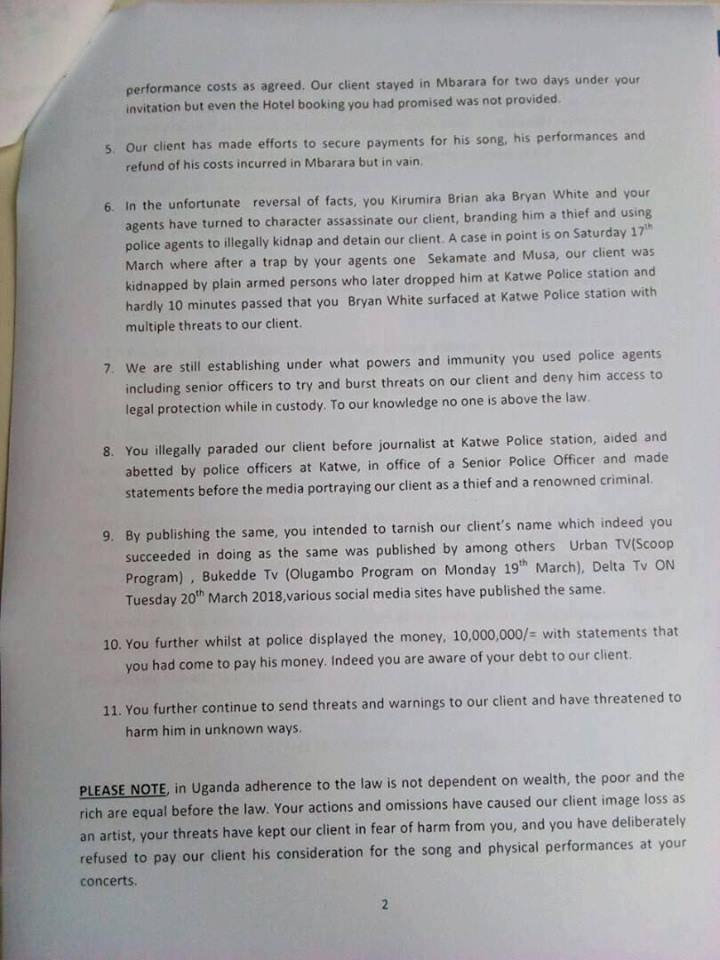 One of the conditions involves a public apology by White to Costa. That the public apology should be made on the podium.
(Visited 219 time, 1 visit today)