The Death of Radio and Weasel; Why Are They Breaking Up?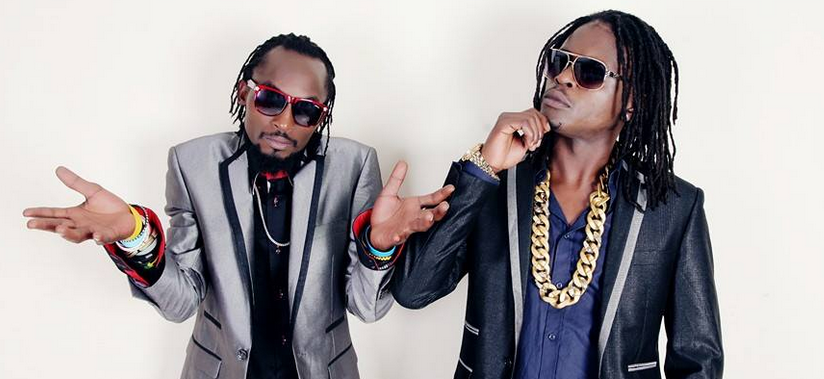 By Ortega Ian
Patches have a limit. Patches when applied to music groups and partnerships have a limit beyond which they cease to apply. 2015 may be one of the worst years in the music industry, a year that is seeing two great music groups break up never to reunite. Those two groups are Team No Sleep and Goodlyfe (Radio and Weasel). It is the latter group that will be the focus of our eulogy. An eulogy that I write with sadness.
When the Goodlyfe fired Jeff Kiwanuka aka Kiwa who was their manager back then, everyone was sure the Goodlyfe had finally diagnosed their problem and applied a cure. Kiwa many analysts thought had been the cause of the failures of the group financially. Thus, we all applauded in unison. With Jeff Kiwa gone, Radio and Weasal were surely headed for the greatest of success in their career. They say, too short-sighted we are that we never see too far, the very causes of our suffering. The Goodlyfe had treated just one of their problems; it was only a matter of time before the actual problems were to surface.
The problem as we all know is that the marriage of Radio and Weasel had come to the end of its life. Its death as you will now read can only be postponed but not saved. The only way to save this duo is to subject them to musical euthanasia, to bring their death closer than it should be. Sooner or later, the Goodlyfe will be no more.
Remember that famous story when the body parts complained to each other. The eyes thought they deserved more credit because they saw, the hands too thought there's nothing the eyes did, and the ears were not spared. It was an ego contest. The situation is not very different in the Radio and Weasal camp except that in this case, Radio Sekiboggo has been eaten by his ego. In the past months, he feels he's been bringing more to the musical table than his counterpart. He has constantly accused Weasel of playing a passive role in their success.
The great sages always said; "nothing fails like success." The failure of Goodlyfe has come at a moment when they currently rank as Uganda's most successful duo. They've been there, done it all. Their reunion with Bebe Cool made us think that the duo was now aiming for greatness. Yet, they say, they become so good that they forget to be great. The good of Goodlyfe will always be remembered as the deterrent to their greatness.
When Radio and Weasel got successful, other problems began setting in. Money doesn't change people; it simply magnifies more of what they already were. If you were an a**hole while poor, you will become a super a**hole when money sets it. In Radio, success did bring out the worst in him. When he was most successful, that's when he became the most vulnerable. It could be said that for Radio, success did breed complacency, inefficiency and—worst of all—arrogance. When he got really successful, he fell in love with himself. He stopped innovating, working hard, taking risks and begun to rest on his laurels. He went on the defensive, spending his energy protecting his success rather than staying true to the very things that got him to the top.
In the times when Goodlyfe was beefing with Bebe Cool and Chameleone, everyone chose to side with Goodlyfe. They were seen as the humble group, as the harmless innocent duo. They found their entry into the hearts of the fans because of their good music and their character.
As time went on, Radio began pumping himself with air. He was and is still more likely to resort to punches and abuses than being the composed music artiste that he once was. Today, when invited to a TV show, he hurls more insults than make sensible talk. When Douglas Lwanga invited him to his show many months back, he was forced to do the longest commercial break in history just to cover up the obscenities that Radio was hurling towards Jeff on TV.
The recently concluded Goodlyfe concert saw Radio take on Balaam, the father of music promotion in Uganda. It took the pleas of the crowds for Radio to be calmed down in his diatribe of Balaam. When Goodlyfe fans played a friendly match with the Firebase fans, again, an already drank Radio felt the urge to throw a punch at Ashburg Katto for supporting Firebase in his presence.
Before their show at Africana, two defining incidences marked the end of this group. One, Weasel and Radio had a fight. For those who noticed, the marks of the fight were all written on Radio's face, he had to cover them up with a red cloth. The fight came about after Radio had disrespected his best friend in public.
In Goodlyfe, Radio has turned into the Alpha and Omega of the group. He's always right even when he's wrong. When Balaam hired them to perform in Northern Uganda for 7 million, Radio chose to use almost all the money to buy his plot of Land in Busabala. Weasel got nothing of this money; Chagga was given 500K while Lawrence was given 300K. In the end, Weasel refused to perform and Lawrence was arrested.
On the 23rd Saturday of this month, Radio once again refused to perform at Nkumba University. Why? Because Museveni had not yet arrived and he wasn't ready to perform for the young chaps aka Nkumba students. Once again, Weasel was forced to sing alone. Radio got in his car and drove off to pursue better interests.
The character flaws of Radio can be attributed to his alcohol addiction and his drug problem. Marijuana many say has been his Achilles heel. When intoxicated, he loses control of his behavior. Talent got Radio to the top. More than ever before, he lacks the character to keep him at the top.
In less than a month, Goodlyfe will be no more. The duo has halted every musical project as far as recording new songs are concerned. It's now a solo career for both. What will happen when this house breaks apart, no one can tell. It's now survival for the fittest. Radio wants to enjoy his Museveni campaign money all alone. His song Neera is the official Museveni theme song and he feels that Weasel sharing in the fruits of his sweat is not a palatable idea.
Weasel has already reached out to his brothers, Pallaso and Chameleone. Many say, he's not ready to go solo. He's likely to merge with Pallaso as brothers, and if Pallaso isn't welcome to the idea, he will go back to Leone Island.
For now, we can only say Rest in Peace Goodlyfe. We shall remember the good music, the entertainment. Everything that lives has an end, the end of Radio and Weasel is one that will leave us with tears in our hearts.
(Look out for Part 2 of the series where we talk about the end of Team No Sleep)
(Visited 1 time, 1 visit today)
Lydia Jazmine on verge of breaking another marriage
By Staff Writer
On and off singer Lydia Jazmine was recently lucky to get a new manager after a series of failed partnerships with previous managers. While we were still jubilating for her, a rumor is fast spreading like wild fire about her flirting ways with married Ronnie Mulindwa whonis her manager now. Ronnie Mulindwa is husband to Sharon O and the couple is blessed with children.
Sharon O has come out and expressed no sign of worry stressing that she trusts her man and is sure they only share a work relationship. She said, "I trust my husband. He is professional. He means business." Sharon O also praised Jazmine as a talented musician.
(Visited 1 time, 1 visit today)
Mbarara's finest female singer Emily Kikazi comes stronger in Mpaka Mpaka
By Staff Writer
Reigning Western Female artiste of the year Emily Kikazi has released her latest video Mpaka Mpaka. In her video the singer pledges undying love for her lover. The Runyankole song was produced by Paddyman and Visuals by Frontlane Visuals directed by Hasz Media.
It's a rich video different from what the beautiful Emily has been serving her audience. The video features three dance groups, with dancers and extras creating a rich view. As usual her costumes and make up are on point.
Emily Kikazi is the reigning best Female artiste this year in the region's only awards. She is under the management of Super Rich Gang label, which she is the CEO. Emily Kikazi is well known for her great visuals and Mpaka Mpaka has been embraced well so far. Watch video here
(Visited 1 time, 1 visit today)
Revelers brave cold afternoon for fun day at Goat Races
By Our Reporter
The Royal Ascot Goat Races returned for yet another exciting edition on Saturday at Speke Resort Munyonyo. Despite a chilly afternoon, revelers who turned up for the event enjoyed nonstop entertainment that included artiste performances and of course, the star attraction, the Goat Races.
Powered by Tusker Malt Lager, the event kicked off with eight races lined up for an action-packed series of goats racing as the crowd and the owners of the goats cheered on while others took the chance to make friendly bets, a thrilling experience for many. Among the winners was comedian Patrick Salvado, whose goat Ombokolo came out on top in race 8.
Off the race track, it was a beautiful hallmark worthy affair with the guests that attended showing up in lots of fashion forward outfits to prove that the event still holds the record for the most exuberant unofficial fashion showcase in Uganda.
The hospitality tents added more flair to the event with the goat owner's tents being the most popular of the day, not forgetting the free-flowing liquor.
The night later ended on a high with vibrant performances from Big Tril, Lydia Jazmine and Ykee Benda who got the crowds into full party mode and best of all, fireworks.
Aside from the fun, charity has always been a part of the Goats Races. Proceeds from the event will go to an Eco Brick project to construct toilets aimed at improving sanitation and healthy lives at the Good Samaritan High School in Kamwokya.
(Visited 1 time, 1 visit today)