Sylvia Awori and Judith Heard Fight at Keron's Vigil.
By Isaac Mites
In other news concerning the vigil of Keron Kabugo that was at his father's place, Amon Lukwago, top city socialites Sylvia Awori and Judith Heard were involved in a heated up argument and almost exchanged blows.
According to eye witnesses who saved the two from a nonsensical cat fight revealed to us that Awori was propagating bad propaganda that white men are lousy in bed and that's the reason "Judith Heard settled for test tube babies". Judith Heard did not take thiseasily and when they had an opportunity to face each other they started from where they had stopped. This left revelers shocked wondering whether the two were feeling any pain for songstress Juliana Kanyomozi.
But on a good note, fashion guru and designer Owori has apologised to Juliana for the unexpected incident that happened at the vigil. She said: "I would like to apologize to Amon and Juliana for whatever happened at the vigil. I have been friends with both of them for 14 years and I went to the vigil to comfort them but not cause a scene or look for cheap popularity. As a mother I know what Juliana is going through and am really sorry." 
It should be noted that the two arch rivals are both married to white men, Judith to Dr Alex Heard and they managed to have twins and on the other hand Awori is married to Per Munk Nielsen without any child to their name.
Connect with Isaac Mites
@Jigsaw_myts
Isaac.mites@gmail.co­m
"Vote BigEye Ug in the Kadanke Youth Awards in the Social Media category.
Simply dial *255#.
Press 3 – Kadanke.
Type 20 and press yes.
Then select option 1 – BigEye Ug.
Thank you."
(Visited 1 time, 1 visit today)
New Movie: The story of a man that changed the destiny of his people, showing on Record TV
This incredibly successful soap opera tells the epic saga of Moses, from his birth to the arrival of the Hebrews to the Promised Land, including the escape from Egypt through the Red Sea and his encounter with God on Mount Sinai.
Filmed partially on location in Israel, Egypt, and in the Atacama Desert of Chile, authenticity in film sets, scenery, costumes and historical accounts, and a deep respect for the Bible are paramount. A big production filled with amazing special effects unfolds more than a century of history.
Broadcasting through Star Times 221, Gotv 828, FTA platforms, it's rapidly becoming a great choice for TV viewers due to its highly diversified daily content that meets different tastes and interests. It aims to encourage viewers to seek an alternative television experience.
Supported by a great selection of programs, that cover everything from fashion and world news to music, inspirational programs, soap operas, mini-series, reality TV and sports, Record TV is relevant to a wide-ranging audience.
(Visited 1 time, 1 visit today)
Vinka shows off bartender skills. [Photos]
By Our Reporter
Friday night at Guvnor was not business as usual in the drinks department that saw party animals treated to a different type of night as musician Vinka was not only the night's main performer but also the bartender.
The Dancehall star who was the guest entertainer at event dubbed Ciroc Pop Night showed fans that she is indeed a multi-talented woman with skills that go far beyond her performances on stage.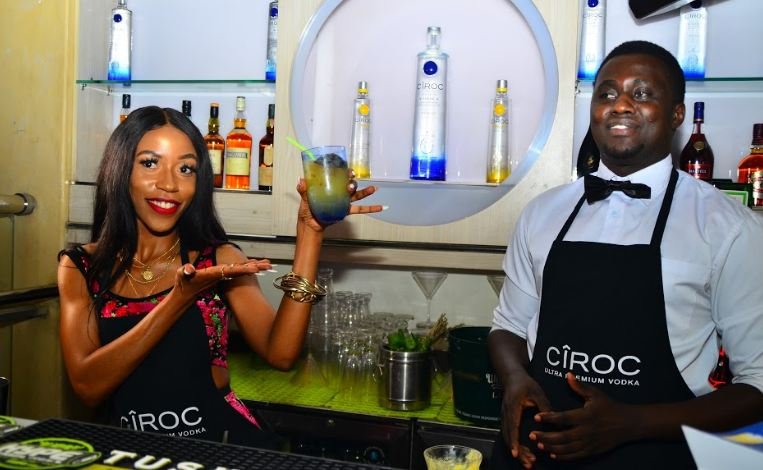 Revellers watched the artist take over the bar with such effortless grace like she had been practicing the art of 'mixology' for a long time, leaving many impressed and labouring to get a hold of the creative cocktail she had made.
The night was also complimented with epic DJ mixes from Guvnor's very own senior party troops like DJ Dash and DJ Baby Luv who rallied up their party animals and had the crowds dancing in tune to the beat of the music all night long.
The Ciroc Pop Night is a monthly event where party folk are treated to a night of different and fresh new signature cocktails. 
(Visited 1 time, 1 visit today)
Nigerian star Patoranking coming to Uganda
By Our Reporter
Nigerian star Patoranking is coming to Uganda.
This was revealed by the singer's management team led by Maduforo Chidinma Didi during a press briefing held at Xanadu Suites on Friday.
"The concert preparations are still in their initial stages, but I can guarantee that Patoranking will be coming to Uganda this year," Didi said.
According to the team, Patoranking will be in the country to promote his recently released album, "Wilmer". Named after his daughter, it is his sophomore album and features 12 tracks with collaborations from several musicians across the continent including Kenya's Nyashinski, South Africa's Busiswa, and Nigeria's Davido among others.
"Africa to the world is not just through words but actions. And Uganda being one of the biggest consumers of Patoranking's music, we felt it right to bring his new album here and also meet the faces who play the music as well interact with the fans." Didi added.
Although they remained tight-lipped about concert details, we have learnt it will be held sometime in October this year.
Meanwhile, this comes after his failed concert that had been slated for December 2018. The concert is said to have been dealt a huge blow after the local organizer failed to meet the logistical demands needed to pull it off successfully.
(Visited 1 time, 1 visit today)