STARTIMES JOINS THE REST OF THE WORLD TO COMEMORATE INTERNATIONAL AIDS DAY IN KOLE.

Uganda Pay TV StarTimes has joined the rest of the Ugandans to commemorate International AIDS day celebration at Kole in Uganda. StarTimes, which partnered with UNAIDS on both International and local level, is tasked to ensure that they use their media platform to raise awareness about HIV and AIDS epidemic amongst the households, community and the nation at large towards HIV prevention an control.
As private sector, we are tasked to ensure that Ugandans live a healthy life which will ensure stability of the market we operate in, Mr. Aldrine Nsubuga noted.  This can only be achieved through combined efforts with government and civil society so that we ensure that we kick AIDS out of Uganda for good
Following the Presidential Fast Track Initiative, every Ugandan regardless of the sector has the responsibility to use whatever platform they have at their disposal to ensure that the message sinks in the mind of every Ugandan.
The new Country Director of UNAIDS Uganda, Karusa Kiragu noted that according to research indicates that the virus is high in men because they do not go for testing. She called upon all men to join the fight against this epidemic if we are to reach the 90-90-90 goal.
We encourage Ugandans to go for testing so that they know their status, take medication if found positive and be faithful to your partners. To the young people, please abstain from sex and if you.
World AIDS day is a global advocacy event that is commemorated on 1st December each year. During this day the nation rededicates to the fight against the epidemic. The theme for this year's celebration which is "reaching men, girls and young women to reduce new HIV infections
(Visited 67 time, 1 visit today)
Coca-Cola Beverages Africa Uganda signs MOU with Royal Danish Embassy in Uganda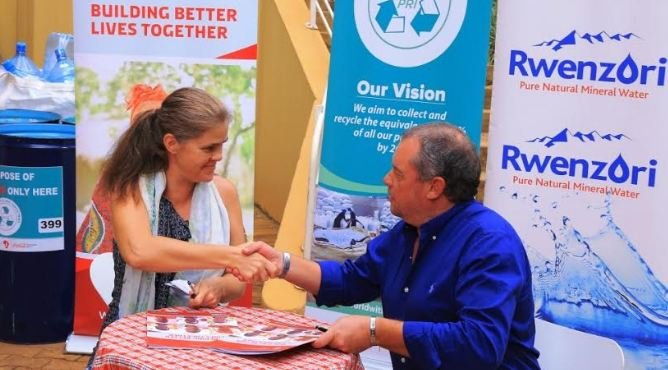 Coca-Cola Beverages Africa (CCBA) Uganda has signed a Memorandum of Understanding (MOU) with the Royal Danish Embassy in Uganda to help amplify their plastic collection effort as they drive their commitment as Coca-Cola to a World without Waste.
The Head of Mission at the Embassy of Denmark Ms. Majbrit Holm Jakobsen welcomed the partnership with CCBA and said "Sustainable development and green growth are focus areas of both Denmark and the Danish Embassy in Kampala, and Danish companies are leading when it comes to developing sustainable products and services. The cooperation with PRI is therefore a great opportunity to support Ugandan companies working towards the same goal".
Speaking at the ceremony, Mr. Conrad van Niekerk, the Managing Director of Century Bottling Company and Rwenzori Bottling Company, both subsidiaries of Coca-Cola Beverages Africa in Uganda noted "Food and beverage packaging is an important part of our modern lives, yet the world has a packaging problem, which we as CCBA, together with The Coca-Cola Company, have a responsibility to help solve. Clearly, plastics are a significant global challenge. Our commitment is to invest in our planet and our packaging, to help make the world's packaging problem a thing of the past, focusing on PET plastic."
"Through our PRI initiative, CCBA is leading the industry to bring people together to achieve a bold and ambitious goal: to help collect and recycle a PET plastic bottle for every one sold by 2030. This gives every package more than one life while contributing to job creation and growing adjacent local industries." he added Van Niekerk explained the importance of partnerships in achieving this goal: "We want to support the Government's environmental management objectives by making recycling more accessible for everybody to get involved."
On their part, Ms. Majbrit Holm Jakobsen concluded: "We are excited at the shared opportunities that this recycling initiative creates for all of us and we are committed to ensure that the Embassy and all our staff participate to make this successful."
"We are happy that the Danish Embassy can contribute to a more sustainable and climate conscious Uganda through this initiative. We will like to do even more, and are at the moment looking for more opportunities of recycling of waste in Uganda."
CCBA's 2030 recycling target is part of a larger strategy to create partnerships in plastic collection in all 13 countries where it currently operates.
(Visited 67 time, 1 visit today)
Akuna Muchezo Development Club wins "Battle for Cash" challenge season 2

dfcu Bank, in partnership with NTV Uganda and Price Waterhouse Coopers (PwC) have awarded the winners of the second edition of the nationwide Savings and Investment campaign dubbed 'Battle for Cash'. Aimed at building a savings and investments culture in Uganda, the 'Battle for Cash' challenge in form of a TV show engages various investment groups through saving and financial literacy workshops across the country and selects Clubs to take part in a competition.
For the past six (6) months, dfcu Bank's carried out workshops focusing on; Why and how to save, where to invest money so it can grow, things to think about when thinking of investing and so much more. This was aimed at changing the perceptions on money, savings and investments. dfcu Bank received applications from over two hundred (200) Investment clubs across the country and these were independently vetted by PwC to select top 20 clubs that entered the TV competition.
The Battle for Cash challenge has been running on NTV every Sunday at 6:00pm. As part of the application process, clubs were tasked to develop a Business plan for an innovative investment project. At the start of the show all shortlisted 20 clubs had to defend their business plans to a panel of judges to make it to the next show. The clubs were trained in different aspects and assigned weekly tasks to demonstrate their ability to put into practice what they had been taught.
According to Pamela N. Bahumwire, Partner at PwC Uganda there is a lot to learn from the Challenge. "The teams that put themselves forward to participate in the challenge are courageous and we could a lot from them. We all have a lot of potential that we may never realise until we put it to test," she added.
Speaking during the grand finale event, the dfcu Bank CEO, Juma Kisaame said: "Financial inclusion is high on dfcu Bank's agenda. We believe that providing financial literacy is critical in driving financial inclusion in a sustainable way. There is a pressing need to raise domestic savings in our country and convert it into financing – loans – for infrastructure, housing and small business creation. As dfcu Bank, it gives us a sense of pride that we are playing our
role in the savings equation. We have a long history of promoting a Savings and Investment culture that dates as far back as 2007 when we introduced the Savings and Investment Clubs proposition to foster group savings. To date we supported the formation of over 20,000 Savings and Investment clubs across the country with a savings turnover of over UGX 600 billion. We believe there is a greater opportunity to raise more awareness and challenge ourselves about savings and investments," he concluded.
Following last year's inaugural campaign, dfcu registered an increment in Investment Clubs with over 6,000 new Clubs being set up since January 2018.
"The Battle for Cash competition has offered many lessons for us and we have been able to use these lessons to work towards the ultimate prize. This has been a great opportunity for us to get new ideas on how to handle different business challenges," said a representative from Akuna Muchezo Development Club the winner of the Battle for Cash Season II finale.
Speaking at the Award ceremony, the Katikiro of Buganda Owekitibwa Charles Peter Mayiga, commended dfcu Bank on choosing Nairobi as a destination for the Study tour for the participating Clubs. "Many Kenyan companies now registered on the Stock Exchange started as Investment Clubs and are turning the economy around. If you stay the course, get advice from experts like PwC, on top of the exposure you have got, you may be the biggest businesses this continent has ever seen," he added.
An amount totaling to UGX 100 million in prize money was set aside for the Investment Club challenge including regional draws carried out in different parts of the country. Additionally, one delegate from each of the 20 selected clubs that entered the competition is to be sponsored to attend a study tour in Nairobi in January 2019. This as the top seven (7) clubs will receive free advisory services for a period of one (1) year courtesy of PwC.
(Visited 67 time, 1 visit today)
ICTAU Releases 3-year Strategic Plan

Kampala, Uganda: As the ICT Association of Uganda gathers for its 2018 Annual General Meeting (AGM) set for December 15th, the ICTAU board has released its strategic plan for 2018 – 2021.
ICTAU is the umbrella organisation for private sector stakeholders within the ICT industry, and seeks to champion digital inclusion, providing a range of benefits and support to its member organisations, and advocating on behalf of and for the whole ICT industry and practitioners within the industry to see the industry succeed and grow, and ultimately deliver the maximum economic, social and development benefits to Uganda.
The Strategic Plan outlines the objectives the Association will pursue over a three-year period, including membership growth, setting up of a self-sustaining and profit-generating Secretariat, consolidation of member services portfolio, continuing to lead on ICT advocacy, and conducting industry research to ensure the policies are formulated on the basis of detailed industry information.
"Over the next three years, ICTAU will seek to consolidate its position as the primary private sector led membership organisation for the ICT sector in Uganda, and work to grow the number, capacity and engagement of its member companies and partner organizations and advocate for the sustainable and successful growth of the ICT industry in Uganda," noted Albert Mucunguzi, the Board Chairman.
A copy of the Strategic Plan can be downloaded here.
As the ICT Association of Uganda welcomes its 2019 board, the 2018 board and secretariat thank ICTAU members for their continued engagement and commit to a smooth transition ensuring that the association will be in a strong position to achieve the objectives set out in our strategy and roadmap.
The ICTAU board extends special appreciation to the International Trade Center (ITC) team, led by Mr. Martin Labbe, the NTF4 Programme Manager, for supporting the development of this Strategy, as well as Mr. David Gass, Mr. Richard Okuti, and the wider NTF4 project team for their support in ensuring the strategy is developed.
(Visited 67 time, 1 visit today)