Sserunkuma sets 15-goal target mark with new side, KCCA FC

By Robert Kayindi James
Geoffrey Sserunkuma, a summer recruit from Lweza FC has set a 15-goal target mark with his new side Kampala Capital City Authority FC. The striker opened his goal account with a debut strike against JMC Hippos on Friday as the Kasasiro Boys edged their visitors 2-1 at Phillip Omondi Stadium, Lugogo.
"I know how each member of the team plays and that will help me attain my 15-goal target," the Uganda Cranes striker told the club's official website.
The Mike Mutebi-coached side travel to Wankulukuku on Tuesday to take on Sserunkuma's former club Lweza who who lost their opening fixture against Express FC on Friday last week. The striker, however, warned that there will be no compromise when he faces his former bosses and teammates.
"I'm now in a club that has title ambitions and that means I must try and score in every game. We will be friends off the field but become enemies on the pitch," he said.
(Visited 1 time, 1 visit today)
Nile Special launches amateur football tournament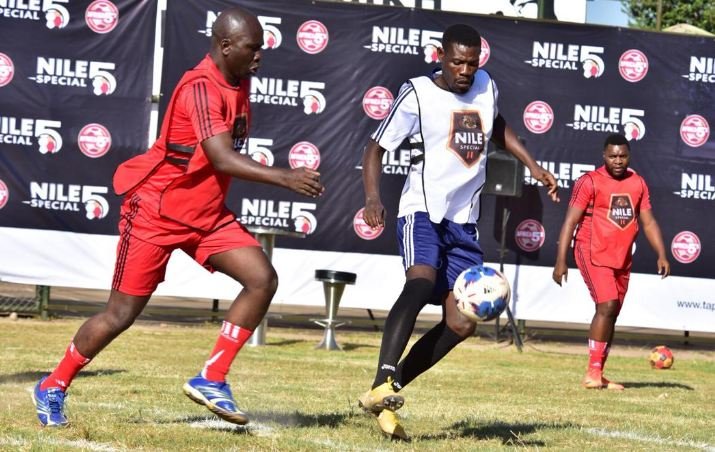 By Our Reporter
Nile Special has unveiled an amateur football tournament that will see bars across the country battle for a big prize in a 5-Aside arrangement.
The tournament was launched on Friday at Kati Kati Restaurant with a friendly match in which ex-national team players led by former Cranes striker Geoffrey Massa beat a USPA select side 6-1 in the first game.
Speaking at the launch, the Nile Special brand manager Francis Nyende stated that, "this is an amateur platform built around friendship and harnessing football as a passion point of many Ugandans. It is more of a social call than a footballing challenge."
"We're looking for 256 teams across the country. To participate, visit a participating bar and buy Nile Special. You will get a coupon on which to register a team that will then be entered in a raffle draw." He added.
The competition will trudge the whole nation starting at the township level where two team teams will qualify to the 32-team regional tier. Four teams will then qualify from each regional level to the national finale that will comprise 16 teams; four from each region.
The winning outlet team at the national finale will then compete at the Africa 5-Aside tournament in Tanzania where the overall winning team will earn an all expense paid European tour in the company of E'to; a 2000 and 2002 Africa Cup of Nations winner.
The finale will also feature a ladies 5-Aside competition with the winner also making the trip to Tanzania for the Africa 5-Aside.
(Visited 1 time, 1 visit today)
Uganda Rugby Cranes intensify training as Hong Kong 7s tournament draws closer

By Our Reporter
With less than a month left before the Hong Kong 7s kick off, the Guinness sponsored Uganda Rugby Cranes 7s team has stepped up its training regime as it bids to improve on its 2017 quarter final finish at the tournament slated for Friday, April 5 to Sunday, April 7, 2019.
Former Kenya Sevens Strength and Conditioning coach, Geoffrey Kimani has joined the Rugby Cranes 7s side's technical bench to support the Ugandan team's efforts to adequately prepare for the tricky Hong Kong tournament. Kimani is not new to the Rugby Cranes 7s as he was part of the teams 2017 success.
"We are grateful to Guinness for their support towards rugby development in the country over the past three years. Thanks to their support, the Rugby 7s have ably represented Uganda on the global stage and as a result, we have witnessed an increase in the number of fans," Uganda Rugby Union CEO, Ramsey Olinga said.
The Hong Kong 7s is arguably the most valued leg of the World Rugby Sevens series circuit. It's the seventh tournament on the sevens' series 2018-2019 calendar, which acts as the principal route for qualification for the Tokyo 2020 Olympic Games.
Yet again, it promises to be highly competitive, with 15 core men's teams and 11 core women's teams battling for the title.
"We are ready for the battle ahead of us, and we are hopeful that we shall be successful in Hong Kong," Michael Wokorach, the team captain said.
The boys will be competing against New Zealand, the 2018 defending champions and other teams like England, Australia, and South Africa.
(Visited 1 time, 1 visit today)
Budo League returns for season 3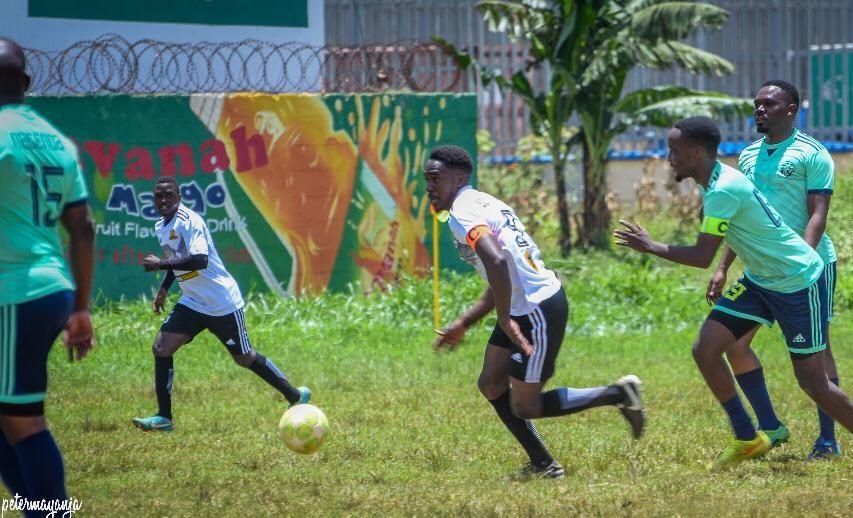 By Our Reporter
The Budo League, a nine-a-side football tournament for Kings College Budo old students, is back for the third season. The new season which kicked off on Sunday at the Kyadondo Rugby Grounds returns with big changes as they have announced a new league format.
Previously, the league was based on a house-format limiting the number of participating teams to only seven (the number of houses/dormitories at Kings College Budo) but will now be based on the year-of-graduating system.
According to Harold Atukwatse, the Chairperson Budo League, the new changes are aimed at bringing together Budonians of all generations in a mutual and socially beneficial way.
"The newly adopted system makes the competition more inclusive while also providing an opportunity for growth of the league," he explained. "In our previous format, we had only seven teams which were formed according to the houses. But with the year system, there are very many years which means there is potential to grow into a much bigger tournament."
The new season which is expected to run for the next 5 months with fixtures to be played every weekend will feature 12 teams namely; Accumlators ('03), Massape ('04), Thazobalo ('05), Centurions ('06), Jubilewos ('07), Quadballo ('08), Basuunzi ('09), Midnight Express ('10), Takoradi ('11), Abacuba ('12), Peaky Blinders ('14), and Galacticos ('15).
Meanwhile, the league will also be giving back to the community. They will be supporting "Soo Many Stories", a children's literacy programme organisation that runs an initiative geared towards growing the reading culture among children.
As a league, they will engage in the campaign to promote literacy alongside Soo Many Stories and will on many occasions' volunteer personnel, logistics and funds to help in the running of the initiative.
(Visited 1 time, 1 visit today)