Singles for special Valentine's Day treat at Pearl of Africa hotel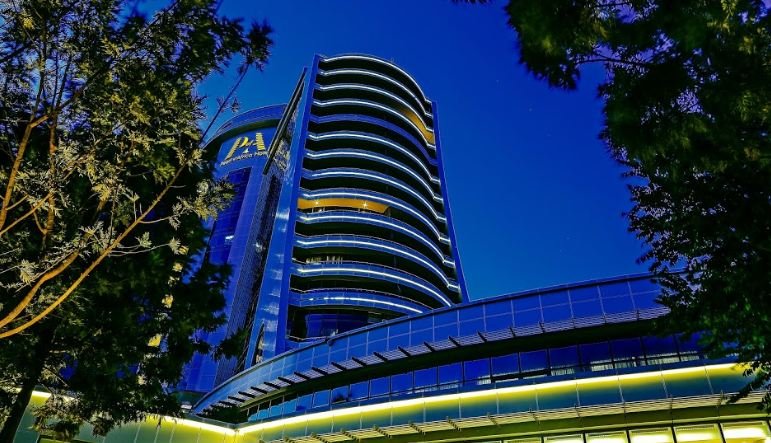 By Our Reporter
Valentine's Day is upon us! Celebrated annually on 14th February, the day evokes thoughts of romance for couples as they flaunt love for each other through romantic dinners and exchanging gifts.
With love in the air, the day generally brings a downcast feeling for singles. However, as couples rekindle their romance and create more memorable moments with their loved ones this year, Pearl of Africa hotel does not want the singles to feel left out.
The hotel is organising a special Valentine's Day treat for the singles. Dubbed "Singles Mix and Mingle" party, it will be highlighted by a special performance from a surprise act and a blind date with lucky individuals hooking up.
"We wanted everyone to be part of the lovers' holiday," Brian Jjuko, Head of Sales and Marketing at Pearl of Africa Hotel explained. "That is why we are giving singles a chance to be part of the valentines celebration this year. The event is free of charge and will take place at our Sunset sports bar."
Meanwhile, the hotel is also organising an exquisite dinner for couples. Boasting of over two swimming pools, an advanced gym & spa with a panoramic view of the city form its elevated position on Nakasero Hill, the hotel offers a perfect setting for a romantic evening.
(Visited 1 time, 1 visit today)
Nyege Nyege tickets go on sale at discounted rate

BigEyeUg Team
Ever since MTN announced it's 3 year partnership with Nyege Nyege a few months back, things have been changing.
Just when the name of the three day festival changed to MTN Nyege Nyege, we have been told that for the first time ever, Nyege Nyege tickets are on sale months before the event and at a discounted rate.
MTN Uganda Chief Marketing Officer, Olivier Prentout announced on Friday night at the Nyege Nyege warm up party that 200 tickets will be available on MTN MoMo Pay at a discounted rate of only 50,000/-.
To buy a ticket via MoMoPay, customers have to dial *165*3# and use the merchant code 116969 to secure a 3 days pass ticket.
'You will also get to enjoy a cashless experience at the festival in September with the ability to pay vendors, buy airtime & internet using your MTN mobile Money,' Oliver said.
The Nyege Nyege festival will take place from September 6th-9th at Nile Discovery Beach in Jinja. The festival is supported by Talent Africa Group and Bell Lager.
We will keep you posted.
(Visited 1 time, 1 visit today)
FUNNY! Amooti Ombubalanguzi's 'Cuban Doctors' skit will leave you in stitches

BigEyeUg Team
Comedian Amooti Omubalanguzi is known for his crazy skits but his recent one about 'Cuban Doctors' will leave you in stitches. Watch, Laugh and share.
(Visited 1 time, 1 visit today)
Ykee Benda hits on Anitah Fabiola

BigEyeUg Team
TV host Anitah Fabiola real name Anitah Kyalimpa who just returned from France where she had gone for the Cannes Film Festival is turning eyes.
The beauty queen who was hosting Ykee Benda  real name Tugume Wycliff on her show last Friday didn't see it coming when Ykee asked her if she is single and ready to get down with him.
A shocked Anitah first froze for a second or two before she told Ykee that she would tell him off air.
Both Anitah and Ykee have been in and out of relationships. We wouldn't be surprised if they hook up and start a new chapter in their lives.
We will keep you posted.
(Visited 1 time, 1 visit today)