Sheraton Kampala Hotel ushers in the new year in style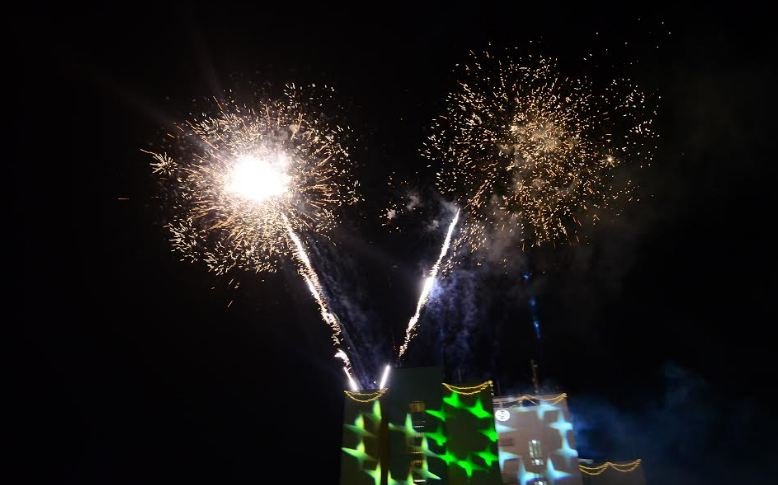 As we wound up 2016 and ushered in 2017, Sheraton Kampala hotel was one of the best places to mark the occasion with its traditional celebrations at the Paradise Restaurant & The Kyoga Poolside where customers, associates and revelers were treated to a spectacular array of both local and international cuisines, champagne and performances from the popular Janzi Band and a host of other popular entertainment acts.
"We are grateful to have had a successful year and we are looking forward for an even better 2017. We always have our New Year's celebrations at the iconic Kyoga Poolside and Paradise Terrace accompanied by Kampala's most talked about fireworks display. It is important to give our clients the experience they deserve and it is great to see so many Kampalans dining and partying here with us.
"2017 is a very important year for us as we shall be celebrating 50 years of creating great memories and to mark the beginning of our yearlong celebrations, today we have unveiled a special commemorative billboard on the Sheraton building and through various activations and events we shall be sharing a lot more of our campaign with you all. I thank everyone especially our clients and corporate customers who have made this year a success and we promise to keep innovating our products and services in order to deliver the guest experience that the Sheraton Brand demands next year." Said Jean Philippe Bittencourt – General Manager of Sheraton Kampala Hotel
Mr. Jean Philippe Bittencourt revealed that 2017 is not an ordinary year in the history of the Ugandan hospitality Industry and he intimated that there is a lot in plan for next year and all this will be unveiled early next year.
Sheraton Kampala hotel this year had major changes with a new General Manager with experience of over thirty years in the hospitality industry stepping in to take the Hotel into its next development phase; we also witnessed the Marriott-Starwood merger that has now created the World's largest Hotel group with over 5200 in over 110 different countries.
The General Manager also confirmed that the hotel had a successful year and he thanked his exceptional team of associates for their continued hard work, dedication and loyalty above all The New Year celebrations climaxed with the spectacular fireworks that left many revelers in awe as they reminisced the year gone by and with Sheraton Kampala's Party dubbed "the Party of the Decades" the Hotel revealed one of their main themes for 2017 as they launched a teaser video and banner of the 50 Year's campaign.
"I am a believer of possibilities and change. I thank all those who have shared the same sentiments with me this year and I hope for a better 2017. I encourage all of us to have a positive attitude towards everything we do next year so as to achieve our goals and objectives. I wish you all a great and prosperous new year." Bittencourt concluded.
(Visited 1 time, 1 visit today)
Emirates appoints new Country Manager in Uganda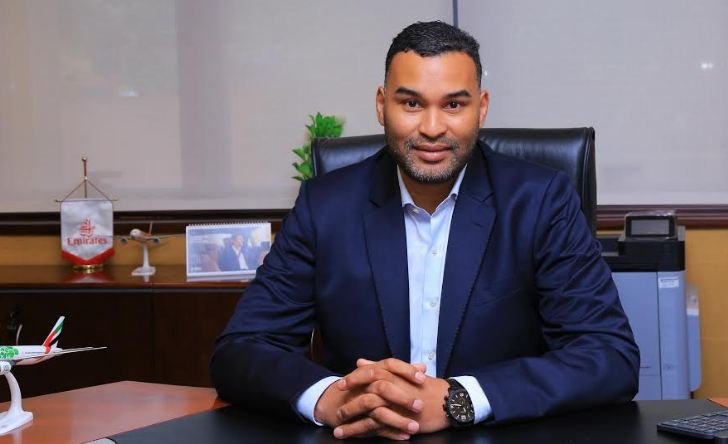 Emirates has appointed John Gemin as its new Country Manager for Uganda.
Mr John, whose appointment was effective from December 17, 2018, is now responsible for Emirates' overall business in Uganda, overseeing sales and service functions for the airline's passenger, cargo, management and airport operations and reports directly to Orhan Abbas, Emirates' Senior Vice President, Commercial Operations Africa.
Mr John holds a bachelor's degree in International Business and Management Studies obtained from the Amsterdam University of Applied Sciences in Amsterdam. He has worked with Emirates for four years, during which time he served as Business Analysis Manager within the Commercial Operations covering mainly the Latin American markets.
Commenting on his appointment, Mr John said: "I am honoured and very excited to be leading the Emirates operations in Uganda. I look forward to working with our local team of dedicated and talented staff to ensure Emirates growth and continued success in the market."
Customers travelling on Emirates can look forward to world class service and hospitality from the airline's multi-national cabin crew, including Ugandan nationals, while enjoying complimentary gourmet meals and beverages. Emirates also offers over 4,000 channels of on-demand audio and visual entertainment on its award-winning ice system, from the latest movies, music and games.
(Visited 1 time, 1 visit today)
Civil engineer wins 39,449,025 UGX with 1,000 UGX stake to become betPawa Uganda's first BIG winner of 2019

By Staff Writer
Iganga district civil engineer, Mugaya Rogers Sosi has been crowned betPawa Uganda's very first BIG winner of 2019 after walking away 39,449,025 UGX richer from a 1,000 UGX stake on a 5 leg bet. Mugaya saw his initial returns increased, after he activated betPawa's 10% win bonus for correctly predicting 5 games or more.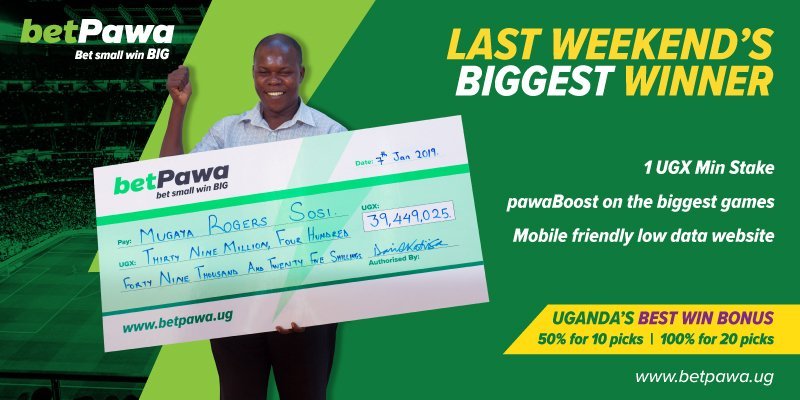 betPawa gives its customers the chance to win more by automatically applying win bonuses, seeing bettors activate a 50% win bonus for 10 or more legs and 100% for 20 or more. Although Mugaya didn't activate a large win bonus with 5 games, he still achieved a BIG win by backing several teams who were outsiders to win!
Can you win BIG like Mugaya? Claim your betPawa FREEBET today:
How Mugaya won 39,449,025 UGX with a 1,000 UGX stake on 5 games
The civil engineer took a risk with his bets, betting on one draw and four teams to win who went into their games as underdogs. Mugaya backed fourth-tier side Andrezieux to beat Ligue 1 favourites Marseille, Rennes and Brest to draw, English conference team Barnet to beat Sheffield United, Oldham Athletic to beat Premier League side Fulham and finally Jordan to beat Australia.
Mugaya expressed that he first found out about betPawa online, saying "I was doing engineering research on the internet and had heard someone talking about betPawa being the best and most trustworthy betting company, and yes, it is true. You can always count on betPawa."
How his BIG win will help to support his future plans
The Iganga district resident plans to use his BIG win to pay for his education, support his business and assist with building work at home, saying "I am currently doing my masters degree, so this money will help me to complete my education. I will also use my win to boost my business and complete work on my house."
When he was asked about what others should do, Mugaya said "Come and join betPawa and become a winner like me. I am the lucky winner of today but you too can try your luck by betting small and winning BIG! betPawa are transparent, trustworthy and give excellent customer support."
betPawa would like to congratulate Mugaya on his win! We hope that you enjoy your winnings.
What is betPawa's no minimum stake? betPawa offers its customers with the genuine chance to bet small win BIG by allowing users to bet as little as 1 UGX.
What is betPawa's win bonus? betPawa offers the best win bonus in Uganda, allowing users to win up to 100% extra. With 50% for 10 correct picks and 100% for 20 correct picks or more, meaning you get much more in return!
betPawa is the easiest way to bet online securely. Not only do they offer the best odds on the market but they provide their customers with the opportunity to bet small win BIG using a no minimum odds service of just 1 UGX, they also offer win bonuses to increase betting returns and they provide 24hr support to customers that need it.
New to betPawa? Claim your FREEBET now! Visit: www.betpawa.ug/freebet
Disclaimer;
Bet responsibly. Not allowed to minors. Betting may be addictive and psychologically harmful. betPawa is licensed and regulated by the National Gaming Board.
Lic# 24
(Visited 1 time, 1 visit today)
Lucky subscribers and agents win millions in new Airtel promo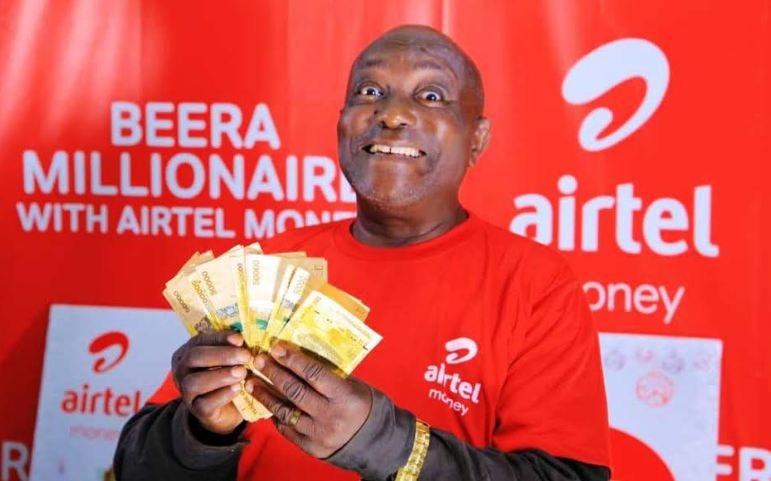 With the New Year beckoning, Airtel Uganda has handed over millions in cash prizes to over twenty lucky subscribers and agents in the second cash handover ceremony of the 'Beera Millionaire ne Airtel Money' promotion.
Launched in December this year, 'Beera Millionaire with Airtel Money', will run for 90 days and is set to reward all customers that carry out a financial transaction such as Cash In, Cash out, P2P, Recharge Airtime or Data, Bank to Wallet, Wallet to Bank & Bill Payment in a single day, as well as all active financial transacting agents.
During the handover, a business lady, photographer, journalist and electrician, all from Kampala were joined by a teacher from Mbale, a farmer from Mukono, a trader from Mityana, a driver from Kakiri, a mobile money agent from Kawempe and many other winners to celebrate as they received their cash from the Airtel Uganda's Head of Revenue Planning Mr. Michael Lukyamuzi.
"As a brand, we are committed to changing lives of Ugandans regardless of location, occupation or socio-economic class and this promotion is making this commitment a reality. Some of the winners here today transacted for as little as ten thousand shillings and now they have become millionaires," Lukyamuzi remarked.
"I encourage everyone to spread this good news. Inform your family and friends to keep transacting using our platform and change your lives," he concluded.
As part of the ongoing promotion, all participating customers and agent numbers will be uploaded into a randomizer to pick the lucky winners. Five lucky customers will win 1 million shillings each (5 million shillings daily, 1 million for each) and 1 lucky customer will win 10 million shillings in the weekly grand draw. 1 lucky agent will stand a chance to win 1 million shillings daily and 1 lucky agent will win 1 motorbike in the weekly draw.
(Visited 1 time, 1 visit today)