Sheraton Kampala Hotel ushers in the new year in style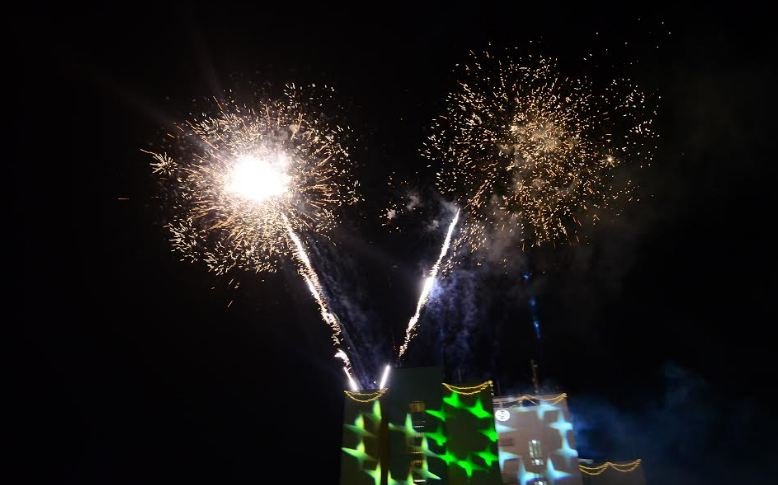 As we wound up 2016 and ushered in 2017, Sheraton Kampala hotel was one of the best places to mark the occasion with its traditional celebrations at the Paradise Restaurant & The Kyoga Poolside where customers, associates and revelers were treated to a spectacular array of both local and international cuisines, champagne and performances from the popular Janzi Band and a host of other popular entertainment acts.
"We are grateful to have had a successful year and we are looking forward for an even better 2017. We always have our New Year's celebrations at the iconic Kyoga Poolside and Paradise Terrace accompanied by Kampala's most talked about fireworks display. It is important to give our clients the experience they deserve and it is great to see so many Kampalans dining and partying here with us.
"2017 is a very important year for us as we shall be celebrating 50 years of creating great memories and to mark the beginning of our yearlong celebrations, today we have unveiled a special commemorative billboard on the Sheraton building and through various activations and events we shall be sharing a lot more of our campaign with you all. I thank everyone especially our clients and corporate customers who have made this year a success and we promise to keep innovating our products and services in order to deliver the guest experience that the Sheraton Brand demands next year." Said Jean Philippe Bittencourt – General Manager of Sheraton Kampala Hotel
Mr. Jean Philippe Bittencourt revealed that 2017 is not an ordinary year in the history of the Ugandan hospitality Industry and he intimated that there is a lot in plan for next year and all this will be unveiled early next year.
Sheraton Kampala hotel this year had major changes with a new General Manager with experience of over thirty years in the hospitality industry stepping in to take the Hotel into its next development phase; we also witnessed the Marriott-Starwood merger that has now created the World's largest Hotel group with over 5200 in over 110 different countries.
The General Manager also confirmed that the hotel had a successful year and he thanked his exceptional team of associates for their continued hard work, dedication and loyalty above all The New Year celebrations climaxed with the spectacular fireworks that left many revelers in awe as they reminisced the year gone by and with Sheraton Kampala's Party dubbed "the Party of the Decades" the Hotel revealed one of their main themes for 2017 as they launched a teaser video and banner of the 50 Year's campaign.
"I am a believer of possibilities and change. I thank all those who have shared the same sentiments with me this year and I hope for a better 2017. I encourage all of us to have a positive attitude towards everything we do next year so as to achieve our goals and objectives. I wish you all a great and prosperous new year." Bittencourt concluded.
(Visited 105 time, 1 visit today)
Jumia Uganda appoints new CEO, launches Black Friday campaign

By Our Reporter
Jumia Uganda has announced that Ron Kawamara will take over as new CEO for Uganda. This was during a press briefing held at The Hickory restaurant on Thursday morning. Ron has previously served as the Regional Managing Director of Jumia Food, East Africa, and comes with a wealth of experience in the African Commerce industry.
Speaking at the briefing, Massimiliano Spalazzi,the co-CEO Jumia Africa said, "After a thorough and thoughtful search process, we are thrilled to have Ron take on the CEO role. Ron brings a stellar leadership reputation, a wealth of consumer experience, and a lifelong passion for eCommerce to Jumia – all of which are critical ingredients in the continued evolution of our company. We are absolutely confident that Ron is the right leader for Jumia who can create value for customers and vendors by marrying Jumia's numerous assets with the opportunities ahead."
Kawamara has extensive experience leading, innovating and scaling technology businesses globally, including having guided Jumia Food through critical transformation periods. Through his startup experience, Ron has frequently worked with SMEs to effect business models that embrace technological changes.
"I cannot imagine a more important and exciting time to join Jumia," said Kawamara. "With a massive, diverse and highly engaged audience, a market-leading online business, a best-in-class product portfolio and an extremely passionate and talented group of people, Jumia is well-positioned to capture an even greater market opportunity. As a lifelong entrepreneur and exuberant technology enthusiast, this is the perfect opportunity to combine my industry experience with my love for business. I look forward to working with this great team, having a lot of fun, and leading Jumia through its next exciting phase."
Meanwhile,  this year's Black Friday campaign was also launched during the event. Black Friday is a massive sales event that will run from November 16th to December 7th, 2018. The campaign is normally characterized by a buzz of activities at Jumia as online shoppers enjoy the best deals.
 "This year will be our biggest campaign yet," Ron noted. "We've invested in a lot in negotiating with retailers so that we can give our customers the best value. We shall feature discounts of up to 70% on over 5000 products and shoppers will enjoy free delivery for purchases over 200,000 UGX."
(Visited 105 time, 1 visit today)
Emirates rewards Ugandan winners in the global destinations competition

Emirates, the world's largest international airline, has rewarded lucky Ugandan winners in the Emirates global destination competition. The just concluded competition was aimed at having listeners answer questions about Emirates' global destinations and create awareness about the airline's products and services.
The winners participated in a two-week competition where two winners were chosen every Friday at the end of the week. The winners received Emirates amenities that were handed over by the Emirates Country Manager to Uganda, Mr. Puneet Kohli, who applauded them for their knowledge on Emirates.
"This goes to show that many people know a lot about Emirates and its products, services and global destinations. Our decision to reward these fans reflects our commitment to everyone who knows about our business. We have received immense feedback and we thank everyone who contributed to the competition," said Mr. Puneet Kohli.
Emirates boasts of an unrivaled on board product experience with the world's best infight entertainment system, ICE, which offers over 3,500 channels of entertainment including over 100 kids channels and 850 movies from around the world. Travelers can enjoy chef prepared regional and international cuisines using the freshest ingredients, accompanied by a wide range of complimentary wines and beverages. All this is complemented by the airline's international team of over 21,000 cabin crew come from over 135 countries.
(Visited 105 time, 1 visit today)
Over 50 women lawyers trained in financial literacy

Under the Women in Business (WiB) program, dfcu bank in partnership with the Uganda Law Society (ULS), recently held a financial literacy training session for over 50 women lawyers in Kampala. The session conducted at the dfcu Head offices in Nakasero last Friday is a component of the programme aimed at inspiring and empowering women to tackle the challenges faced in the business environment.
Commenting on the women lawyers' training, Jacqueline Namazzi, Chairperson ULS Female Lawyers Committee said; "dfcu has a strong partnership with the female lawyer's committee. We work with them and we come in to advise their businesswomen especially those who work in Kikuubo, but this time we felt that the female lawyers themselves needed financial literacy training. We know so much about the law, about court, but little on personal and business finances. We felt that the lawyers needed that extra education. It's not a bad idea for them to be exposed to the different investment and saving avenues that the bank offers but also mainly how to manage finances."
"Investment avenues are out there but managing ones' own finances as a person, as a law firm whether you are in government or civil society is daunting and that is why we decided to be part of the financial literacy training to gain that extra skill set." Jacqueline added.
According to Victoria Byenkya, Manager Women in Business, women bring their own unique perspective and voice to the world of finance and as their voice becomes more prevalent, everyone will continue to benefit from the financial literacy conversation. "More women today are realizing the importance of being financially literate. They feel more empowered to control their personal, family and business finances," she added.
"From the training I was able to be educated about the basics – things that you know but don't really do. The more you hear them, you realize the need to take action on saving, investment and living a simple life. I would highly recommend more sessions for financial literacy are set up for us and of course, I appreciate dfcu bank for putting this together" said Charlotte Nalumansi one of the trainees.
So far, a total of 1,370 women have benefited from the dfcu WiB business trainings since the start of the year. Since inception of the programme in 2007 over 25,000 women have benefited from the capacity building sessions.
(Visited 105 time, 1 visit today)