Sheraton Kampala Hotel ushers in the new year in style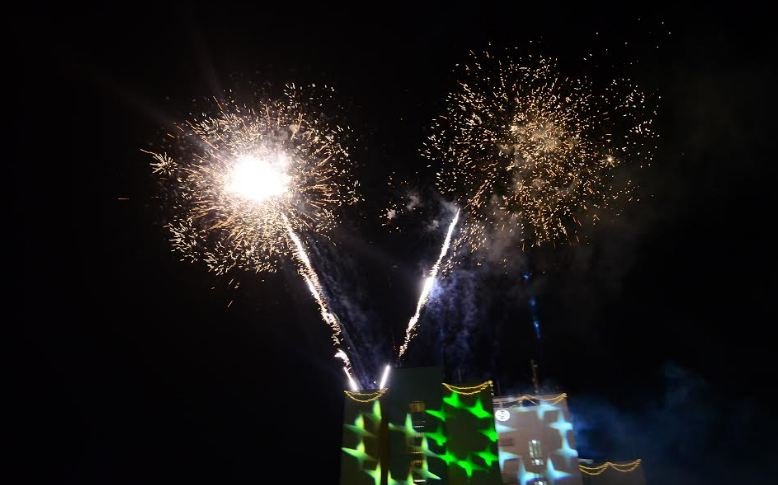 Ride Cashless with SafeBoda! You can top up your SafeBoda credit through the app using either MTN or Airtel Money OR Come by the SafeBoda offices on Bukoto street between 10am to 4pm to directly pay cash for credit!Click here to download the app
As we wound up 2016 and ushered in 2017, Sheraton Kampala hotel was one of the best places to mark the occasion with its traditional celebrations at the Paradise Restaurant & The Kyoga Poolside where customers, associates and revelers were treated to a spectacular array of both local and international cuisines, champagne and performances from the popular Janzi Band and a host of other popular entertainment acts.
"We are grateful to have had a successful year and we are looking forward for an even better 2017. We always have our New Year's celebrations at the iconic Kyoga Poolside and Paradise Terrace accompanied by Kampala's most talked about fireworks display. It is important to give our clients the experience they deserve and it is great to see so many Kampalans dining and partying here with us.
"2017 is a very important year for us as we shall be celebrating 50 years of creating great memories and to mark the beginning of our yearlong celebrations, today we have unveiled a special commemorative billboard on the Sheraton building and through various activations and events we shall be sharing a lot more of our campaign with you all. I thank everyone especially our clients and corporate customers who have made this year a success and we promise to keep innovating our products and services in order to deliver the guest experience that the Sheraton Brand demands next year." Said Jean Philippe Bittencourt – General Manager of Sheraton Kampala Hotel
Mr. Jean Philippe Bittencourt revealed that 2017 is not an ordinary year in the history of the Ugandan hospitality Industry and he intimated that there is a lot in plan for next year and all this will be unveiled early next year.
Sheraton Kampala hotel this year had major changes with a new General Manager with experience of over thirty years in the hospitality industry stepping in to take the Hotel into its next development phase; we also witnessed the Marriott-Starwood merger that has now created the World's largest Hotel group with over 5200 in over 110 different countries.
The General Manager also confirmed that the hotel had a successful year and he thanked his exceptional team of associates for their continued hard work, dedication and loyalty above all The New Year celebrations climaxed with the spectacular fireworks that left many revelers in awe as they reminisced the year gone by and with Sheraton Kampala's Party dubbed "the Party of the Decades" the Hotel revealed one of their main themes for 2017 as they launched a teaser video and banner of the 50 Year's campaign.
"I am a believer of possibilities and change. I thank all those who have shared the same sentiments with me this year and I hope for a better 2017. I encourage all of us to have a positive attitude towards everything we do next year so as to achieve our goals and objectives. I wish you all a great and prosperous new year." Bittencourt concluded.
(Visited 105 time, 1 visit today)
Movit contributes Ugx 80 Million to the Irene Gleeson Charity Walk
Ride Cashless with SafeBoda! You can top up your SafeBoda credit through the app using either MTN or Airtel Money OR Come by the SafeBoda offices on Bukoto street between 10am to 4pm to directly pay cash for credit!Click here to download the app
Movit Products Limited (MPL) has handed over a cheque of 80 Million Shillings to the Irene Gleeson Foundation as a contribution towards the upcoming Irene Gleeson Charity walk. This year's contribution goes to the construction of the Irene Gleeson Community Library and Youth Training Resource Centre.
For over 4 years, Movit has contributed towards improving education conditions for millions of pupils in Northern Uganda and is still committed to supporting this cause, to ensure that the dream of Maama Irene Gleeson lives on.
Receiving the cheque, Irene Gleeson Foundation Executive Director, John Paul Kiffasi applauded MPL for their continued support towards this charity walk and other initiatives spearheaded by the foundation. He further called upon the people of northern Uganda and Uganda to come in large numbers to support the Irene Gleeson Charity walk 2018 and thus together celebrate and commemorate the exemplary life of an extraordinary person mama Irene
Gleeson.
The Irene Gleeson Charity walk is the biggest annual celebration in Kitgum and it will be held on the 22 nd of July this year at Booma grounds in Kitgum district. The charity walk is conducted in memory of Mama Irene Gleeson who left Austria and came to Uganda in 1992, specifically to northern Uganda which was considered among the most volatile parts of the world. Irene worked tirelessly to the betterment of education conditions in this part of the country through building schools, hospitals, rehabilitation homes among others till her passing in 2013.
Handing over Movit's contribution, Bruce Mpamizo the Director Business Growth, Movit Products Limited guaranteed the company`s commitment towards supporting the Irene Gleeson Charity walk and all other Irene Gleeson Foundation initiatives. "It is our responsibility as an organization to support activities and initiatives that elevate education and health conditions in Uganda. We give not because we have a lot but because we care about the wellbeing of the communities in which we operate", he said.
(Visited 105 time, 1 visit today)
Kidnap, Trespass And Unauthorised Access Into MTN Data Centre.
On Monday, 2 July 2018, at around 5pm, two employees of Huawei Uganda (a contractor of MTN Uganda) were kidnapped from MTN Towers, Hannington Road by heavily armed men in civilian clothing who claimed to be Internal Security Organisation (ISO) agents. The kidnapped individuals were illegally detained in an un-gazetted area and later forced to grant unauthorised physical access to the MTN Uganda's Data Centre at Mutundwe.
Ride Cashless with SafeBoda! You can top up your SafeBoda credit through the app using either MTN or Airtel Money OR Come by the SafeBoda offices on Bukoto street between 10am to 4pm to directly pay cash for credit!Click here to download the app
At the Data Centre, there were several attempts by the intruders, to log into MTN Uganda's servers over a period of two hours. The efforts were unsuccessful because of MTN Uganda's robust information security systems and no data was accessed or compromised by the intruders. These incidents were captured on our CCTV cameras and the footage has been shared with the police.
The incident was reported to the Minister of Security and the Chief of Military Intelligence. The intruders subsequently withdrew from the Data Centre around midnight.
MTN (U) formally reported the matter to the Uganda Communication Commission. MTN Uganda also opened a case at CID Headquarters- Kibuli under reference number GEF 727/2018.
MTN (U) takes this criminal incident seriously and is working with the government of Uganda to establish the identity and motive of the perpetrators and bring them to account.
Contrary to various print and social media reports, MTN Uganda is not aware of any investigation into alleged breach of national security involving it or tax evasion on its part.
MTN (U) is committed to collaborating with the Uganda Police and other security agencies as they investigate this incident.
– Issued by Chairman, MTN Uganda.
(Visited 105 time, 1 visit today)
Muni Girls Secondary School crowned 2018 National Schools Champions
Muni Girls' Secondary School from Arua in Northern Uganda has emerged victorious in the third edition of the Stanbic National Schools Championship, following a highly competitive finale held in Kampala at Africana Hotel.
Ride Cashless with SafeBoda! You can top up your SafeBoda credit through the app using either MTN or Airtel Money OR Come by the SafeBoda offices on Bukoto street between 10am to 4pm to directly pay cash for credit!Click here to download the app
The four regional finalists who made it to the grand finale included: Muni Girls' Secondary School, Mengo Senior School, Nakanyonyi Senior Secondary School and Bweranyangi Girls' Senior Secondary School. The finalists were tasked to create businesses, present their business plans and explain the sustainability of their business.
While commenting on this year's competition, Stanbic Bank's Chief Executive, Patrick Mweheire said, "Stanbic Bank believes that investing in education is a critical vehicle to fostering development in the country. This has been a fantastic competition and the entire programme has shown us the budding entrepreneurship potential in the country. Uganda has over the recent past been hailed as the World's most entrepreneurial country. However, according to recent studies by the Global Entrepreneurship Monitor (GEM), almost 10% of Ugandans started a business in 2015 yet a fifth of individuals aged 18-64 also discontinued a business in the same year and most business don't last more than their third year. Young entrepreneurs in particular have generally low growth expectations while few innovate or vary product lines. The National Schools Championships project under this year's theme, 'empowering the job creators of tomorrow' was meant to stretch students to think outside the box beyond just job hunting after school. We can confidently say that after these five months, the students understand the importance of being innovative to create jobs."
6,000 students from 60 schools across the country took part in this year's Stanbic National Schools Competition including both Government and private Schools. Students were taken through different stages in the competition including class room tests, oral quizzes, Essay competition, debate competition and finally a business skilling competition all set around financial literacy, life skills, logic, business and entrepreneurship.
The key note speaker, the NSSF Managing Director Richard Byarugaba said, "According to the Uganda Bureau of Statistics (UBOS), unemployment rate in Uganda increased to 2.1% in 2017 from 2% in 2016. The rate has averaged 2.38% from 1991 until 2017, reaching an all-time high of 3.5% in 2002 and a record low of 0.94% in 1991. In addition, every year, over 400,000 young people graduate from tertiary institutions and join the hunt for jobs in a labour market that does not have much to offer. It is therefore imperative that we change strategy and work towards skilling young people so they are not fully dependent on employment but can be able to start sustainable businesses. This will go a long way not only in empowering them but also in growing our economy."
(Visited 105 time, 1 visit today)