Sheraton Kampala Hotel marks St. Patrick's Day

Saint Patrick's Day was made an official Christian feast day in the early 17th century and is observed by the Catholic Church, the Anglican Communion (especially the Church of Ireland), the Eastern Orthodox Church, and the Lutheran Church. The day commemorates Saint Patrick and the arrival of Christianity in Ireland, and celebrates the heritage and culture of the Irish in general. Celebrations generally involve public parades and festivals, and the wearing of green attire or shamrocks (a young spring clover with 3 broad leafs). Christians also attend church services and the Lenten restrictions on eating and drinking alcohol are lifted for the day, which has encouraged and propagated the holiday's tradition of excessive alcohol consumption.
Sheraton Kampala Hotel last week on Friday celebrated this day with not only its Irish clients but with all its customers who love to experience the finer and different cultures. The night was all lit starting from Paradise restaurant where there was a special menu for the celebrations. The night was concluded in the Equator bar where there was over flowing Guinness.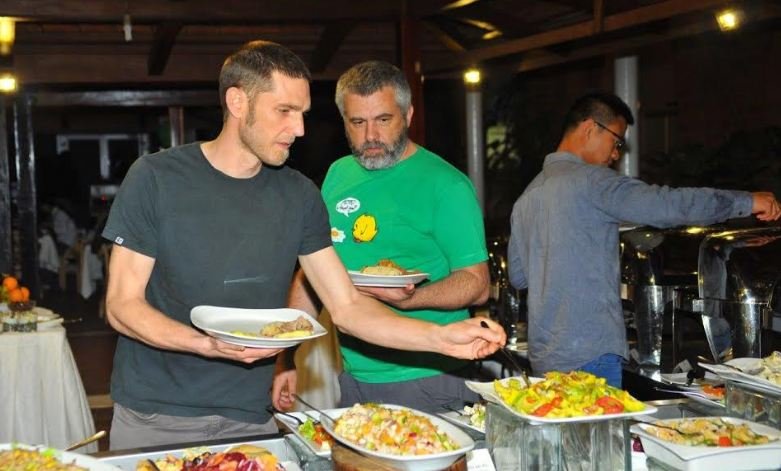 Although the holiday is relatively new to us, with a growing international community living in Uganda and not to mention the general trend of globalization we find ourselves also celebrating the occasion in support of the Irish community – it also presents us with a great opportunity to promote our restaurants and bars, partnering with Uganda breweries to offer great deals on beverages.
The celebrations were attended by both the international community and local community who enjoyed themselves to fine food, drink and amazing entertainment from Baxmba Band.
Sheraton Kampala's new Executive Chef, Mr. Vinz Karlsen wasted no time in capturing the spirit of St. Patrick's Day with a special menu dedicated to the occasion… with a generous amount of Guinness!
(Visited 54 time, 1 visit today)
Uganda Insurers Association in Life Insurance Digital Campaign

Uganda Insurers Association (UIA), the umbrella organization for all the insurance companies in Uganda, has embarked on efforts to create awareness and encourage uptake of Life insurance in Uganda.
The highly emotional campaign kicked off on UIA's social media pages featuring children answering a series of questions about how they envision life without their parents and guardians. Through this digital based campaign, UIA intends to encourage families to take up life insurance policies by appealing to them to secure a future for themselves and their dependants.
According to the Uganda Insurers Association, Life assurance is a contract between an insurance policy holder and an insurer, where the insurer promises to pay a specified beneficiary a sum of money upon the death of the insured person or upon the happening of another specified event.
Life insurance generally falls under four categories:
• Whole Life Insurance policies which cover the entire life time of the policy holder. The premium is paid till the expiry of an agreed period and the policy pays out at death- whenever death occurs during the policyholders' lifetime.
• Term Insurance policies which are taken for specific periods of time and because the time/period is specified, premiums are either paid throughout that period or as a single premium summing all future payments.
• Endowment policies, like term insurance policies, are taken for specified periods and premiums are paid throughout the term of the policy or until death-whichever occurs first. These are primarily for financial benefit of policy holder, and secondarily for protection of family in case of death.
• Pension Plans/Annuities allow you to pay regular premiums until the usual retirement age (usually 60 years) after which the insurer makes monthly, quarterly or annual pension payments to you until you die.
Commenting about the life insurance efforts, Ms. Miriam Magala, the UIA Chief Executive Officer, noted that with a relatively steady and growing economy, there is an increase in the number of Ugandans who can afford insurance, but many of them lack awareness about the policies and their benefits.
"By focusing on life insurance, UIA will help families, businesses, employers, and other parties to protect against a financial loss that occurs when someone dies or is no longer able to work for certain reasons. Additionally, through life insurance, Ugandans will get a cushion during their old age when their ability to engage in productive work is minimal," she noted.
This is not the first time that the Uganda Insurers Association has embarked on a campaign to create awareness of an insurance policy. Throughout 2017, the association held a country wide insurance literacy campaign through which they created awareness for Life insurance, agriculture insurance, Workers Compensation Insurance, Motor Third Party and Comprehensive insurance.
(Visited 54 time, 1 visit today)
Sheraton Kampala Hotel hosts Muslim clients to Iftar diner

Sheraton Kampala Hotel hosted their Muslim clients to a mouthwatering dinner as they kicked off the month of Ramadan. The dinner was held to thank the Muslims clients for the continued support to the hotel and to also wish them a fruitful fasting period.
The dinner was attended by clients from various organizations and industries with a guest profile ranging from managers, ambassadors, business people, media personalities to mention but a few together with their spouses.
While addressing the guests during the dinner, the General Manager, Sheraton Kampala Hotel, Jean-Philippe Bittencourt encouraged the Muslims to keep up with the good spirit of brotherhood as they observe this Ramadan. He further thanked them for the immeasurable support to the Sheraton hotel through their respective organizations
and as individuals and encouraged them to work as a team for peace and unity to be realized.
"Thank you all for respecting the Holy Month of Ramadan and making a point to fast, and we encourage all our clients to come and break their fast at Sheraton Kampala's Paradise Restaurant where we have a very special Iftar corner accompanied by a lavish buffet every Monday through to Saturday." Concluded Bittencourt.
As part of its value, Sheraton Kampala Hotel aims to respect all religions, races and disciplines, and holding the Iftar diner is a symbol that everyone is equally welcome at the Hotel.
(Visited 54 time, 1 visit today)
Mukono, Jinja residents rewarded in Samba Ne Coca-Cola promotion

The excitement was palpable in Mukono and Jinja towns when beverage giant Coca-Cola handed over 30 prizes to lucky consumers as part of the ongoing Samba Ne Coca-Cola promotion.
The handovers which begun in Mukono town on Saturday last week saw six lucky consumers receive brand new Hisense 32 inch TV screens. The winners included St. Paul's Catholic Cathedral's Father Paul Sebitoogo who purchased a crate of soda during the Cathedral charity marathon and received his prize immediately.
Held at Kazimingi grounds, the Jinja town handovers attracted traders from the central market, taxi operators from the nearby park and passers-by who were all excited to see over 30 winners receiving their prizes from Coca-Cola. Other winners in Jinja town walked away with brand new t-shirts, balls and crates of soda for taking part in the promotion.
"We still have exciting prizes and money to hand over to our consumers. Keep drinking and checking under the white crown and we shall bring the prize to you," commented Coca-Cola Uganda Marketing Manager Mrs. Maggie Kigozi.
Samba Ne Coca-Cola was launched in April this year in partnership with World Cup Official broadcaster Multichoice and Global partner HiSense to bring the World Cup closer to consumers all across Uganda.
Since its launch, lucky consumers across the country have been winning Television sets, Multichoice Dishes and Decoders, soccer balls, brand new t-shirts, packs of soda and cash prizes. Over five lucky subscribers have already taken home UGX4,000,000 and two have won the UGX 10,000,000 jackpot so far.
To participate in the Samba Ne Coca-Cola promotion, consumers simply have to purchase a Coca-Cola, Fanta, Sprite, Novida, Krest or Stoney 300ml glass or 500ml plastic bottle bearing a white crown and check under the crown for their exciting prize. Redemption of prizes will be at identified distribution points all across the country and consumers are encouraged to look out for these redemption centers in press and posters.
(Visited 54 time, 1 visit today)