Sauti Sol's Bien-Aime Baraza rocked the media with his fiery statement claiming ownership of the Studio Mashinani idea which the State had taken up through the Ministry of ICT.
According to Bien, Studio Mashinani, was a brain-child of Sauti Sol which they tabled before the President on 29th December 25, almost 2 years ago during a meeting at Statehouse Mombasa.
"I am not in any way implying that The President has a hand in this because he deals with millions of things and this may just be one of those that he delegated. I feel so robbed. I plan to make everything public soon. Just so that the ones who want to can learn from it," Bien wrote in his statement.
Well taking a sharp turn from the fiery remarks from Bien, Sauti Sol has offered an apology to the State. Checkout their statement below: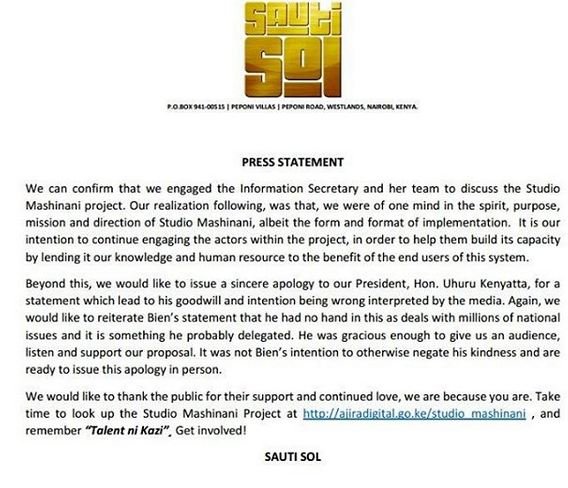 Source: Niaje.com
(Visited 362 time, 1 visit today)