Santana's "Tetwagala manya" song triggers controversy among Banyankore fans

By Stuart G-khast
Fast rising rapper and "Nembyelabila" hit maker―Santana Karma, seems to have raised a lot of controversy amongst his fans following the acapella he sang during his interview on one of the Television stations.
In his interview, the singer sampled one of the verses to the "Tetwagala manya" song and unfortunately a certain faction of the viewers felt offended, particularly the banyankore. Little did they know that the song was proportionally balanced by the clever singer.
In an elaborate attempt to clear the air, the singer posted on his facebook timeline, "I did a freestyle of my upcoming song "Tetwagala manya". And apparently Banyankole are taking it PERSONAL, wat they dont know is that, in this song i talk about all tribes (Baganda, Basoga, Bateso etc). And in my previous song 'Beautifulu" i cherish all westeners. Am an artist who speaks his mind."
Santana who in his upcoming single "Tetwagala manya" talks of Federo and tribes could leave his large following divided with such sensitive topics featuring in his verses. Nembyelabila, Beautifulu, Ebanjja, 74Flag, Doctor, Holiday are some of the songs on the 17 track Album Santana will release in July 2014.
SANTANA Karma real names Gitta Allan Keith is a rapper, songwriter, poet, entrepreneur, lawyer and founder of a record label known as 100acres Entertainment. Born on 16th September, 1986 to Mr. Kasirye Edward and Mrs. Nankabirwa Harriet, Santana is the first born in a family of two. He attended Namilyango Junior School for primary, then Uganda Martyrs Namugongo for his secondary level and joined Makerere University from where he graduated with a degree in bachelor of law.
(Visited 163 time, 1 visit today)
Rapper J-Wats releases debut album

Rising Ugandan rapper J-Wats, real name Jude Watshaba, has released his debut album dubbed "On My Own". The album boasts of 16 tracks featuring over 10 artists from across the continent including Isaiah Misanvu, The Mith, Xtacy from Ghana, Pryce Teeba, Flex D' Paper, and Byg Ben among others.
On the album, J-Wats depicts the hustle story of his journey in the Rap game and music industry and also talks about love, friends with benefits, hardships and celebration of his gradual progress in the industry.
All the songs connect to a story from the start (Intro ft. Lugemwa) to the outro of the album. The album contains an urban sound, with different genres describing J-Wats' versatility as a singer and rapper.
On My Own started taking shape two years ago when J-Wats debuted "Holding The Light" as the first single off the album. It was later followed by "Man Of The Year".
Staff Writer
(Visited 163 time, 1 visit today)
VIDEO: Singer Rashy K Releases New Video "Onkubye"

By Staff Writer 
Sweden-based Ugandan singer Rashid Kibirige aka Rashy K has released a brand new video titled "Onkubye".
"Onkubye" is one of Rashy K's latest songs off his 'Good Vibes' Ep. It is a love song in which the singer reveals to a girl how much he is attracted to her.
The song is a fusion of afro-beat and dancehall, a style known as Bax Ragga.
The audio of the song was produced by Producer Kron, while the video was shot by Ugandan video director Superstar Films.
Watch it here:

(Visited 163 time, 1 visit today)

BigEyeUg Team
City music promoter, Sipapa is now in new trouble
This after Sipapa real names Olimu Charles was arrested by Police downtown.
Sipapa who is wanted for domestic violence after he allegedly assaulted his gal Brown Sugar had gone downtown to buy a phone. Boda Boda riders spotted him and surrounded him expecting him to splash money as he has always done.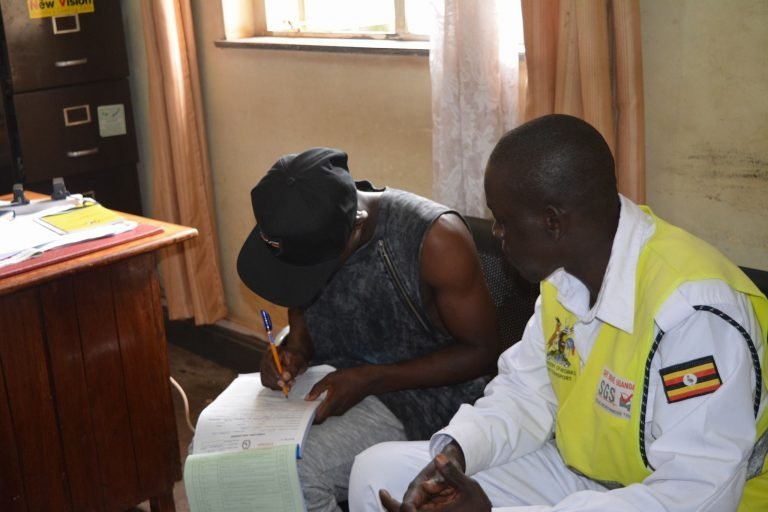 It was at this point that alot of commotion was caused attracting Police who came to investigate and found out that the wanted man was down town and without a seatbelt.
At this point, the authorities wasted no time. He was whisked away to Central Police Station. He made his statement before being taken to the coolers.
We will keep you posted.
(Visited 163 time, 1 visit today)