Santana's "Tetwagala manya" song triggers controversy among Banyankore fans
By Stuart G-khast
Fast rising rapper and "Nembyelabila" hit maker―Santana Karma, seems to have raised a lot of controversy amongst his fans following the acapella he sang during his interview on one of the Television stations.
In his interview, the singer sampled one of the verses to the "Tetwagala manya" song and unfortunately a certain faction of the viewers felt offended, particularly the banyankore. Little did they know that the song was proportionally balanced by the clever singer.
In an elaborate attempt to clear the air, the singer posted on his facebook timeline, "I did a freestyle of my upcoming song "Tetwagala manya". And apparently Banyankole are taking it PERSONAL, wat they dont know is that, in this song i talk about all tribes (Baganda, Basoga, Bateso etc). And in my previous song 'Beautifulu" i cherish all westeners. Am an artist who speaks his mind."
Santana who in his upcoming single "Tetwagala manya" talks of Federo and tribes could leave his large following divided with such sensitive topics featuring in his verses. Nembyelabila, Beautifulu, Ebanjja, 74Flag, Doctor, Holiday are some of the songs on the 17 track Album Santana will release in July 2014.
SANTANA Karma real names Gitta Allan Keith is a rapper, songwriter, poet, entrepreneur, lawyer and founder of a record label known as 100acres Entertainment. Born on 16th September, 1986 to Mr. Kasirye Edward and Mrs. Nankabirwa Harriet, Santana is the first born in a family of two. He attended Namilyango Junior School for primary, then Uganda Martyrs Namugongo for his secondary level and joined Makerere University from where he graduated with a degree in bachelor of law.
(Visited 163 time, 1 visit today)
Jose Chameleone speaks about his wife's alleged nudes.
While the internet woke up to pictures of celebrated singer Jose Chameleone's wife baby shower pictures that were received with mixed feelings, husband and singer Jose Chameleone has come out and commented on his wife's alleged nudes.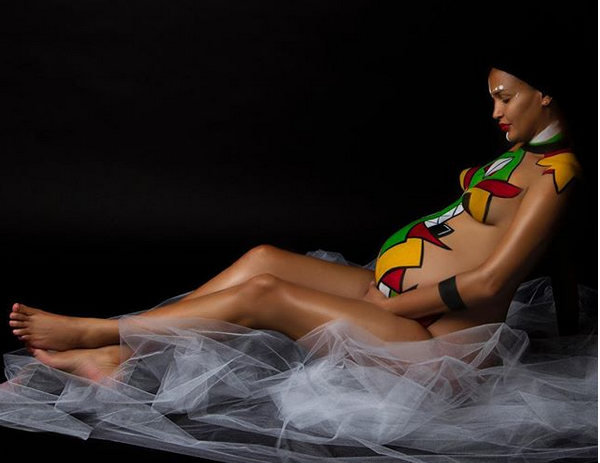 Through his Instagram, Chameleone complimented his wife with the same circulating picture and captioning "Great piece of Andreon Atim"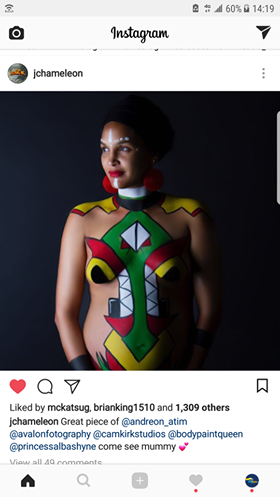 Daniella is currently in the states where she went to deliver the couple's fifth child.
(Visited 163 time, 1 visit today)
Photos: Spice Diana and manager open new studio.
on rampage female singer Spice Diana is over the moon after her and her manager Rogers Lubega opened up their own studio in Makindye Luwafu. The studio has been named 32 records after her song and slang that trended after her NTV Mwasuze mutya show.
In her statement she posted "My first project at my MUSIC STUDIO 32 RECORDS. Another dream achieved. Thank you Lord, the way you're too good to me scares me. Bless the work of my hands. Launching it so soon, can't wait."
(Visited 163 time, 1 visit today)
Bryan White and King Michael Face UGX 210 Million Lawsuit Over Torture of Lucky Costa.
By Our Reporter
Lucky Costa aka Simon Mukasa stands a chance of walking away with UGX 210 million should court rule in his favour. On Tuesday 20th March 2018, Lucky Costa through his lawyers Muwada and Company Advocates served Bryan White and his employee, King Michael with an intention to sue.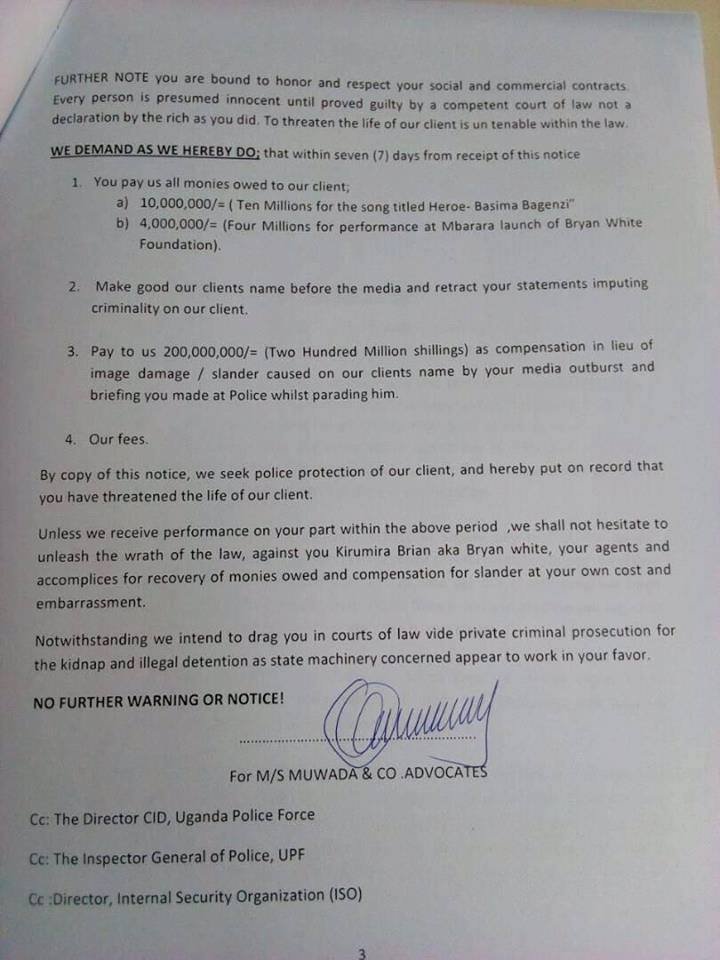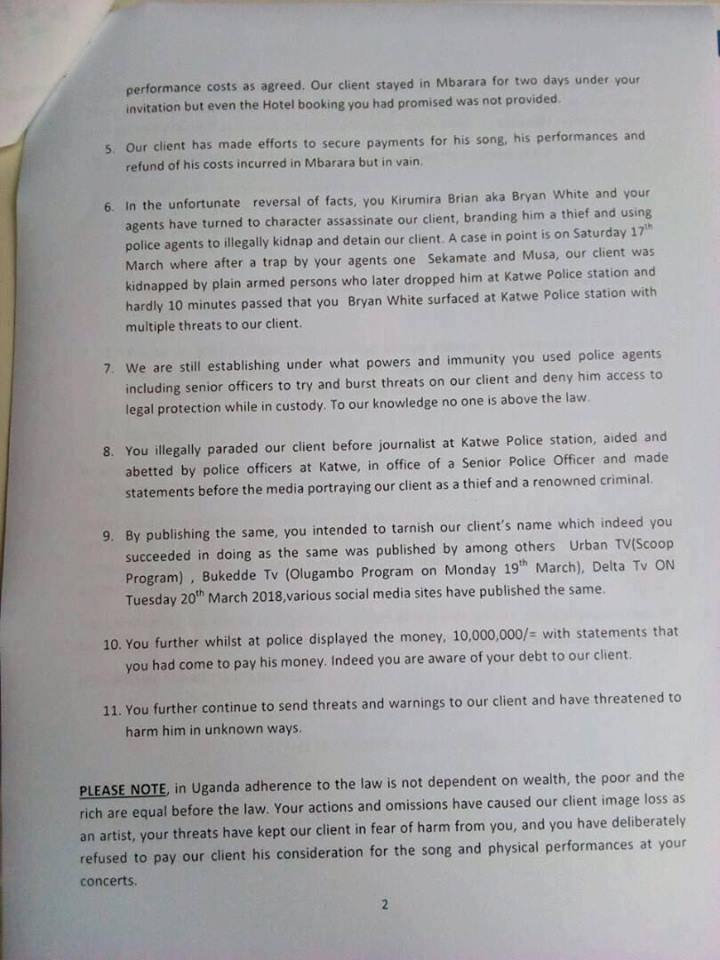 In it, Lucky Costa asks that Bryan White immediately pays up UGX 10 million for the song he produced and wrote in praise of White. Costa also asks that he be paid 200 million for damages caused to his name. He claims he was tortured and his reputation was greatly injured. Lucky Costa has placed conditions over which Bryan White will survive facing court and suffering the full wrath of the law.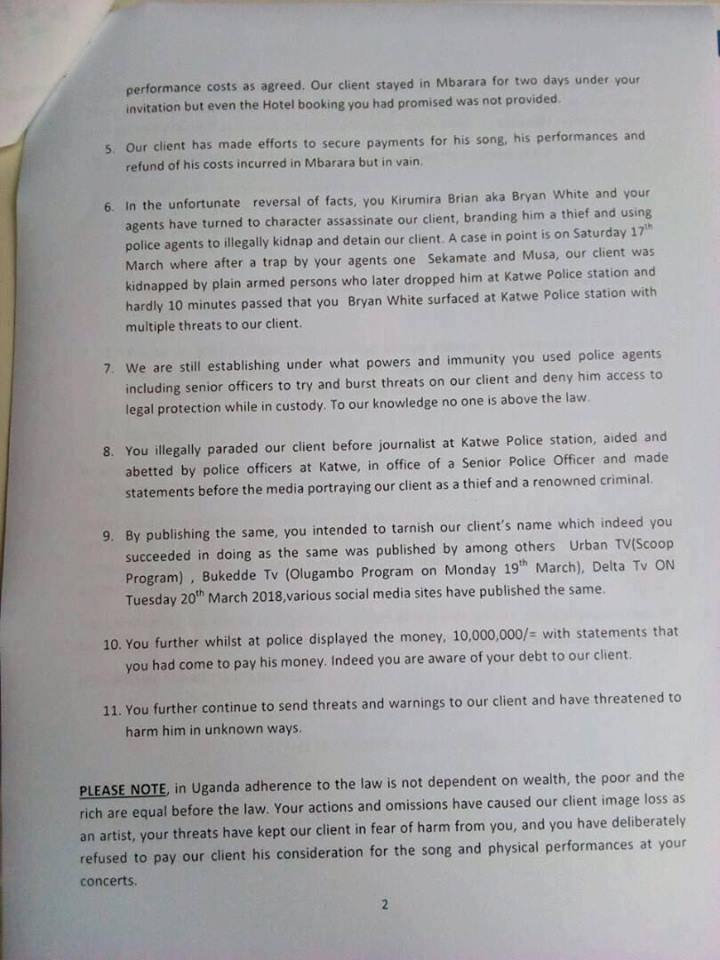 One of the conditions involves a public apology by White to Costa. That the public apology should be made on the podium.
(Visited 163 time, 1 visit today)