RISING STAR AWARDS (RSA) NOMINEES ANNOUNCED.
Rising Star Awards were launched in June at Club Venom with MC Kats as the host of the night, not forgetting the key artists that came out to the launch including Team No Sleep members (Pallaso, AK47, Bakri ), Chosen Blood, ID Twins, Rhoda K, Jay-I and many other media personalities.
After several weeks of coordination and consultation, this year's nominees for the 2014 Rising Star Awards have been released. We are happy to be awarding the winners who would have won by majority through choice of fans both by SMS and Online. Voting online starts on Thursday August 7 and will end on Monday September 22nd at 11:59 GMT.
SMS Voting will be on going till October 3rd at 11.59pm.
Carolyn Obina the Executive Director says "these awards will be an initiative that recognizes our upcoming & rising stars, appreciates our middle class talent and most of all be a platform where Ugandan artists can be selected to participate in International Awards. Our utmost appreciation goes out to our Sponsors to include NBS Television, SMS ONE, Drop Creative, Celebrity Buzz Magazine and not forgetting Rising Star Media & Limitless Production Team. Let's all meet on Saturday October 4th La Bonita starting at 6pm and support our stars in this venture.
Best Female Rising Artist
1-Sheebah Karungi – (RSA1)
2-Irene Ntale- (RSA2)
3-Rema Namakula -(RSA3)
4-Fille Clear- (RSA4)
5-Leila Kayondo-(RSA5)
6-Zanie Brown-(RSA6)
7-Naira Ali-(RSA7)
8-Renah Nalumansi-(RSA8)
Best Male Rising Artist
1-Pallaso-(RSA9)
2-Eddy Kenzo-(RSA10)
3-Khalifa Aganaga-(RSA11)
4-Gravity Omutujju-(RSA12)
5-King Saha-(RSA13)
6-Maro-(RSA14)
7-Geosteady-(RSA15)
Best Collaboration 2014
1-Fille ft Vampino- No money-(RSA16)
2-Irene Ntale ft Ray Signature- Katambala -(RSA17)
3-Maro ft David Lutalo- Mubbi Bubbi -(RSA18)
4-Mun G ft City Rock Entertainment- Lino Koona-(RSA19)
5-Shai K & Shidy Stylo- Sarafinah-(RSA20)
6-Pallaso ft Sheebah-Mudongo-(RSA21)
7-Akay & Bakri-Tondabisa-(RSA22)
8-Daxx Kartel & Sheebah-Self Service-(RSA23)
9-Ziza Bafana & King Saha-Bantu bafe-(RSA24)
10-Yiya Mozey ft Jay-I-Pia Pia-(RSA25)
UGANDA'S Most Internationally Recognized Icon/ICONIC ARTIST
1- Bebe Cool-(RSA26)
2-Chameleone-(RSA27)
3-Bobi Wine-(RSA28)
4-Radio & Weasel-(RSA29)-
5-Moses Matovu-(RSA30)
6-Juliana Kanyomozi-(RSA31)
7-Iryn Namubiru-(RSA32)
8-Grace Nakimera-(RSA33)
9-Navio-(RSA34)
Best Production Artists Label/Group
1-Big Talent-(RSA35)
2-Vocal Police-(RSA36)
3-Gagamel International-(RSA37)
4-Power Records-(RSA38)
5-Swangz Avenue-(RSA39)
6-Team No Sleep-(RSA40)
7-Audio One-(RSA41)
8-Monster Studio-(RSA42)
9-Buggie Empire-(RSA43)
Best Rising Star Audio Producer
1-Dr Fizo-(RSA46)
2-Diggy Bawar-(RSA45)
3-Andy Music-(RSA44)
4-Ronnie Power Records-(RSA47)
5-Rico-Purple Chord-(RSA48)
6- Crouch-Jeeb Records-(RSA49)
7-Nash Wonder-Monster Studios(50)
Best Rising star Video Producer
1-Jah Live-(RSA51)
2-Grate Make-(RSA52)
3-Medi Menz-(RSA53)
4-Hass Media-(RSA54)
5-Savy Films-(RSA56)
6-Buggins-(RSA57)
7-Rosa Uganda-(RSA58)
8-Nolton Pics-(RSA59)
Best Rising Star Song
1-Twesana- Sheebah Karugi-(RSA60)
2-Gyobera- Irene Ntale-(RSA61)
3-Sitya Loss- Eddy Kenzo-(RSA62)
4-Mulilwana-King Saha-(RSA63)
5-Wekoledewo kaki-Pallaso-(RSA64)
6-Cherry boo- Fille Clear-(RSA65)
Best Rising Star Video
1-Ghetto Lovin- Ang3lina-(RSA66)
2-Sitya Loss-Eddy Kenzo-(RSA67)
3-Tondabisa-AK-47 & Bakri-(RSA68)
4-Gyayo Ntekeyo-Ziza Bafana-(RSA69)
5-Equation-Desire Luzinda-(RSA70)
6-Rising Star-Maro-(RSA71)
7-Gyobera-Irene Ntale-(RSA72)
Uganda's Most Supportive TV Station for Artists /Musician
1-NBS TV-(RSA73)
2-Bukedde TV-(RSA74)
3-Record TV-(RSA75)
4-WBS-(RSA76)
5-Star TV-(RSA77)
6-NTV-(RSA78)
7-Urban TV-(RSA79)
Uganda's most Social, Informative & Entertainment Site
1-Big eye-(RSA80)
2-Hipipo-(RSA81)
3-Uganda online-(RSA82)
4-Koonadance-(RSA83)
5-Ugo news-(RSA84)
6-Howwe- (RSA85)
7-Entertainment Floss-(RSA86)
8-Kampala Night Life-(RSA87)
9-Chano8-(RSA88)
Uganda's Most Impressive Rapper
1-Atlas da African-(RSA89)
2-Philosofar-(RSA90)
3-4GB-(RSA91)
4-Benezeri-(RSA92)
5-Keko-(RSA93)
6-Enygma-(RSA94)
7-Ruyonga-(RSA95)
8-Big Trill-(RSA96)
Best Dancehall / Ragga
1-Yung Mulo-(RSA97)
2-Ziza Bafana-(RSA98)
3-Big Eye-(RSA99)
4-AK-47-(RSA100)
5-Nutty Neithan-(RSA101)
6-Coco Finger-(RSA102)
7-Robert Marshall-(RSA103)
8-Kemishan-(RSA104)
9-Denzo-(RSA105)5
Best Rising star Zouk song /artist
1-Chozen Blood-Onelabiza bingi-(RSA106)
2-Daniel Kawesa- Nebwofunyafunya-(RSA107)
3-Evelyn Lagu- Ogumanga-(RSA108)
4-Jay-I-Luwombo-(RSA109)
5-Ntunga- Radio & Weasel-(RSA110)
6-Andre & Soft Chory- Be with you-(RSA111)
Best Rising RnB Song
1-Rema- Mchuzi-(RSA112)
2-Maro- Kyokoba-(RSA113)
3-Naira Ali-Tulo Tulo-(RSA114)
4-Naava- Ninga omuloge-(RSA115)
5-Aziz Azion- Pesa sina-(RSA116)
6-Leila Kayondo-Amazing-(RSA117)
7-Neera neera- Radio-(RSA118)
Best Rising Star Band song.
1-Mary Bata Disappointment-(RSA119)
2-David Lutalo- Akantu-(RSA120)
3- Tuff B-Akuma Buntu Bulamu-(RSA121)
4-Izont & Lady Grace-Layila-(RSA122)
5-Tujanjawaze- Stabuo Natoro-(RSA123)
Best Rising Star Musician on social Media
1-Pallaso-(RSA124)
2-Fille Clear-(RSA125)
3-Daxx Kartel-(RSA126)
4-ID Twins-(RSA127)
5-Rema-(RSA128)
6-Mun G-(RSA129)
Best Rising star stage performance
1-Rhoda K-(RSA130)
2-Gravity Omutujju-(RSA131)
3-Nutty Neithan-(RSA132)
4-Santana-(RSA133)
5-Mina-(RSA134)
6-Brenats-(RSA135)
7-Ziza Bafana-(RSA136)
Uganda's Greatest Rising Duo
1-Airport Taxi-(RSA137)
2-ID Twins-(RSA138)
3-K Brothers-(RSA139)
4-AK-47 & Bakri-(RSA140)
Best Ugandan Lugaflow Artist
1- Santana-(RSA141)
2- Gravity Omuttujju-(RSA142)
3- GNL Zamba-(RSA143)
4- Mun G-(RSA144)
5- St Nellysade-(RSA145)
Outstanding Breakthrough Rookie Artist
1- Rhoda K-(RSA146)
2- Daisy Ejang-(RSA147)
3- Beenie Gunter-(RSA148)
4- Dan Flevor-(RSA149)
5- Hindu Asha-(RSA150)
6- Melody-(RSA151)
Best Upcoming Gospel Artist
1-Levixone-(RSA152)
2-Copy Bly-(RSA153)
3-Sheila Kentaro-(RSA154)
4-Dangelo Busilwa-(RSA155)
5-Morgan Isaac-(RSA156)
Diaspora Favorite Artist
1- Angelina (United Kingdom)-(RSA157)
2- Facee-off(South Africa)-(RSA158)
3- Sarah Musayimuto(Denmark)-(RSA159)
4- Lilly Kyeyune(United Kingdom)-(RSA160)
5- Mc Moseh(United Kingdom)-(RSA161)
6- Paddy Dee(United Kingdom)-(RSA162)
7- Designer K(United Arab Emirates)-(RSA163)
8- Rita Carter(Canada)-(RSA164)
"Vote BigEye Ug in the Kadanke Youth Awards in the Social Media category.
Simply dial *255#.
Press 3 – Kadanke.
Type 20 and press yes.
Then select option 1 – BigEye Ug.
Thank you."
(Visited 1 time, 1 visit today)
Pastor Wilson Bugembe receives standing ovation at his first ever comedy store appearance, crowd asks for return leg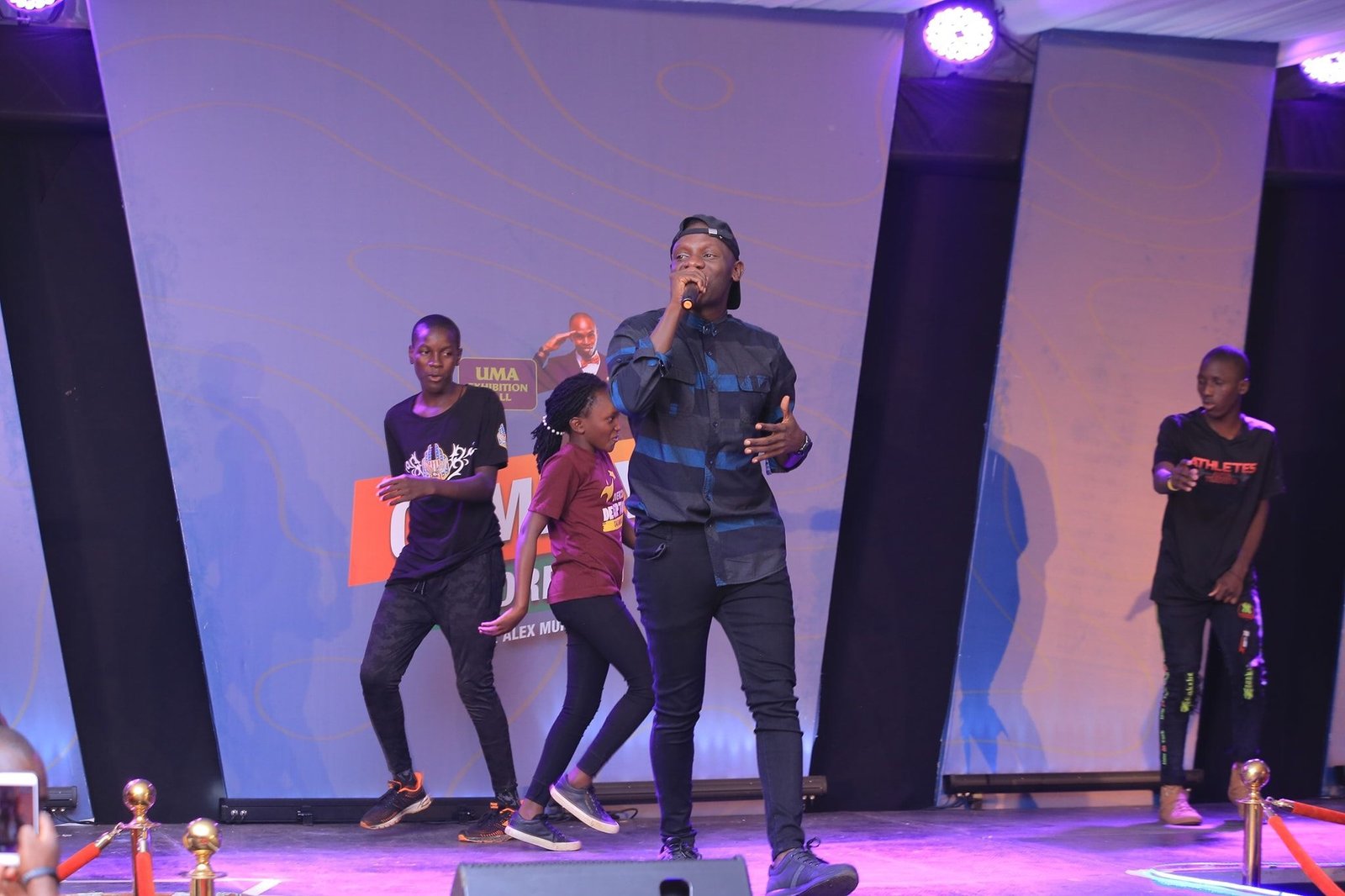 For the first time ever Pastor Wilson Bugembe who doubles as a singer Graced Alex Muhangi's comedy store for the weekly show at UMA. Unlike all previous shows, last nights show was different. Pastor Bugembe made both believers and not so much church people stand on their feet throughout his entire exhibition as he sang through most of his songs.
The crowd that so much turned up for the gospel singer kept on their toes wondering what the singing pastor had in store for them. A usually delivering pastor did not disappoint as he stepped on stage and later went into the standing crowd performing his ever loved songs.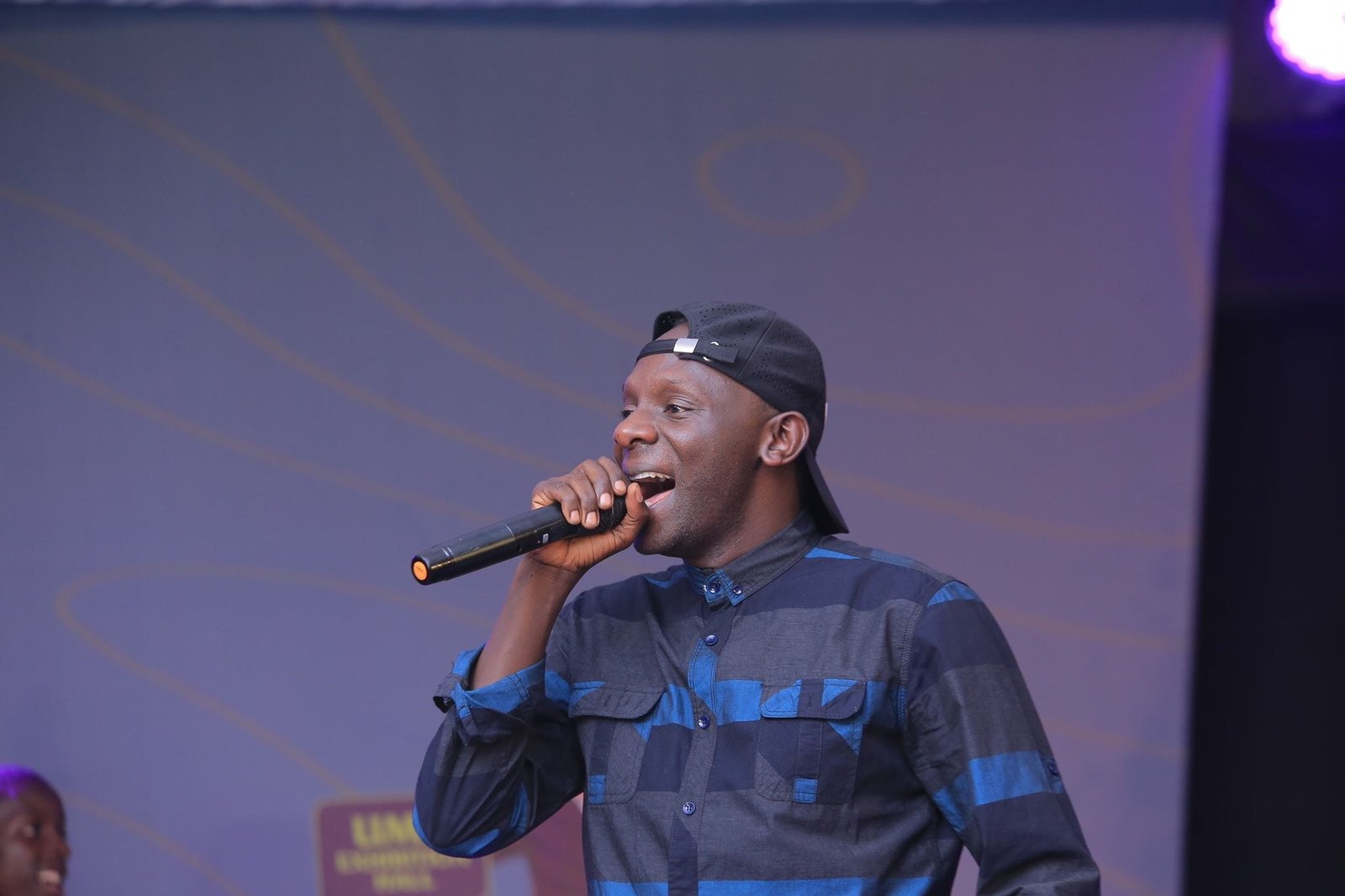 Towards the end of his exhibition, the crowd asked for his Omwooyo song that he did not expect the crowd at UMA loved so much. He performed it with all hands in the air for the crowd that worshipped along. Pastor Bugembe prayed for the crowd and Alex Muhangi before introducing a group of young people that he got off the streets and now takes care of at his Nansana based church. Comedy Store audience asked he returns soon since they did not get enough of him.
The night show also featured, Spice Diana, Tonix and Chozen Blood who equally put up an exciting exhibition.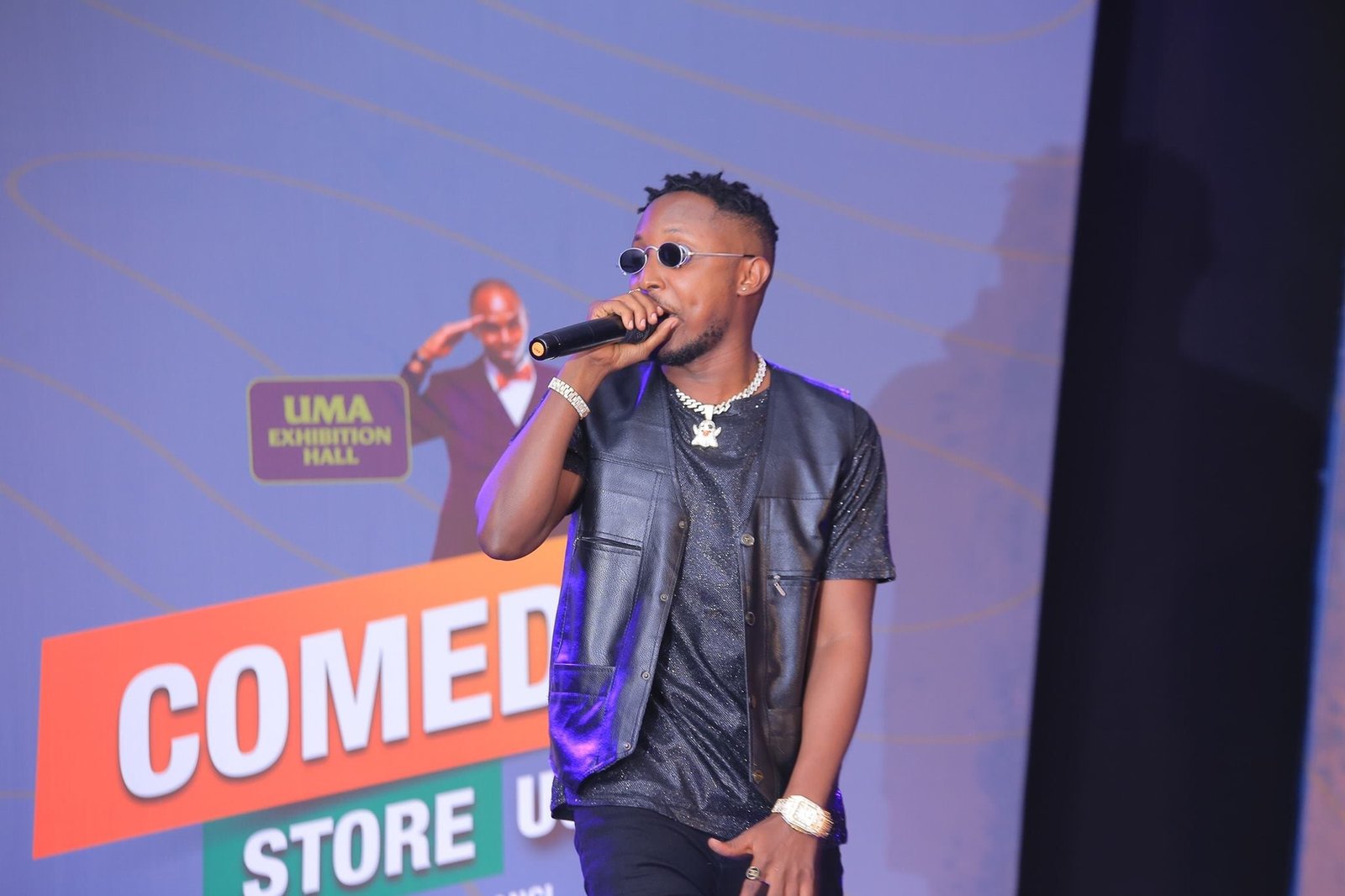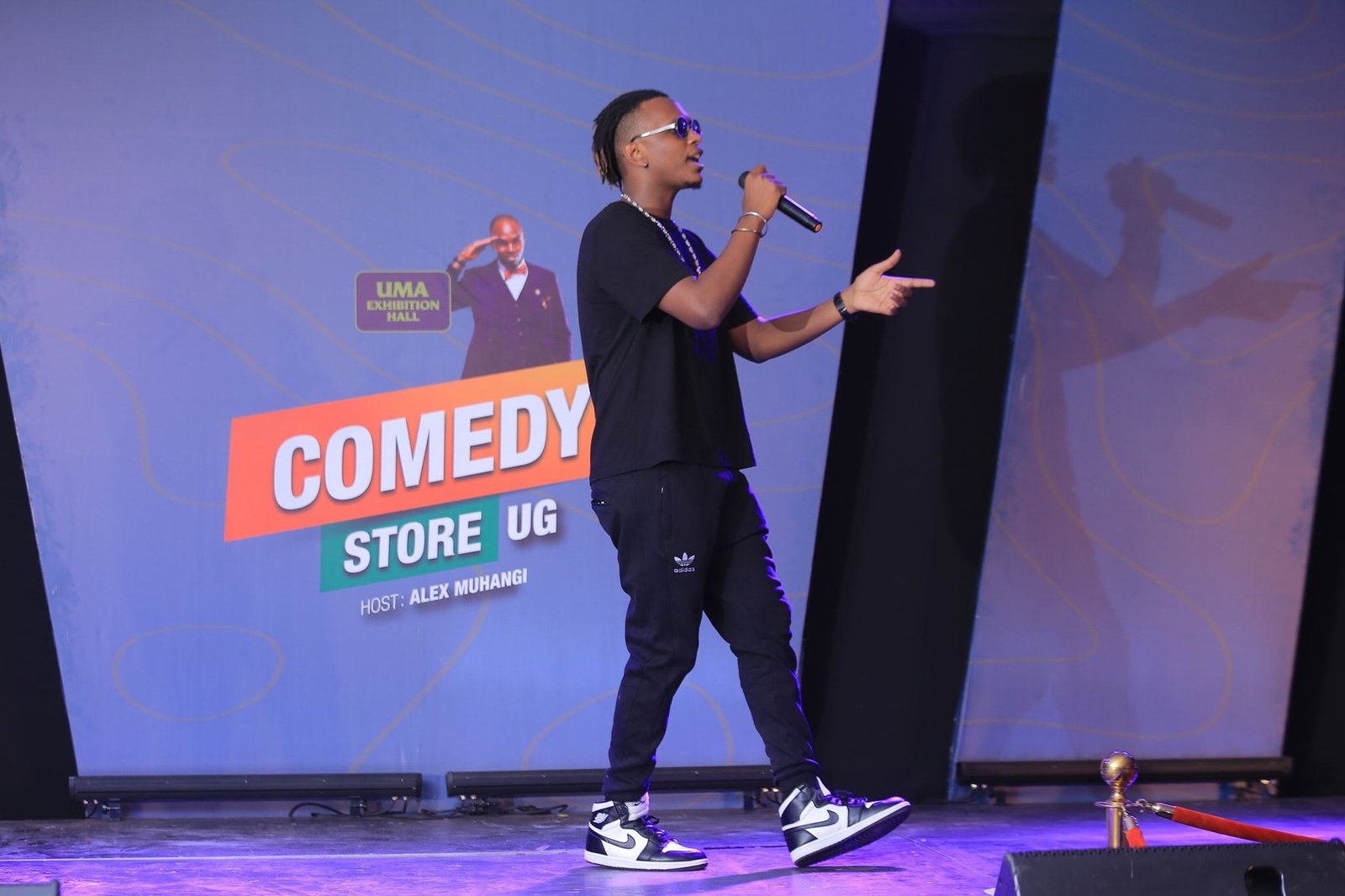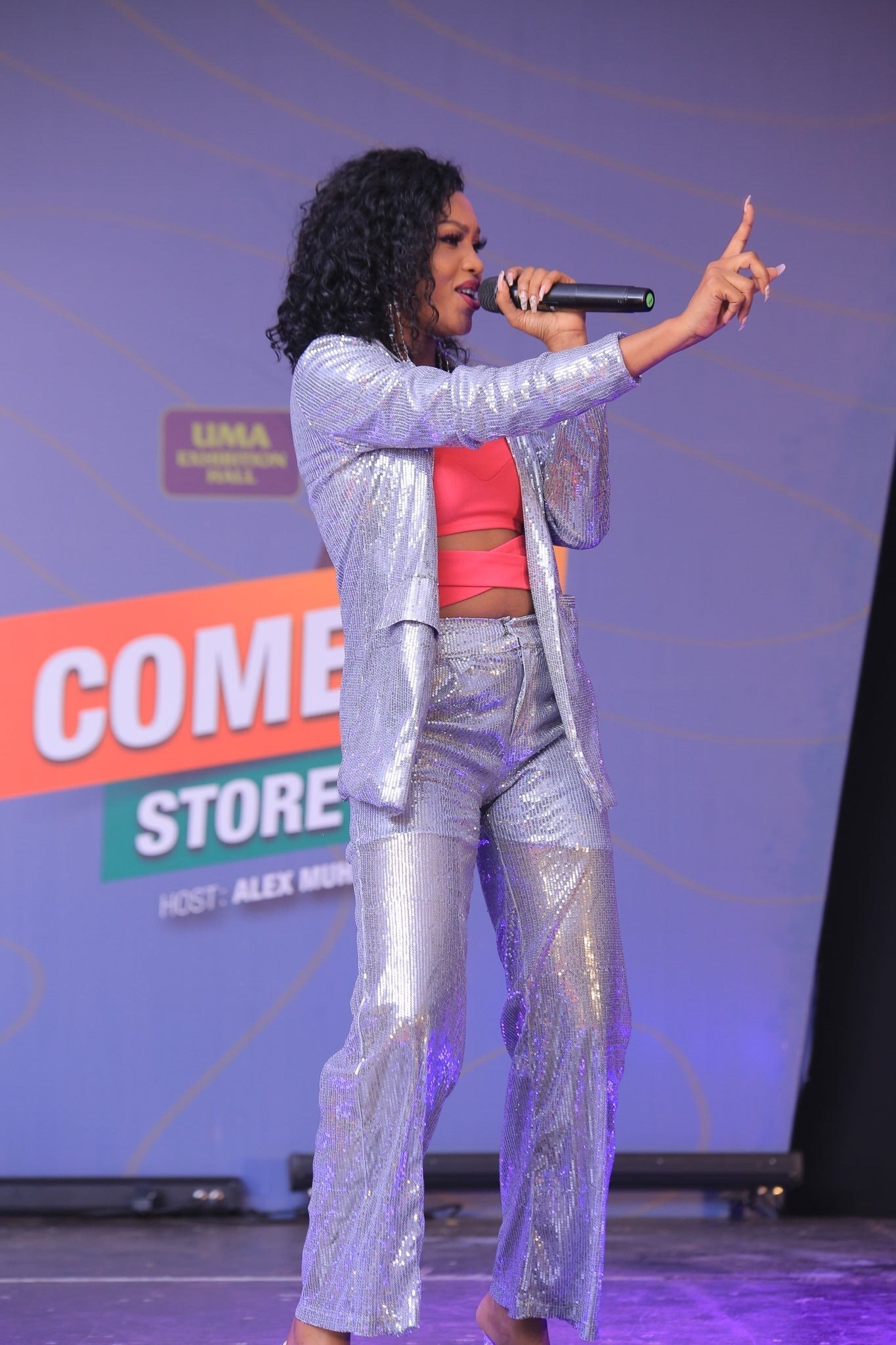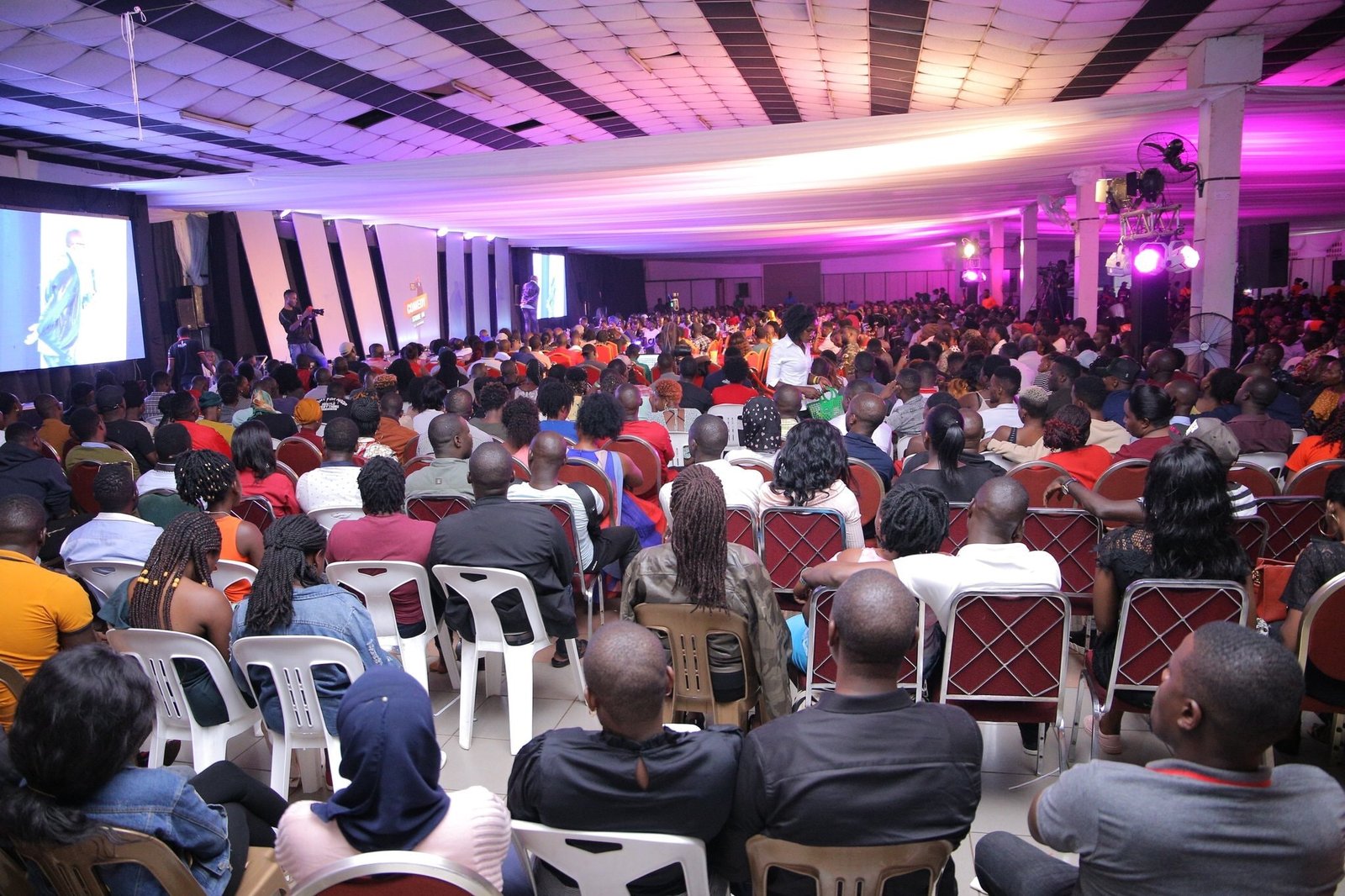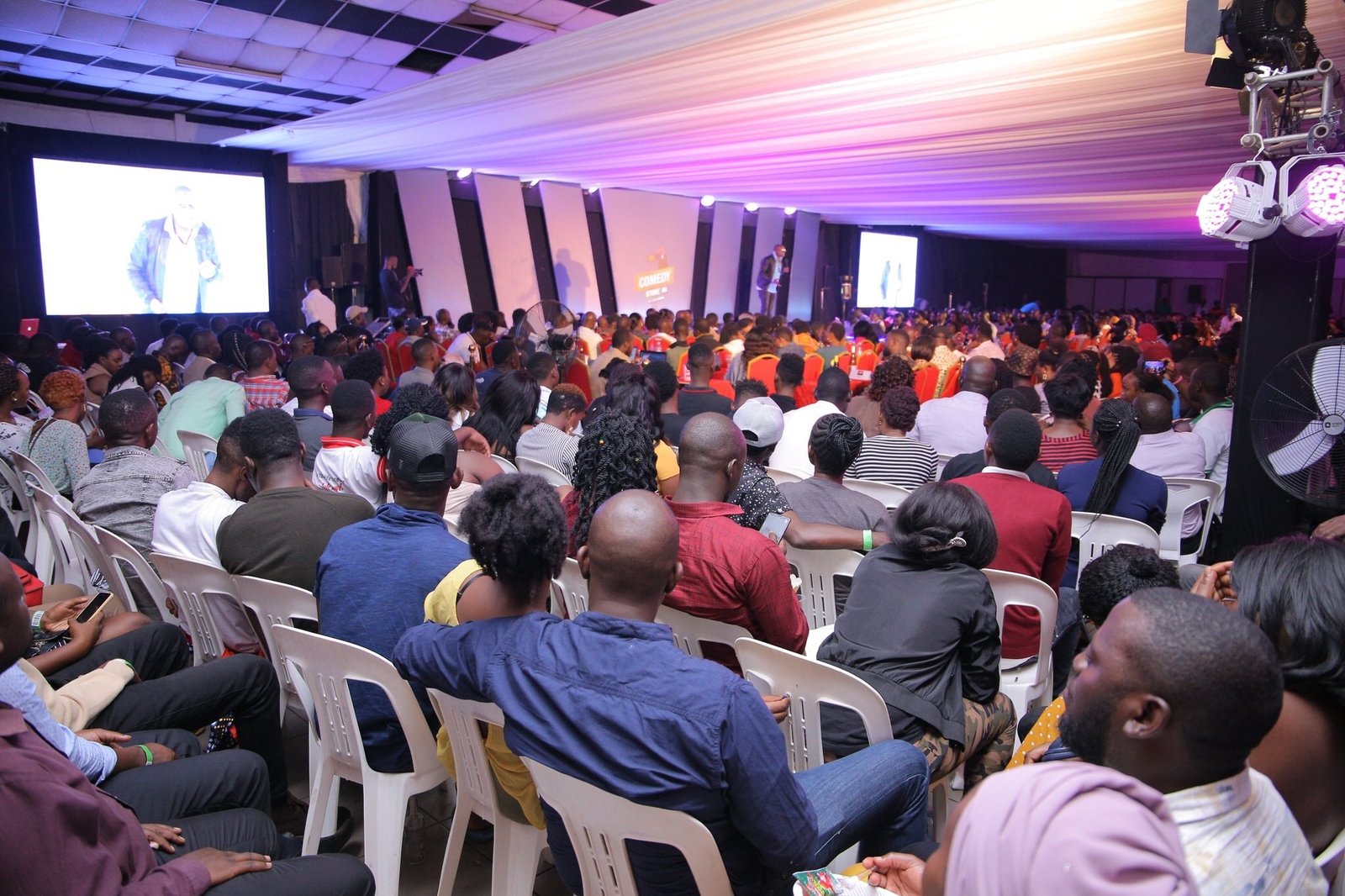 (Visited 1 time, 1 visit today)