Rev. Father Kateregga explains why he rained fire on celebrities at Mowzey Radio Requiem Mass
Staff Writer
Last Friday was a day to remember as Rubaga Cathedral priest Rev. Father Kateregga rained fire on Ugandan celebrities during his sermon at the Mowzey Radio requiem mass.
The youthful priest was blunt as ever as he stated the realities that celebrities go through and how they handle fame vis-à-vis what is expected of them by God.
He hinted on how they live splash lives forgetting that God who gave them the talents they have expects a lot from them.
When quizzed about the sermon that some believe was too harsh for a funeral service on NBS Amasengejje, Rev. Father Kateregga had this to say.
"The sermon at the funeral was about thanking God for the things that he gives you. Once you are born you are a candidate for death. So everyone has to be thankful and that is what I was telling him. Everyone has a dark side of life and we prayed for Mowzey to be cleansed. I also had a message for the people who came to the funeral service. The message was not for the deceased but for the people who came for the mass," he said.
"I prepared for the people I was going to meet and I knew which age group most of them were in and that is how I delivered the message. I am in Makerere in my second year doing Mass Communication. I am updated in every field of life. So what I talked about is the reality because I am updated. Some youths don't care about their lives and they need to be put in line. Youthful years are for working hard so that when you are old you can enjoy the fruits of your labour," he went on to say.
"I am a priest and I have the respect of being called Father. That means I am like a father model for my flock. I am old enough to advise on life issues. When I am at the pulpit I don't abuse anybody and don't harm anyone. I reprimand in the name of God and I intend to convert souls for God. You need to put God in everything you do whether you are a pastor or not. People take weed but we take the spirit of God and get more understanding and spiritual power. When you put God ahead of your life, you move faster and achieve your dreams," he added.
Asked if he will organize a celebrity Mass sometime soon, Fr. Kateregga said that the celebrities must ask for themselves.
(Visited 1 time, 2 visit today)
Toniks signs under Gifted Music Group
By Staff Writer
The latest news reaching our desk indicates that singer Allan Toniks is officially part of Uganda's ever growing music label, Gifted Music group
The singer who has been quiet for a while is set to do a musical comeback with huge pojects under his new home GMG. Sources close to the record label revealed to us that everything was finalised and within a short period of time, Allan will be officially announced as a GMG member
Toniks is the second artist to be signed under the label after signing sensational singer Smart Djaba earlier this year. Allan's first song under GMG, Romance is set to be out this Saturday 24th February 2018
We will keep you posted
(Visited 1 time, 2 visit today)
Spice Diana breaks silence on allegedly wearing artificial hips.
Embattled singer Spice Diana may fall prey to all the mushrooming bad rumors about her but she will not let one thing go un-explained. The singer who has in the recent past had very rough days has broken the silence on allegations that she wore hips on her concert day and perhaps still wears then. The singer who previously has had bad interview days on BBS and NTV will let all that pass but not the lies that she wore hips.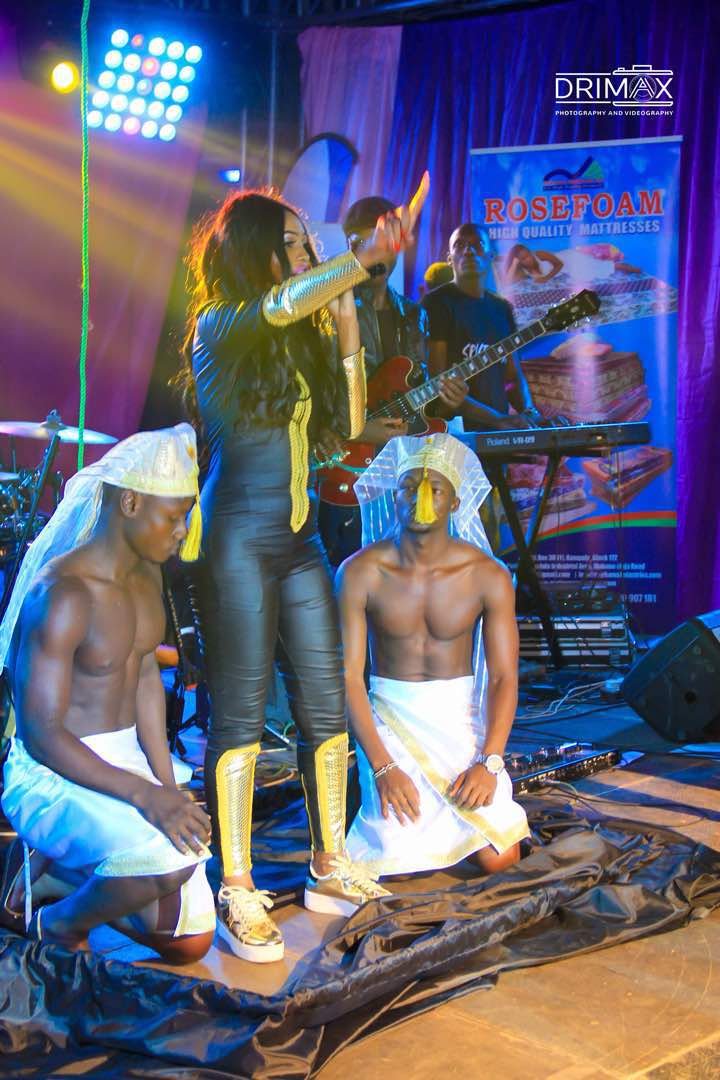 According to Spice Diana, on her concert day she had a costume for the day and was expected to make a grand entrance, to fly in like an angel. "Spice was to come on stage flying like an angel and obviously she had to wear support right from her thighs. Inside her costume she had material from which the ropes that support her were tied and that explains the alleged hip extensions that people are implying." Her manager explained. The singer further confirmed and admitted that had other clothings inside her costume but they were not hip extensions but rather part of her support to her flying entrance.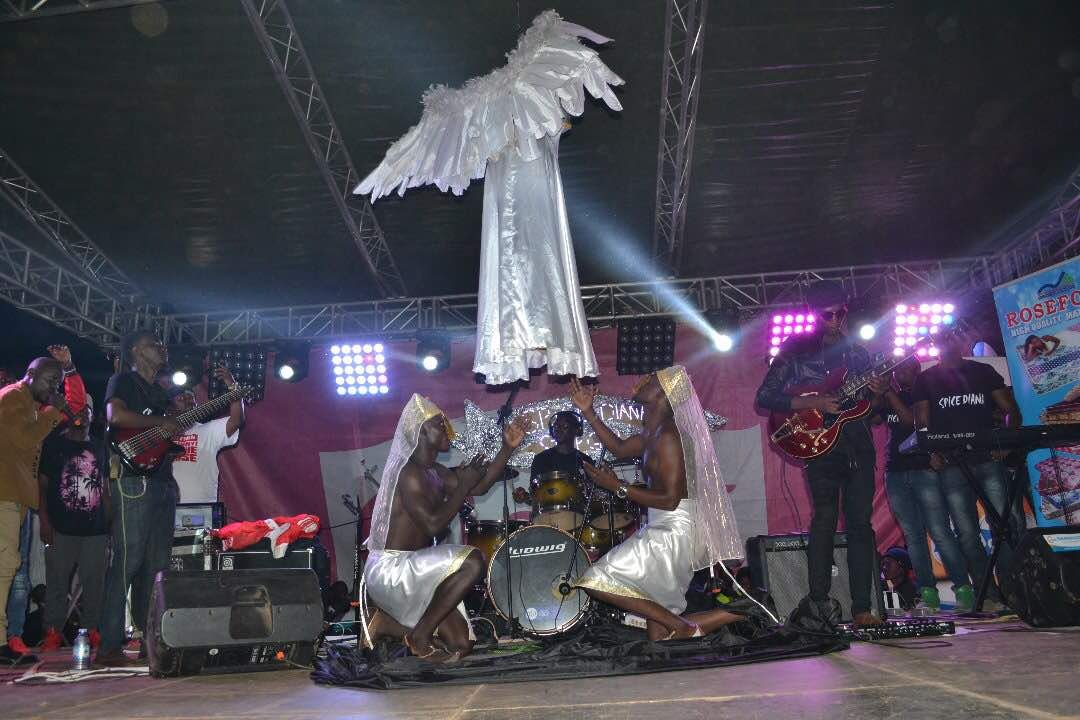 Spice Diana is with no doubt one of the very beautiful female singers we have and we agree she doesn't need hip extensions to rock us.
(Visited 1 time, 2 visit today)
I am a music Dynamo, Jose Chameleone challenges Bebe Cool to a battle of champions.
By Stuart G-Khast.
Singer Jose Chameleone has come out clear and commented on the fast spreading word about his much anticipated battle with Bebe Cool. Chameleone has not declined on any chances that the battle could actually take place.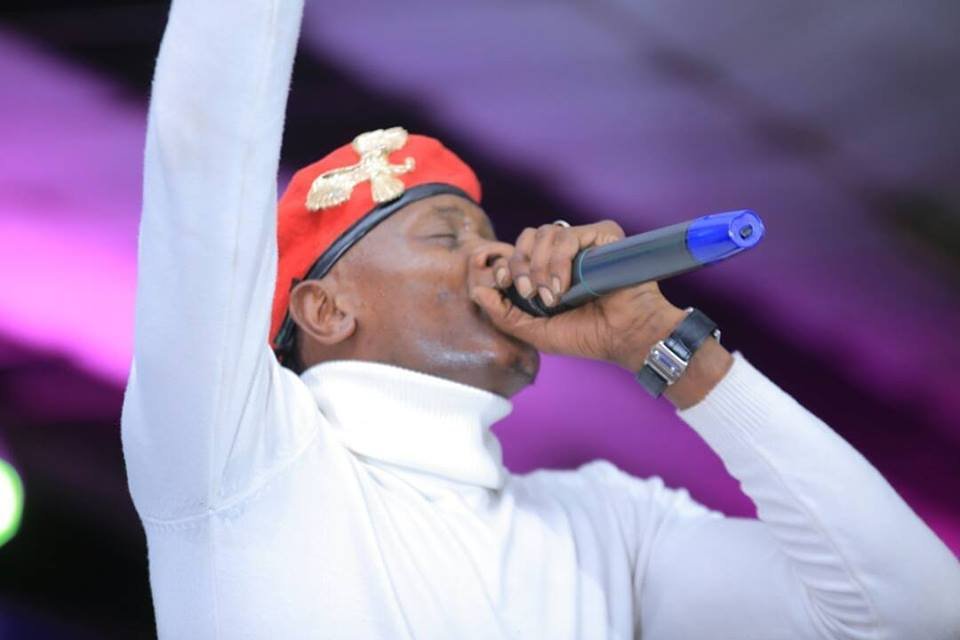 In a long stamen he noted "… I remain the undisputed. I have heard of the battle with my big brother though no one has come forward to put the deal on table. I am a music Dynamo and who so ever wants to battle should know that that's the day you are going to be buried before your disciples!!
And I will put a cross on your grave as I engrave R.I.P. I WILL ONLY ENTER THAT ANTICIPATED SHOWDOWN IF THE KCCA WILL AGREE TO LET IT BE NO TIME LIMIT. He who runs out of music, Goes home.
Jose Chameleone seems ready for what could be the biggest artiste battle of the decade.
(Visited 1 time, 2 visit today)