Rapper Keko ecstatic about Uganda Hip-hop awards
By BigEyeUg Team
The Uganda Hip-hop awards organizers have released the categories for the awards. Speaking about the awards, an ecstatic Keko said that this is a huge milestone for the Ugandan industry.
She said; "The Ugandan hip-hop awards are a huge milestone for the Ugandan industry, not only for Ugandan rappers but its great initiative for the region as well and hopefully in the future we will be able to extend or have East African hip-hop artists to come up on board and grow the genre together. So I feel like it's a new age right now."
According to the organisers, the award entries are now open until 15th September 2016. The Top 5 nominees per category will be announced on the 1st October 2016.
We will keep you posted.
(Visited 1 time, 1 visit today)
Bryan White confirms he is a free man in live video
Bryan Kirumira alias Bryan White has come out to rubbish ongoing rumours that he was recently arrested of fraud in Democratic Republic of Congo.
After long without hitting the ShowBiz streets, the tycoon on Friday hit a Facebook live video and defend himself over malicious people who have been alleging that he was detained in DRC over fraud basing on the evidence of a trending social media pic that shows a person suspected to be Bryan White being rounded by law enforcers in DRC.
The CEO Bryan White Foundation in a live video confirmed that he isn't a fraud star like many allege especially about his source of money hence reminding haters that he isn't broke but a real 'cowboy' who is enjoying his money outside showbiz.
(Visited 1 time, 1 visit today)
Mo Roots set to release new album in mega concert
By Our Reporter
Maureen Rutabingwa most commonly recognized as Mo Roots has been in the entertainment industry for several years notably as a member of the Qwela Band before moving on to creating her own music band named "Soul Deep." She is a multi-talented instrumentalist, singer and songwriter who has performed at many different gigs around the city.
She will now be releasing an 11-track album titled 'From the sun' next Saturday for lovers of afro-based music. The album launch will be held on Saturday, August 24 at The Square and will be powered by Tusker Malt.
"This concert means everything. It is the truest representation of who MoRoots is in this moment in time. A glimpse into the transition and love I've experienced these last few years. The sound is different. It's rock. It's funk. It's electronic. It's soulful. It's cinematic. It's all the things I love." MoRoots noted.
The show will be her first public performance of songs from her debut album From The Sun exploring themes of home (Uganda), love and transition. It will be an eclectic blend of MoRoots' vast musical ability to combine soul, jazz, funk and classical music with soulful vocals.
The concert will also feature the highly acclaimed CTRLAD band starting at 7 pm at The Square Place.  Tickets to the show go for shs50,000.
(Visited 1 time, 1 visit today)
Sheebah is still a dummy, desperate Cindy continues attacks on Sheebah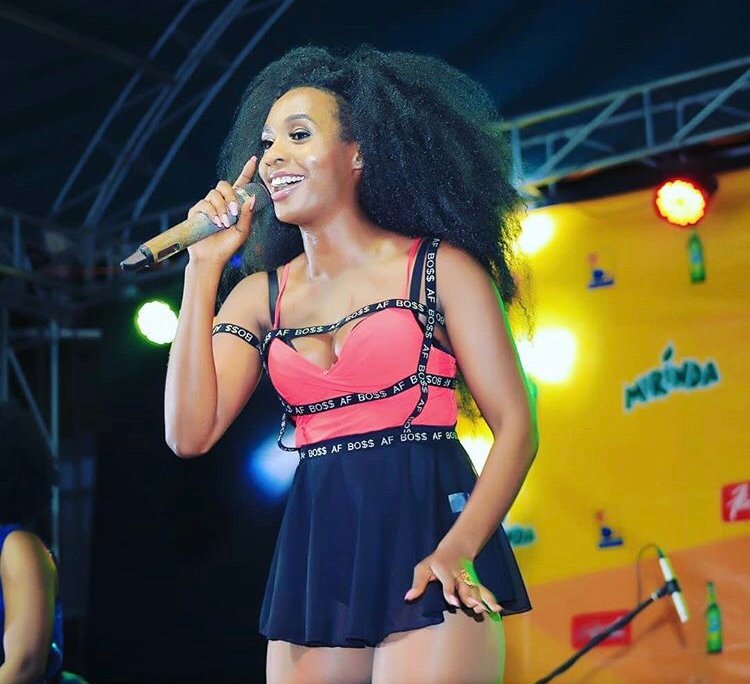 Cindy Sanyu is not about to give up on getting a musical battle with Sheebah yet. While she gives an impression of having made peace with the Team No Sleep singer, she still pokes her at every given opportunity.
While on Record FM recently, Cindy made it clear that making peace with Sheebah doesn't mean the singer instantly becomes good at live band.
"She's still a dummy, as long as you do not write your own music and you're being led by people, you're definitely a DUMMY. You are just a successful dummy. I'm not gonna wake up one morning and change that."
When asked about big international artists like Beyonce and Rihanna being dummies because they do not write their own music, the unapologetic Cindy said;
"Beyonce writes most of her music but the thing is this particular artist (referring to Sheebah) writes no music at all. You do not write any of your content, you're absolutely managed from your stage to everything that you do. That's what I call a dummy."
"Rihanna doesn't write any of her music so she is a dummy. You can be a glorified dummy or whatever, but there is no day I'm gonna tell you it's different. Some of us are original, some of them are just dummies" Cindy concluded.
(Visited 1 time, 1 visit today)