Rapper CODE releases a diss song aimed at Tucker HD as their beef escalates. Listen here.
You could win big cash with FortBet. Click here for more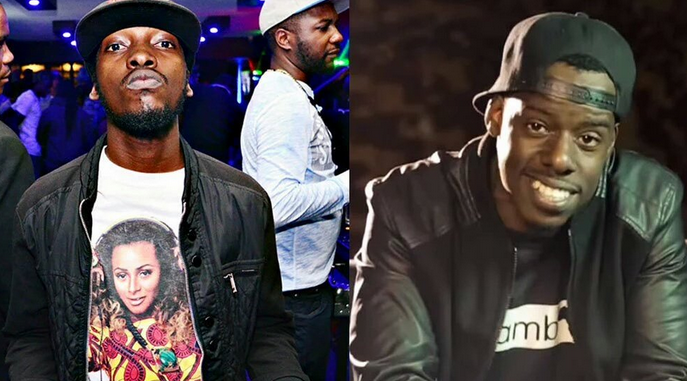 It all started with a question asked by The Mith on his SMASH show on Urban TV. A simple question directed to Timothy CODE who was a guest on the show. The outcome didn't go down well with Tucker HD.
Apparently CODE mocked and looked down on Tucker HD, comparing him to Meek Mill (who's regarded as a whack emcee). What ensued was mayhem.
Tucker HD jumped in studio and released a song directed to CODE titled Calm Before The Storm. Hip Hop fans in Uganda seemed to enjoy every bit of the rift. Truth is, the song showed that Tucker HD is one of the best lyricists in the game.Every line was a punch line, hitting direct at CODE. In his area code, Timothy CODE seemed restless.
And today morning, as ardent Hip Hop fans wanted, CODE released a response diss song aimed at Tucker HD. The song is titled Hands In The Stadium.
It opens with a Bible quote, Proverbs 18, before he takes up to the hills, spitting. This is likened to the recent Kanye West-Wiz Khalifa beef that has seemingly ripped off the roof, breaking the internet in the process.
But at the end of the day, it's the fans that will enjoy the showdown. At least it has kicked these rappers' procrastinating 'behinds' into studio. Let's see where this is headed.
Listen to the song below.
Staff Writer
(Visited 1 time, 1 visit today)
Feffe Bussi thrills fans as Asylum bar bounces back in business
You could win big cash with FortBet. Click here for more
By Reporter
It was a fun packed night as party revellers residing around Namugongo, Kyaliwajala, Seeta, Sonde showed up for the rebirth of Asylum Bar.
The management of the former popular Namugongo Road based hangout spot Asylum bar bounces back in business with a new location situated in Sonde. The bar that was once a home to many musicians and party animals has now found a new home a little after Namugongo Protestant's Shrine for party lovers.
Well-known for their successful projects , the business trio Darius Mugisha, Henry Ssali and Edward Ssekalo decided to bounce back into the bar business.
"We are excited about the return of Asylum, It's a brand that has entertained and given many a proper relaxation option out of town. Our new location in Sonde , after Namugongo is a provocation to give the people of Seeta, Nabusugwe, Bukerere,Sonde, Jinja, Buto,Namugongo and Kyaliwajala a proper one stop entertainment centre," said Darius Mugisha one of the bar proprietorsThe new Asylum has a washing bay,a saloon, boutique, mobile banking ,fully stocked bar , a lounge and a 24 hour Kitchen.
"For those that have followed Asylum over the years, our theme nights are always a key factor to look up to, we already have polite swallow Wednesdays,Enjoyment Fridays and Nyama Sundays. You can have first class taste of these theme nights by checking out the bar any time any day," added Darius.
Asylum was officially launched on Friday December 6, 2019 in a colourful event that was graced by media personalities and celebrities that included Salvador, Gareth Onyango, Dagy Nyce, DJ Crim and Kasuku.
To crown off the night Wendy and Roger Kent of UG Records entertained the revellers while Feffe Bussi left the crowd mesmerized with his rap game. DJ Crim kept the house on it's toes till morning.
(Visited 1 time, 1 visit today)
Interview: Fort Portal's Joseph Israel Mwebesa talks about his music journey
You could win big cash with FortBet. Click here for more
By Our Reporter
Joseph Israel Mwebesa is a household name in Fort Portal. He is a singer, song writer, instrumentalist and also Director at Creations Band.
We caught up with him as he prepares for his debut solo album launch titled "I Love Fort Portal".
Tell us abit about yourself.
I am a gifted song writer, singer, composer and instrumentalist. I am also a trained counselor and a professional Marketer (ACIM).
Why did you choose music despite your good professional training?
My professional training has continuously created in me a conviction and challenge to use my musical talents to create a bigger solution in society especially tapping into people's special talents and abilities. Most importantly, its passion driven since my childhood. Without passion, I would have given up.
What new things have you brought to the music industry in Tooro?
By 2011, many considered it hard to sing Rutooro and English. But my coming to the industry proved them wrong. If you access them on our creations band website www.creationsband.com or on YouTube, you will confirm this. People in Tooro and western Uganda now appreciate and enjoy Tooro Music. In my musical career, I have written a number of songs for people including couples and organizations, put up my first Rutooro Album "I Love Fort Portal" and will be launching it on the 27th of December at Nyaika Hotel Fort Portal. Have also come up with 3 key collaborations including "True Love" currently doing very well on a number of radio stations. I have established Creations Band a recording and performing band.
Which achievement do you take pride in so far in your music career?
My music and message have so far reached many people in Tooro and changed negative attitude towards Tooro Music. The online platforms for my music have very encouraging feedback. We have somehow twisted the role of music from mere entertainment to edutainment using songs like Beautiful Land, Power within you, Myekwaso, I love Fort Portal etc. and that's good.
What's so special with your new album you plan to launch?
This is my first-born album, that alone drives a special attachment. It has unique songs many of which are inspirational talking about my sentiments and attachments to my sweet Motherland Tooro. Its rare for an artiste to just come up with a full music album about a place. Its on record, I have made a great contribution to lift the brand of Tooro and that's quite special about the Album.
Tell us more about the
"I Love Fort Portal" album.
The album has 14 songs – 4 of which directly talk about Fort portal and the Beauty and endowment of Tooro. These include; the Beautiful Land, Tooro Nsi Nungi and Come Home. Most of them are inspirational in nature while others are very nice love songs. The song "I Love Fort Portal" lays the foundation for the entire album. It was not only my very first song but also provided direction for writing other songs on the album. The album has two collaborations with the recent one being True Love, a very captivating love song. There are other very enjoyable songs like Nyamaizi which is a blend of modern styles and traditional Tooro style of music.
What can people expect at the launch?
We have planned to make it quite different, very entertaining and memorable. It will be a live show of entertainment and a demonstration of solidarity for Tooro Music. I am working hard to ensure all legendary Musicians of Tooro like John Kaawha, Akiiki Romeo and others perform at the concert.
What are your long-term goals as a musician?
With Creations Band, I hope to make it a strong music label in Uganda which will not only promote musical talent but also be a platform for advocacy, empowerment and promotion of special talents and abilities among youth in Uganda. My dream is to make more or less a home of best talents at creations Band. There are currently many unemployed talented young people and that hurts! They should be employing their talents.
(Visited 1 time, 1 visit today)
Panic as Zambian star Roberto asks for crazy list of demands ahead of concert in Hoima
You could win big cash with FortBet. Click here for more
By Stuart G-Khast
Apparently, organizers of Roberto the Amarula Hit maker for a concert in Hoima district on 31st December have gone into panic mode after the RNB singer's management team tabled a new list of demands that must be fulfilled before his end of year performance scheduled for 31st December in Hoima at Kolping Gardens.
This means the organizers have to dig deeper into their pockets to fly the Zambian Super Star to Uganda-Hoima District. Here is the crazy list of things Roberto is demanding before he performs in Hoima.
1. Roberto tabled a presidential demand and asked for two major roads heading to his Hotel and to the venue to be closed shortly before, during and shortly after the concert. The roads are Butiaba Road and Old Toro Road.
2. The Africa's king of RNB will also need a tinted & bulletproof van with a licensed chauffeur who is trained in security and protection of high profile people. The car used to transport the superstar must also be insured.
3. The RnB Superstar apparently needs s Private Jet to fly him from Entebe Airport to Hoima Booma Ground & the ground should be under 24/7 security surveillance 3 days before he lands on.
4. After he has lands in Hoima ,he needs Presidential Convoy by Uganda police force for protection from Hoima Booma ground to his Hotel.
5. 125 bottles of wine, 1,000 fresh white towels and 200 bottles of lemon flavored sparkling water must be at the hotel before the entourage arrives.
6. One entire floor of a five star hotel in Hoima district, 3 Star rooms
7. 10 first class return tickets in an Airline of his choice
(Visited 1 time, 1 visit today)