Rapper CODE releases a diss song aimed at Tucker HD as their beef escalates. Listen here.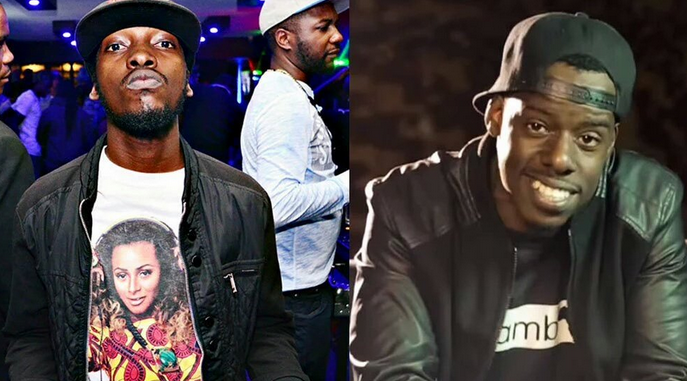 It all started with a question asked by The Mith on his SMASH show on Urban TV. A simple question directed to Timothy CODE who was a guest on the show. The outcome didn't go down well with Tucker HD.
Apparently CODE mocked and looked down on Tucker HD, comparing him to Meek Mill (who's regarded as a whack emcee). What ensued was mayhem.
Tucker HD jumped in studio and released a song directed to CODE titled Calm Before The Storm. Hip Hop fans in Uganda seemed to enjoy every bit of the rift. Truth is, the song showed that Tucker HD is one of the best lyricists in the game.Every line was a punch line, hitting direct at CODE. In his area code, Timothy CODE seemed restless.
And today morning, as ardent Hip Hop fans wanted, CODE released a response diss song aimed at Tucker HD. The song is titled Hands In The Stadium.
It opens with a Bible quote, Proverbs 18, before he takes up to the hills, spitting. This is likened to the recent Kanye West-Wiz Khalifa beef that has seemingly ripped off the roof, breaking the internet in the process.
But at the end of the day, it's the fans that will enjoy the showdown. At least it has kicked these rappers' procrastinating 'behinds' into studio. Let's see where this is headed.
Listen to the song below.
Staff Writer
(Visited 1 time, 1 visit today)
Parte After Parte Choir master BigTril excites revellers at Guvnor
By Reporter
Kampala revellers were treated to yet another fun-filled DJ Snap Off party at the city's prestigious hangout spot Guvnor. The Singleton-sponsored event had the 'parte after parte' choir master Big Tril entertaining the millennials who came out in multitudes to celebrate the luxury brand night.
The rapper stepped on stage amidst loud screams from his fans and put up an electrifying performance that left the whole house dancing to his tunes with the party anthem song parte after party being their favourite. The song has in the past few weeks received massive airplay. When asked how he came up with a song that has turned into a household song not only in Uganda but also across borders, Big Tril said that he picked the line from a viral video of Pastor Sempa who was lamenting on how the youth are going for party after party."I already had a beat, so when I listened to the party after party line, I immediately hit the studio and recorded the song and I am glad people love it," said Big Tril.
As it is a culture of the Snap Off Night, the country's finest DJs spiced up the night entertaining revellers with the best music all night long.
(Visited 1 time, 1 visit today)
MC Kats begs Fille one final time
By Reporter
Frustrated MC Kats is on his knees to convince ex lover Fille to forgive him and take him back. The presenter has recently failed to separate his name from the word scandal. We have learnt that MC Kats is on his last attempt to convince Fille to take him back. Kats has recently been frequenting Fille's mother's home in Ntinda where Fille stays now on his knees and on other times brought family members to plead on his behalf which has so far been futile.Unlike before, MC Kats is now suggesting Marriage to silence the haters and keep the relationship stronger than before. The Media personality is also seen on several times silently sneaking into Fille's crib based in Ntinda as they prepare to move in again. A reliable source reveals that over the past weeks, Under Kats Music, Fille has recorded two platinum songs set to rock the air waves soon.
(Visited 1 time, 1 visit today)
Selector Jay excites revelers at Highball Tour launch
By Our Reporter
Renowned DJ Selector Jay made Thursday night a memorable one for revelers that flocked La Paroni Bar and Restaurant to witness the launch of the Johnnie Walker Highball Tour.
Selector Jay proved that he is without doubt Uganda's best DJ by taking guests on a musical rollercoaster by playing some of his epic DJ mixes that had many  on their feet.
The tour comes after Uganda was officially introduced to the Johnnie Walker Highball in August; a big-flavoured take on the classic highball serve, consisting of Johnnie Walker whisky (Red Label & Black Label), a mixer, plus garnish in a tall glass served over ice.
The tour will give an opportunity to whisky fans all over the country to have a close and personal experience with Johnnie Walker as they will be able to experience the Highball for the first time.
The deluxe social event is slated to start early next month with singer Sheebah Karungi lined up as the first act for the Highball experience in Mbale.
Speaking at the launch, Roger Agamba, the International Premium Spirits Brand Manager at Uganda Breweries Limited explained that the new Johnnie Walker Highball serve is a fun new way to consume Johnnie Walker that people should embrace.
"The Johnnie Walker Highball Tour  is one of the many experiences we have designed and are committed to bring to our consumers this year, we want to show you that you can still be young, vibrant and playful even with Johnnie Walker," said Agamba.
"I personally cannot wait to take the Johnnie Walker Highball experience around the country", he added.
There was also a performance from Big Trill thrilling the crowd with his hit song, "Parte after Parte" among other songs.
The tour officially kicks off on October 5 in Mbale, followed by Gulu on October 26. Fort Portal, Mbarara and Masaka are the other towns lined up for the ultimate Highball experience.
(Visited 1 time, 1 visit today)